Homemade flour Tortilla Recipe (without lard)
If you're like me and grew up with homemade flour tortillas, then you know there's nothing quite like them. They're soft, pliable, and oh-so-delicious. And this homemade flour tortilla without lard recipe is so easy, that you'll be able to make them in no time!
You also might want to try these Homemade Baked Tortilla Chips!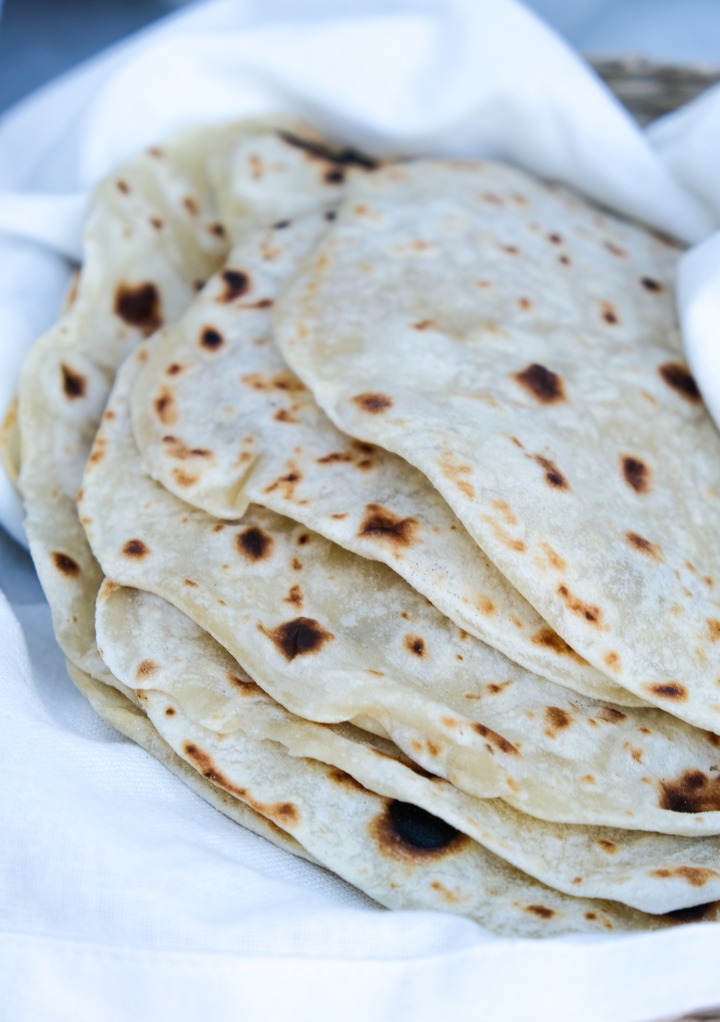 WHY YOU'LL LOVE THIS RECIPE
Flour tortillas are a staple in Mexican cuisine, and they're surprisingly easy to make at home. This recipe requires just a few simple ingredients, and the results are delicious!
My mom would make homemade tortillas at home (recipe was by memory), but only until it was much easier to buy them in the stores. However, nothing tastes as good as homemade.
I grew up with tortillas made with lard, but once I tried making tortillas with vegetable shortening, I haven't made them any other way. Perfect for vegan and vegetarians in the house!
These tortillas are soft and pliable.
And they taste just like the ones you grew up with.
Made with simple ingredients that are easy to find at your local grocery store.
Easy tasty snack for kids. Add some butter for an extra special treat.
EQUIPMENT NEEDED
large bowl
measuring cup and spoons
baking sheet
plastic wrap
rolling pin
large skillet
pastry brush – optional
clean dishtowel
INGREDIENTS
You only need a handful of ingredients to help you make this simple flour tortilla recipe. And, you will love how versatile these tortillas are to make. Once you have all of your ingredients, it's time to get started on the tortillas. So, gather these ingredients and get ready for delicious homemade tortillas.
all-purpose flour
salt
vegetable shortening, diced
water, heated to 110 degrees.
Vegetable oil for cooking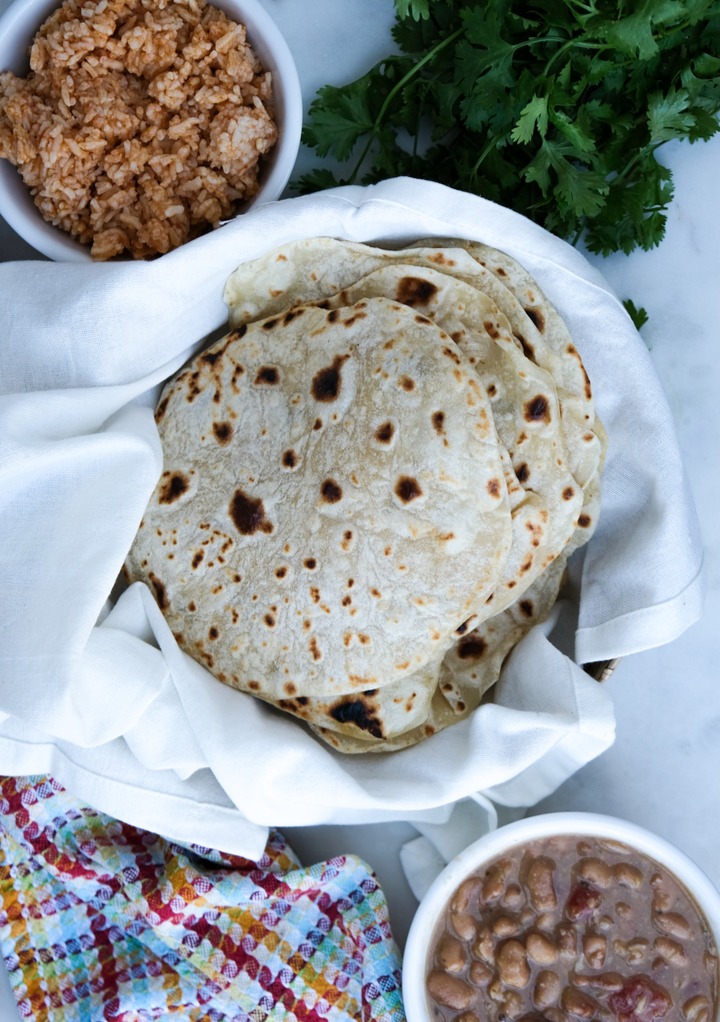 HOW TO MAKE THIS HOMEMADE FLOUR TORTILLA WITHOUT LARD RECIPE
Making these tortillas is a pretty simple process. Handmade tortillas just takes time to roll each tortilla, so to speed up the process use two cooking vessels like a skillet and cast iron griddle like this round comal.
Follow the directions below and you will have fluffy and delicious homemade flour tortillas without lard in no time at all.
STEP 1: WHISK TOGETHER DRY INGREDIENTS
In a large mixing bowl whisk together the flour and salt.
STEP 2: BLEND IN THE SHORTENING
With your fingers or pastry blender work vegetable shortening until the flour resembles cornmeal.
STEP 3: ADD IN WARM WATER
Add the warm water and stir with a spoon until combined.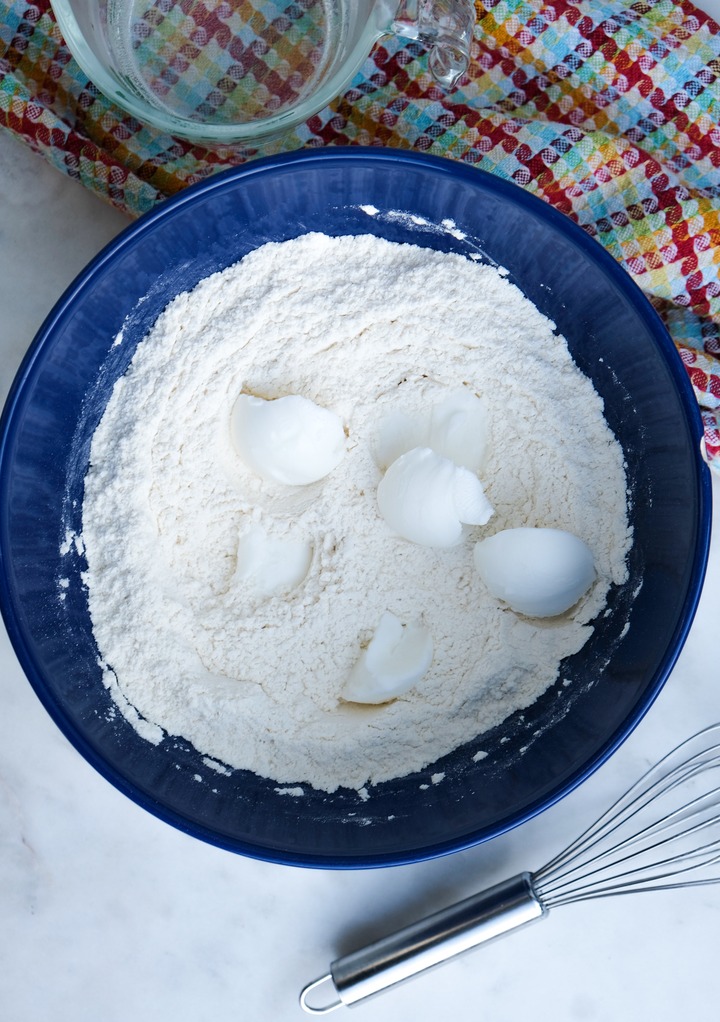 STEP 4: KNEAD THE DOUGH ONTO A FLOURED SURFACE
Place dough on a lightly floured surface and knead 2-3 times or until a ball of dough forms. You can also knead the dough right in the bowl if it is large enough.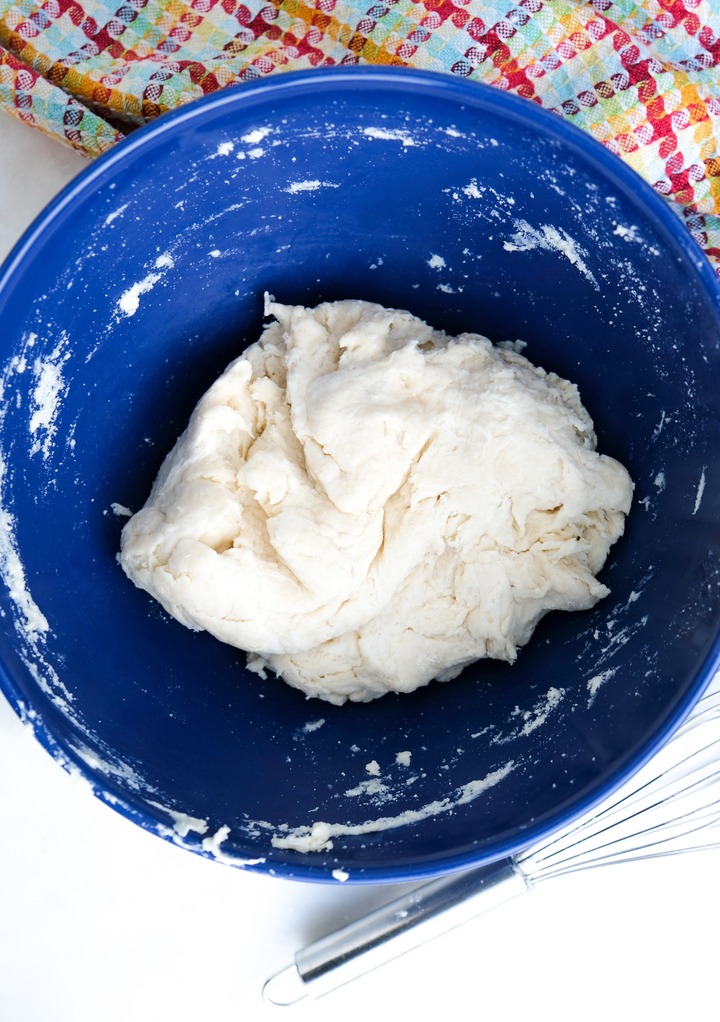 STEP 5: DIVIDE THE DOUGH INTO 12 BALLS AND COVER WITH PLASTIC WRAP
Divide dough into 12 1-1/2-inch balls. Place on a baking sheet and cover with plastic wrap. Refrigerate for a minimum of 30 minutes to let the dough rest.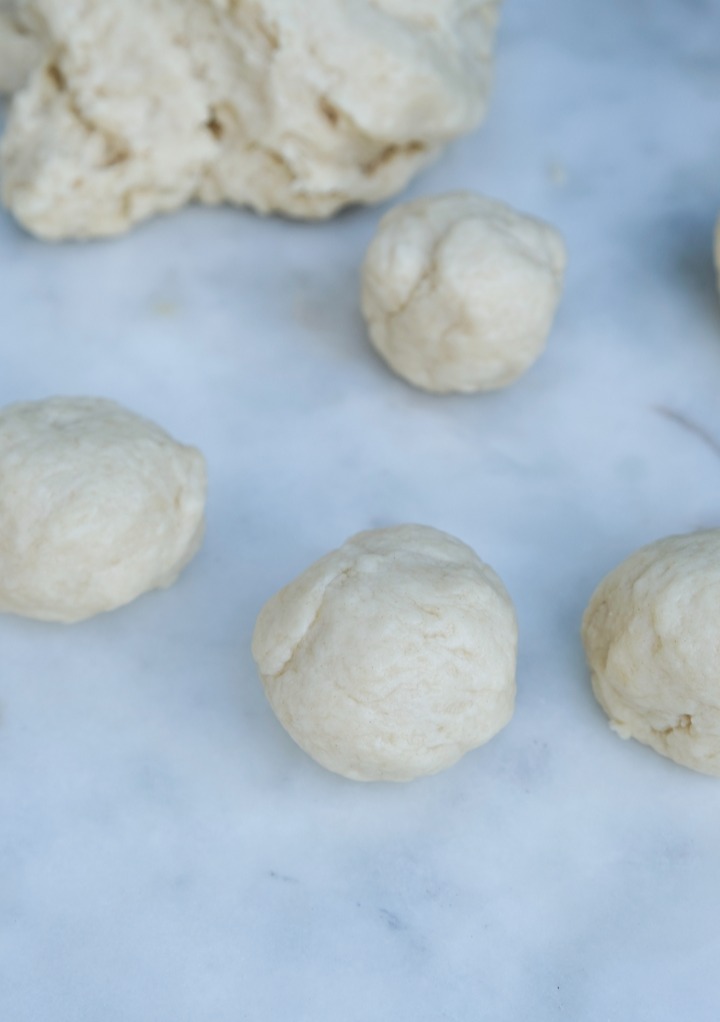 STEP 6: ROLL EACH BALL ON A FLOURED SURFACE
With lightly floured hands roll each dough ball once again working with one tortilla dough ball at a time. Place each ball on a lightly floured work surface.
Roll each piece of dough with a rolling pin into a 7-8" circle. You may need to flip the dough over a couple of times to get the shape you want.
Don't worry if it isn't perfectly round. It takes practice to get the hang of rolling, but even misshaped tortillas will taste delicious.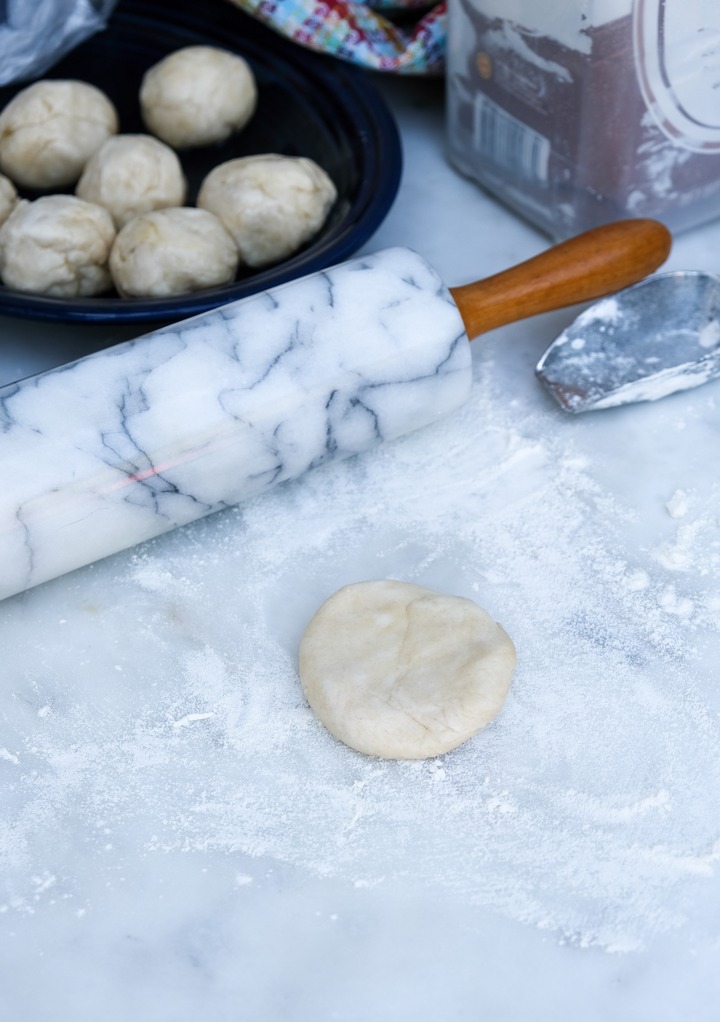 STEP 7: COOK THE DOUGH IN A HOT PAN UNTIL IT GETS AIR BUBBLES
Heat a large non-stick skillet or a lightly brush vegetable oil on a cast-iron skillet over medium-low heat. Place the rolled tortilla on the hot skillet and cook until the dough begins to bubble about 1 minute. Flip and cook the second side for an additional minute.
STEP 8: CONTINUE WITH THE REMAINING DOUGH BALLS UNTIL ALL ARE COOKED
Transfer to a clean kitchen towel and repeat until all tortillas are cooked.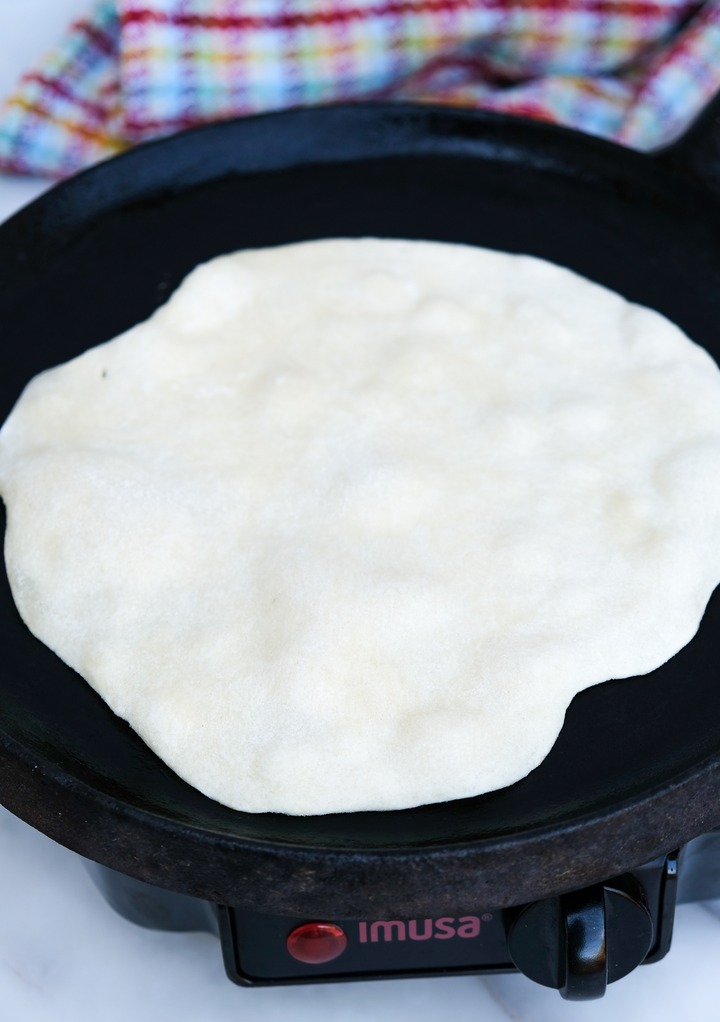 WHAT TO USE WITH HOMEMADE FLOUR TORTILLA RECIPE WITHOUT LARD
There are so many ways to enjoy these traditional flour tortillas. And, you will love how easy they are to make at home. So, the next time you're in the mood for Mexican food, give this recipe a try. You'll be glad you did!
Taco Night – These tortillas are the perfect addition to your next taco night. Fill them with all of your favorite toppings and enjoy!
Burritos – Another great way to use these tortillas is in burritos. They're perfect for wrapping up all of your favorite fillings. Be sure to make some Mexican Rice and Mexican Beans.
Enchiladas – These tortillas are also perfect for enchiladas. Simply fill with your favorite filling and roll them up.
Quesadillas – Quesadillas are always a hit, and they're so easy to make. Simply fill the tortilla with cheese and your favorite toppings and cook until the cheese is melted.
Air Fryer Beef Chimichangas – No need to head out to your favorite Mexican Restaurant when you can make a healthier chimichanga at home.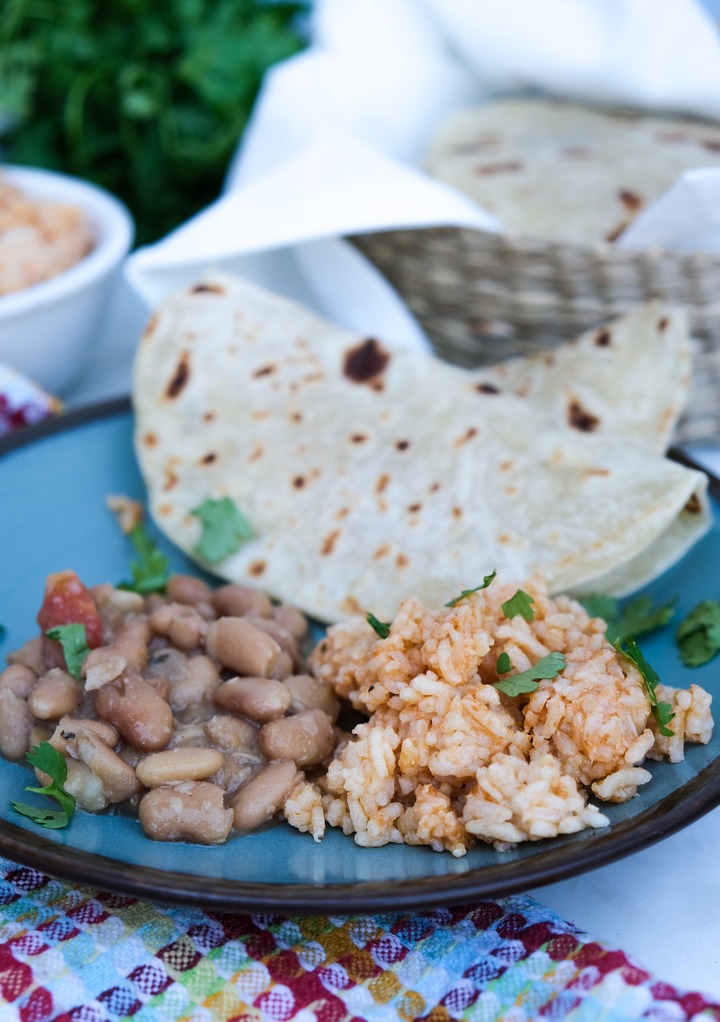 SUBSTITUTIONS AND ADDITIONS
Here are a few substitutions and additions that you can make to this delicious tortillas recipe.
Flour – You can use all-purpose flour or self-rising flour in this recipe. If you use self-rising flour, omit the salt.
Shortening – You can substitute the shortening for an equal amount of butter, margarine, coconut oil, or lard.
Water – The water should be heated to 110° F. This is the perfect temperature for melting the shortening. You can use a microwavable safe measuring cup to heat the water in the microwave for about 1 minute or until it reaches 110°F degrees.
Vegetable Oil – You can substitute vegetable oil for another type of cooking oil.
Tortilla Size – You can make these tortillas any size that you like. Just be sure to adjust the cooking time accordingly.
Kneading – Instead of kneading this dough by hand, you can use a stand mixer with the paddle attachment or dough hook instead.
Tortilla Press -You can use a tortilla press instead of rolling them out by hand if you prefer. We usually save the tortilla press when making corn tortillas.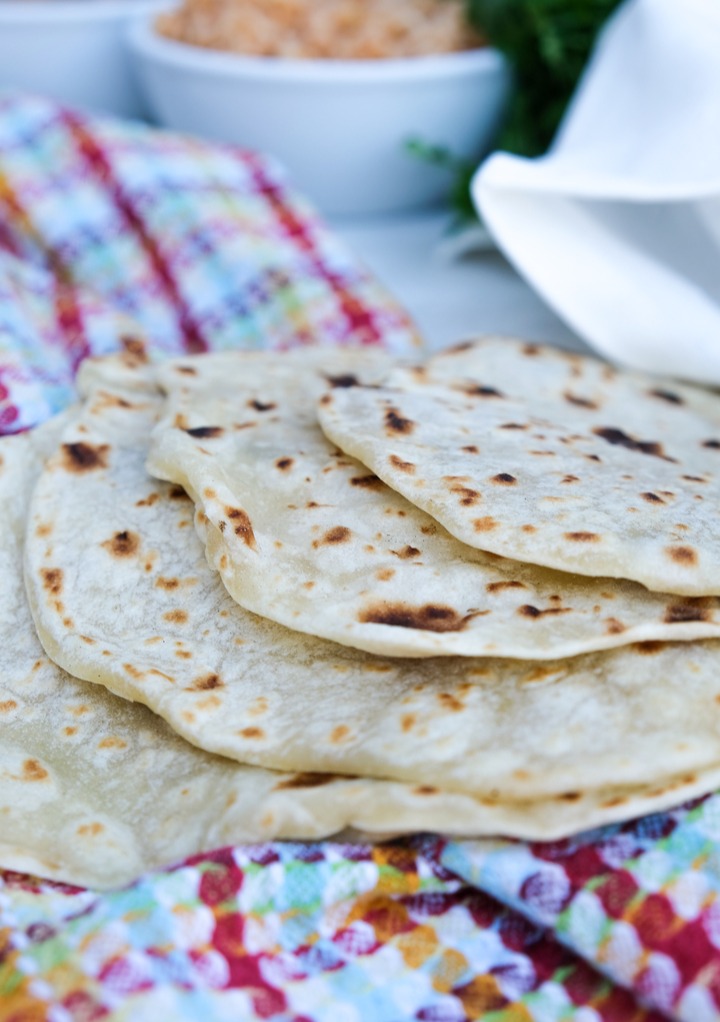 HOW TO STORE
These tortillas can be stored in an airtight container at room temperature for up to 3 days or in the refrigerator for up to 1 week.
Tortillas can also be frozen for up to 3 months. Place a piece of parchment paper between each tortilla if you freeze the tortillas.
When you're ready to use them, just thaw them at room temperature or heat them in the microwave for a few seconds covered with a damp paper towel to keep them from drying out.
FAQS
Do you have questions about these fresh tortillas? Here are the answers to the most commonly asked questions about this flour tortilla without lard recipe.
Why are my homemade flour tortillas hard?
The dough may not have been kneaded enough or the tortillas may have been overcooked. Be sure to knead the dough until it's smooth and cook the tortillas just until they're soft and pliable.
What can you use instead of lard for tortillas?
Shortening, margarine, and butter can be used in place of lard.
My tortillas are tearing, what am I doing wrong?
The dough may be too dry. Be sure to add enough water so that the dough is moist but not sticky. You may need to add a little more water if the dough is too dry.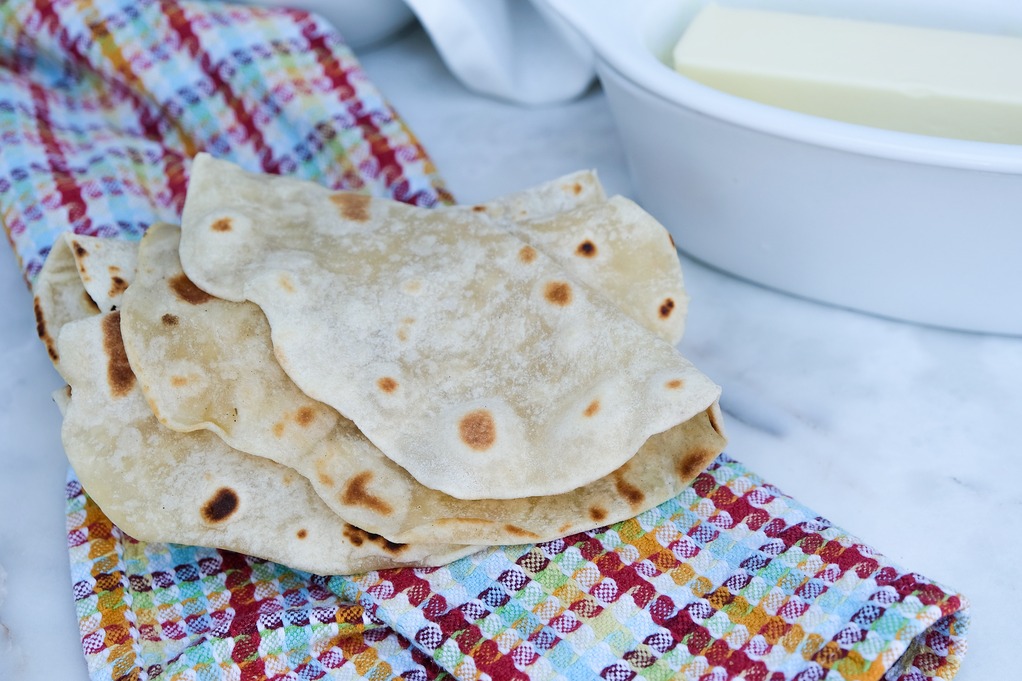 OTHER DELICIOUS RECIPES YOU MAY ENJOY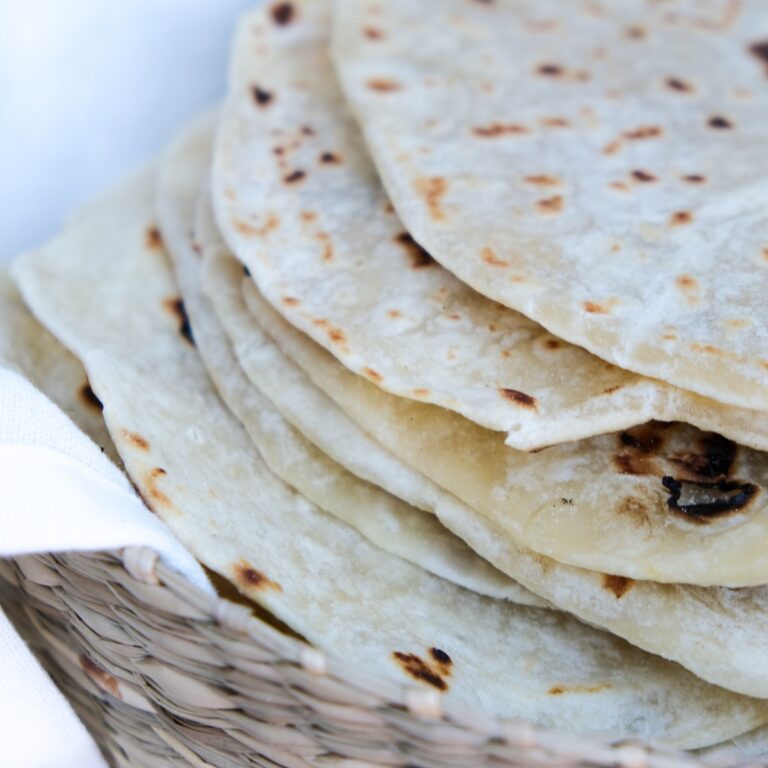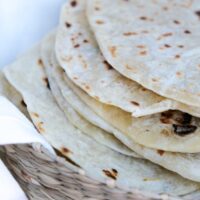 Flour Tortilla Recipe without Lard
Soft and pliable homemade tortillas. Learn how to make the best tasting soft and pliable homemade flour tortillas.
Print
Pin
Rate
Ingredients
2 3/4

cups

all-purpose flour

1 1/2

teaspoons

salt

6

tablespoons

vegetable shortening

3/4

cup

plus 2 tablespoons water

110°F

Vegetable oil for cooking.
Instructions
Tortilla Dough

In a large mixing bowl whisk together the flour and salt.

Add shortening to the flour mix and mix until the shortening is blended into the flour. It's best to use your fingers for this.

Add warm water and mix to combine all ingredients.

Balls

Knead dough right in the mixing bowl or place dough on a lightly floured surface and knead until a large ball forms.

Pinch off about 2 tablespoons of dough to from 12 1 1/2-inch balls.

Place dough balls on a plate, cover with plastic wrap, and refrigerate for 30 minutes.

Cook Tortillas

With floured hands roll each prepared dough ball once again, then place on a lightly floured surface. Roll into a 7-8" circles.

Place a non-stick skillet, tortilla comal (griddle) on the stovetop and with a paper towel add vegetable oil, and lightly brush over the surface of the pan. Heat over medium heat.

Place rolled tortilla on the pan and cook until bubbles form (60-90 seconds), Gently flip the tortilla and cook the other side for an additional (60-90 seconds).

Place between a clean kitchen towel and repeat until all tortillas are cooked.

Notes
For doughy and thick tortillas add 1 teaspoon of baking powder.
Refrigerating the dough helps the dough hold together preventing it from becoming too sticky to roll properly.
Method adapted from America's Test Kitchen Cooking School.
Nutrition
Serving:
1
g
|
Calories:
172
kcal
|
Carbohydrates:
22
g
|
Protein:
3
g
|
Fat:
8
g
|
Saturated Fat:
3
g
|
Polyunsaturated Fat:
5
g
|
Cholesterol:
4
mg
|
Sodium:
265
mg
|
Fiber:
1
g
Disclaimer
Please note that the nutritional information provided are guidelines and may vary based on the brand of products used. For your specific nutritional goals use My Fitness Pal or Verywell Fit recipe calculators. All content within this site is not intended as medical diagnosis or treatment and should not be considered a substitute for professional medical expertise.