Hey, Pops! Father's Day is just around the corner, so I whipped up these cheesy jalapeño peppers with you in mind. They're gooey and delicious with just enough flavorful heat to tease your taste buds into spicy happiness, and wishing for a cold brew!
Yep, they've been taste-tested to make sure they would be dad approved.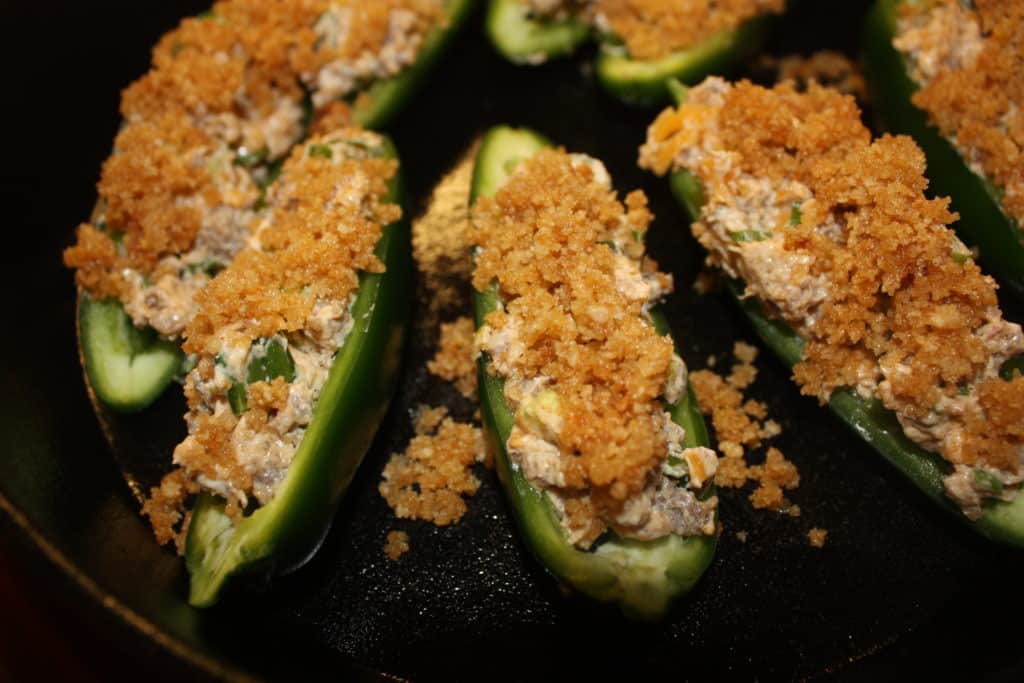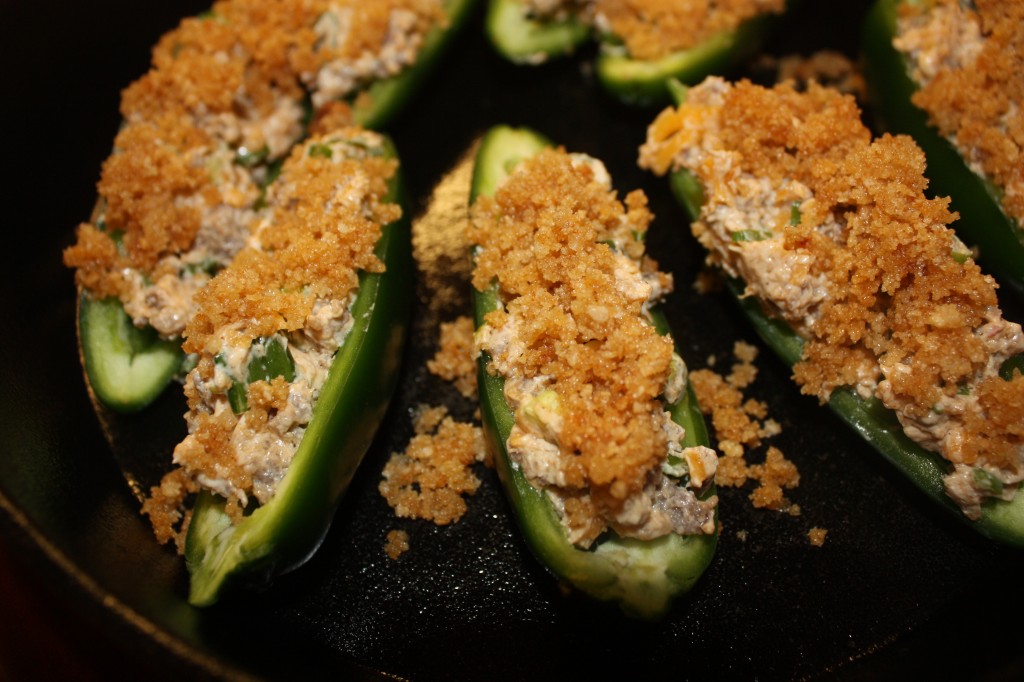 Taste-testing is serious business, you know, and much more intense than it sounds. It goes beyond visual appeal and a few whiff tests. A taste-tester has to have a keen sensory ability to distiguish between flavors like salty, sweet, and sour. As well as a stomach ready to take on the challenge.
And my Dad is a pro with over 50 years of experience (that's how long my parents have been married 🙂 ) I grew up with stacks of Gourmet, Bon Appetite, and Sunset Magazines strewn through our house. Our kitchen was always in blissful disarray with different spice jars of this and that, measuring cups, various sized bowls all over the counter, and piles of dishes in the sink. The end result? Delicious meals my mom made!
Dad, the taste-tester, and very lucky man continues to master his taste-testing skills long after the three of us kids left the house. He says he'll never really be a pro, so he has to keep on working at it!
His favorite food he likes to sample? SPICY foods! I remember my dad and uncles having jalapeño tasting events. They would take bites right into the heart of pepper, and we would all watch their reaction! The hotter, the better, and if it made you perspire, that pepper was a winner!!
So, there is no better way to pay tribute to my dad than to prepare some Cheesy Sausage-Stuffed Jalapeños!


Yield: 6
Cheesy Sausage-Stuffed Jalapeños
Bring on the heat with a cheesy spicy appetizer and cool it it down with your favorite beverage!

Prep Time 5 minutes

Cook Time 15 minutes

Total Time 20 minutes
Ingredients
4 ounces cream cheese, softened
1/2 cup grated sharp cheddar cheese
1/2 teaspoon ground cumin
1/2 teaspoon chili powder
1/2 teaspoon garlic powder
4 ounce sausage, cooked and crumbled
2 scallions, chopped (white and green parts)
6 jalapeño peppers, halved lengthwise, seeds removed
3 cooked bacon slices, cut in half (optional)
2 tablespoons butter, melted
1/2 teaspoon paprika (smoked preferably)
1/2 cup panko or plain breadcrumbs
Instructions
Pre-heat oven to 400 degrees and spray a baking sheet with cooking spray.
In a medium bowl, stir together the cream cheese, cheddar, cumin, chili powder, garlic powder, sausage and scallions. Spoon the mixture into the jalapeño halves and place them on the baking sheet.
In a small bowl, stir together the butter, paprika and panko or breadcrumbs. Spoon mixture onto the filled jalapeño halves. Bake for 15 minutes or until bubbly and golden.
Notes
Add some BACON! Pre-cook it so that it's still soft and pliable. Wrap a half slice over the jalapeño after it is cook or chopped the bacon up in pieces and place on top.


Recipe adapted from The Californian, June 11, 2013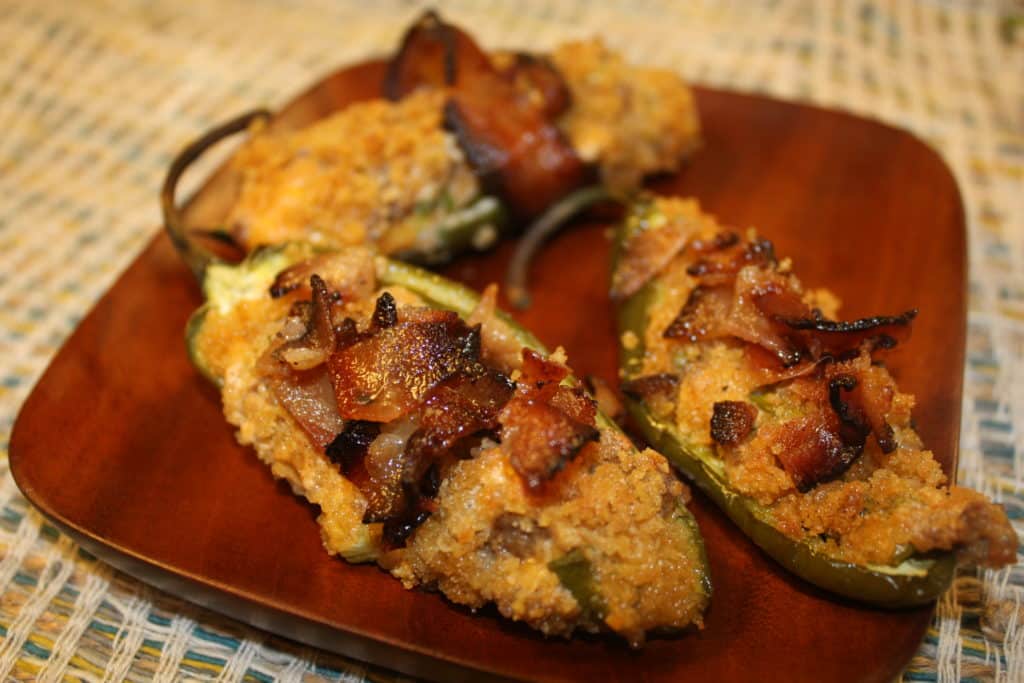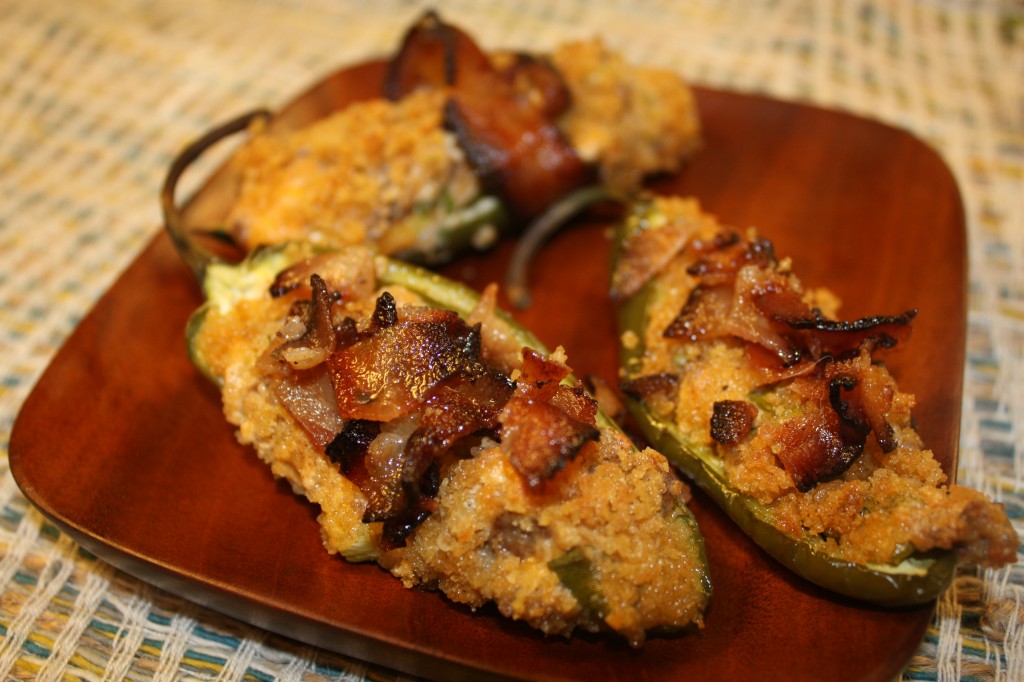 So this post is in honor of my dad, the man who reminds me that family comes first, to never quit learning, to remember that for every "no" there will eventually be a "yes", and I can be and do anything I want, I just have to want it bad enough 🙂
Happy Father's Day to the father of my kids (love you hubby!), and all 'father' figures. Cheers to step-fathers, fathers-in-law, grandfathers, late great-grandfathers, uncles, bro-in-laws, big brothers, and future fathers.