Apple Spice Waffles made with whole wheat and fresh grated apples topped with pan fried caramelized apples for a lovely breakfast or brunch!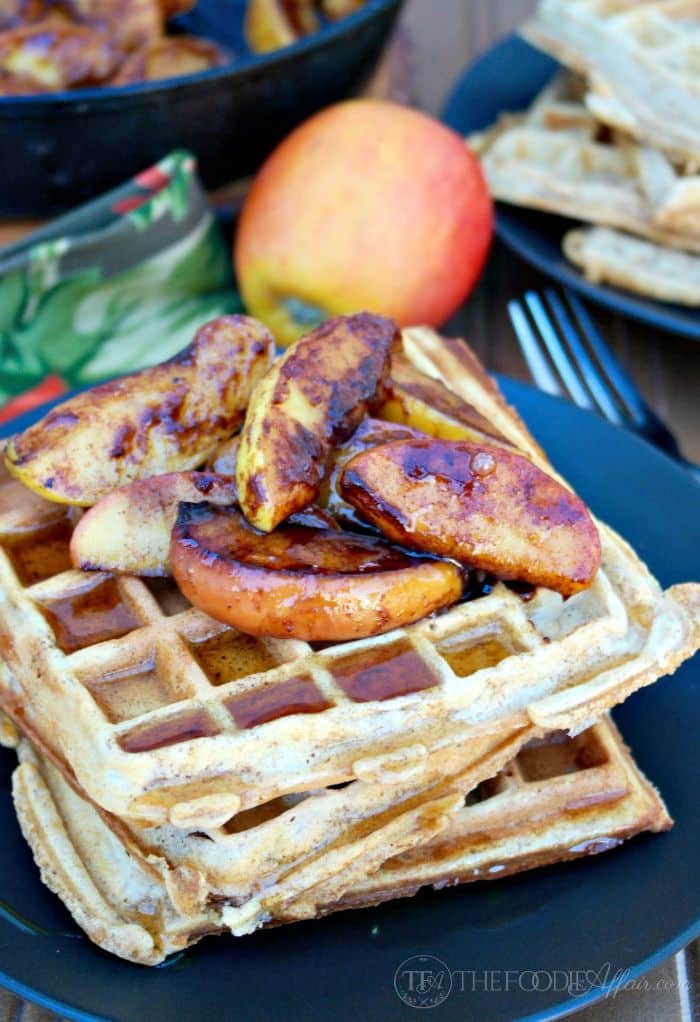 When I picked up Granny Smith apples for the Take 5 Apple Pie that I made this past weekend I also noticed another variety called Mutzu apples. They look similar to the Grannies, but the skin is a bit thicker. Other than that I had no clue if they were tart or sweet. That's what I love about shopping at local produce stands or Farmer's markets I find new (at least to me) fruits and vegetables to try and I'll just go with whatever they have to offer.
I learned (thank you Goggle) that the Mutsu apple originates from Japan and is a cross between the Golden Delicious and the Indo apple, which is another apple that I've never tried! Mutsu apples are crisp and juicy and are the perfect variety for baking. I sliced up two and pan fried them with butter and then added apple pie spice and brown sugar that caramelized the apples. Delicious topping to these whole wheat waffles!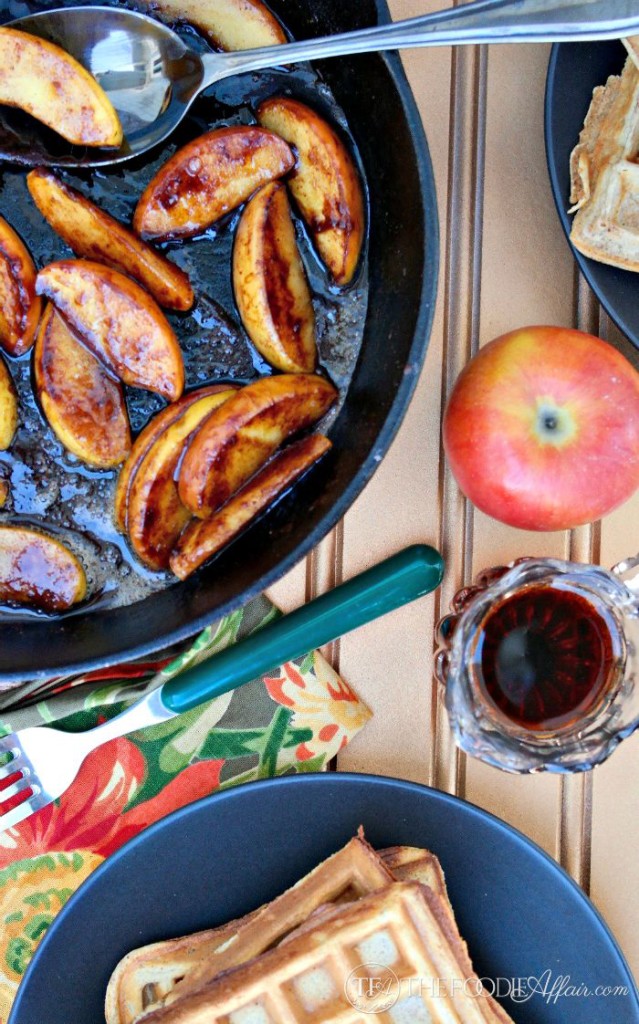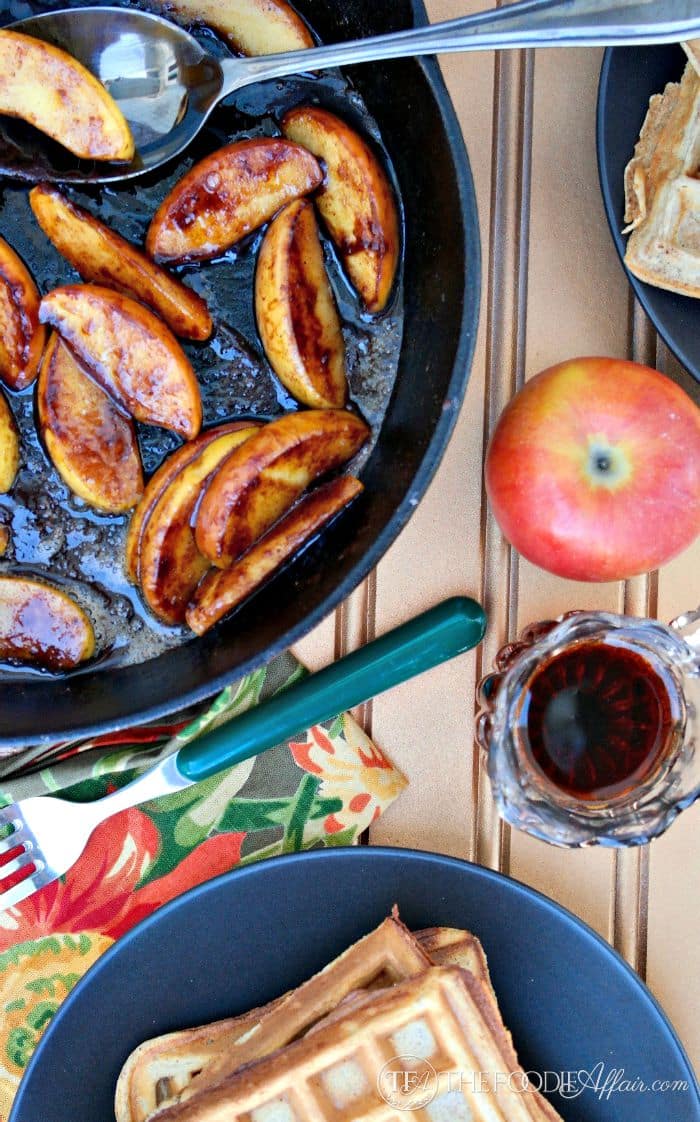 The waffles also have grated apple in them, but I used a Fuji that was almost too soft to eat on its own, but perfect to add to the waffle batter. I based the waffles from my How to Freeze Waffles post, but instead of using part all-purpose flour I made the batch with whole white wheat and other delicious Fall spices. I really like the milder flavor of whole white wheat and continue to experiment with it. The Whole Grains Council Organization, describes whole white wheat as an albino wheat with the same nutritional value as traditional whole wheat. It's also light and fluffy like all-purpose flour, so this stuff is pretty golden in my mind!
I hope you'll have time this weekend to give these waffles a try! Keep an eye out for Mutsu apples too and snag them up!
Do you have extra batter? Here are some tips on how to freeze waffles. If you want to try something more decadent, you'll love these Whole Wheat Chocolate Waffles!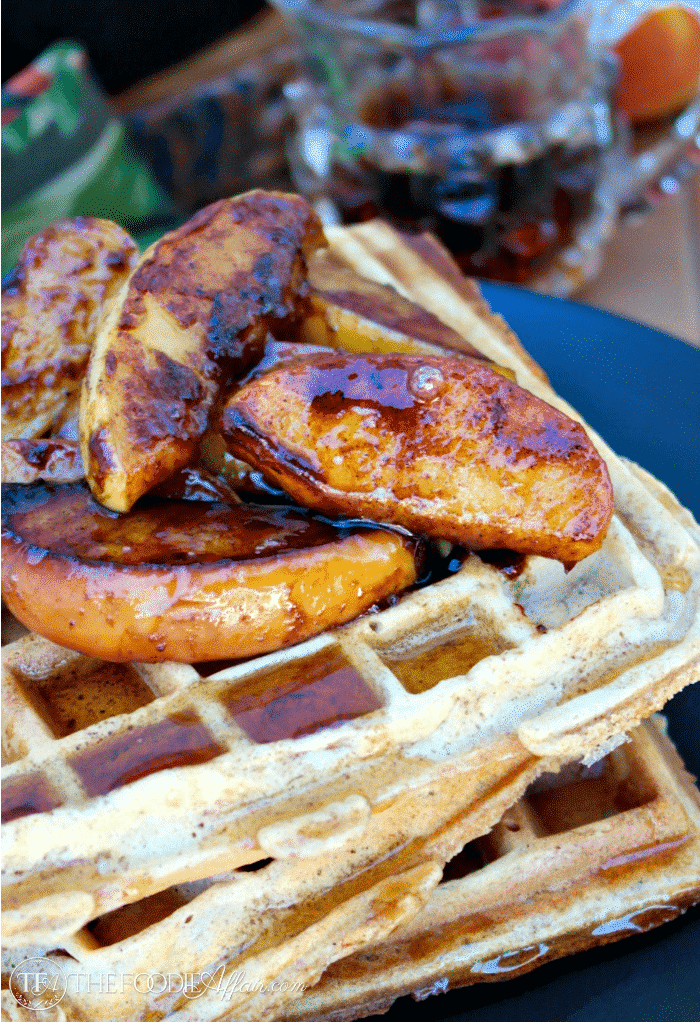 Yield: 6
Whole Wheat Apple Spice Waffles
Prep Time 15 minutes

Cook Time 10 minutes

Total Time 25 minutes
Ingredients
WAFFLES
2 cups whole white wheat flour
½ teaspoon baking soda
1 teaspoon baking powder
1 teaspoon salt
3 tablespoons sugar
2 teaspoons apple pie spice
3 large eggs, beaten
2 ounces butter, unsalted and melted
2 cups buttermilk (or cows milk) at room temperature
1 cup grated apple (about 1 medium size with skin)
APPLE TOPPING
2 apples sliced (Mutsu or Golden Delicious)
2 tablespoons butter, unsalted
1 teaspoon apple spice
1/2 teaspoon cinnamon
2 Tablespoons brown sugar
3 Tablespoons water
Instructions
WAFFLES
Heat waffle iron.
In a medium bowl whisk together the flour with the baking soda, baking powder, salt, sugar, and apple pie spice.
In a separate bowl, combine the eggs, butter and buttermilk. Add the egg mixture to the flour mixture and stir until combined. Fold in grated apples. Let the ingredients sit for 5 minutes.
Cook according to your manufacture's recommendations.
APPLE TOPPING
In a large skillet over medium heat melt butter and when it begins to sizzle add apples and cook for 2-3 minutes. In a separate bowl whisk together apple spice, cinnamon and brown sugar. Sprinkle over apples and fold until well coated. Add water and cook for another minute. Top on waffles. Serve with maple syrup.
Notes
Apple topping is enough for four servings.