How To Cut Fresh Fuyu Persimmon
Have you ever picked a delicious persimmon at your local grocery store or farmers market and asked yourself how to cut persimmon? Don't worry I'm here to help you find ways to slice this fruit without making a mess.
Persimmons are one of the best fall fruits. They're sweet, nutritious, and versatile. You can eat them fresh, dried, or cooked in a variety of dishes. So, with these directions and a few recipe suggestions, you will be enjoying this fall fruit in a variety of ways in no time at all.
If you enjoy the fresh flavors of persimmon you will want to give this family favorite Persimmon Cookies recipe a try soon!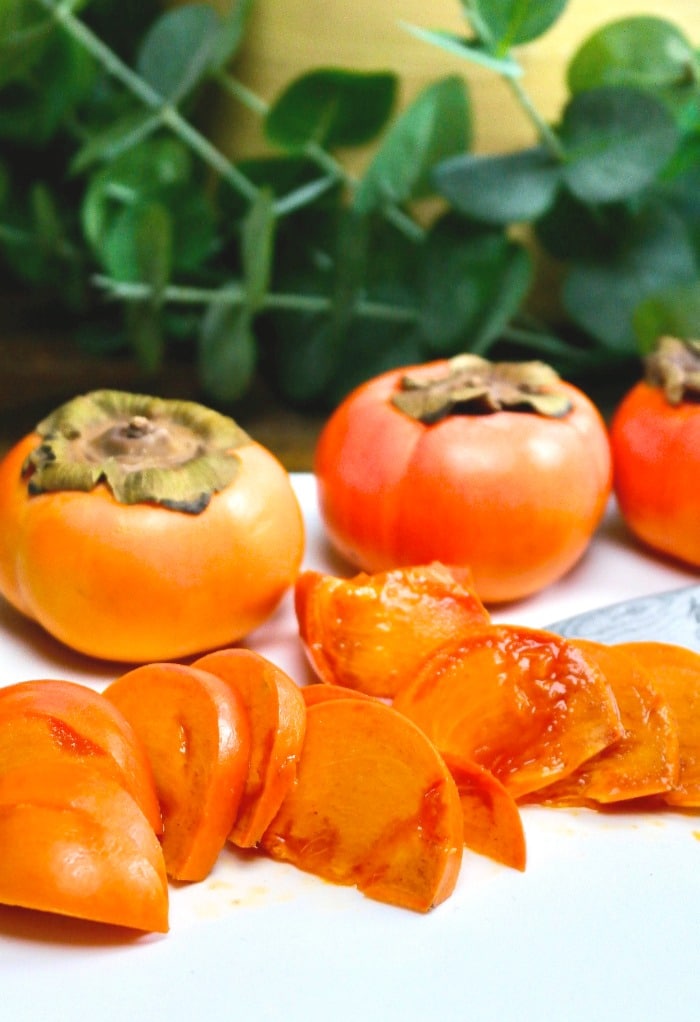 HOW TO CUT A PERSIMMON
STEP 1: WASH AND DRY THE FRUIT
After washing and drying the persimmon was placed on a cutting board.
Step 2: CUT THE LEAFY TOP OFF
With a paring knife cut around the leafy top and gently pull it off and discard. Note that the leaf portion of the persimmon does not sit deep into the persimmon, so you will only need to cut down about 1/4″ – 1/2″ around the core.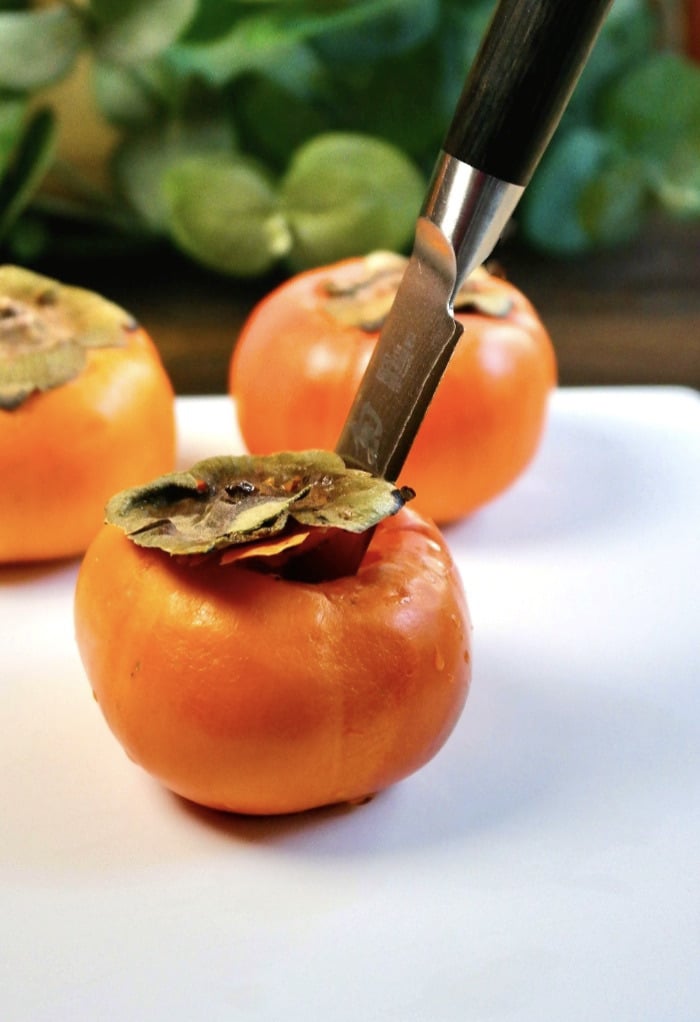 STEP 3: CUT THE FRUIT IN HALF
After you have removed the stem and leaves, turn the persimmon over with the cut leaf portion faced down on the cutting board. Slice the persimmon in half.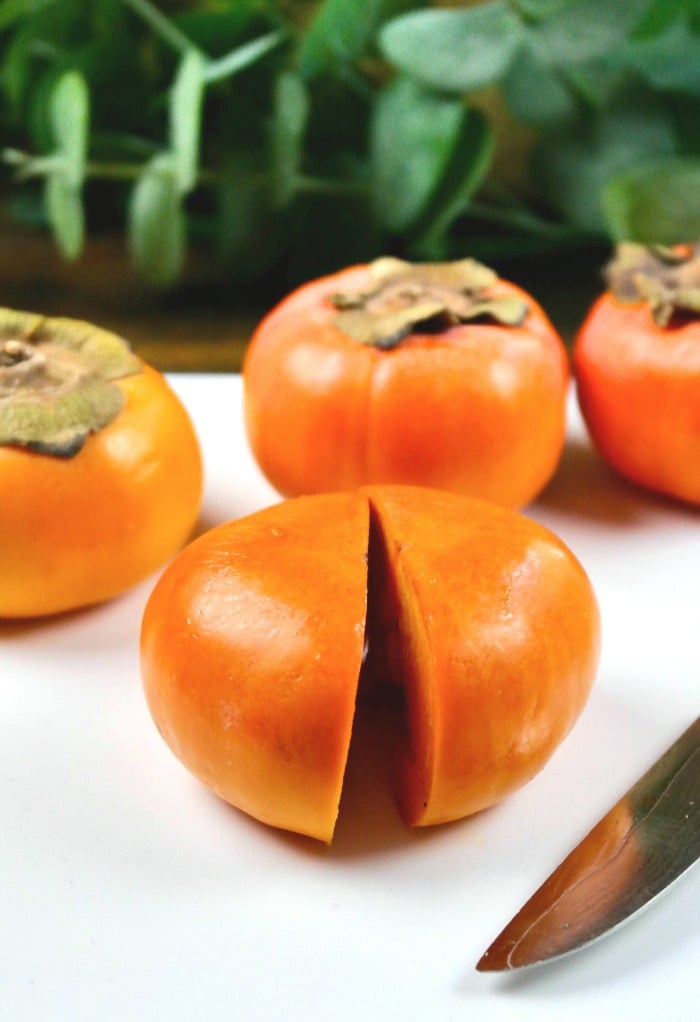 STEP 4: SLICE INTO WEDGES
Lay the persimmon with the flesh side down on the cutting board, and with a sharp knife slice it into thin wedges. Here you will mimic the way you would buy an orange or apple. Now you are ready to use these sliced persimmons in recipes or enjoy them just as it is.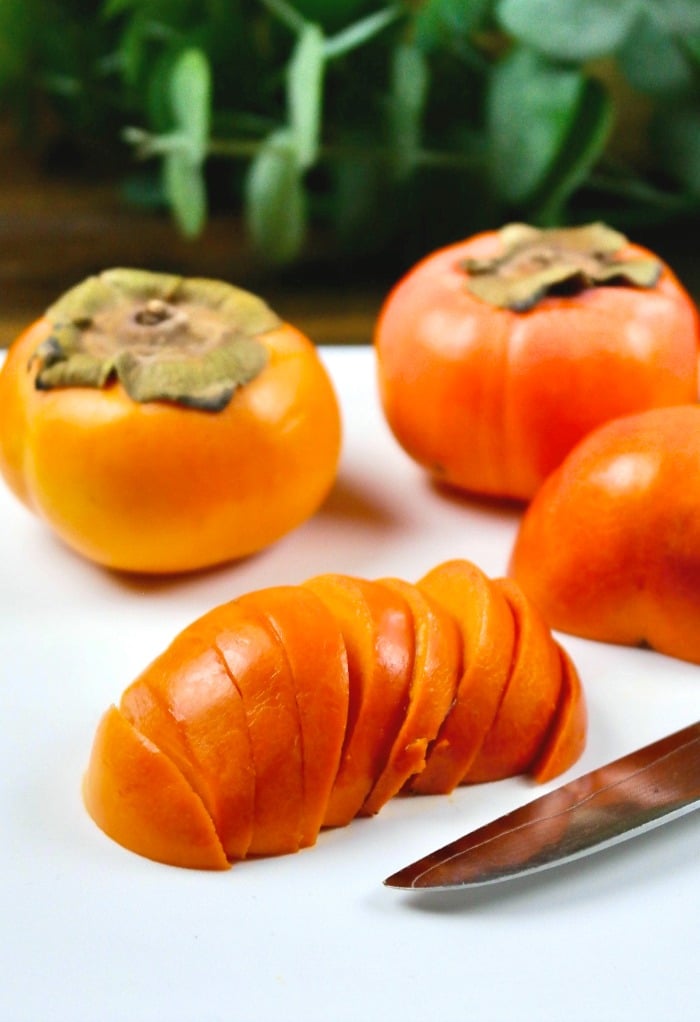 HOW TO OPEN A PERSIMMON SEED POD
If you have ever wondered what is inside those pretty little seed pods, we have the answer for you. The persimmon seed pod is actually edible and it has a sweet, slightly astringent taste. Here's how to open one.
STEP 1: WASH AND DRY THE SEED POD
Wash and dry the seed pod. And, then place it on a cutting board.
STEP 2: USE A KNIFE TO CUT THE POD OPEN
Use a sharp knife to cut the pod open. You can also use a vegetable peeler, but a knife works best. Once you have the pod open, you will see the seeds inside. I've found it's best if you try to slice it in the center.
STEP 3: REMOVE THE SEEDS
Remove the seeds from the pod. The seeds are edible, but many people prefer to spit them out. You can also add them to a recipe if you want.
Step 4: OR YOU CAN SLICE THE PERSIMMON INTO ROUNDS OR DICE IT INTO CUBES
Alternatively, slice the persimmon starting from the bottom of the fruit into round circles. Finally, another option is to dice the persimmons. You will slice in thick wedges, then cut each wedge in half or thirds.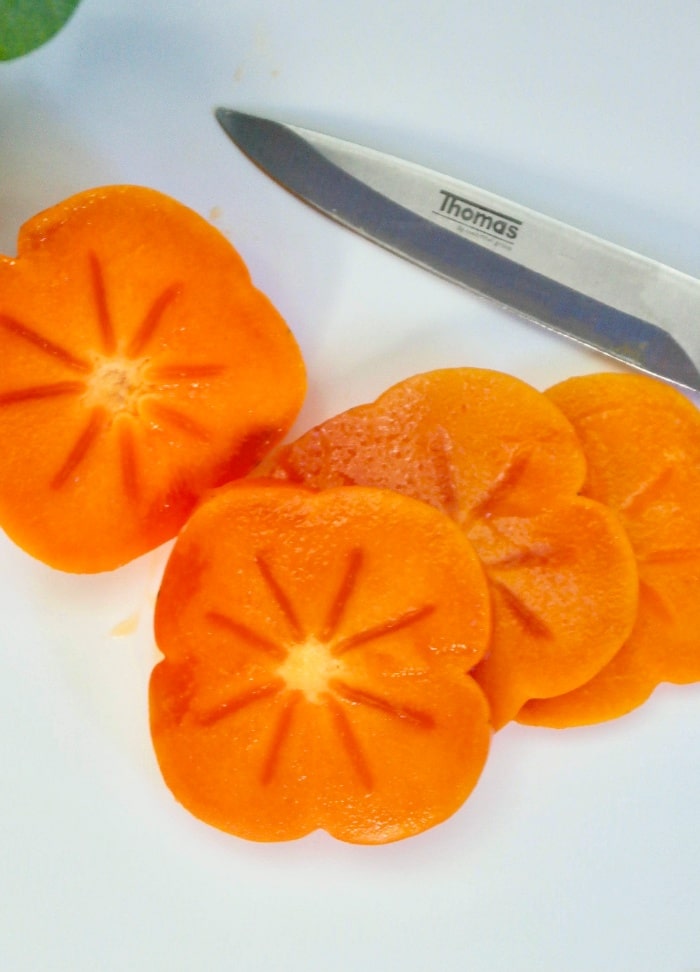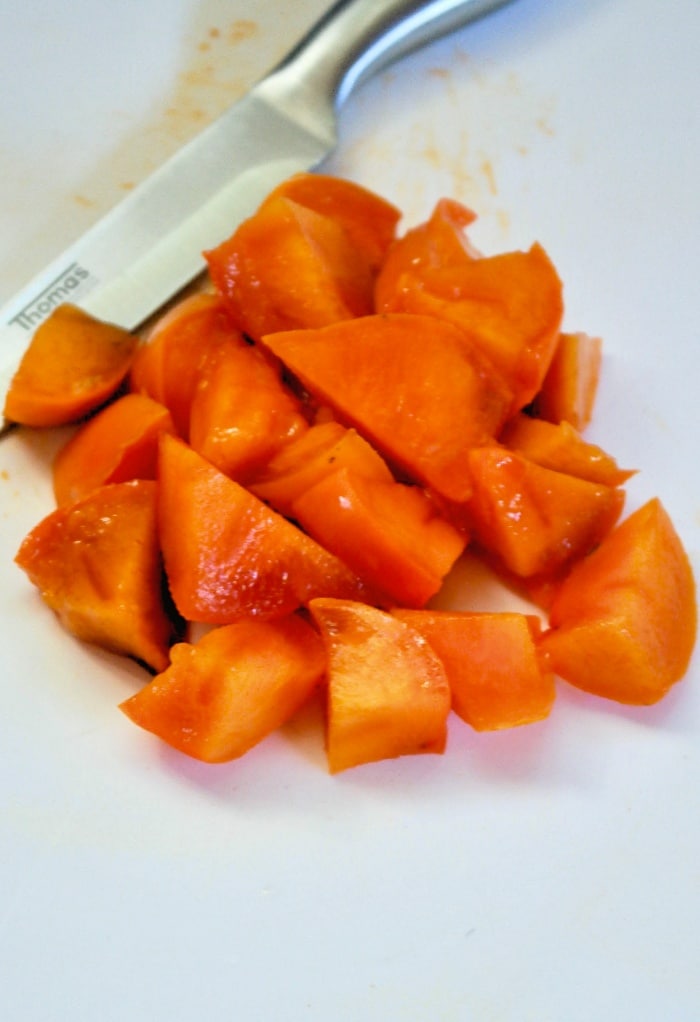 TIPS
Here are a few tips to make sure that your slices turn out well.
There are several main types of persimmons and these directions work for all types of this fruit.
If you have an unripe fruit you can place it in a brown bag or paper bag in a cool place on the counter to speed up the ripening process.
According to traditional weather folklore, you can predict winter by the seeds of a persimmon. If the seeds are shaped like a fork then it's said that you will a mild winter, and a spoon represents a shovel meaning you might have a lot of snow. The knife represents cold wind. Who knew a fruit could predict winter weather?
The two most common persimmon varieties are the acorn-shaped hachiya persimmon, and fuyus which are firm and a light orange color.
The hachiya variety is tomato-shaped fruits that tend to be slightly bitter. However, the firm fuyus are sweeter. I prefer sweet fruit when eating raw so I buy fuyus instead of hachiya persimmons.
You could also use these in fruit bowls, smoothies, or fruit salad for a pop of color and a sweet taste this time of year.
FAQs
Do you have questions about this? Here are the answers to the most commonly asked question on how to cut persimmons.
Where can I find persimmon?
You can find persimmons at your local grocery store or farmers' market.
What is the best way to eat a persimmon?
The best way to eat a persimmon is to slice it up and enjoy it as it is. You can also add it to a salad, yogurt, oatmeal, or smoothie.
How do I know if a persimmon is ripe?
A ripe persimmon will be soft to the touch and will have bright orange skin.
Can you eat the skin of a persimmon?
Yes, you can eat the skin of a persimmon. The skin is actually nutritious.
When is persimmon season?
They are in season from October through January.
DELICIOUS RECIPES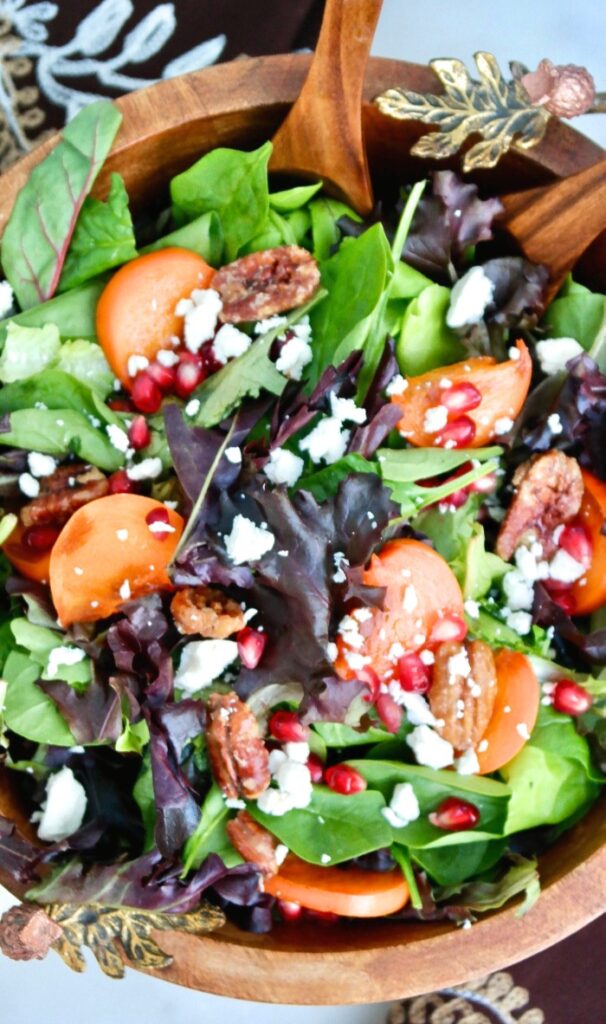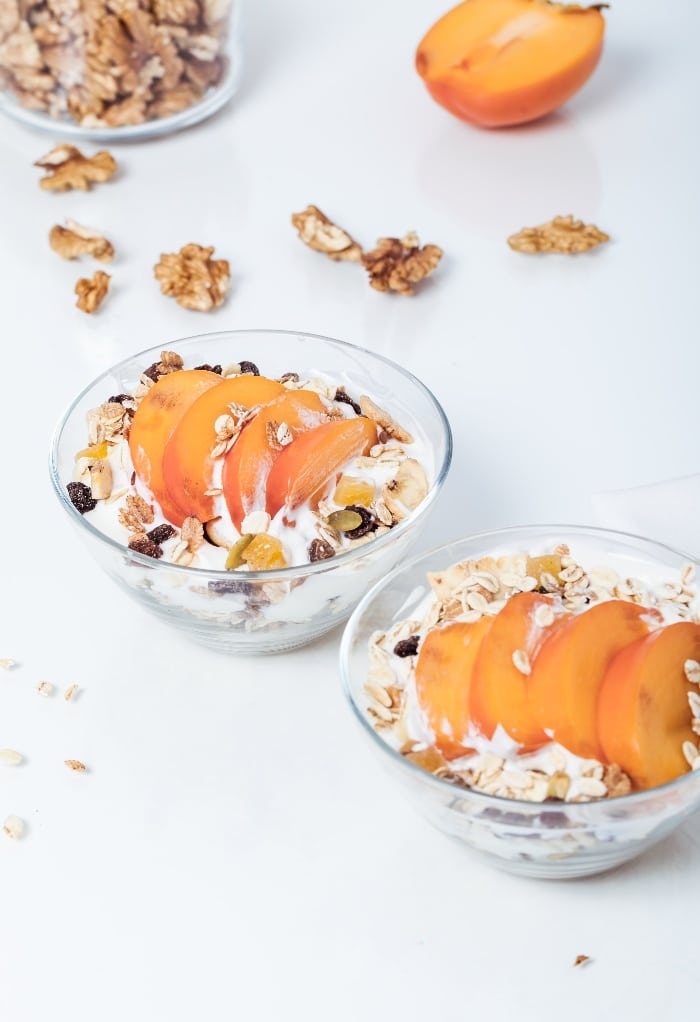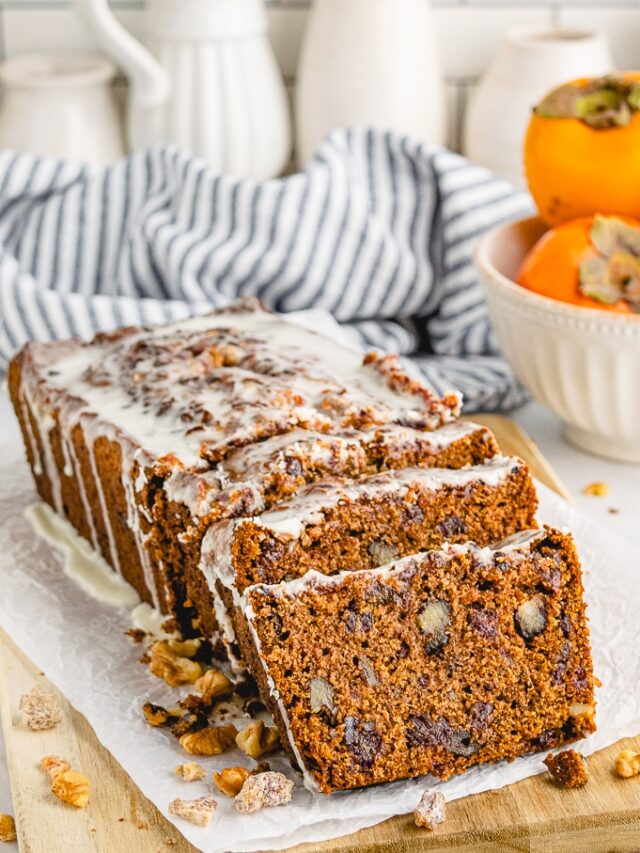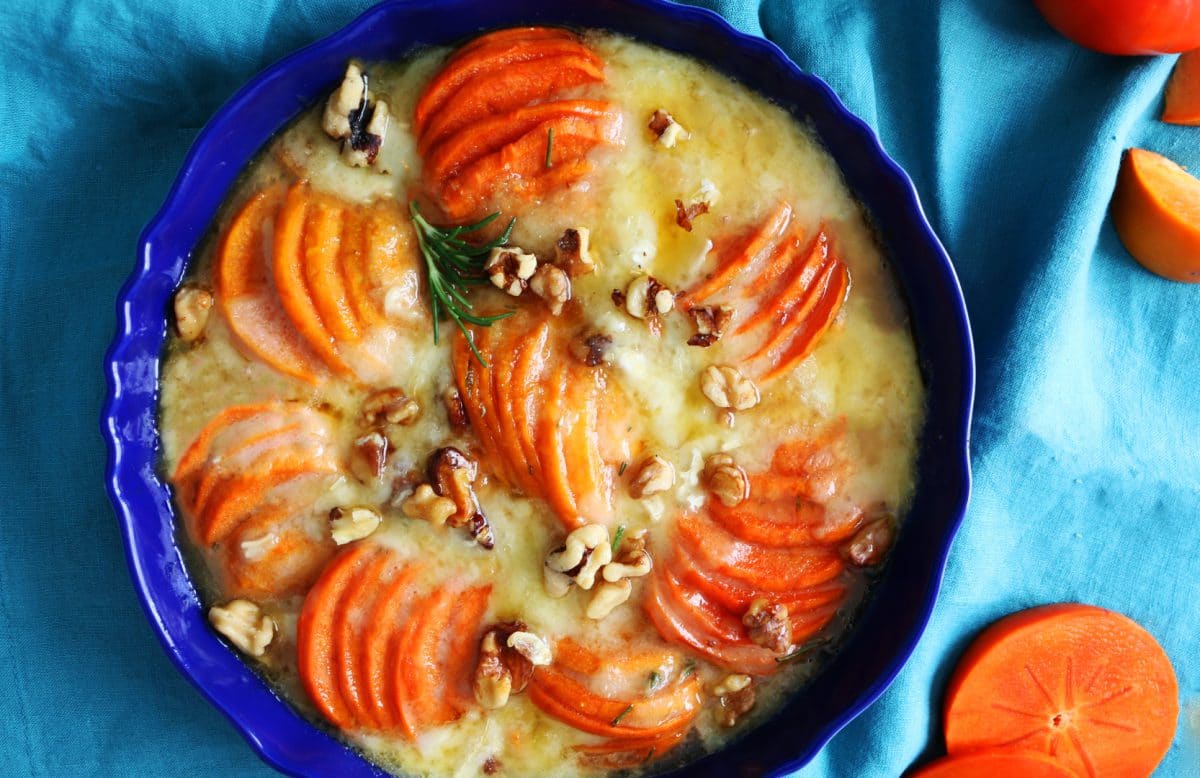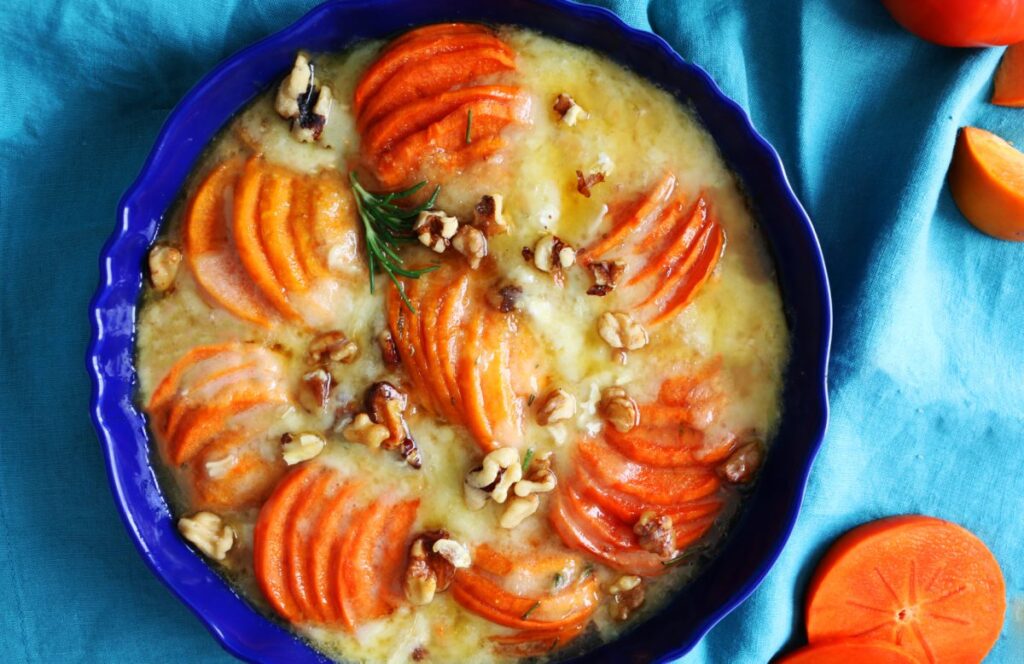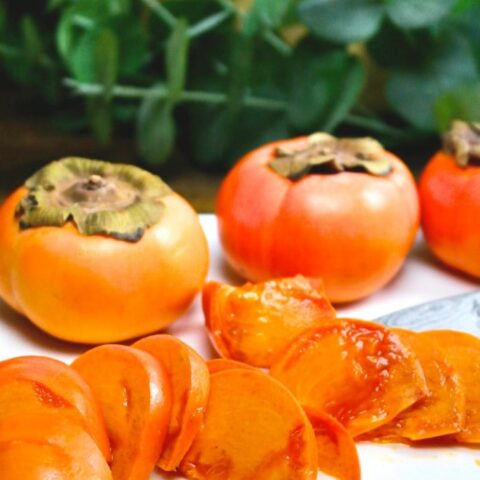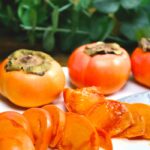 Print
How To Cut Persimmon
Learn how to cut a persimmon in sliced wedges, rings or diced to use for all your fresh ingredient recipes.
Yield:
12
slices per persimmon
Equipment
Cutting Board

Paring Knife
Instructions
Step 1 Remove the leaf top

Clean and dry persimmon. With a paring knife cut around the leafy top and gently pull it off and discard

Step 2 Cut in half

Place the persimmon cut side down on the cutting board over and slice the persimmon in half

Step 3 Slice in wedges, circles or dice

Slice or dice the persimmon. To slice in wedges place the flesh side down on the cutting board and cut into 1/8th inch wedges

To slice in round symmetrical slices, start slicing from the bottom of the persimmon in 1/8th to 1/4" slices

To dice, slice in wedges, then cut in half or third


Notes
Pick firm persimmons. It isn't necessary to remove the skin.
Be sure to check out this How To Cut Pineapple post too!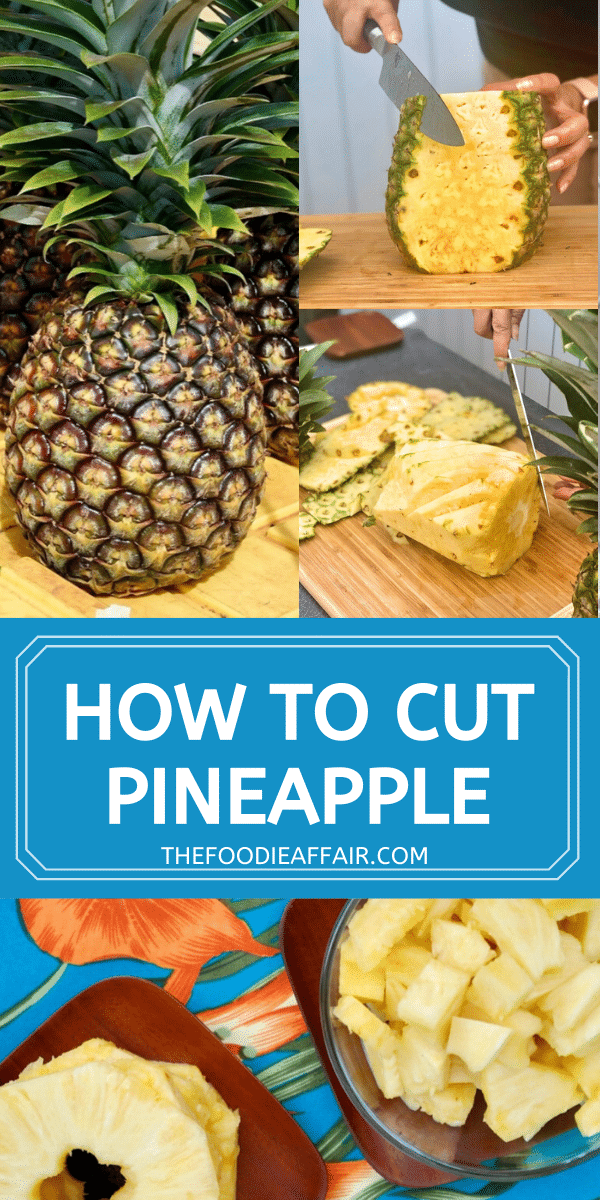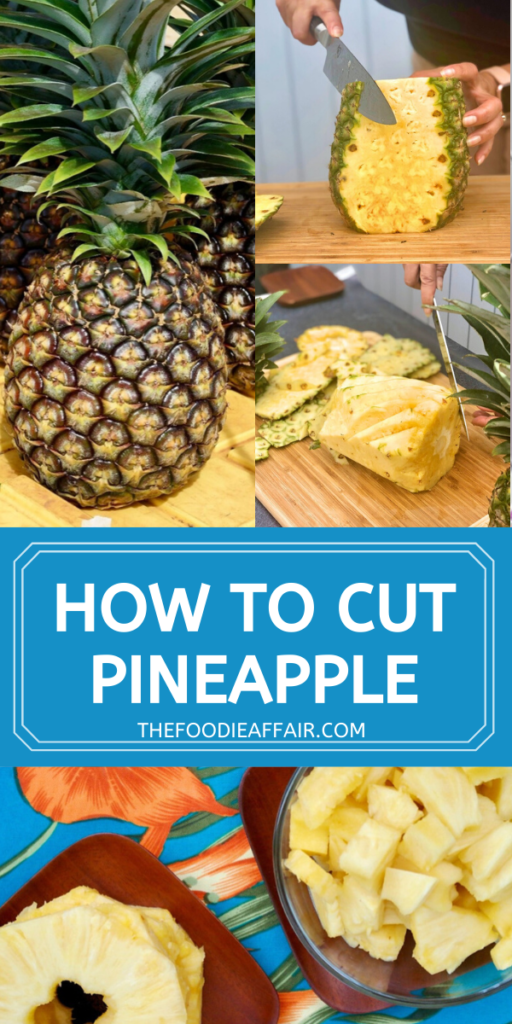 PIN TO YOUR FRESH FRUIT, APPETIZER AND DIY BOARDS