No Bake Take 5 Apple Pie is a delicious combination of chopped candy bars and apples folded into pudding and whipped cream!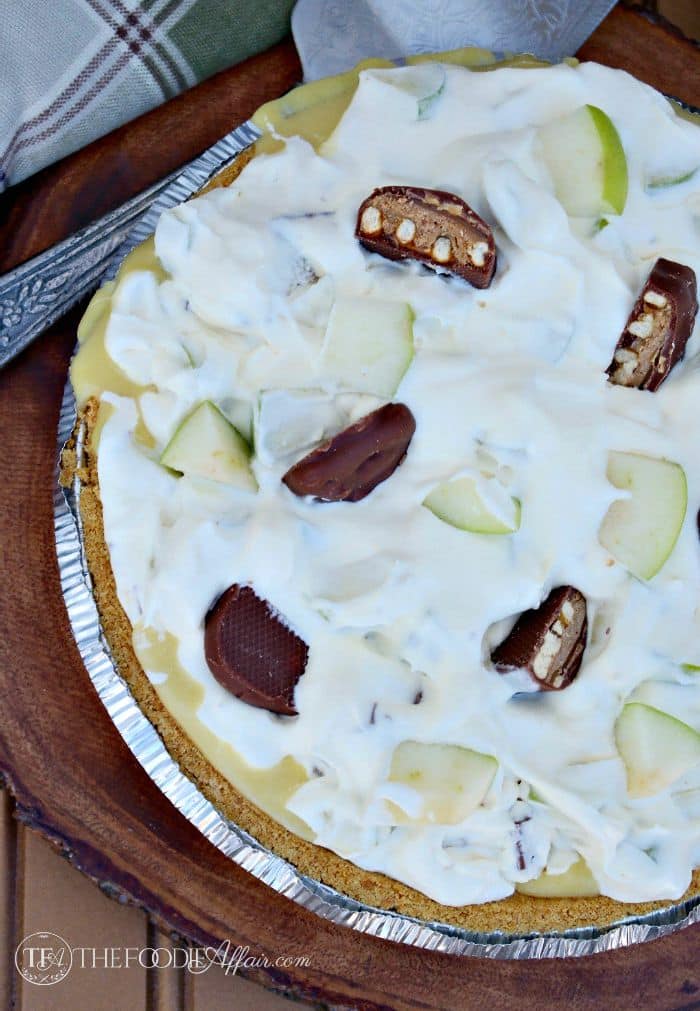 Hope you had a great holiday weekend! Those three wonderful work-free (from the office at least) went by so fast!
We stayed close to home, rode our bikes through an old Army base (Fort Ord), and I also had an opportunity to revamp this Snicker Salad and share it at a pizza party!
Are you familiar with Snicker Salad? It's pure goodness and is always a hit when I make it. How can you go wrong with candy and apples, right?
Plus, it's one of the easiest recipes to put together because there is no baking involved and all the ingredients can be purchased off the shelf!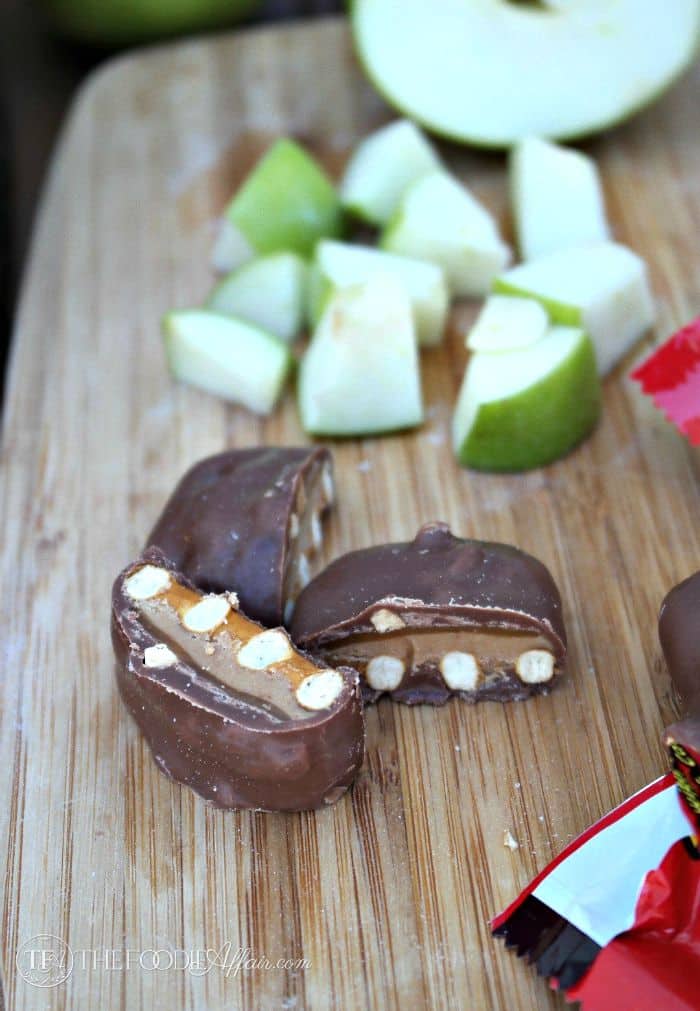 When I was gathering the ingredients my eyes just about popped out of my head when I saw bags of Take 5 fun size candy bars. Whattt? Take 5?!
This candy bar isn't in the stores year round (at least where I live). It usually is reserved for the Halloween rush.
Well, I guess the season is here, so I grabbed a few bags and thought it would be perfect to update the old standby Snicker Salad with Take 5!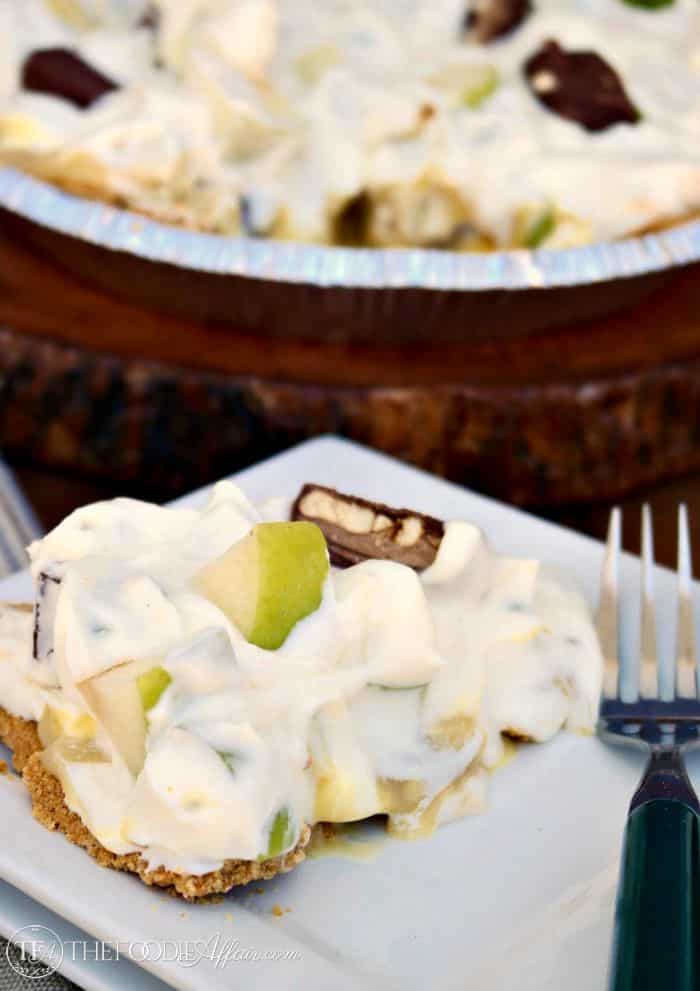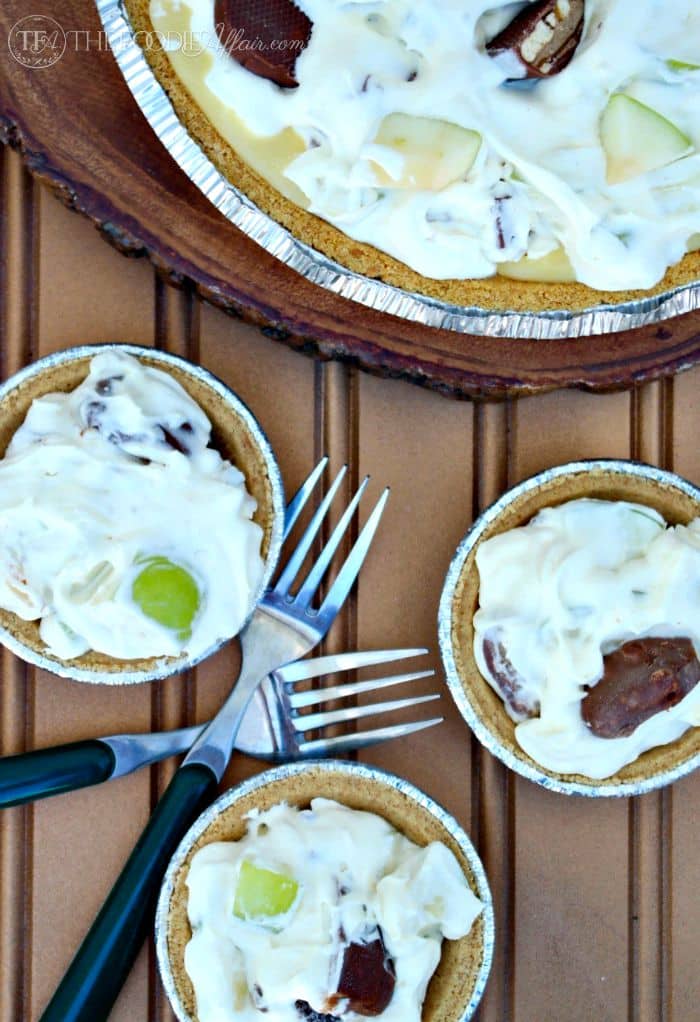 The crunchy pretzel pieces in the candy is so good with the creamy pudding, whipped topping and tart apples! You can serve this Take 5 Apple Pie the old fashioned way by dishing up a scoop or serve it in mini pie crusts or a couple of large pies!
A variety of options may suit the occasion. My favorite way to serve Take 5 Apple Pie is the little personalized pies! Portion controlled treats! haha
Make sure every serving gets at least a couple of pieces of candy otherwise someone will be picking through the leftovers for their fair share!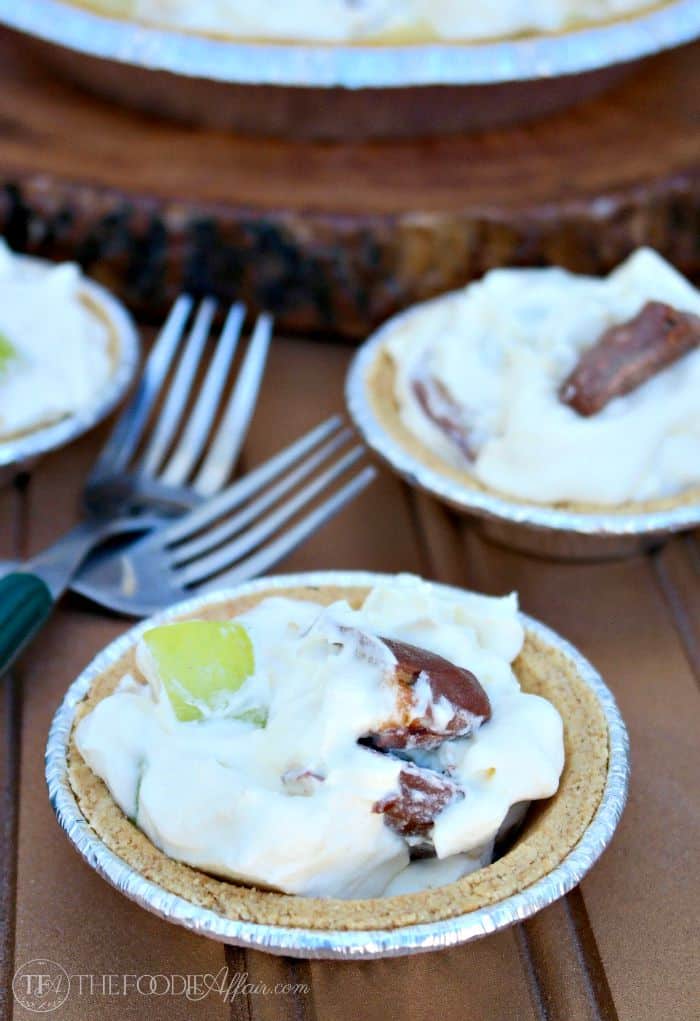 Ingredients
2 packages (3.4 ounce) vanilla pudding
16 ounces non-dairy whipping cream
3 cups milk (I used almond)
6 Granny Smith apples diced and cored into bite size
1 Lemon, juiced
12-14 fun size Take 5 candy bars or 6 regular size bars, chopped into bite size
prepared pie crusts
Instructions
Core and dice apples and place in a large bowl. Toss in lemon juice to keep apples from browning
In a large bowl, mix milk with pudding mixes. Remove one cup of the pudding and set aside.
Fold in whipping cream and once combined add apples and candy bars.
Add 1/2 cup of prepared jello to the bottom of the pie crust spreading on the bottom of the crust. For mini crusts use 1 tablespoon. Add pie filling and refrigerate or freeze for an hour before serving.