Delicate Whole Wheat Chocolate Waffles with almond meal for an extra dose of protein. Serve with fruit and freshly whipped cream! Extras can easily be frozen to be enjoyed anytime!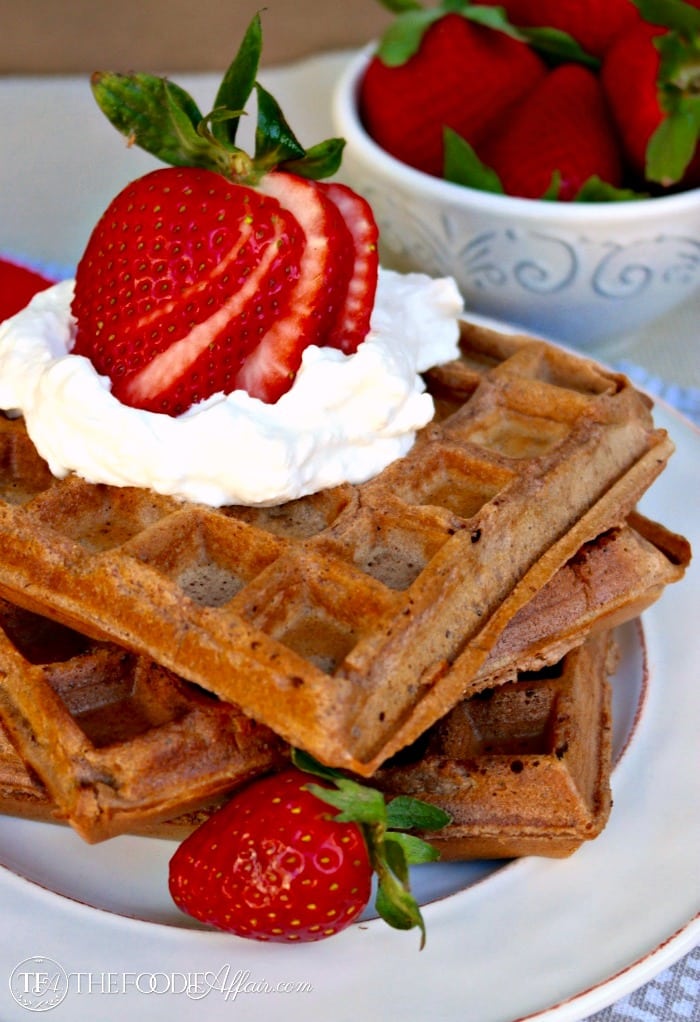 See these beautiful chocolate-y waffles? They're mine. All mine! I saw this recipe in my local newspaper and just loved the ingredients; whole wheat pastry flour and almond meal, plus a smidgen of chocolate for a dose of antioxidants that are good for the heart!
Swooning over these waffles too? Well, apparently it may be just the two of us! See, I left the clipping from the newspaper on the kitchen counter and Alan glanced at the recipe and gave it thumbs down. More specifically he said, "EWWW, that doesn't sound good!"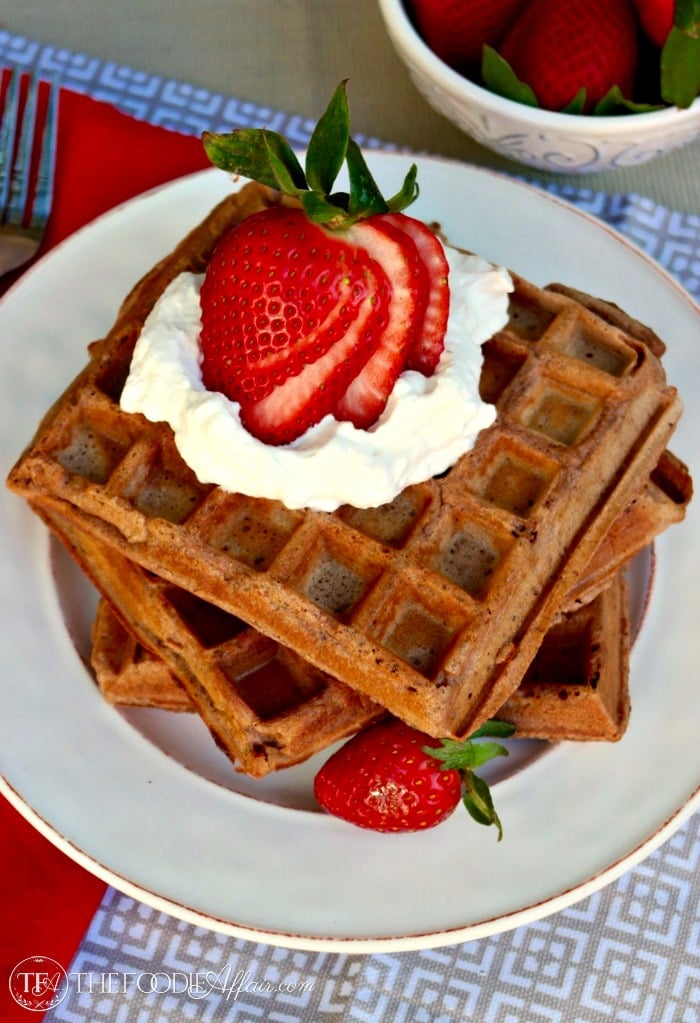 Uh, hello mystery person! Who are you and where is my husband? In disbelief I responded, "Fine. I won't make these for you, but you can make them for ME!" And there the recipe sat, and sat, and sat until this past weekend when I treated myself to waffles!
I know that the house smelled like a bakery as each waffle cooked up, and being the smart man that Alan is he didn't dare act interested in what I was making. Nope. Not at all. Pshhhh!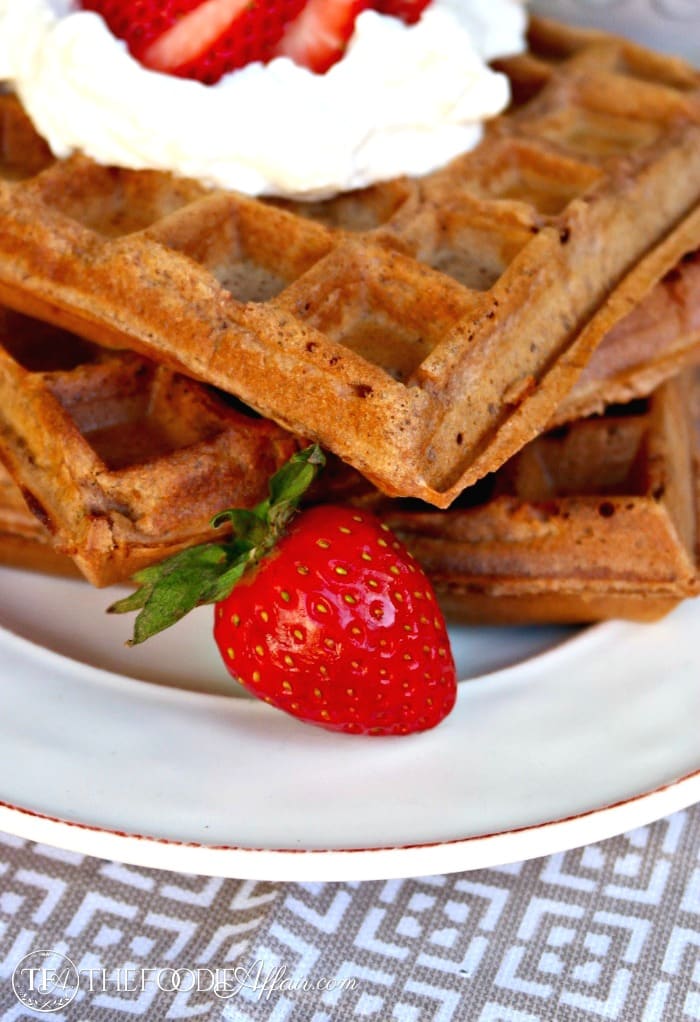 These tasty waffles have a mild nutty flavor from the almond meal, which also adds an extra boost of protein! I ate these with fresh whipped cream and strawberries, which added the perfect amount of sweetness for me. The recipe only calls for 2 tablespoons of brown sugar, so if you like sweeter waffles, then top them with maple syrup, homemade blueberry sauce, sugar free strawberry topping or fold in some mini chocolate chips!
I shared a basic waffle recipe and tips on  how to freeze waffles in a previous post, and since I couldn't possible eat all of these waffles in one sitting I put those tips to use! Now my busy work week  gets easier with breakfast already made! I can pop a couple of waffles in the toaster right out of the freezer!
What do you think about topping these whole wheat chocolate waffles with a scoop of vanilla ice cream with some chocolate syrup for dessert? Mine. All mine! Teehee.
You also may want to try these delicious Whole Wheat Apple Spice Waffles made with fresh Mutsu apples!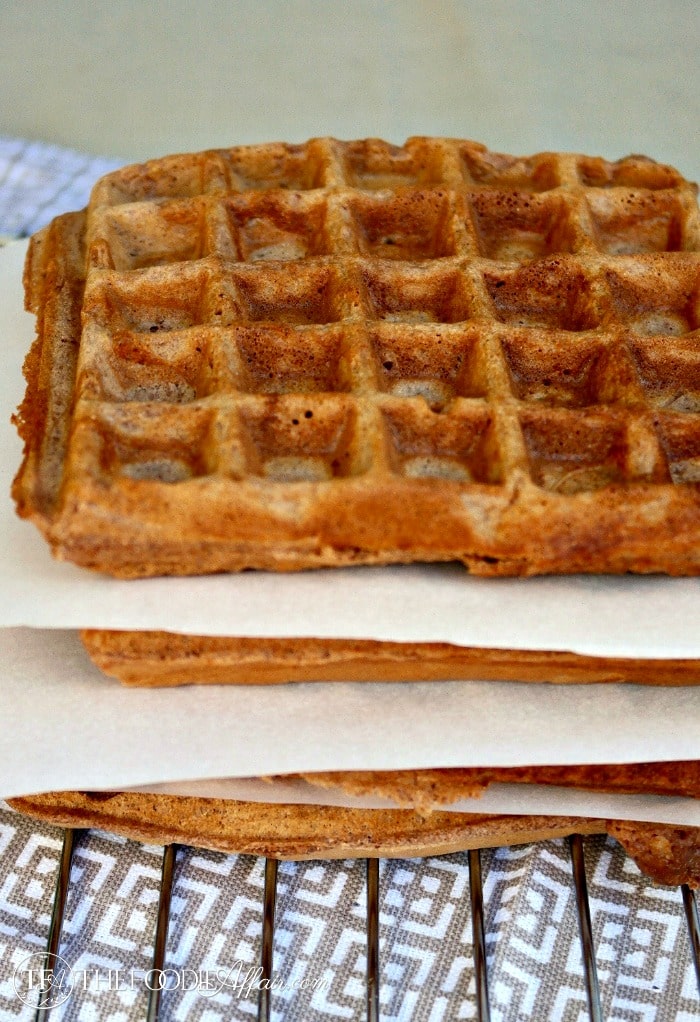 Whole Wheat Chocolate Waffles
Author:
Sandra @ The Foodie Affair
Ingredients
¾ cup whole whet pastry flour
½ cup almond meal
2 tablespoons unsweetened cocoa powder
2 tablespoons light brown sugar
2 teaspoons baking powder'
¼ teaspoon salt
1 cup low-fat milk, 1%
2 eggs, large
1 tablespoon canola oil, plus more for waffle maker
1 teaspoon vanilla extract
Instructions
Heat waffle iron.
In a medium bowl whisk together the flour, almond meal. cocoa powder, brown sugar, baking powder and salt.
In another large bowl beat together the milk, eggs, tablespoon of canola oil and the vanilla extract. Stir into dry ingredients until ingredients are combined.
Brush griddle with a little oil and add about ¼ cup of batter for each waffle. cook until done (1-2 minutes).
Serve with fruit and whipped cream.