Delicate light and fluffy waffles made into a Breakfast Waffle Sandwich with eggs, bacon and cheese! Add mustard for a savory flavor or drizzle maple syrup over the sandwich!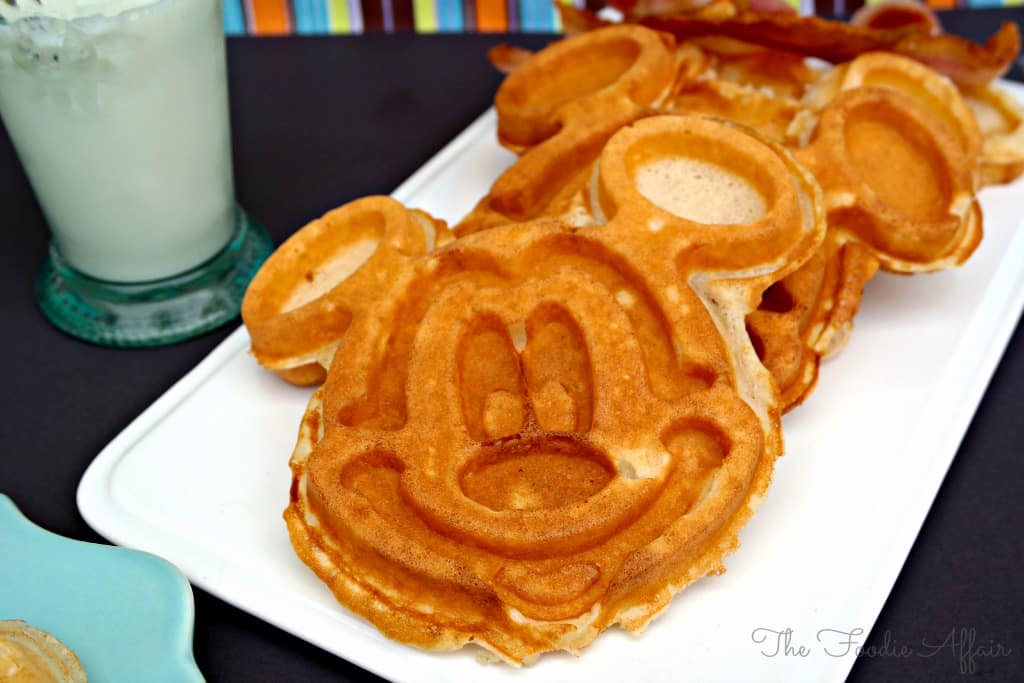 Have you seen all waffle sandwiches on Pinterest? Oh my goodness, so awesome! From savory to sweet, and 101 different ad-ins that are put right into the batter. Such a fun way to turn ordinary into simply fabulous!
I thought it was about time to dust off our waffle maker and partake in this trend!
Here comes Mickey out of his slumber (no wonder he never ages)!  I think he came to our family as a wedding gift.  Ancient.  Alan and I will be celebrating our 28 anniversary this year, so this waffle maker may be an antique.
I'm feeling particularly sentimental about Mickey because he reminds me of my kids when they were tots, which is probably the last time I made Mickey waffles (head drops in shame).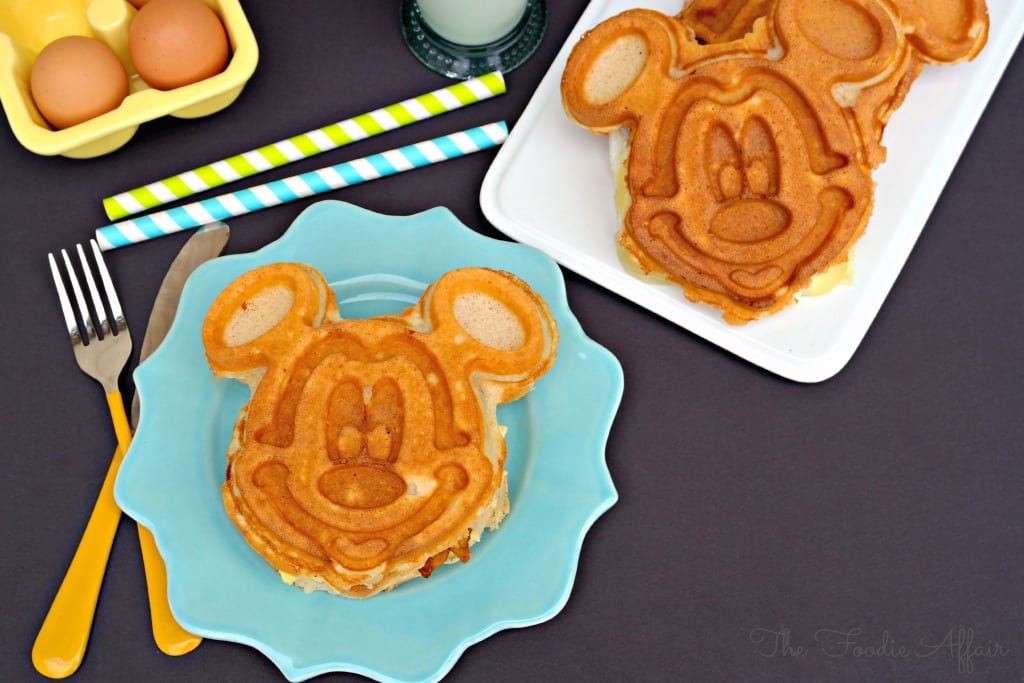 Mickey is cool. How could we have neglected him for so long, and how can you not smile looking at his happy chubby cheeks?!
That all changed. For some silly fun I made my 19 year old, a couple of weeks before his 20th birthday, Mickey Mouse Breakfast Waffle Sandwiches! I wonder what his reaction would have been if I packed it for him for lunch! Probably wouldn't faze him since it's packed with delicious scrambled eggs, bacon, and cheese smooched between two slices of Mickey waffles. We went savory and added a little mustard.  You could also drizzle maple syrup over the sandwich.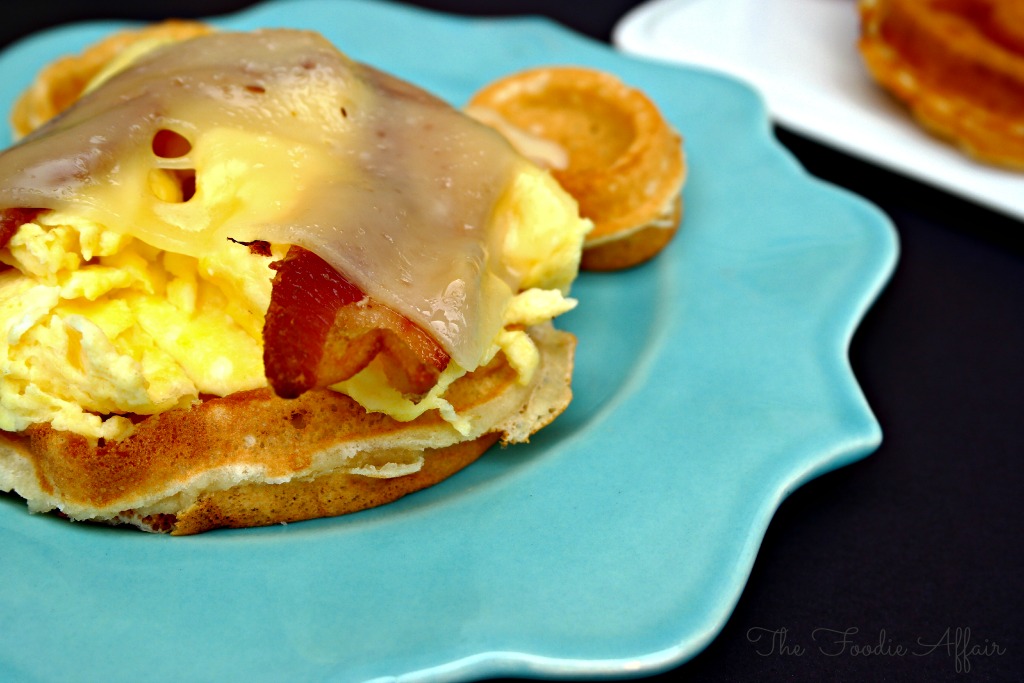 Even though it's been a very long time since I've made waffles, I knew exactly which recipe I would try. Maureen at Orgasmic Chef has several delicious recipes to choose from, but I never forgot about the Insanely Good Waffle recipe she shared over seven months ago! They were easy to make and insanely yummy.
The hardest part about this whole sandwich is deciding which part of Mickey to cut into first. The ears were my first choice, but for photo impact I went for the nose and mouth 🙂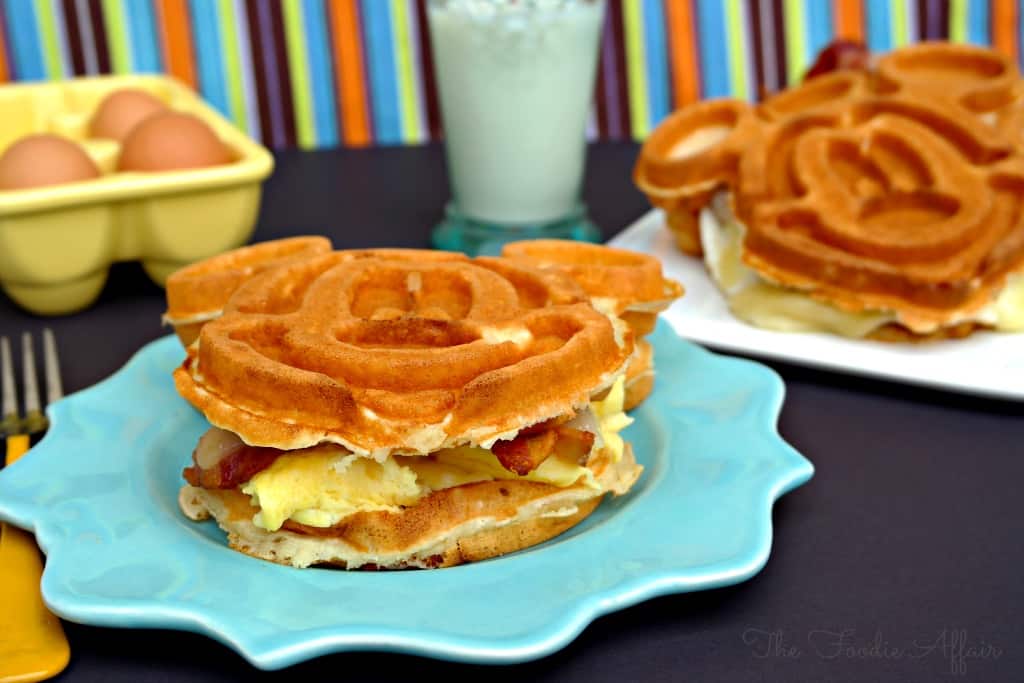 Yield: 8
Breakfast Waffle Sandwich
Prep Time 10 minutes

Cook Time 15 minutes

Total Time 25 minutes
Ingredients
Scrambles eggs (two per sandwich)
Bacon, cooked until crispy (1-2 slices per sandwich)
Cheese slice, one per sandwich (cheddar, white cheddar, Havarti)
condiment of your choice.
Instructions
Cook waffles, eggs and bacon and keep warm until ready to assemble sandwiches. Layer on top of one piece of waffle, egg, bacon, and cheese (melt if you would like). Add condiment of your choice. Top with a second waffle. Enjoy!


The waffle recipe is from Maureen's Insanely Good Waffles (it's true!) from Orgasmic Chef.
You also might like to try these Banana Buttermilk Belgian Waffles from The Chef Next Door.