Freeze waffles ahead of time and enjoy a hearty breakfast during the busy mid-week morning rush!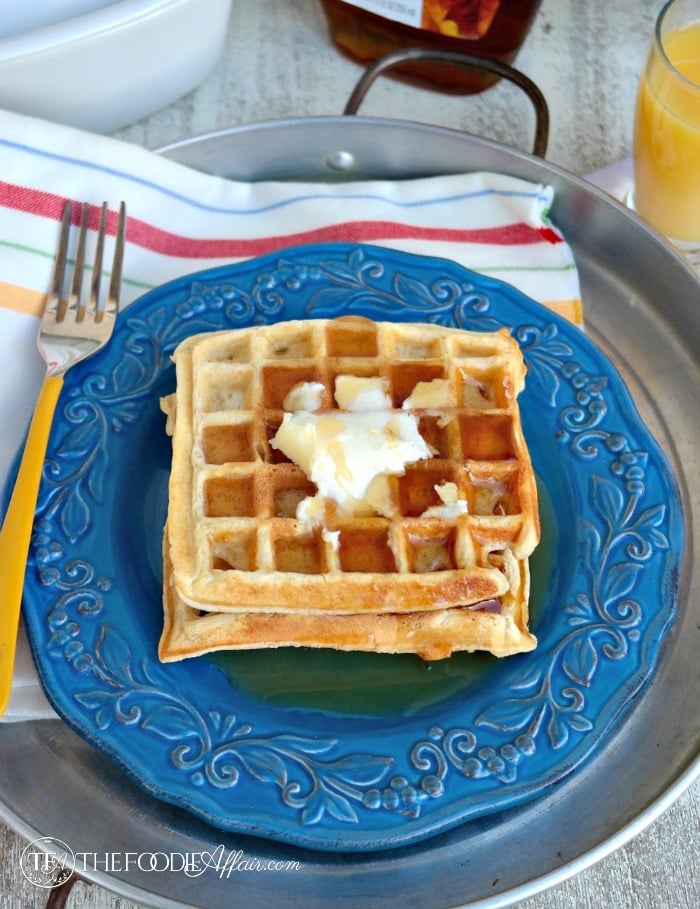 I bought a new kitchen gadget! I'm a proud owner of a grown-up waffle maker! The last time I made waffles was when I shared this Breakfast Waffle Sandwich using my Mickey Mouse iron. I've been pining for an update for some time and when I saw a new waffle iron for $20 bucks, I snagged it!
I've seen some super creative recipes using other ingredients besides batter that I want to waffle, but none of them are with a face of Mickey. Plus, sometimes you need more crevices for ingredients like maple syrup to pool into. Mickey has been so fine, but eating into an ear or cheek sometimes comes with a ting of remorse. Now I can cut into any section of my waffle with gusto!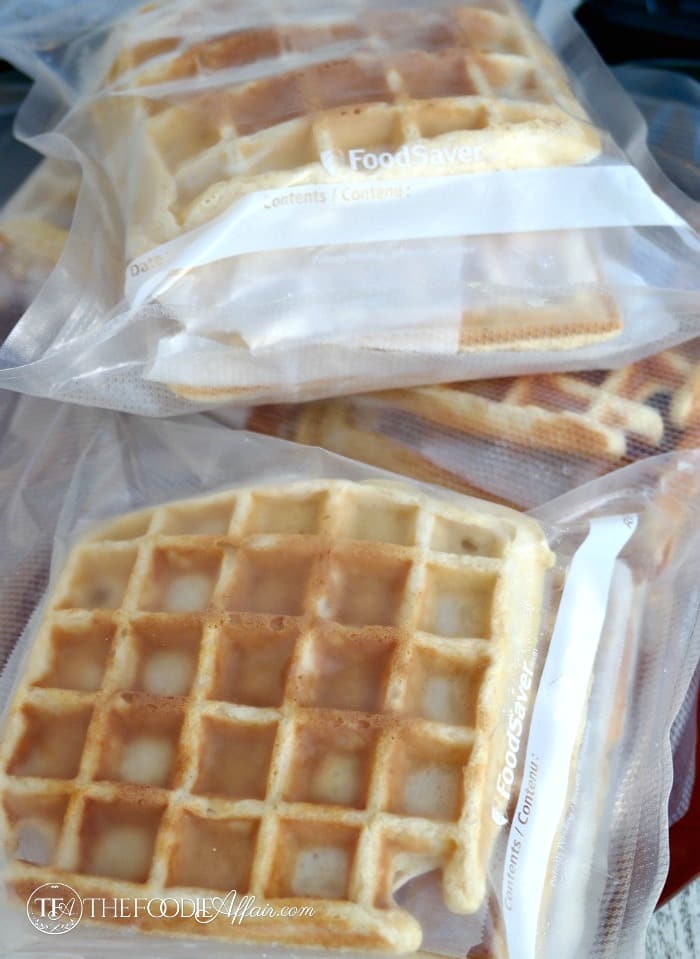 I was so excited to put it to good use that I made two batches of waffles. That's a lot of waffle eating for just the two of us, so I decided that I should learn how to freeze waffles in batches so we could pop a couple in the toaster or oven for anytime we wanted to eat them. Waffles for dinner? Sure! Why not!
There are a couple of tips that I think are helpful. First, undercook the waffle just a smidgen so that when you reheat the waffles they don't get too dark before they're thoroughly warmed.  You also want to completely cool the waffles before freezing them.
Once the waffles are frozen they pack up nicely and don't take up as much room as the bulky boxed ones that you can buy at the grocery store. I never buy them because they take up my precious freezer space. Plus, as soon as you open the box you better eat them all or they'll end up with freezer burn!
This basic recipe is a mix of all purpose and white whole wheat flour, which allows for any type or flavor of topping like Pecan Maple Syrup, Coconut Syrup or Homemade Blueberry Sauce! If you want to try something a little more decadent you might be interested in this Whole Wheat Chocolate Waffle recipe.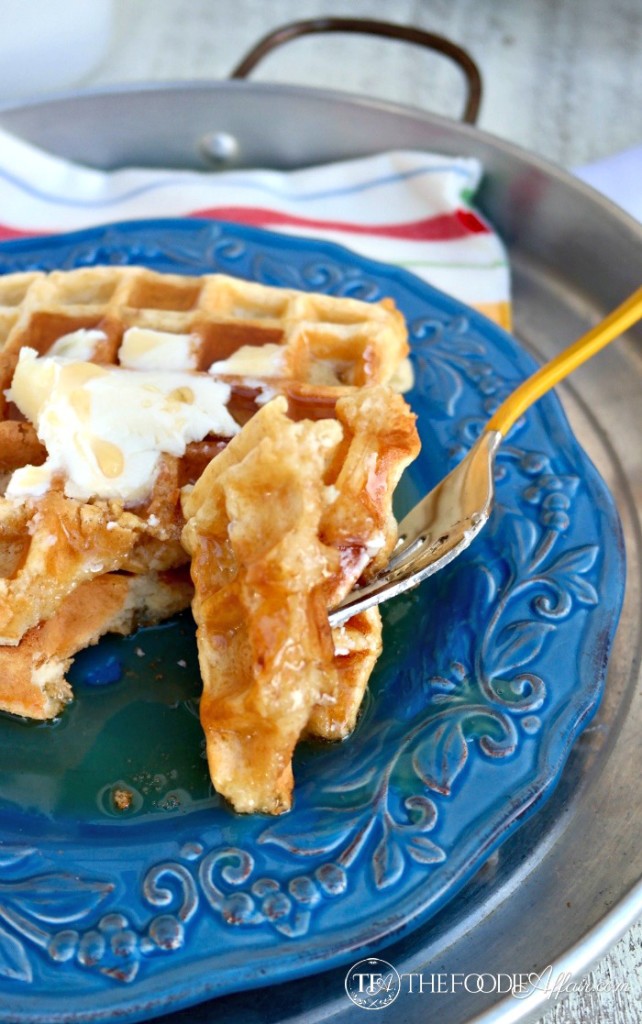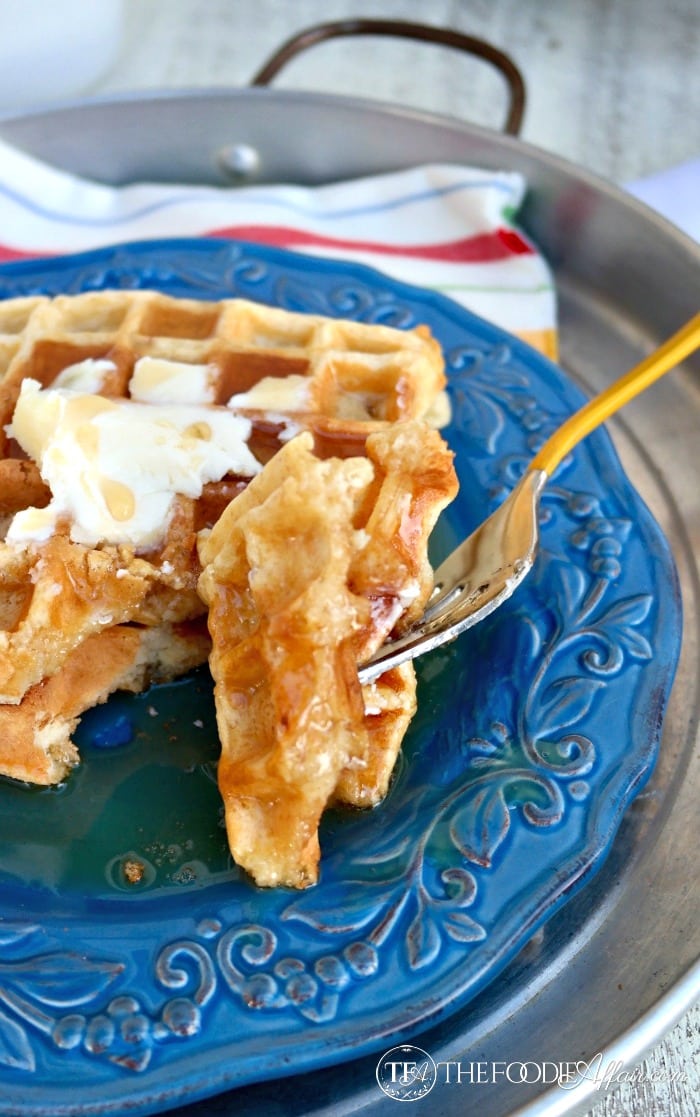 Yield: 6-8
How to Freeze Waffles
Prep Time 15 minutes

Cook Time 10 minutes

Total Time 25 minutes
Ingredients
1 cup all-purpose flour
1 cup white whole wheat flour
1/2 teaspoon baking soda
1 teaspoon baking powder
1 teaspoon salt
3 tablespoons sugar
3 large eggs, beaten
2 ounces butter, unsalted and melted
2 cups buttermilk at room temperture
Instructions
Heat waffle iron.
In a medium bowl whisk together the all-purpose and whole wheat flour with the baking soda, baking powder, salt and sugar.
In a separate bowl, combine the eggs, butter and buttermilk. Add the egg mixture to the flour mixture and stir until combined. Let the ingredients sit for 5 minutes.
Cook according to your manufacture's recommendations.
Notes
Cook the waffles and let them completely cool on a backing rack. Once they are cool, place them on a baking sheet lined with parchment paper. Flash freeze for about two hours then remove them from the freezer, and put them in individual freezer bags or airtight containers. This is where a Foodsaver comes in super handy! I took the parchment paper and slide them between each waffle. Some I packed with four and others six or eight.
To REHEAT
In the oven, preheat oven to 350 degrees. Place waffles on a baking sheet and warm for 10-15 minutes.
In a toaster, place frozen waffle in toaster and heat for 1-2 minutes. This will vary depending on the setting of your toaster.