Moist and flavorful Teriyaki Pineapple Turkey Burgers are lean on fat content, but not on flavor! Mouthwatering sweet and salt flavors of pineapple and teriyaki go so well together, and are sure to satisfy your tastebuds!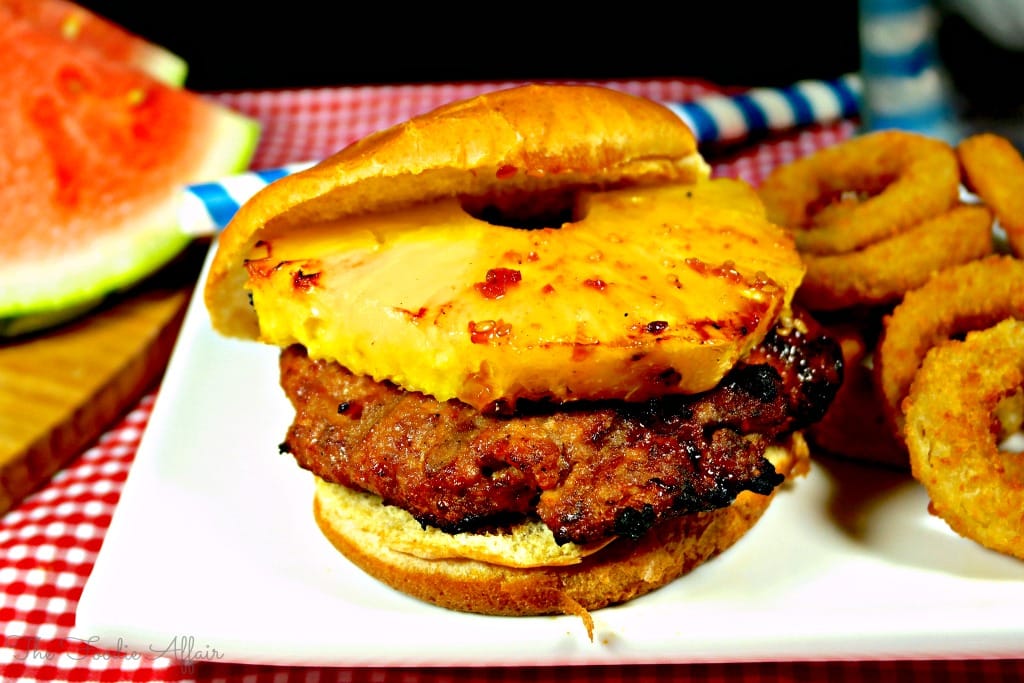 If you're looking for a little twist to a grilled burger, you must try this Teriyaki Turkey Burger with a slice of grilled pineapple! Wowza, what a delicious combination!
After I told my son that Ashley shared a Worcestershire Sauce recipe on the blog he said, "Now I need to share a recipe!"
I would totally love The Foodie Affair to be a family blog, but in reality my son wasn't actually thinking that he would develop a recipe, cook the meal, write and photograph the results to share.
What he really meant was, I'll tell you what I want to eat and that'll be my contribution!  LOL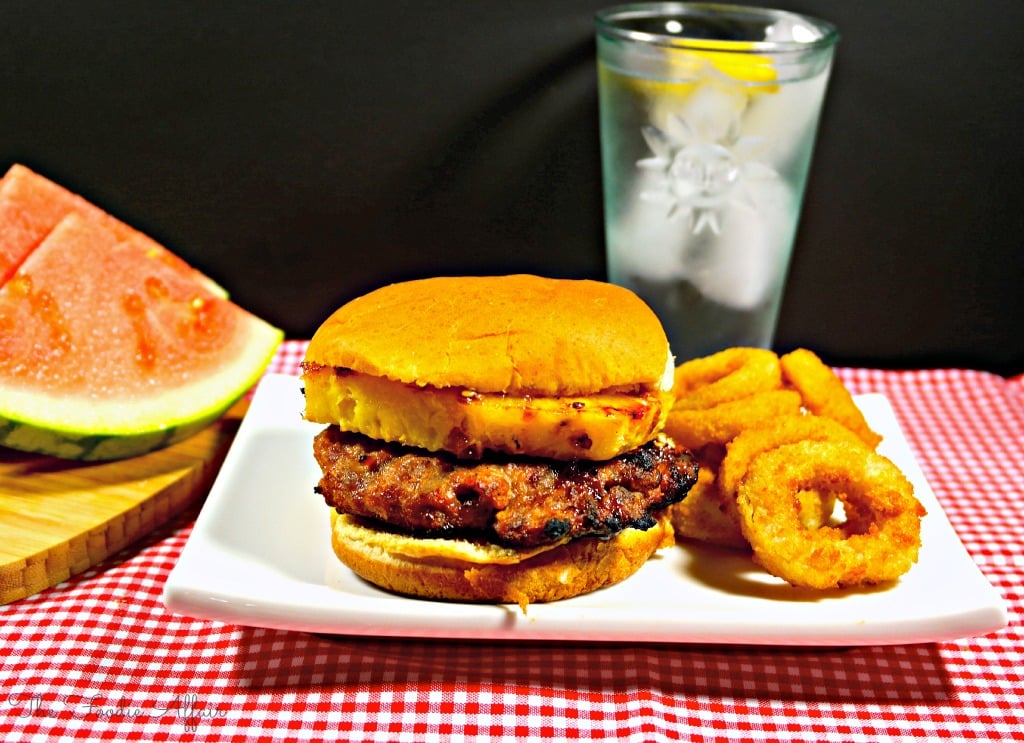 Well, he did save me the step of deciding what to make for the evening, which is so helpful when my brain doesn't feel like being creative, but my stomach wants a good meal!
I was going to make the teriyaki sauce, but it was getting late in the evening and we were on the verge of  being super grumpy because we were STARVING.  
Yeah, for a quick sec I felt like I could relate to Sam's use of the word starving.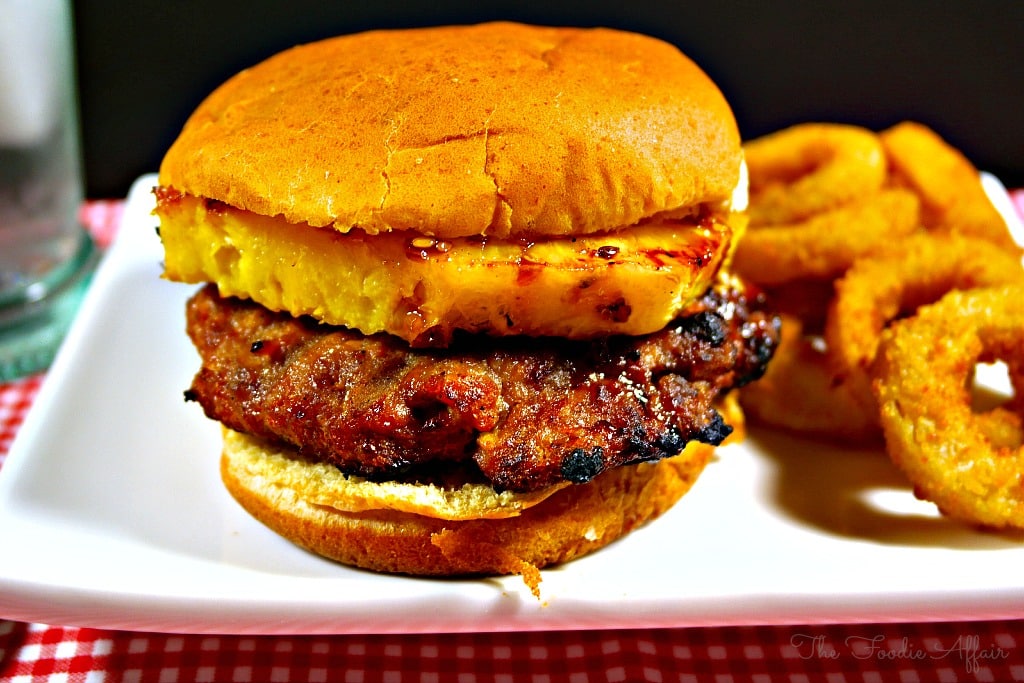 I used Veri Veri Teriyaki doctoring it up just a smidge by adding a few swipes of grated fresh ginger.
Sam added avocado and jalapeños to his burger, but there was no way I could get a photo of that combination 😉
This burger would go great with my Lightened Up Hawaiian Style Macaroni Salad if you would like a side dish to go along with it!
Happy Fourth of July weekend friends! Hope your weekend is festive!
Yield: 4
Teriyaki Pineapple Turkey Burgers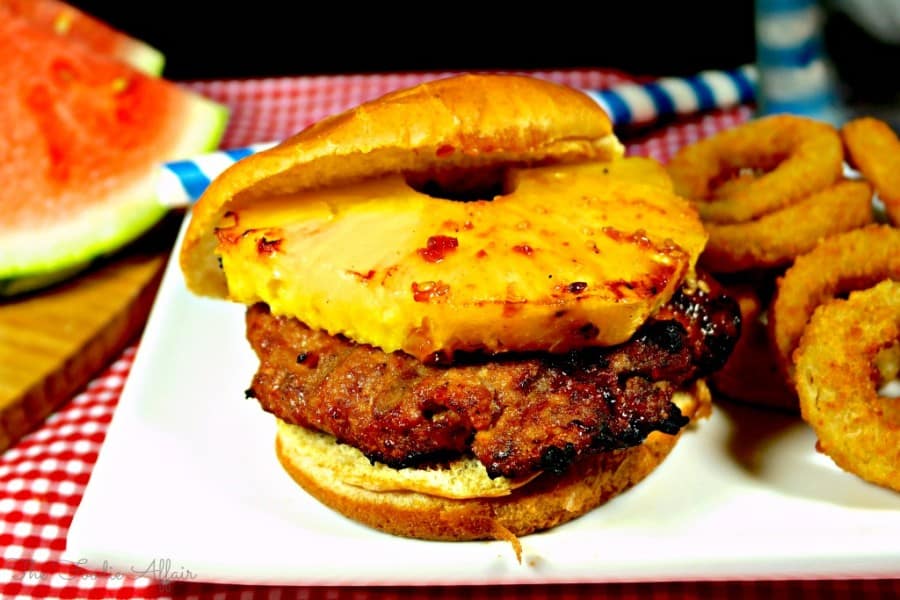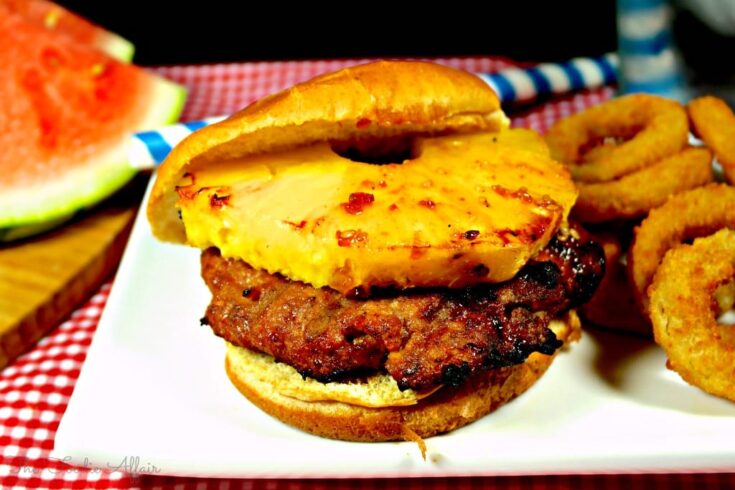 These turkey burgers are a simple lunch or dinner idea with a tropical flair! Each burger is topped with a juicy pineapple slice.
Ingredients
1 pound ground turkey
3 tablespoons pre made teriyaki sauce (I used Veri Veri Teriyaki)
grated ginger to taste (optional)
1/2 cup panko Japanese bread crumbs
1 egg, lightly beaten
4 fresh pineapple slices
4 whole wheat hamburger buns
additional condiments; mustard, mayonnaise, avocado, jalapeños (optional)
Instructions
In a medium bowl mix together turkey, teriyaki sauce, egg, and panko. Form four patties and set aside. If time permits, put them in the freezer for an hour.
Lightly spray grids on grill with cooking spray or wipe with olive oil. Grill patties, covered, over medium heat for 6-7 minutes on each side or until a meat thermometer reads 165 degrees.
Grill pineapple slices on each side for 3-4 minutes or until heated.
Put together burgers topping with additional teriyaki sauce and any other condiments your wish.
Notes
These were very wet patties, but they grilled perfectly and held together without a problem.
Homemade teriyaki sauce just takes 5 minutes to mix up!