Low Carb Crepes are versatile hearty wraps for sweet or savory fillings. Each crepe is only 2.4 carbs giving you more options for your fillings!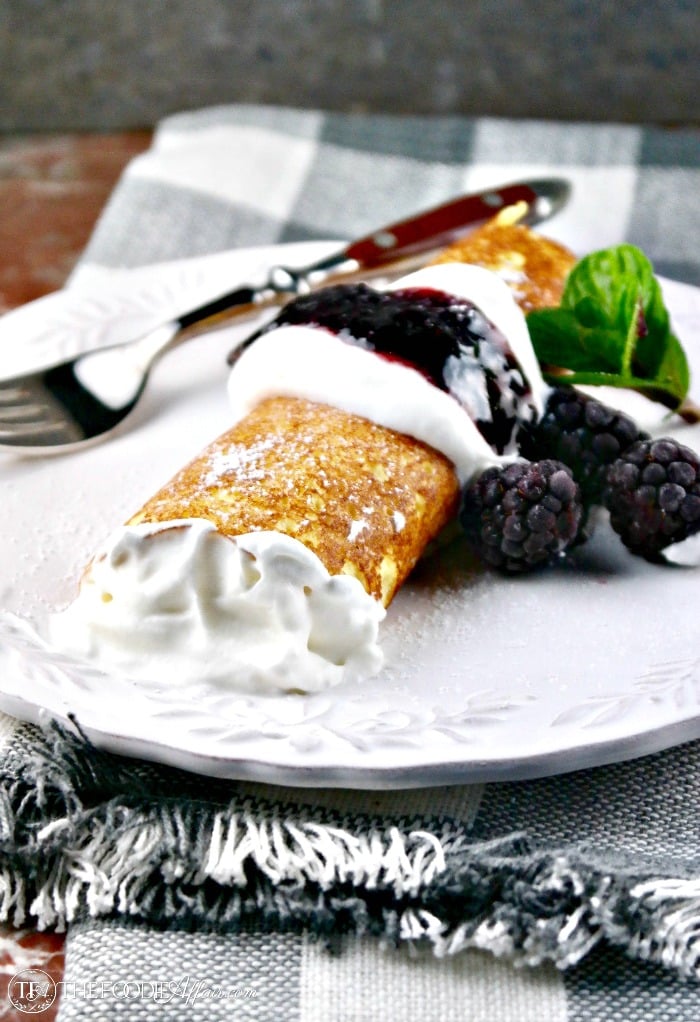 Ok, these crepes were fun to make, and it only took me about 4 times to get it right, but that's because on two occasions I didn't write down the exact combination of flours that I used.
That just may happen more times then I care to admit!
These low carb crepes are thicker than your Basic Crepe Recipe, which I find fantastic for filling with heartier ingredients like shredded chicken, but if you want them paper thin, then you can adjust the liquid content.  Add an additional tablespoon of water or milk until reach the consistency you like best.
With Valentine's Day coming up I wanted to share a grain-free recipe that you might want to enjoy with your sweetie or share at a gathering with the gals.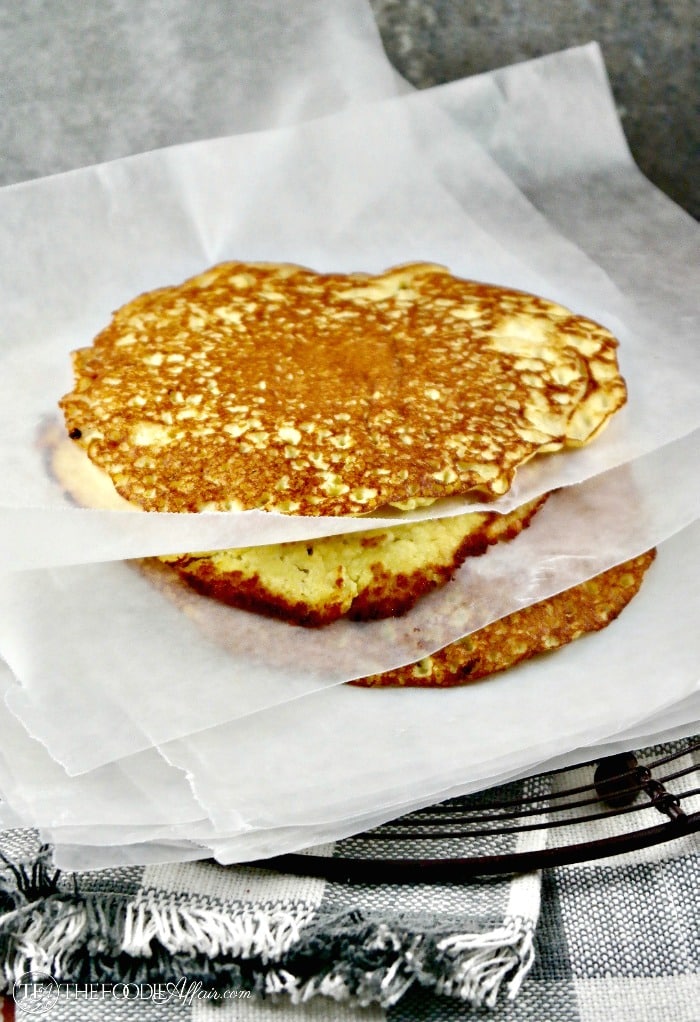 These crepes also make a great brunch entree or meal for any fun get together like a bridal shower or birthday celebration.  If you are making these for guests, then you'll be glad to know that these can be made in advance.
Store them in an air tight container in the refrigerator or freeze them until you want to fill them!
For a dessert filling try this scrumptious sugar-free ricotta cream.  It's absolutely delicious and so light and creamy.
I know you'll be tempted to eat it by the spoonful!
I think taste testing is perfectly acceptable since there is plenty and you need to make sure the flavors are perfect for sharing, right?
For a savory crepe try the filling from Hey Keto Mama's Low Carb Jalapeno Crepes!

Low Carb Crepes (Grain-Free)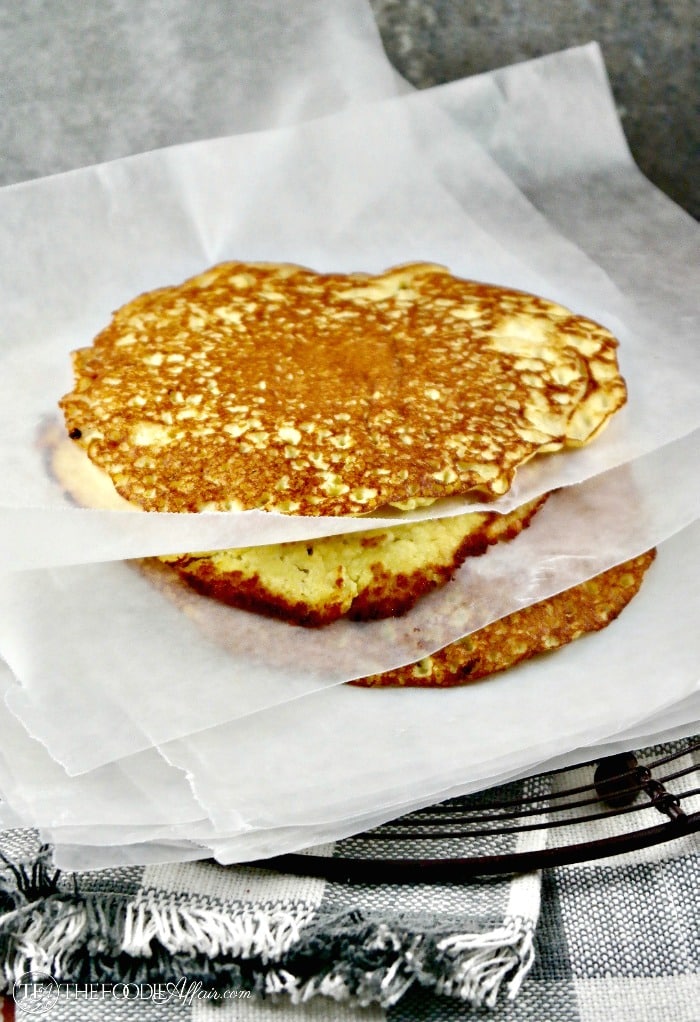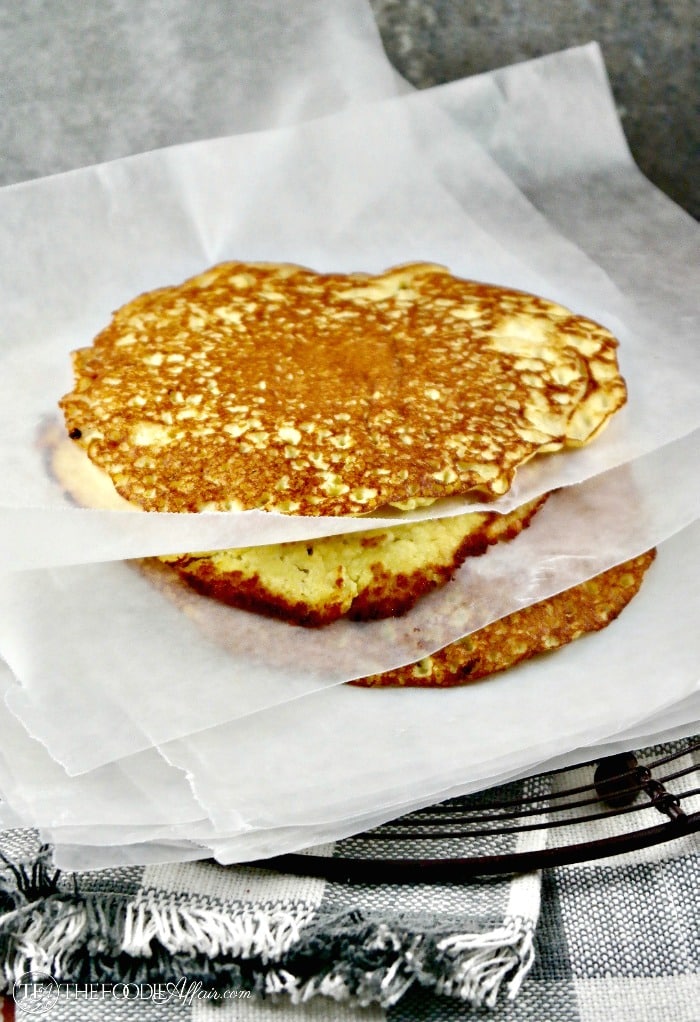 Ingredients
CREPES
2 tablespoons butter, unsalted melted and cooled
4 large eggs
1/2 cup milk
1/2 cup water
1 teaspoon vanilla extract
1/2 cup almond flour, superfine
1/4 cup coconut flour
1/4 teaspoon salt
Directions
In a large bowl whisk together eggs, milk, water, vanilla and butter. Sift in almond & coconut flours, and salt and whisk all ingredients together until batter is smooth. Let sit for 3-4 minutes as the flours absorb some of the liquid.
Heat a 8-9" skillet with oil or butter on a medium high heat. Add ¼ cup of batter and swirl batter in pan forming a circular pancake. Cook for about 2 minutes and flip to cook other side.
Fill with ingredients of your choice.
Macronutrients are from My Fitness Pal.  Please calculate your own ingredients as each brand is different, which may change the calculations. Fiber from flours total 16 grams, which brings the Net Carbs of each crepe to 2.4 carbs.
| | | | | | |
| --- | --- | --- | --- | --- | --- |
| Calories | Carbs | Fat | Protein | Sodium | Sugar |
| 73 | 4 | 6 | 2 | 31 | 1 |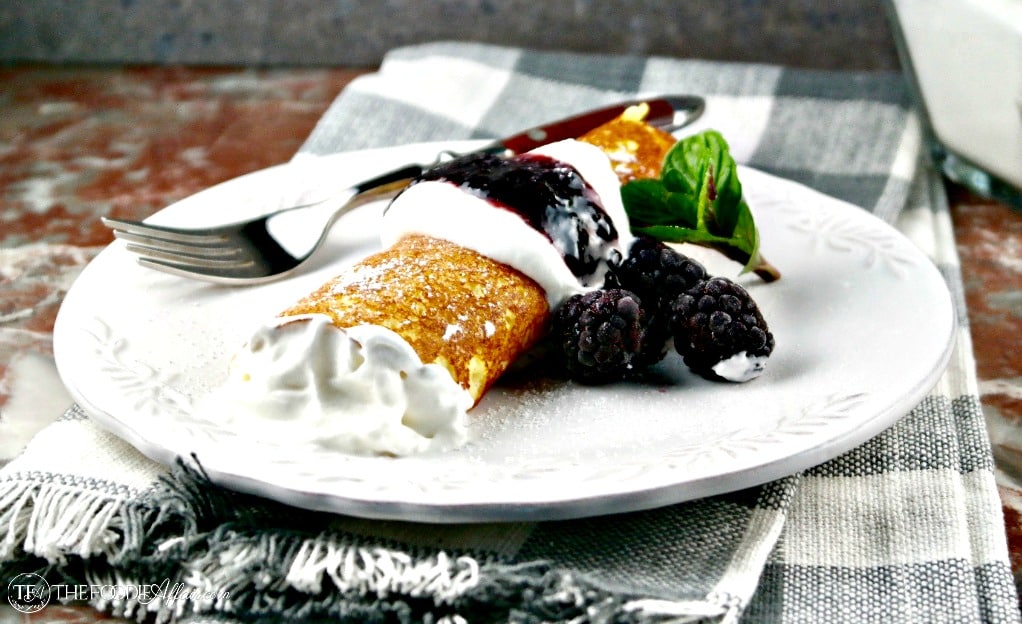 Low Carb Crepes (Grain-Free) with Ricotta Cream Filling
Author:
Prep time:
Cook time:
Total time:
Ingredients
1 cup heavy whipping cream, divided
1 teaspoon vanilla extract
1/8 teaspoon cream of tarter
1/2 cup Swerve confectioners (or sweetener of your choice), divided
1/4 teaspoon liquid stevia
8 ounce ricotta cheese
Instructions
In a medium size bowl add 1/2 cup heavy cream, vanilla, cream of tarter and 1/4 cup of Swerve confectioner. Whip until soft peaks begin to form. Set aside.
Mix ricotta, the remaining 1/2 cup of heavy cream, 1/4 cup of Swerve and stevia together until well combined.
Add to whipped cream mix and fold together. Whip until soft peaks form or to desired consistency.
PIN this Low Carb Crepes Recipe with Ricotta Cream