Chocolate Coconut Granola packed with pumpkin seeds, carob nibs and coconut flakes!  Add to Greek-style yogurt with fruit for a tasty smoothie bowl.
This is a sponsored post written by me on behalf of The Greek Gods Greek Yogurt®.  All opinions are 100% mine.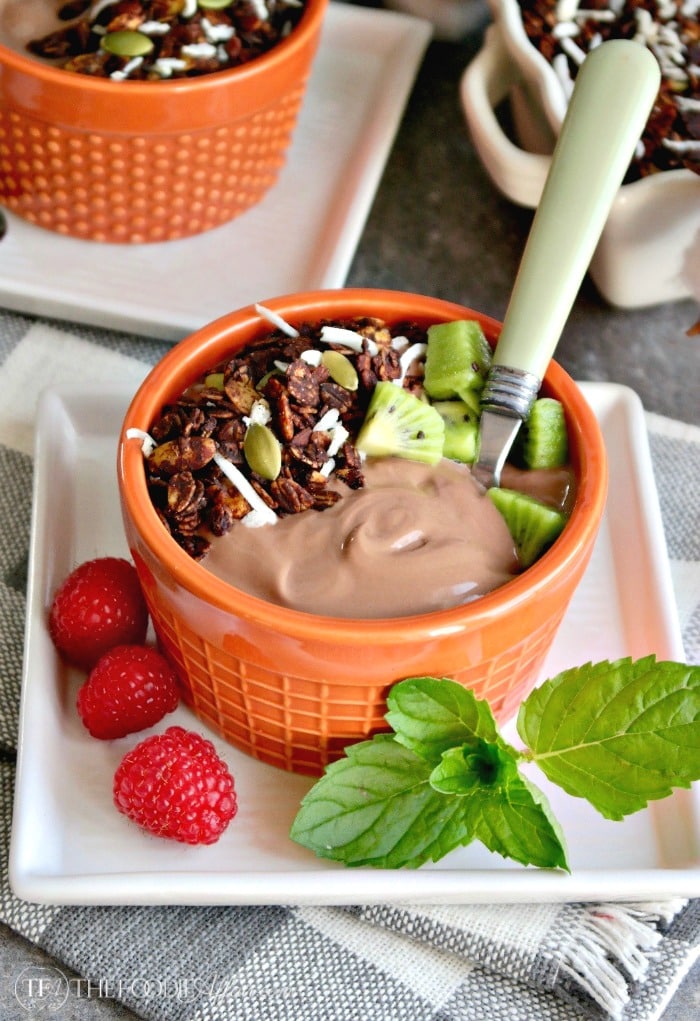 Have you noticed on Instagram and Pinterest that the plain ole smoothies that I've whipped up for years are not cutting it anymore.
The trend has shifted to smoothie bowls where you add all of your favorite toppings like fruit, nuts, chia and flax seeds over yogurt.
It's been taking off for quite a while and I've been hesitant to indulge until now.  With all those toppings loaded over yogurt I got the feeling that smoothie bowl creators were trying to mask what was under all those goodies.
The key to a great tasting smoothie bowl is the yogurt base.
I quickly learned that if you have a good yogurt base, then just one or two of your favorite toppings makes the most satisfying snack or breakfast and there is no need to go overboard with the toppings.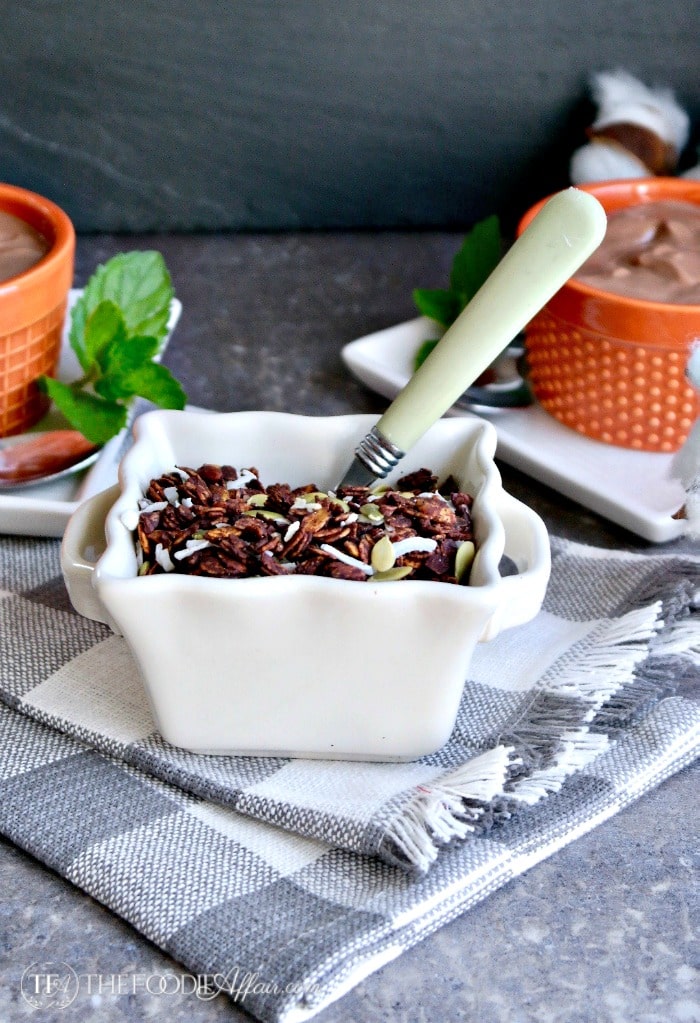 Also, instead of sipping on a smoothie while running out the door I found that I take more time to enjoy my meal when I eat yogurt that is served in a bowl.
Once I tasted Greek Gods Greek Style Yogurt I wanted to savor every creamy bite, and knew that a homemade chocolate coconut granola would add the perfect texture that will make me linger at the table even a little longer.
Greek Gods Greek-Style Yogurt has expanded their flavor selection from honey and fruit to rich and creamy chocolate yogurts.  Can I get a hallelujah from all the chocolate lovers out there –> ME <–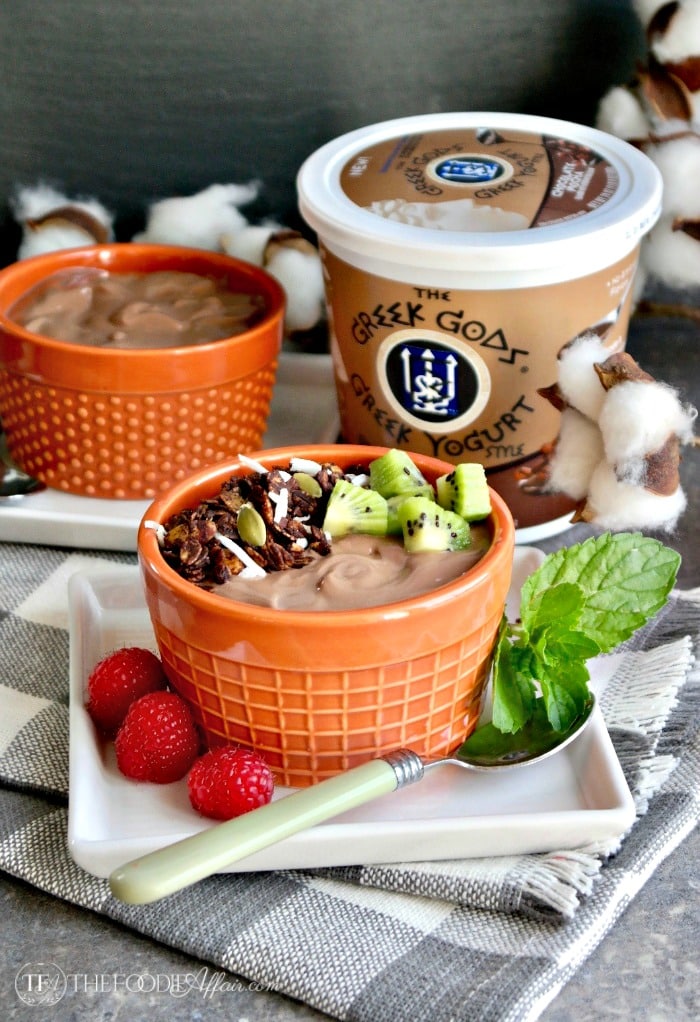 Chocolate Coconut Granola adds just the right texture to silky yogurt.
Decadent and creamy chocolate paired with mocha, chocolate and cherry flavors.  Don't let the smooth texture and dark brown color fool you into thinking that you're eating pudding though.
This Greek-style yogurt is an excellent source of calcium, and packed with live and active cultures (L. bulgaricus, S. themophilus), including probiotics, which are good for our digestive system.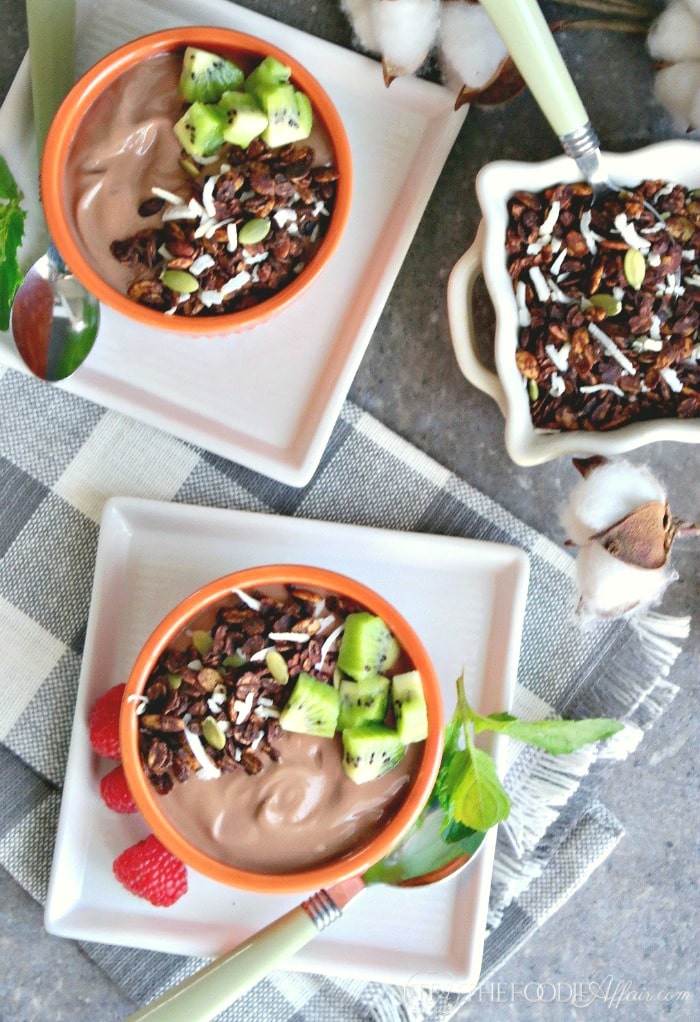 For this smoothie bowl I started with delicious chocolate mocha and topped it with an easy homemade chocolate coconut granola mix with pumpkin seeds and cocoa nibs.  It's lightly sweetened with honey and bound with coconut oil.
Enjoy for breakfast, snack or instead of ice cream have a scoop of chocolate mocha yogurt for dessert!
Give this Chocolate Greek -Style Yogurt a try! Head over to The Greek Gods Greek Yogurt website and click on the link for a coupon savings!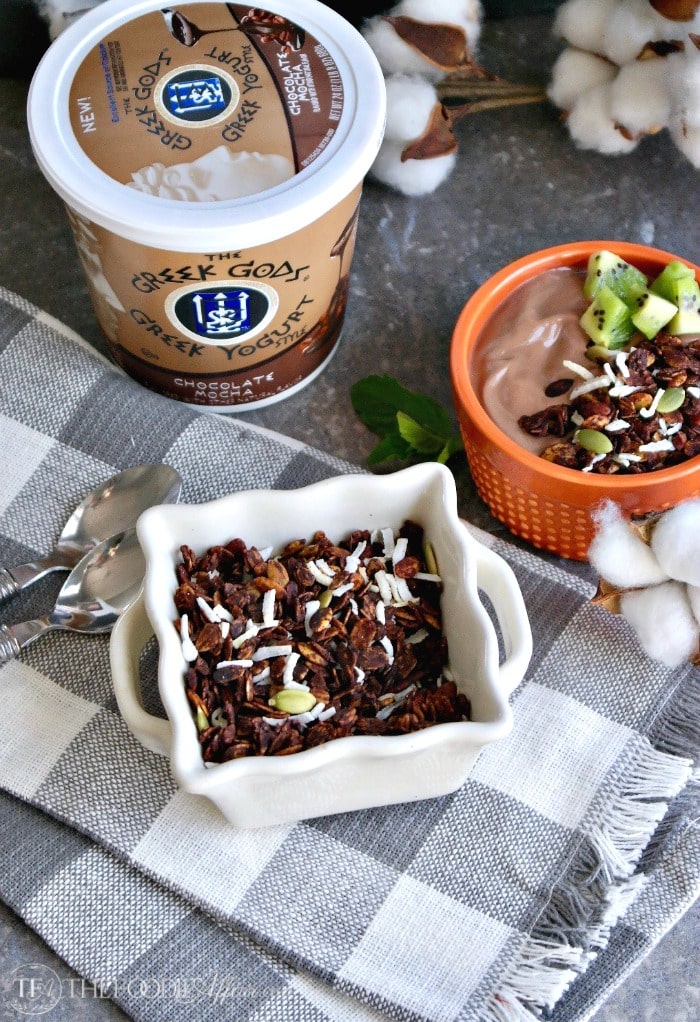 Yield: 12
Chocolate Coconut Granola with Chocolate Mocha Greek Yogurt
Ingredients
2 Cups rolled oats
1/4 cup cocoa, unsweetened
1 teaspoon expresso powder
pinch salt
4 tablespoons honey
3 tablespoons coconut oil, melted
3/4 cups coconut flakes, unsweetened
1/2 cup pumpkin seeds
1/4 cup carob nibs
1/2 cup per serving, Greek Gods Greek-Style Chocolate Mocha Yogurt
Instructions
Preheat oven to 350 degrees. Line baking sheet with parchment paper or a silicone baking mat
In a large bowl mix oats, cocoa, espresso powder and salt together until well combined.
In a small bowl melt honey and coconut oil together in the microwave 20 seconds. Repeat until smooth. Stir in vanilla.
Pour wet mixture over oats and mix until all the ingredients are well coated.
Spread evenly over prepared baking sheet and bake for 25-30 minutes. Stirring every 5 minutes. The last five minutes add coconut and pumpkin seeds. Remove from oven and cool. Once cool mix in carob nibs. Store in an airtight container.
Serve over Greek Gods Greek-Style Chocolate Mocha yogurt with diced fruit of your choice.