Albondigas Mexican meatball soup is a simple dish with light broth, vegetables, and meatballs flavored with chorizo and rice.
This recipe first appeared on the blog in 2013.  This post has been updated with new photos!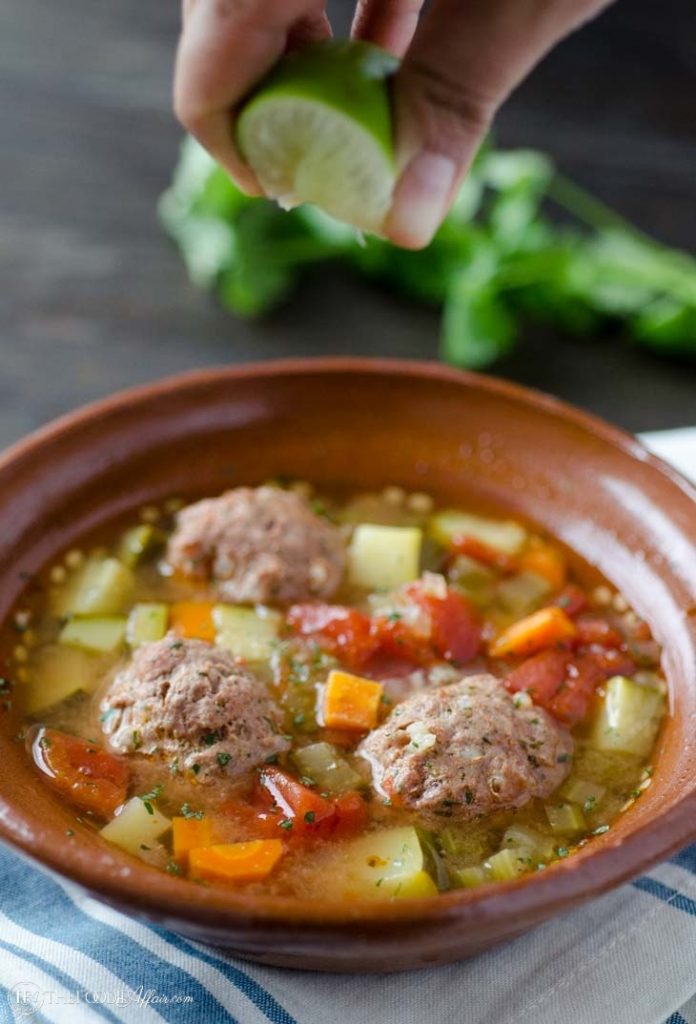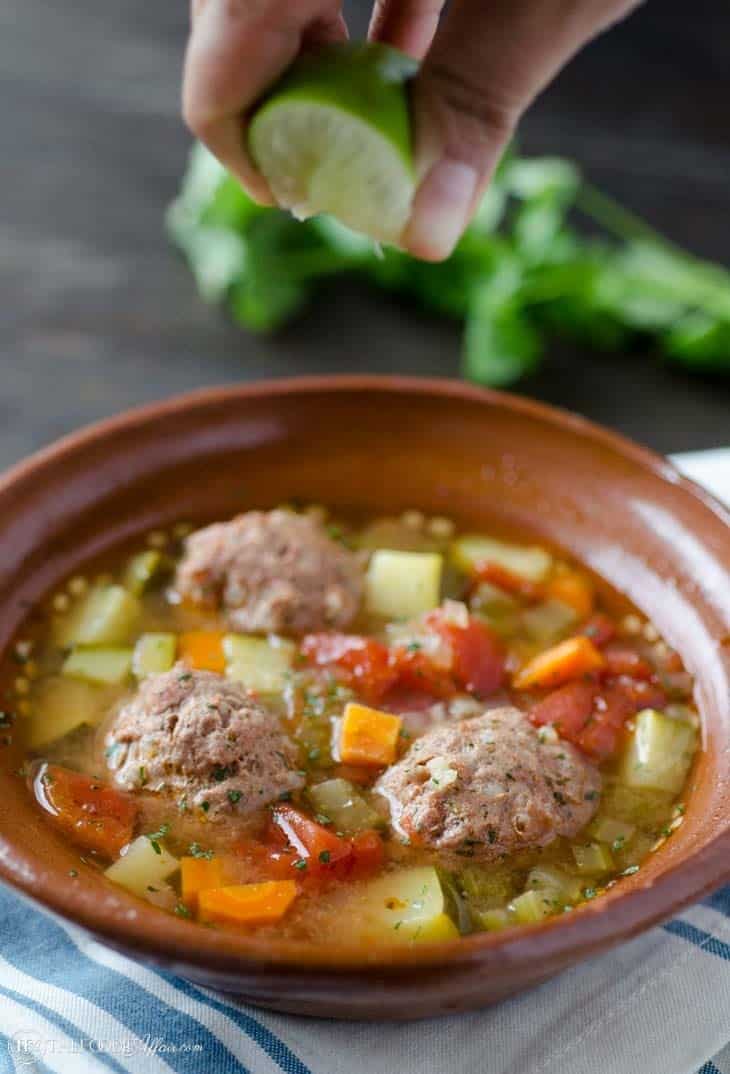 Albondigas
If you want a simple and economical flavorful soup, then you are going to want to add this albondigas soup recipe to your meal plan.
What is albóndigas (al-bon-dee-gus) you ask?
Albondigas are the Spanish version of small meatballs, derived from the Arabic al-bunduq meaning hazelnut, or a small round object, suggesting the size of the meatball.
The Spanish albondigas variation can be served as an appetizer or main course, often in a tomato sauce.
While the Mexican albondigas are commonly served in a soup with a light broth and vegetables like you see here.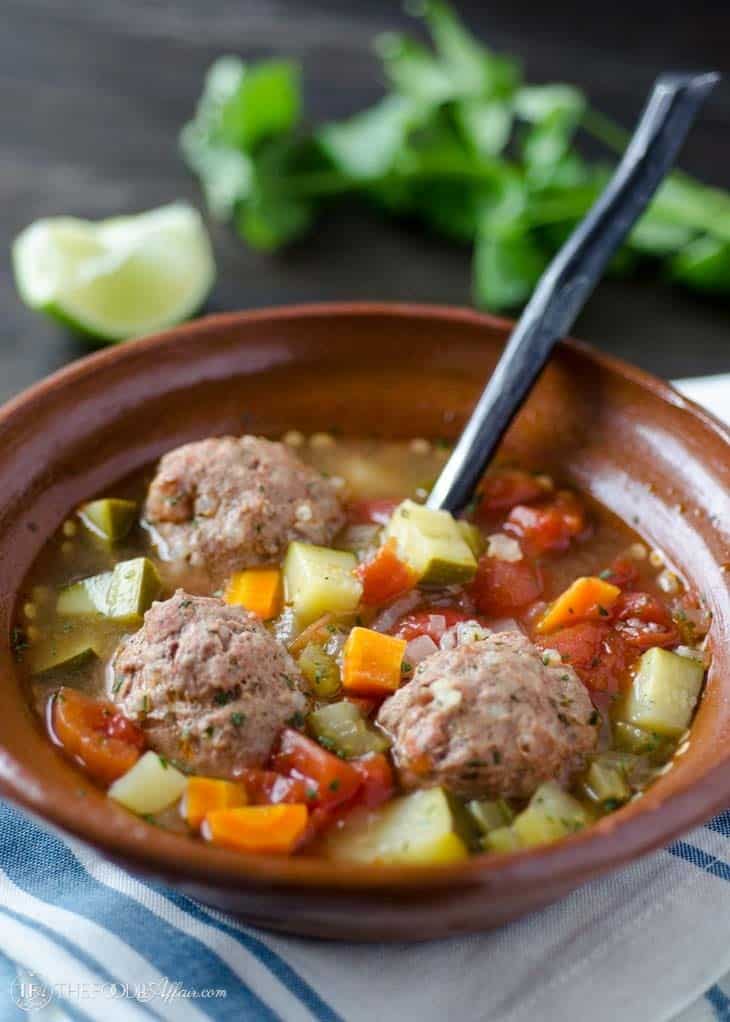 Easy Mexican albondigas soup
This meatball soup has been enjoyed by my family FOREVER.
My grandmother, mother, aunts, and now I all make this soup!
However, like most recipes that have been floating around no one ever took the time to write down any detailed instructions until now!
Perhaps because it's a simple recipe, and we all learned by hovering over each other.
Honestly, I believe no one wrote down the recipe because it changes each time.  Slight adjustments are made based on what is in the refrigerator.  This is a great clean out veggie drawer recipe!
Ingredients to make albondigas
For the meatballs gather the following:
lean ground beef
Mexican chorizo sausage or regular sausage
Egg
Garlic
Rice, cooked or raw
Cilantro, chopped (or mix 1/4 cup mint and 1/4 cup of cilantro)
Salt and pepper
Cumin
For the soup base:
Chicken broth
Onion
Celery
Carrot
Cumin
Oregano
Cilantro
Diced tomatoes
Zucchini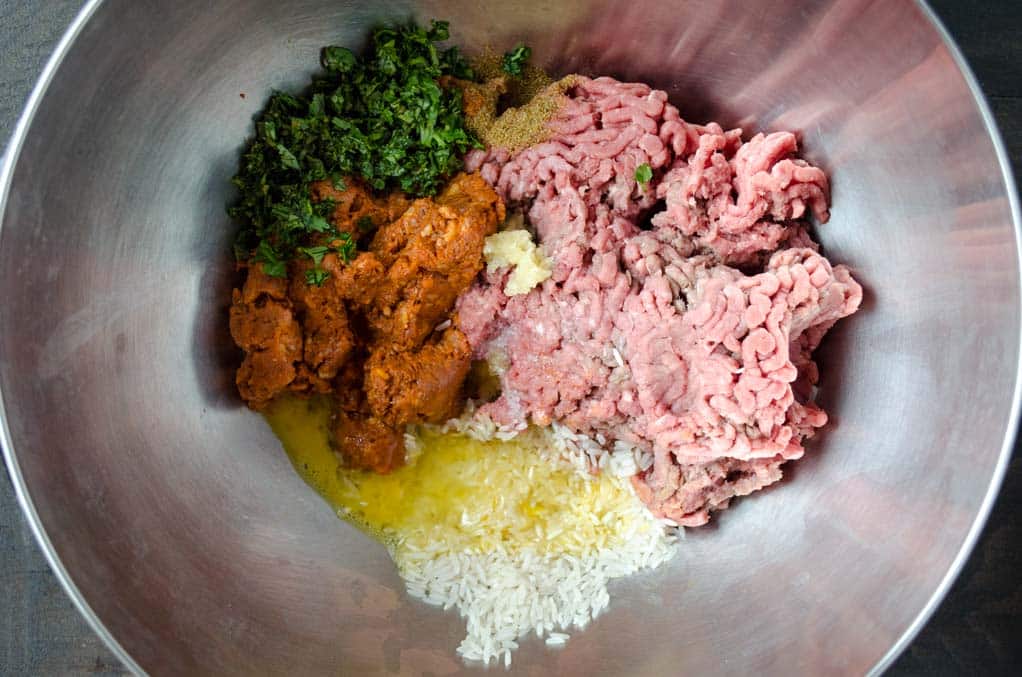 Variations to this albondigas recipe
Chicken broth is the base used when making this Mexican soup, but vegetable or beef are also tasty options.
The type of meat can also be adapted to your preference.
Chorizo adds sooo much flavor, so I don't recommend substituting that, but go ahead and use turkey, chicken or ground pork instead of beef for the meatballs if you would like.
Albondigas with mint
Another common way to add flavor to this soup is to incorporate fresh mint in the meat mix. Mint adds a fresh depth of flavor, which tastes scrumptious!
If fresh mint is not readily available then no problem!  This soup tastes delicious with either option.
Also, don't be afraid to experiment with a mix of squash.  Summer squash is a delicious variation to use in this dish.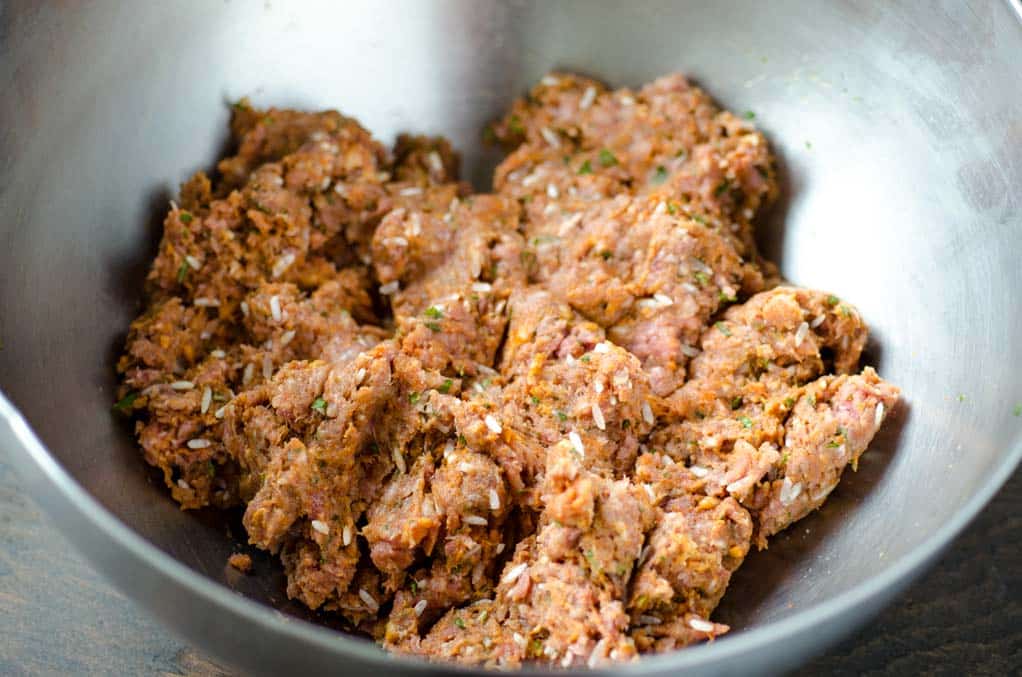 What type of rice should be used in Mexican meatball soup?
Only a small amount of rice is used to bulk up the meatballs. Leftover cooked rice is perfectly fine as well as raw rice. 
The raw rice will cook and get fluffy while the soup is simmering.
Keep in mind that using raw brown rice (my favorite) will require additional cooking time, so cooked rice might be best in that case.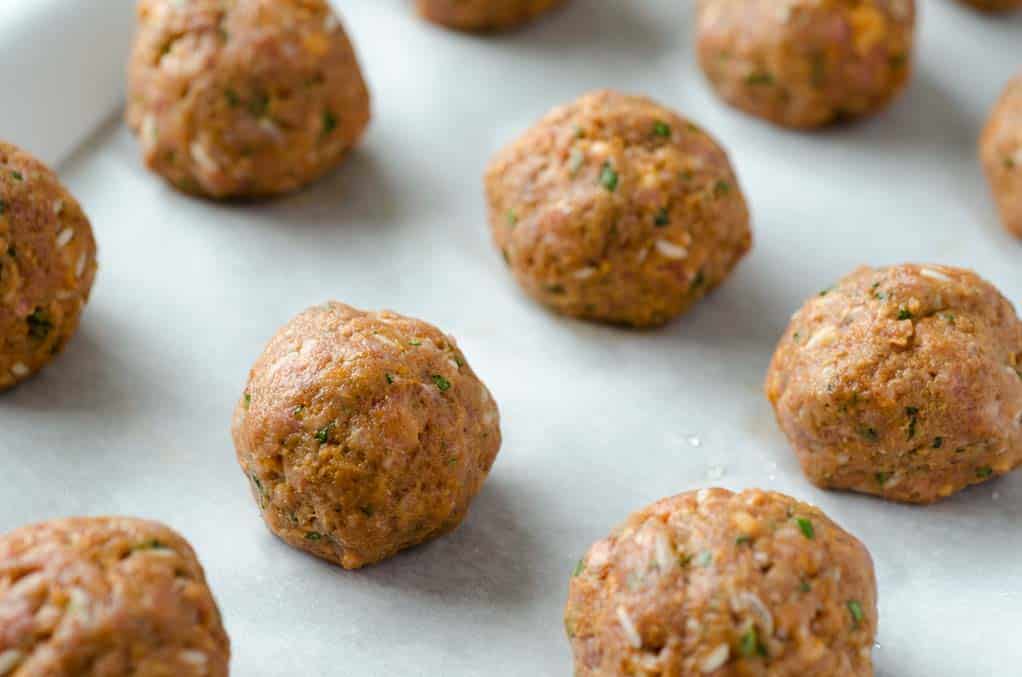 Low carb albondigas
Now, I feel like I need to whisper this because I'm not sure my late grandmother would approve, but yes, this can be made low carb by adjusting the recipe:
Reduce the rice to 1/4 cup to keep the recipe authentic, which will only give you 8.8 carbs for the whole recipe.
Replace the rice with riced cauliflower
Leave the rice out completely
Personally, my recommendation is the following:
Keep the recipe as it and adjust your carbs elsewhere.  A 1/2 cup of white rice is only 16.5 carbs for the whole recipe.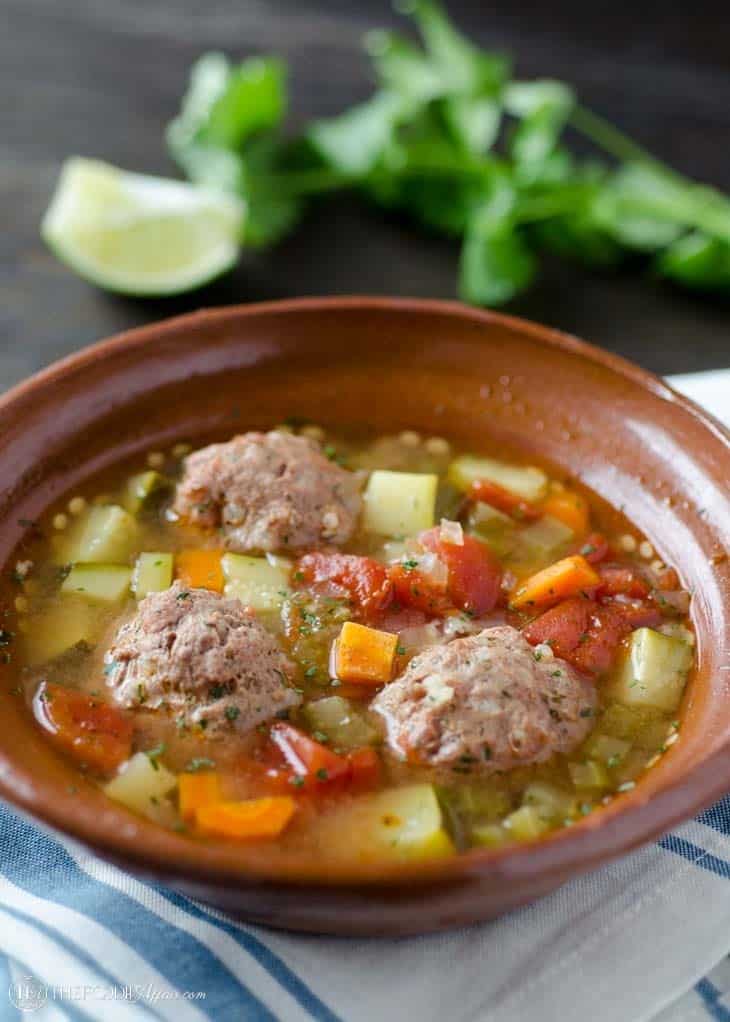 Interested in trying another tasty Latin soup?
Give Nana's Pozole Mexican Soup a try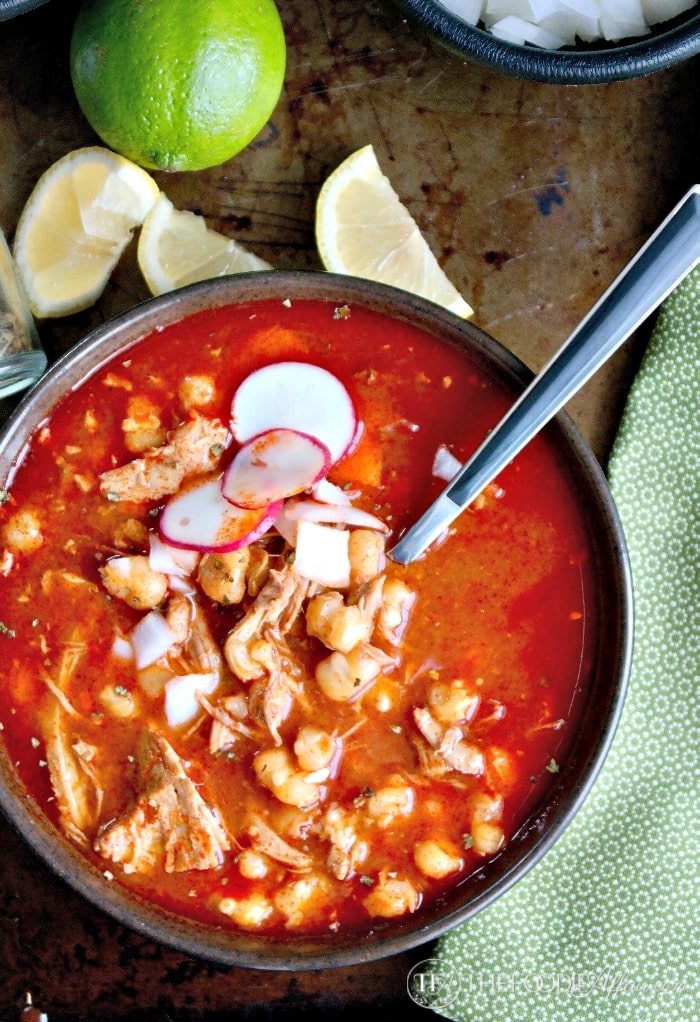 this Slow Cooker Chicken Tortilla Soup a try!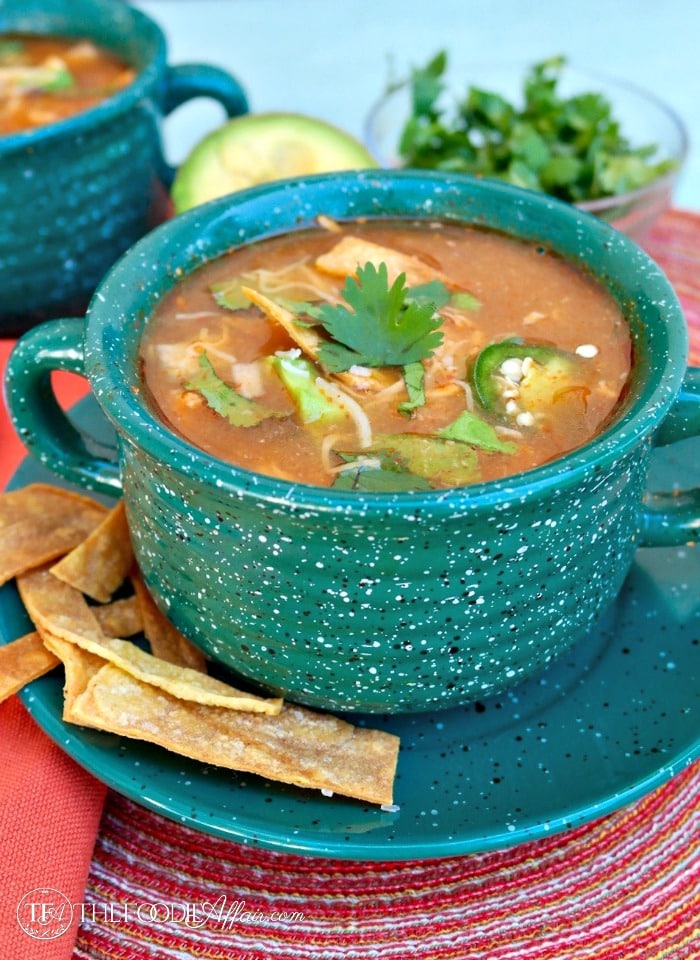 Yield: 6-8
Albondigas Soup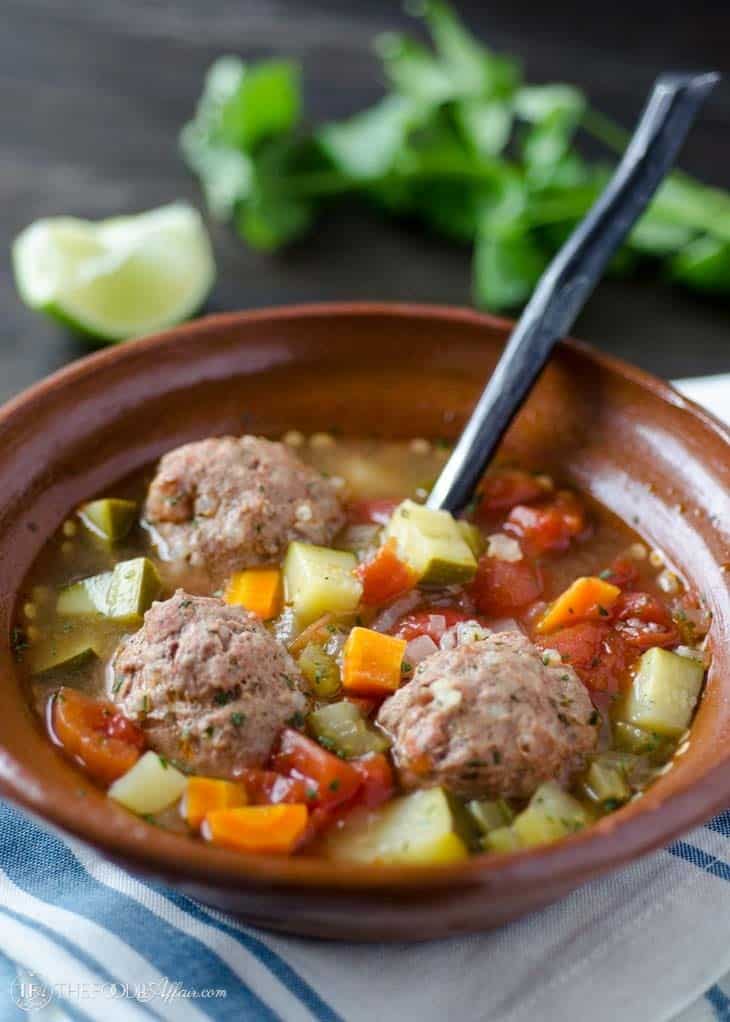 A meatball soup in a light broth.
Ingredients
MEATBALLS
1 lb lean ground beef
1/2 lb Mexican chorizo sausage or regular sausage
1 egg, beaten
3 garlic cloves, minced
1/2 cup rice, cooked or raw
1/2 cup cilantro, chopped (or mix 1/4 cup mint and 1/4 cup of cilantro)
1/2 teaspoon salt
1/4 teaspoon pepper
1 1/2 teaspoon cumin
*SOUP BASE
6 cups chicken broth
1/2 cup onion, chopped
3 stalks celery, cut in chunks
1 carrot, sliced
1 teaspoon ground cumin
1 teaspoon oregano
1/2 cup cilantro
1 16 ounce can diced tomatoes
1 large zucchini, sliced
salt and pepper to taste.
Instructions
Combine all ingredients for meatballs, mixing well. Form into 1 1/2 inch meatballs (about 24), and set aside.
In a stock pan, combine broth, onion, celery, carrots, cumin, oregano, cilantro, and tomatoes with the liquid. Simmer for about 10 minutes.
Get the soup to a slight boil and drop the meatballs in the soup. Reduce the heat to a simmer for another 10 minutes.
Add zucchini and cook 10 minutes.
Season with salt and pepper.