Savory Galette Recipe with Beef and Potato
This Savory Beef and Potato Galette is a comforting and hearty rustic recipe that your entire family is going to enjoy. A homemade flaky crust filled with meat and vegetables baked, and then cut and served in wedges like a pie or pizza. This hearty galette will look so amazing on your dinner table and is great paired with a side salad or a cup of soup.
There are plenty of sweet galettes for dessert, but not nearly as many galettes that can be served for dinner. This rustic recipe reminds me of dinners around my Grandmother's table. She didn't waste any food, so any leftovers in the refrigerator would be turned into a hearty and comforting meal like this Beef and Potato Galette. Once you get comfortable making a rustic galette, you'll be creating a variety of pies too.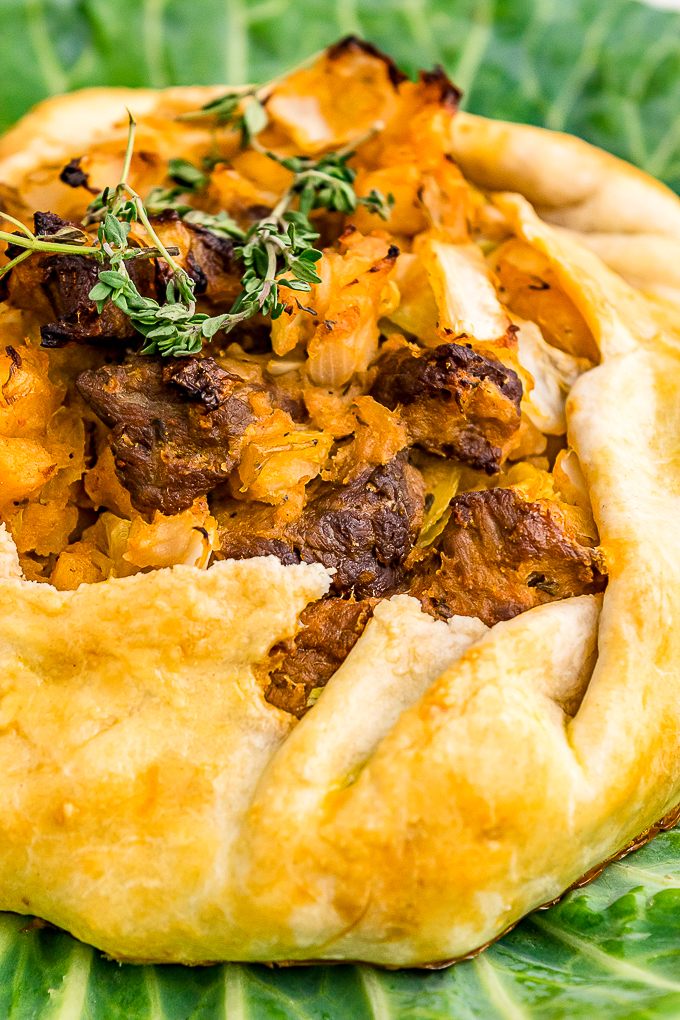 WHY YOU'LL LOVE THIS SAVORY GALETTE RECIPE
After sharing my meat hand pie recipe, I knew that that this delicious savory galette deserved its own attention. For good reason, this impressive savory galette will be a welcome addition to your meal plan.
Easy to find ingredients – While the ingredient list to this recipe may seem a little long most of these ingredients are commonly found in our pantries helping you keep food costs low.
Hearty and comforting – This meal is filling and hearty and is perfect for a chilly night when you are craving a comfort food meal.
Sour Cream Crust – You cannot find a flakier or more flavorful crust than a sour cream crust. However, there is no judgement here if you choose to pick up a pre-made crust instead of making a homemade pie crust.
Free Form dough – No pie or tart pan needed. In fact, if you don't have a rolling pin, then use your hands to pat and shape the galette dough.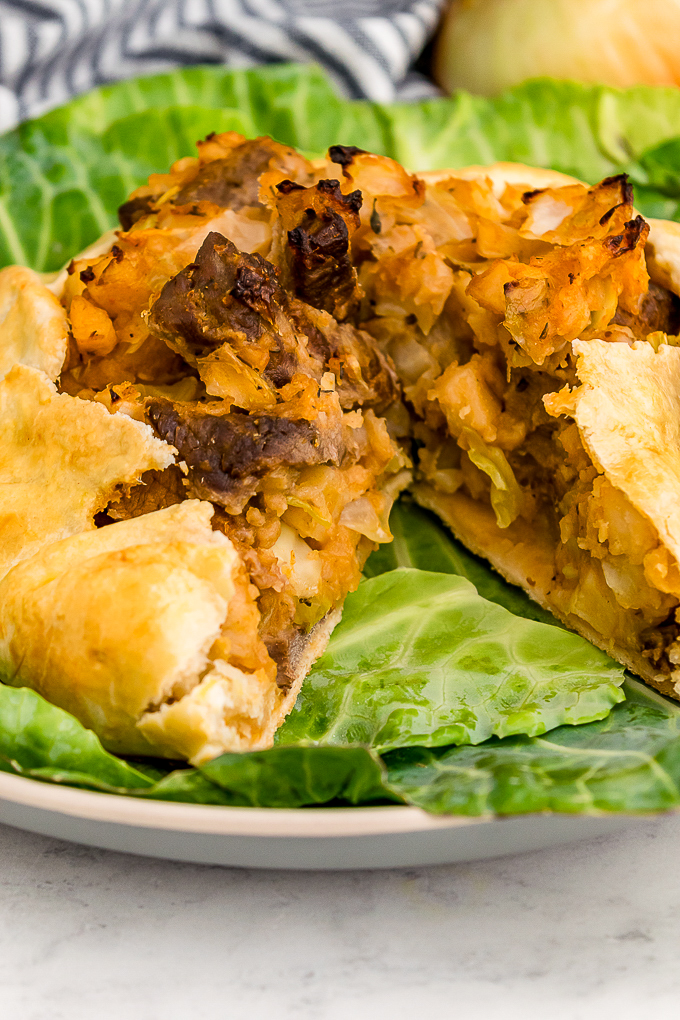 EQUIPMENT NEEDED TO MAKE POTATO GALETTE FLAKY PIE CRUST
Large mixing bowls
Parchment paper
Rolling pin
Measuring spoons and cups
Baking sheet
Skillet
INGREDIENTS FOR YOUR SAVORY GALETTE
Rustic Galette Crust
all-purpose flour
salt
unsalted butter, cold. If using salted butter then omit additional salt noted in the recipe card.
sour cream – I use full fat.
fresh lemon juice
ice water
egg – This is optional and not used in the dough. Instead, the egg is whisked up and used to brush over the pastry edges. The egg wash will give the galette a pretty sheen.
Galette Filling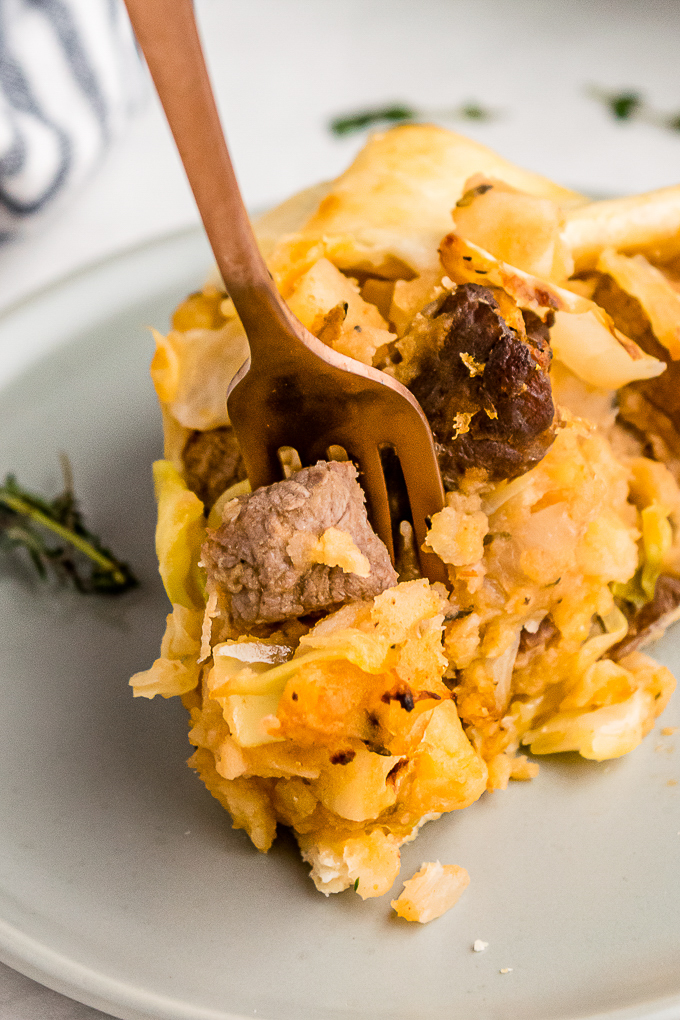 HOW TO MAKE A SAVORY GALETTE
STEP 1: PREPARE THE BAKING SHEET
Lightly grease a baking sheet or line it with parchment paper and set it aside.
STEP 2: MAKE THE PASTRY DOUGH
Whisk together the flour and salt in a medium size mixing bowl. Dice the butter into small pieces and cut in butter with a pastry cutter or 2 knives until mixture forms into small coarse pebbles.
Combine sour cream and juice in a small bowl, then add it to the flour mixture. Using a folk mix into the flour. Sprinkle the surface of the dough with 1 tablespoon of ice water; toss with a fork until moist and crumbly. Repeat with the remaining 2 tablespoons of ice water.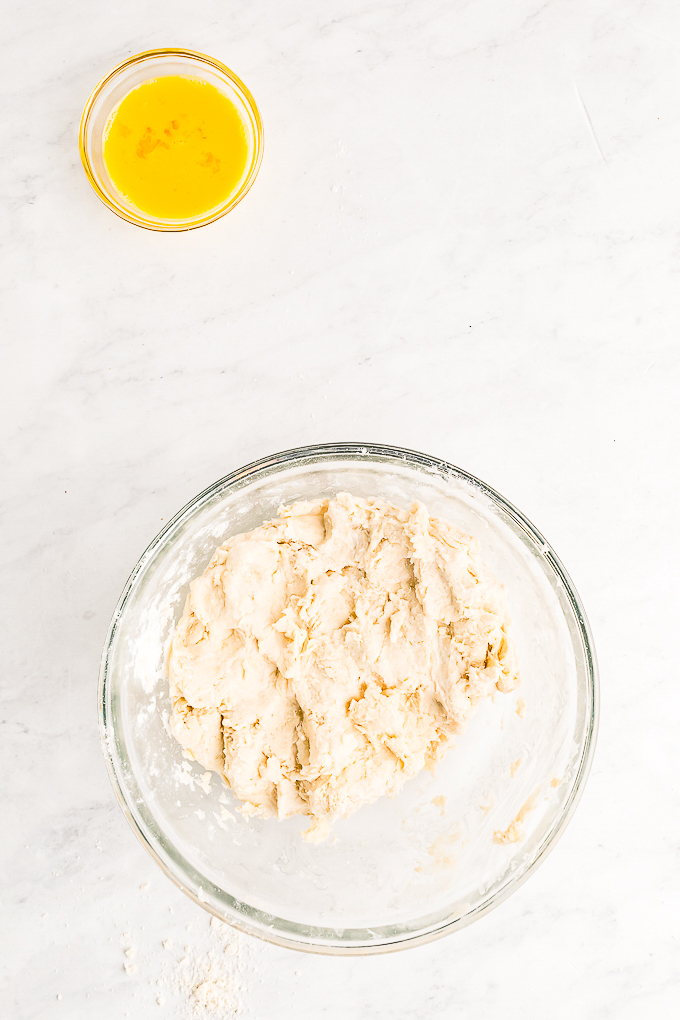 STEP 3: CHILL THE PASTRY
With your hands form the dough into a 4-5-inch flattened circle. Cover completely with plastic wrap, and place in the refrigerator to chill for 15 minutes.
Unwrap the plastic wrap from the pie dough and place on a piece of parchment paper with enough space on the counter to roll the dough. Add another piece of the parchment paper and place it on top of the dough.
With a rolling pin roll out dough into a a large circle. You will roll to approximately 13-inches. However, don't worry about getting the exact size. A free form dough actually looks prettiest and tastes just the same as a perfectly round crust.
Gently transfer the rolled pie dough to a baking tray and return it to the refrigerator to keep cold until ready to fill.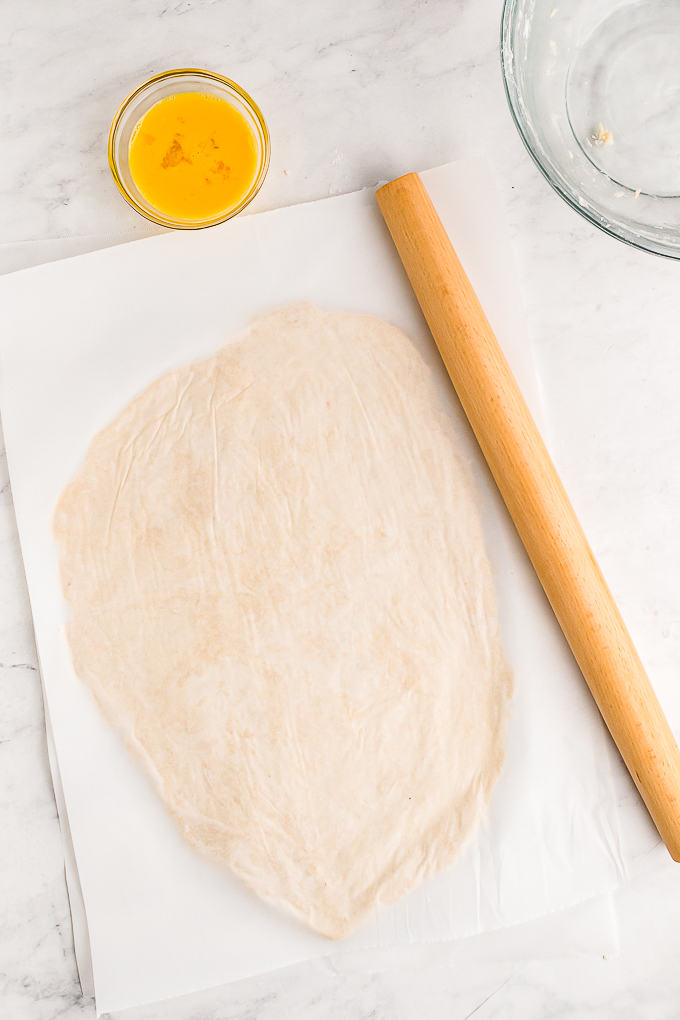 STEP 4: MAKE THE FILLING
Heat olive oil or another neutral tasking oil in a large skillet over medium heat. Add the prepared onion and diced potato. Cook stirring the ingredients with a spoon every couple of minutes. It'll take about 6-7 minutes for the potatoes to soften and the onion to become fragrant.
Add diced beef, and cook for about 5 minutes or until meat is no longer pink. The USDA recommends beef to be cooked at an internal temperature 145°F degrees(medium). Add sauces, spices and water. Mix together, and then fold in the cabbage.
Place a lid on the skillet and turn the heat to simmer. It'll take about 5 minutes for the cabbage to wilt. Season with salt and pepper.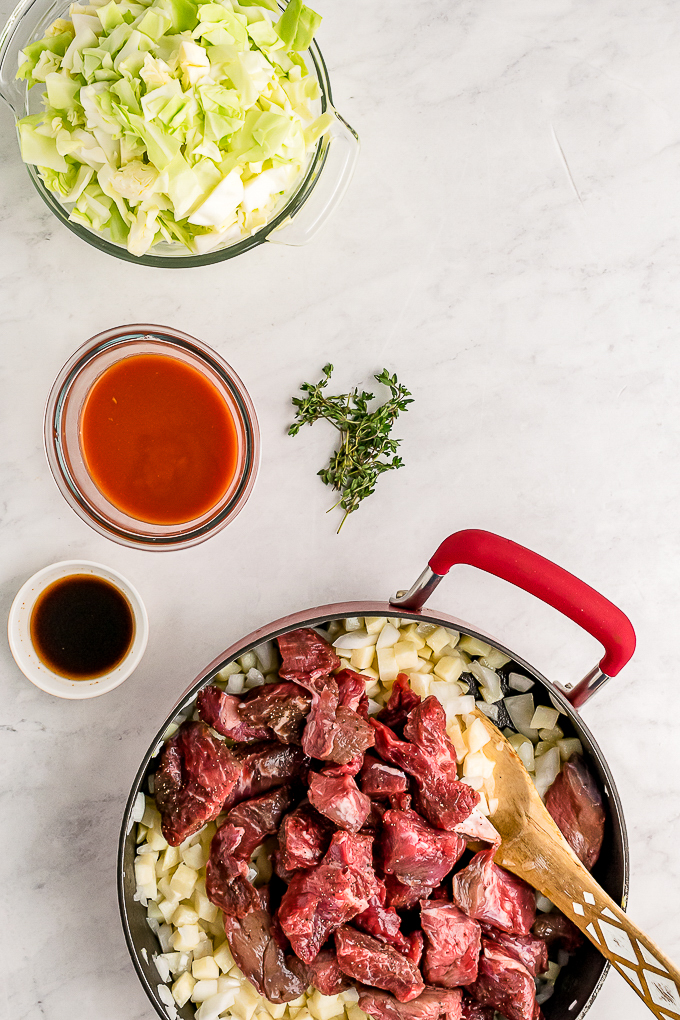 STEP 5: ASSEMBLE THE GALETTE
Place prepared galette dough on a prepared baking sheet lined with parchment paper or lightly grease the baking sheet. Fill the center with cooked meat and potatoes, leaving 2 inches of the edges of the dough unfilled. Fold edges of the dough on top of the meat and potato filling.
STEP 6: BAKE THE GALETTE
Brush galette dough with egg wash (optional), and bake at 400°F degrees for 10-12 minutes or until the crust is golden brown. Top with fresh herbs like thyme or rosemary before serving.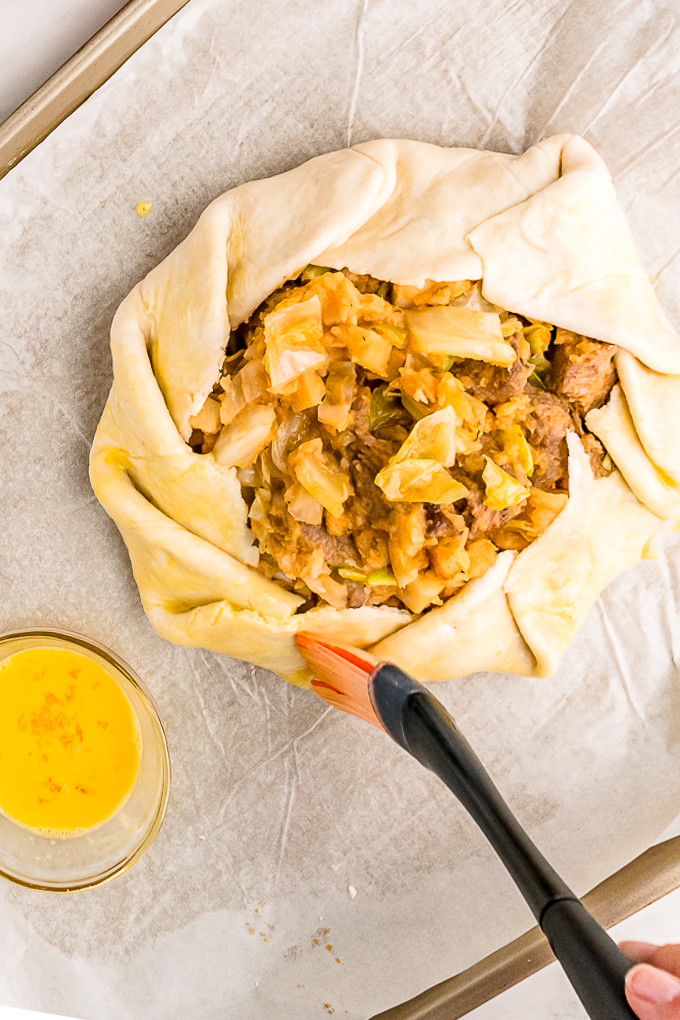 WHAT TO SERVE WITH YOUR SAVORY GALETTE
Are you wondering what you should serve with your Beef and Potato Galette? Cut into small pieces and serve as an appetizer or enjoy as a main course with a simple side dish. Here are a few of my favorite side dishes.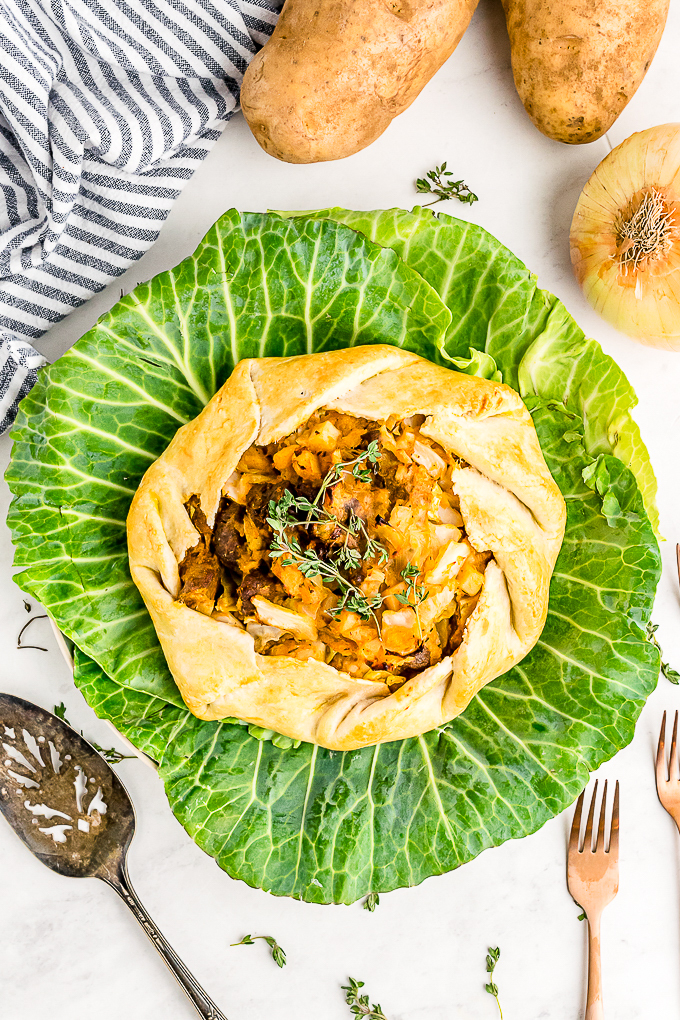 SUBSTITUTIONS & ADDITIONS
Diced or Sliced Tomatoes – Adding heirloom tomatoes to this potato galette recipe would be delicious and give this recipe a nice tang.
Steak Marinade – Are you out of Worcestershire sauce? A steak marinade like Dale's or Moore's would work well instead.
Beef – If you don't have sirloin beef a chuck roast that has been trimmed would be a good replacement. Or you can use the type of meat that your family prefers.
Potatoes – Make a sweet potato galette by replacing the potatoes with sweet potatoes or use a variety of colorful baby potatoes.
Vegetarian – Leave out the meat (still add the spices), and substitute it for cauliflower, cherry tomatoes, chunks of zucchini, mushrooms or sweet potatoes.
Leafy Greens Options – Instead of adding cabbage use kale or spinach or chard.
Gluten Free – for a gluten free pie crust recipe, follow the same instructions. Instead of using all-purpose flour you will add a 1 to 1 gluten free baking flour like Bob's Red Mill brand.
Cheese – Add another flavor by adding some cheese. Just a sprinkle of feta cheese, goat cheese or parmesan cheese will turn your pie into a whole new recipe.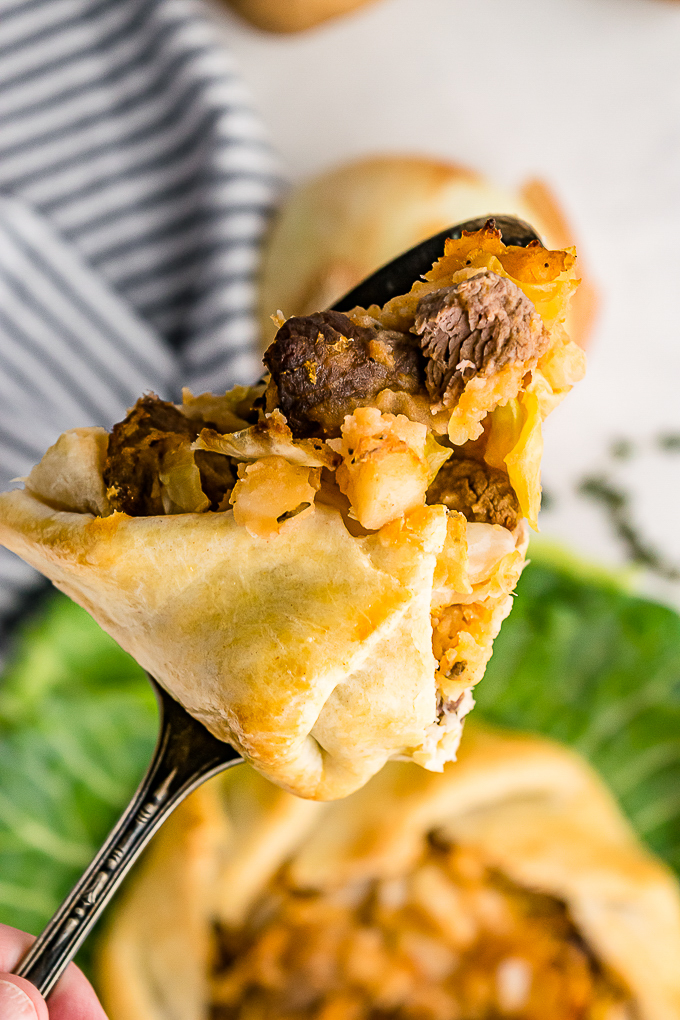 HOW TO REHEAT AND STORE
REHEATING A GALETTE:
Reheating a galette is so simple. Preheat your oven to 350°F degrees and add your galette to a baking sheet that has been lined with parchment paper or sprayed with cooking spray. Then bake in the oven for 8 – 12 minutes or until warm all the way through.
FREEZING A SAVORY GALETTE:
Savory Galettes are freezer-friendly. To store your galette in the freezer wrap it tightly in plastic wrap and then in foil. Then you can store it in the freezer for up to two months.
POTATO GALETTE FAQS
What is a Galette?
A Galette is a pie crust or puff pastry crust that is filled in the center with either a sweet fruit filling or a savory filling and then baked until crispy on the outside.
Can I use puff pastry for a Galette?
Yes! Puff pastry works well for a savory galette recipe.
Is a savory Galette served hot or cold?
Typically a savory Galette is served warm, but that doesn't mean that you can't eat it cold if you want to.
MORE BEEF RECIPES YOU'LL LOVE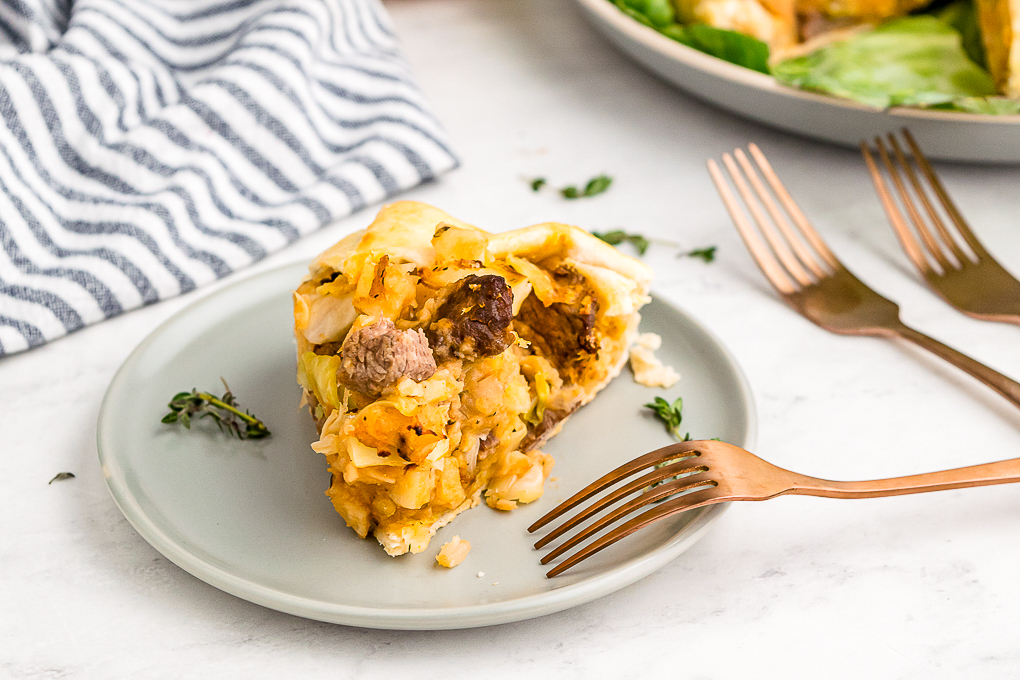 Hope you enjoy making a savory galette! Be sure to let me know if you personalized this recipe.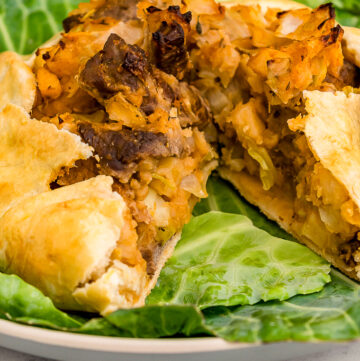 Savory Galette Recipe with Meat & Potatoes
Rustic savory galette with meat and potatoes. This hearty meal can be served as a main dish or as an appetizer.
Print
Pin
Rate
Ingredients
Galette Dough
1 1/2

cups

all purpose flour

½

teaspoon

salt

3

tablespoons

unsalted butter

chilled and diced in small pieces

¼

cup

sour cream

1

tablespoon

fresh lemon juice

3

tablespoons

ice water

1

egg

whisked (optional)
Galette Meat and Potato Filling
1

tablespoon

oil

vegetable or olive

1

large russet potato

peeled and diced

1

small onion

finely chopped

1

pound

beef sirloin

diced

2

cups

cabbage

finely shredded

¼

cup

tomato sauce

1

teaspoon

Worcestershire sauce

1

teaspoon

fresh thyme

1/2

cup

water

Salt and pepper to taste
Instructions
Galette Dough

In a medium size mixing bowl whisk together flour and salt. Set aside.

With a pastry blender cut in the butter into the flour mix.

In a sperate small mixing bowl mix together the sour cream and lemon juice.

Add sour cream mix to the flour and gently toss through the flour using a fork.

Add one tablespoon of water to the top of the dough mix and fold into the mix with a fork. Repeat process two more times using the remaining 2 tablespoons of ice water.

With you hands form dough into a 4-5 inch round disk. Cover with plastic wrap and place into the refrigerator will preparing filling.

Galette Filling

In a large skillet add oil and heat over medium-high heat. Add onion and potatoes. Cook stirring every 2 minutes for 6-7 minutes or until the potato is tender and the onion is fragrant.

Reduce heat to medium and add beef and cook an additional 5 minutes or until the beef is no longer pink.

In a small mixing bowl whisk together tomato sauce, Worcestershire sauce, thyme and water. Fold into skillet with the galette filling.

Add cabbage and fold into filling mixture. Cover with a lid and turn heat to simmer. Simmer for 5 minutes or until the cabbage softens.

Roll Galette Pastry

Remove dough from the refrigerator, unwrap from plastic wrap and place on a hard surface lined with parchment paper. Add another piece of parchment paper to the top of the dough.

Roll dough into a large round circle. You will want approximately a 13" round shape.

Place the pie crust on a baking sheet. Refrigerate until ready to fill.

Assemble Galette

Remove top layer of the parchment paper from the prepared dough.

Spoon filling into the center of the dough leaving 2-inches from the edges unfilled.

Fold edges over the filling.

Whisk egg in a small bowl and brush on exposed dough with a pastry brush.

Bake at 400°F degrees for 10-12 minutes or until the crust turns a light golden brown.

Notes
Steak sauce can be used in place of Worcestershire sauce.
Cabbage can be replaced with kale or chard. If you replace the cabbage with spinach the cooking time should be reduced to 2 minutes or less.
Nutrition
Serving:
1
g
|
Calories:
468
kcal
|
Carbohydrates:
40
g
|
Protein:
27
g
|
Fat:
22
g
|
Saturated Fat:
9
g
|
Polyunsaturated Fat:
10
g
|
Cholesterol:
121
mg
|
Sodium:
354
mg
|
Fiber:
3
g
|
Sugar:
3
g
Disclaimer
Please note that the nutritional information provided are guidelines and may vary based on the brand of products used. For your specific nutritional goals use My Fitness Pal or Verywell Fit recipe calculators. All content within this site is not intended as medical diagnosis or treatment and should not be considered a substitute for professional medical expertise.
PIN TO YOUR RECIPE BOARDS