Delicious and satisfying Overnight Pumpkin Oatmeal topped with granola and maple syrup!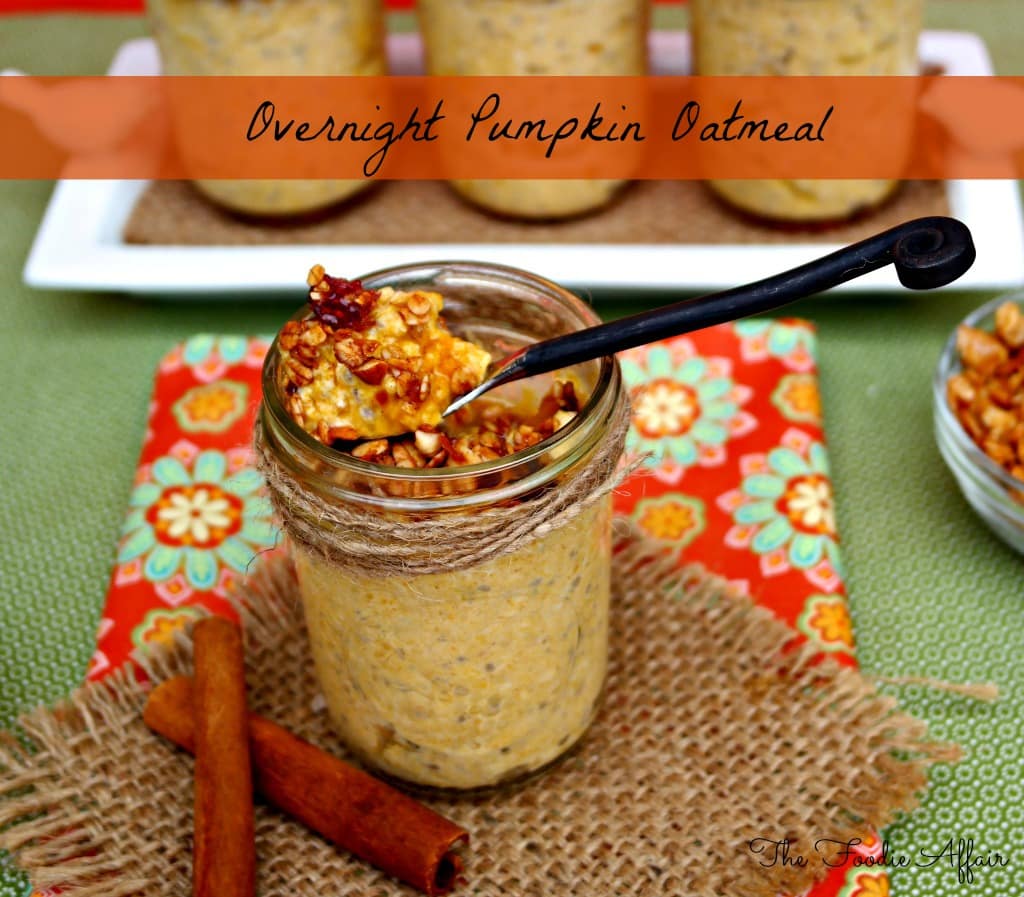 Overnight Pumpkin Oatmeal Recipe
It sure doesn't get any easier to start your morning with a healthy meal when you make overnight oatmeal, and there is a bonus, no cooking required!
Have you made overnight oatmeal before? All you do is mix all the ingredients in a bowl, cover it, and store the mixture in the refrigerator.
In the morning the liquids have been absorbed by the oatmeal softening up the oats, and you have a healthy and satisfying breakfast or morning snack ready!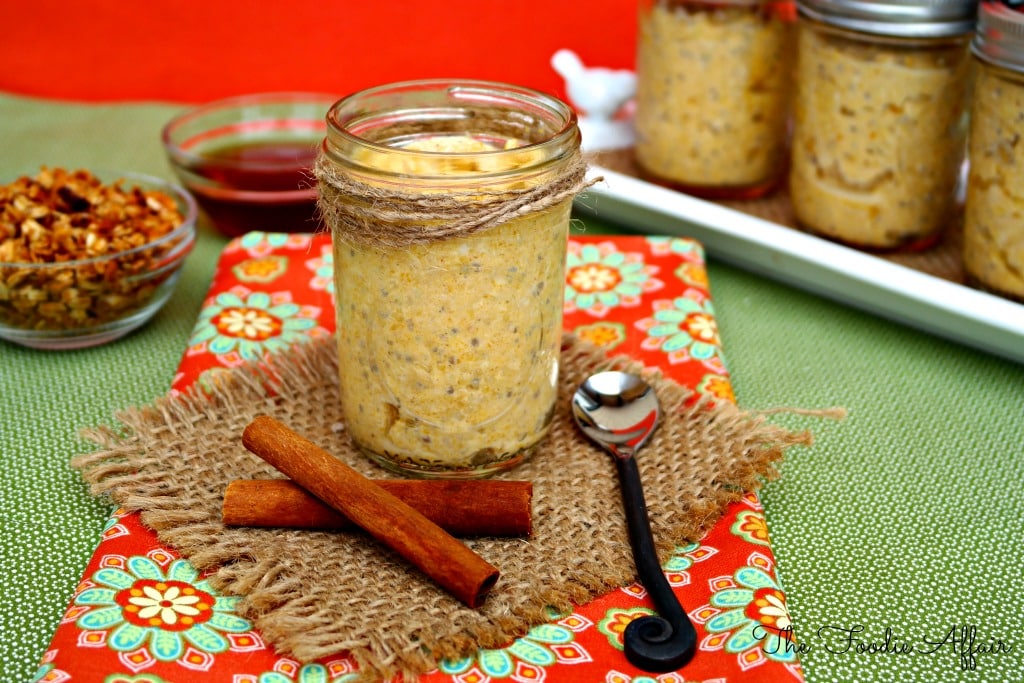 Pumpkin oatmeal with natural protein and fats
I'm always mindful about keeping the ratios of carbohydrates and protein grams as close as possible to avoid being hungry shortly after eating a dish like oatmeal, so I added Greek yogurt and chia seeds to this recipe. I'm so please with the results; filling and tasty!
The pumpkin pie spice adds just the right amount of cinnamon-y Fall flavors! After the flavors blend together, divided the mixture up into jelly jars for a portable meal that you can grab on the go!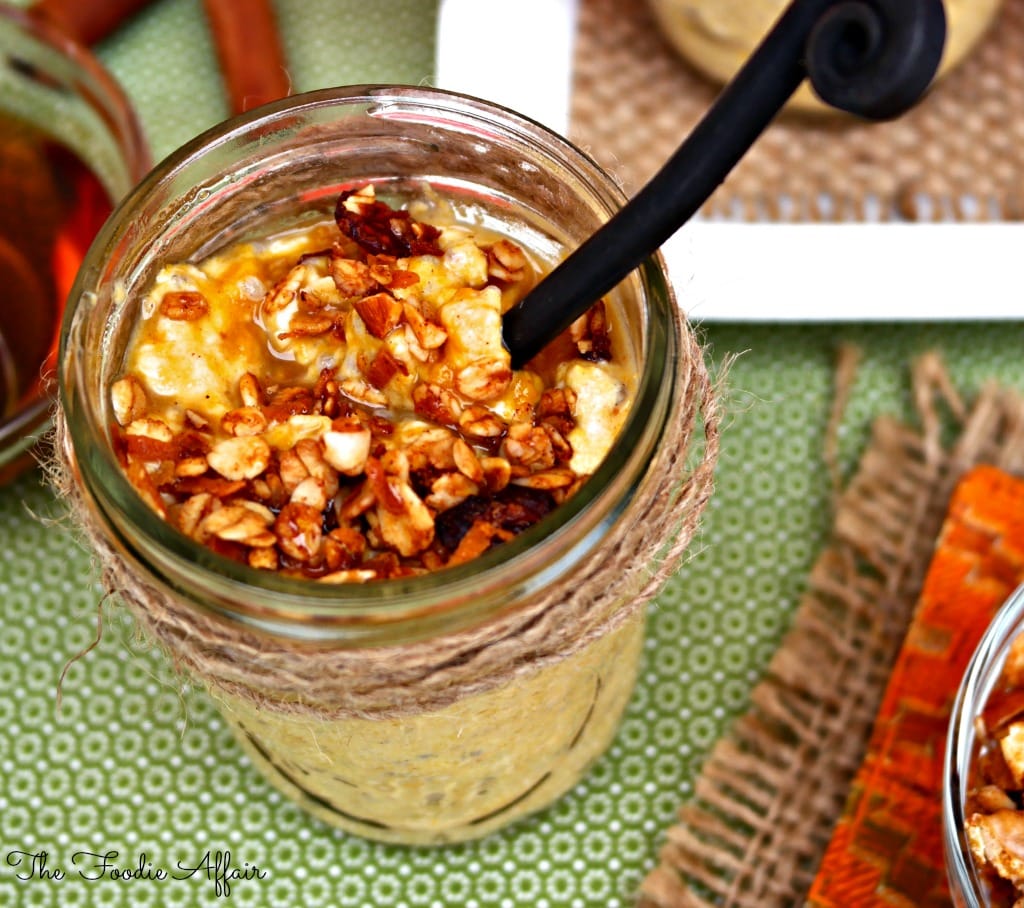 Pumpkin oatmeal add-ins
You also might want to add some texture to the oatmeal by topping it with granola with mixed nuts.  If you haven't tried my quinoa pumpkin seed granola, that's another great tasting granola to try.
How about Fall Spiced Walnuts from Take Two Tapas or chop up some Low Carb Cinnamon Almonds.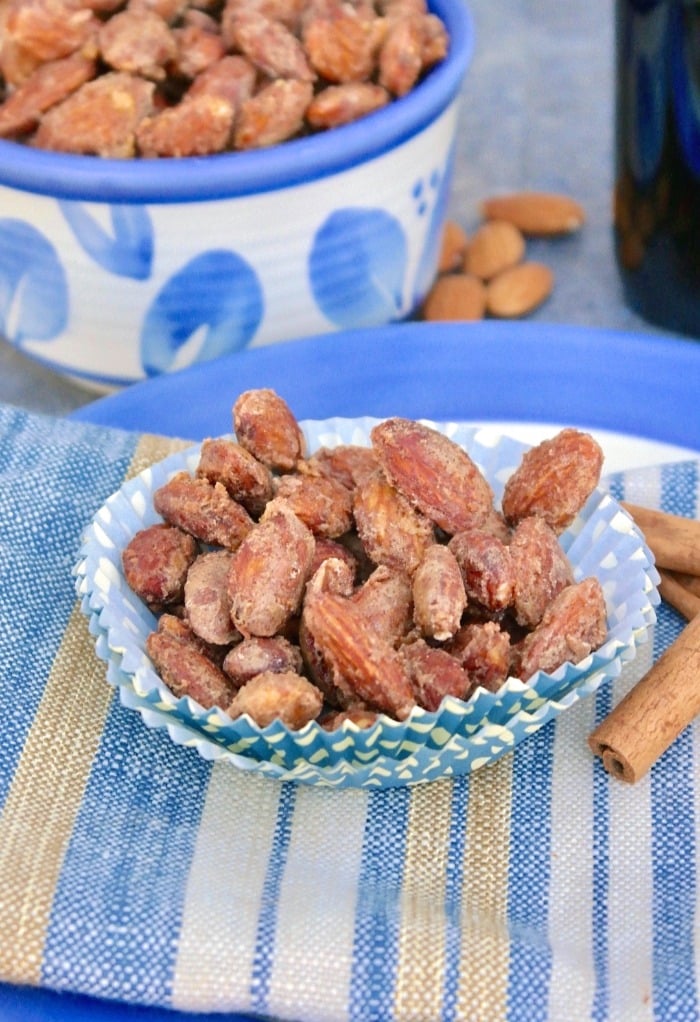 How about giving these oats recipes a try:
Overnight Pumpkin Oatmeal
Ingredients
1 cup quick oats (I used gluten-free)
1 cup Greek yogurt, plain
1 cup milk (I used almond milk)
1/2 cup pumpkin puree
1 tablespoon chia seeds
1 tablespoons vanilla extract
1 teaspoon pumpkin spice mix
sweetener of your choice added to each individual serving
toppings of your choice
Instructions
Combine oatmeal, Greek yogurt, milk, pumpkin puree, chia seeds, vanilla extract and pumpkin spice together and mix well. Cover and refrigerate for several hours, preferably overnight.
Divide in individual containers. Add sweetener of your choice to individual servings and top with granola.