Creamy apple cinnamon oatmeal made with healthy steel cut oats cooked with maple syrup and vanilla extract. Add your favorite toppings like fruits and nuts for a delicious start for the day!
Apple Cinnamon Oatmeal
When you want your adult kids to come over and help with holiday decorating entice them with a warm meal!
We wanted the kids to come over and help us with the tree since it's so fun to look at all the tree ornaments we've collected though the years.
I've saved some adorable handmade ornaments that only I seem to appreciate (haha!) from when they were little.
There were lots of chuckles over baby pictures displayed in ornaments and the characters that still has limbs and heads intact!
Who else has Luke Skywalker or Big Bird on their tree?
Crockpot Oatmeal With Steel Cut Oats
Holiday decorating takes lots of energy and I knew we would need a food break, so before the kids came over I put the steel cut oats into the slow cooker.
My crockpot gets a workout during the holiday season. With such a busy schedule, easy no fuss recipes are my go to meals.
Different Types Of Oats
There are two different types of oats, rolled and steel cut.
Steel cut oats are my favorite type of oatmeal. I find that theses oats have a chewy texture with a nutty flavor.
However, there is a reason for that unique flavor. Steel cut oats are minimally processed so they take longer to cook than other oats.
Here are the different oats:
Steel cut oats – are also called Irish cut oats. This type of oats are the least processed of the oat family and look like little rice kernels.
Rolled oats – There are several rolled oats; old fashioned, quick oats and instant oats.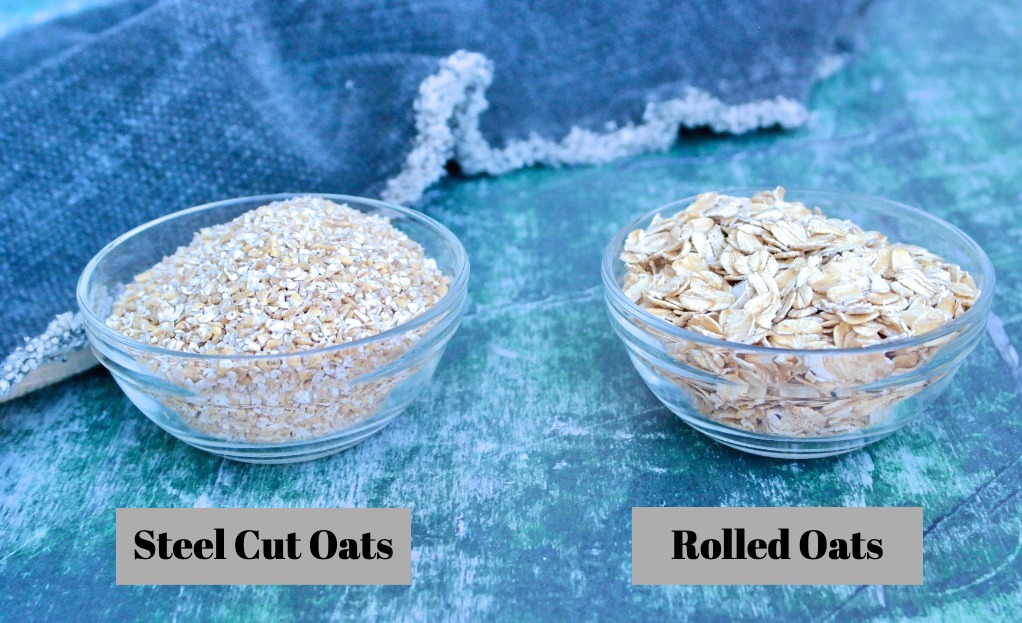 How To Slow Cook Oatmeal
This recipe will be perfect cooking it on low heat for 7-8 hours, which is the method I use when I make this to freeze in individual portions.
Since this is a breakfast dish and I didn't want to wake up in the wee early hours to get this oatmeal started I made a couple of tweaks.
First, I heated the water used in the recipe in the microwave before adding it to the slow cooker to help the oats to cook up immediately.
Then I turned the heat on high for 3 hours before it was done.
The addition of 2 teaspoons of cinnamon that was heavenly with the apple! It smells like apple pie while cooking.
Another bit of flavor comes from vanilla extract and just a splash of maple syrup. Boy did the house smell delicious!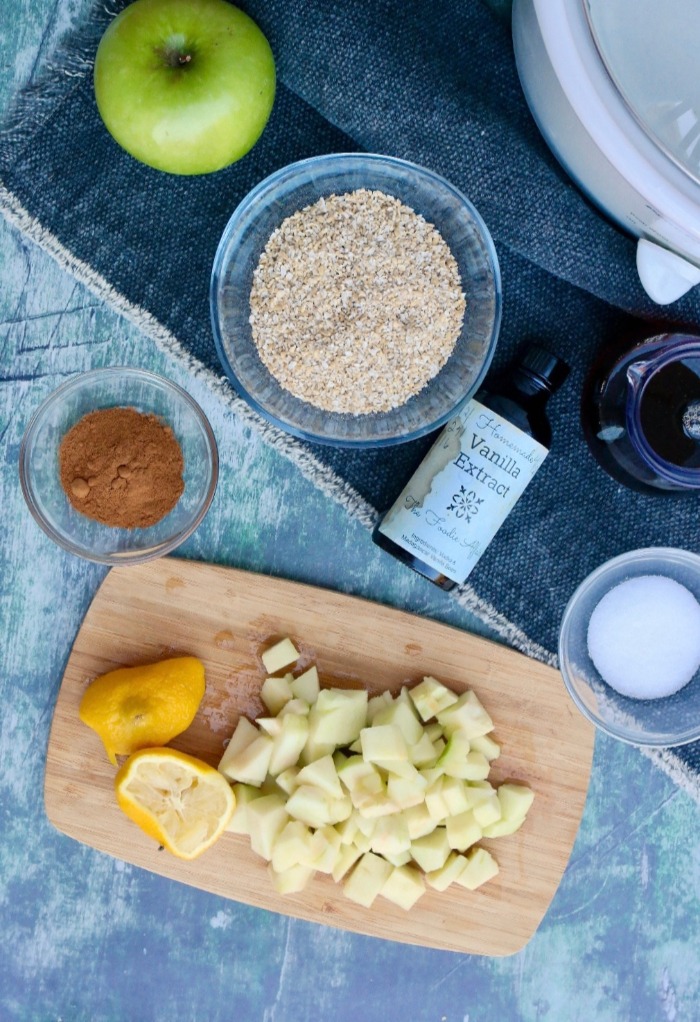 Can I Make This With Rolled Oats?
Yes, you can still make this slow cooked apple cinnamon oatmeal using rolled oats in place of the steel cut.
Rolled oats will cook quicker and if cooked too long will become gummy.
The best method for rolled oats is to cook on low for 6-7 hours. Simply add all the ingredients to the Crock Pot, cover and turn it on the low setting.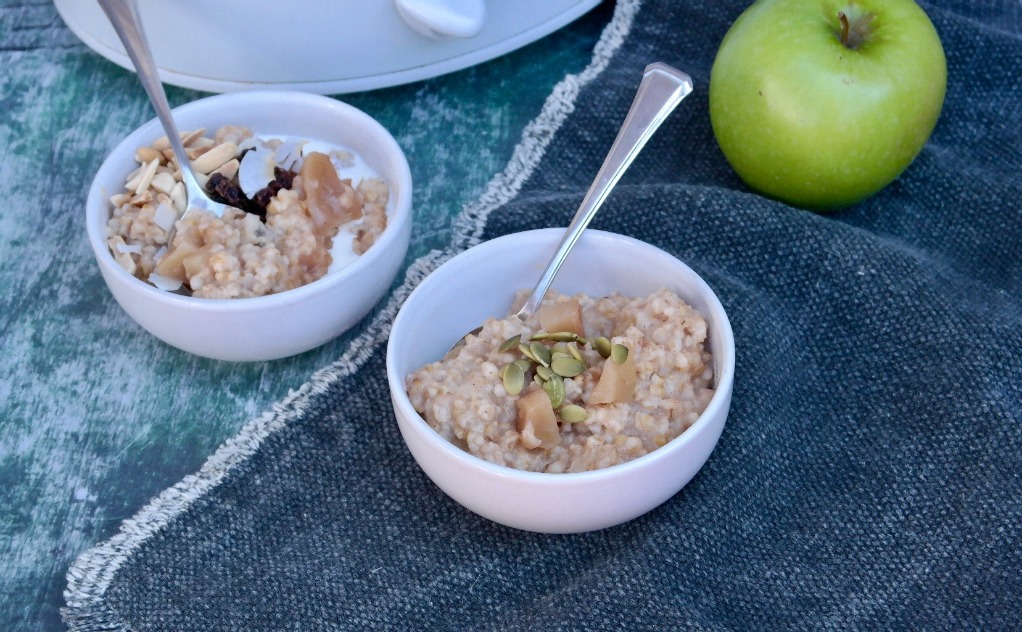 Topping Ideas To Add To Apple Cinnamon Oatmeal
The fun part this oatmeal is add your favorite toppings!
Some of my favorite combination of toppings is unsweetened coconut flakes, cranberries and sliced almonds.
A little bit of milk adds to the creamy texture, so consider that option to get the consistency that you like.
Here are some ideas to get your creativity going:
Unsweetened coconut flakes
Dried Cranberries, raisins, currants
Nuts; walnuts, pecans, pepitas, macadamia, almonds
Brown sugar or any other sweetener of your choice
Milk; cow, almond, coconut, oat
Seeds; hemp, flax, chia
Collegen powder
Unflavored protein powder
Slow cooker apple cinnamon oatmeal is a no-fuss healthy breakfast that is perfect for serving a crowd.
Add this to your family breakfast menu and if there are any leftovers, reheat the oatmeal in the microwave with some milk.
How To Store Oatmeal
Cooked oatmeal will stay delicious for up to 5 day in the refrigerator. Place in airtight containers and reheat on the stove top or microwave. You may want to add some water or milk of your choice to get it back to the creamy texture.
In addition, this apple cinnamon oatmeal can be frozen in air tight freezer containers for up to six (6) months.
For ease, I like to freeze in half (1/2) or one (1) cup portions giving me an easy single serving breakfast.
To do this method, lightly grease a measuring cup with cooking spray, then scoop with oatmeal.
Gently place each portion on a baking sheet lined with parchment or wax paper. Place in the freezer for 3-4 hours to harden before storing in airtight freezer bags.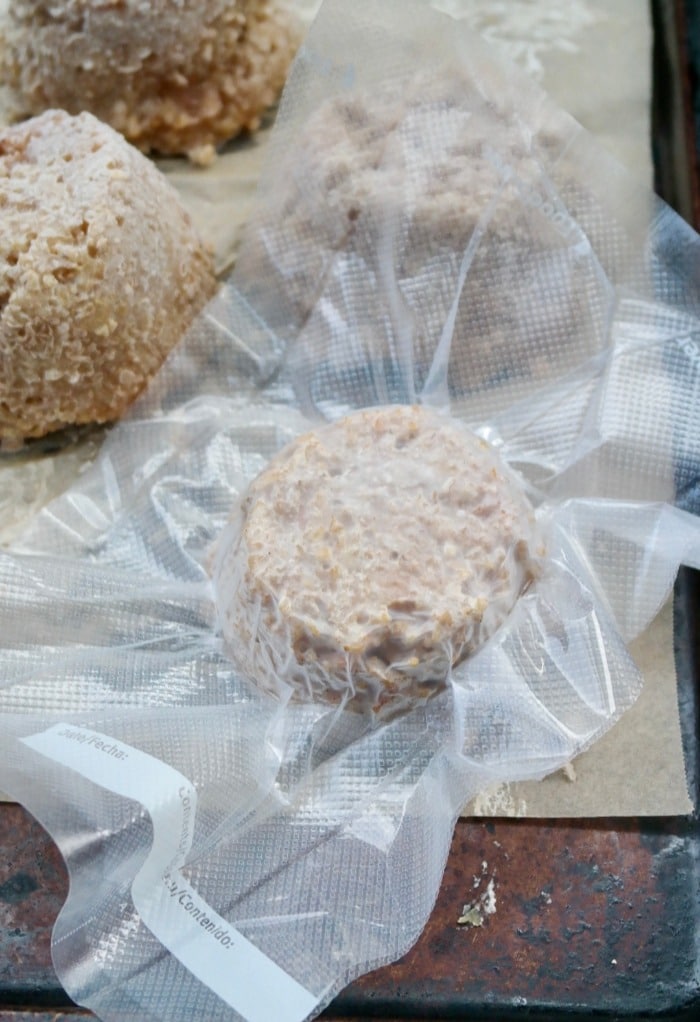 Defrost in the the refrigerator the night before or microwave on defrost mode.
Again, follow the same directions to reheat refrigerated oatmeal as noted above.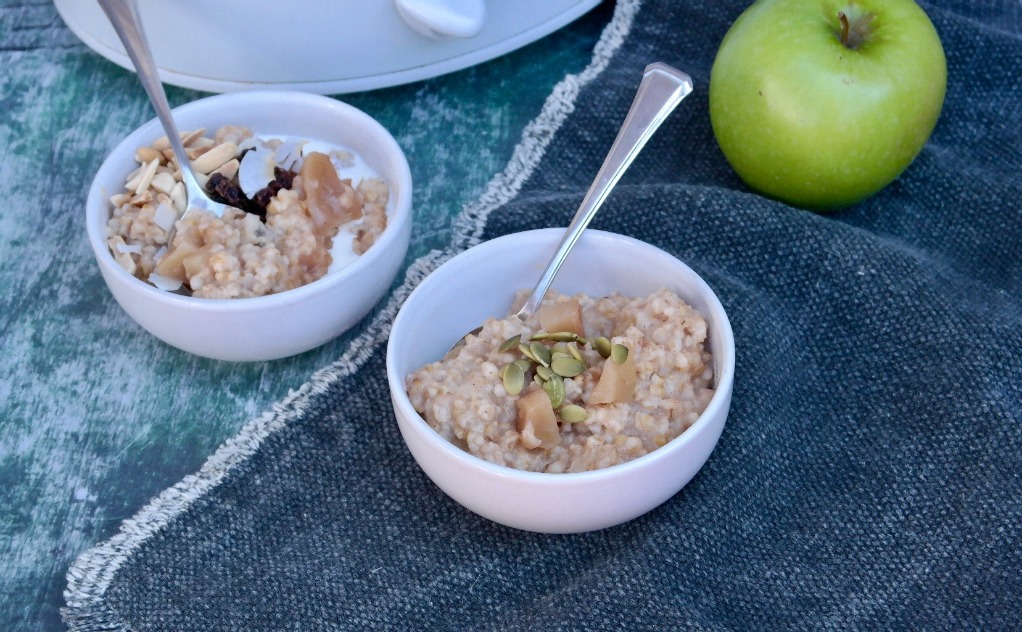 Can I Make This Without Maple Syrup?
Yes, if you would prefer your oatmeal without sugar or any sweetener then simply omit the maple syrup.
This recipe is meant to be a ready to enjoy as is with your favorite toppings. However, some people are sensitive to sweeteners.
Add your preferred sweetener to each individual bowl of oatmeal.
Personally, if this is just for me, then I leave out the maple syrup and add a sugar-free alternative like monk fruit or stevia to my own bowl.
My family likes agave syrup, brown sugar and a blend of stevia and sugar like Truvia.
More Oatmeal Recipes
Looking for more oatmeal recipes to try? Check out these delicious recipes: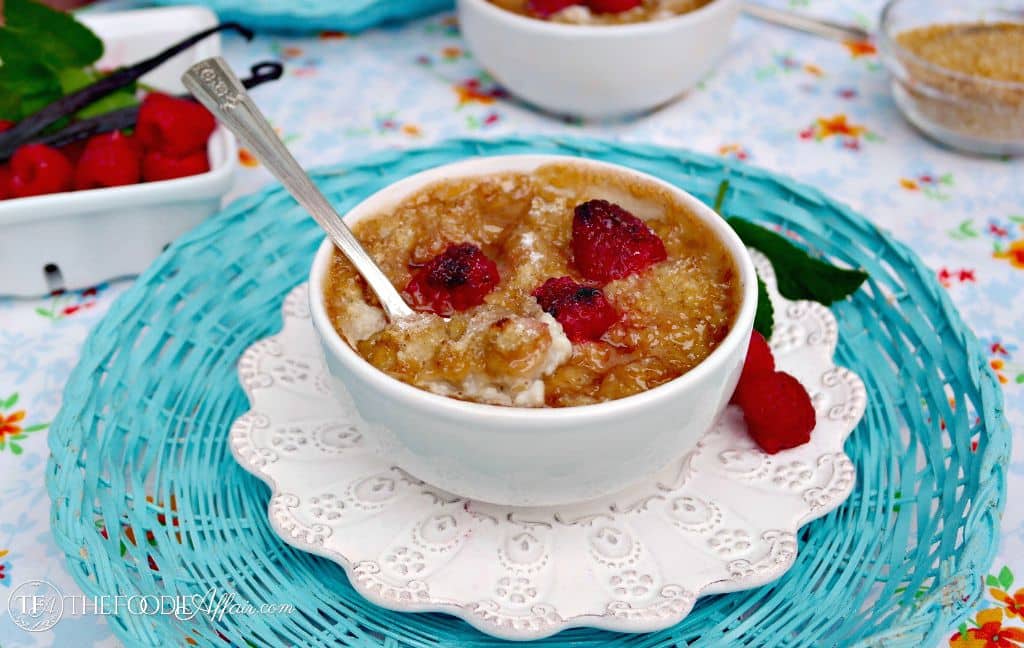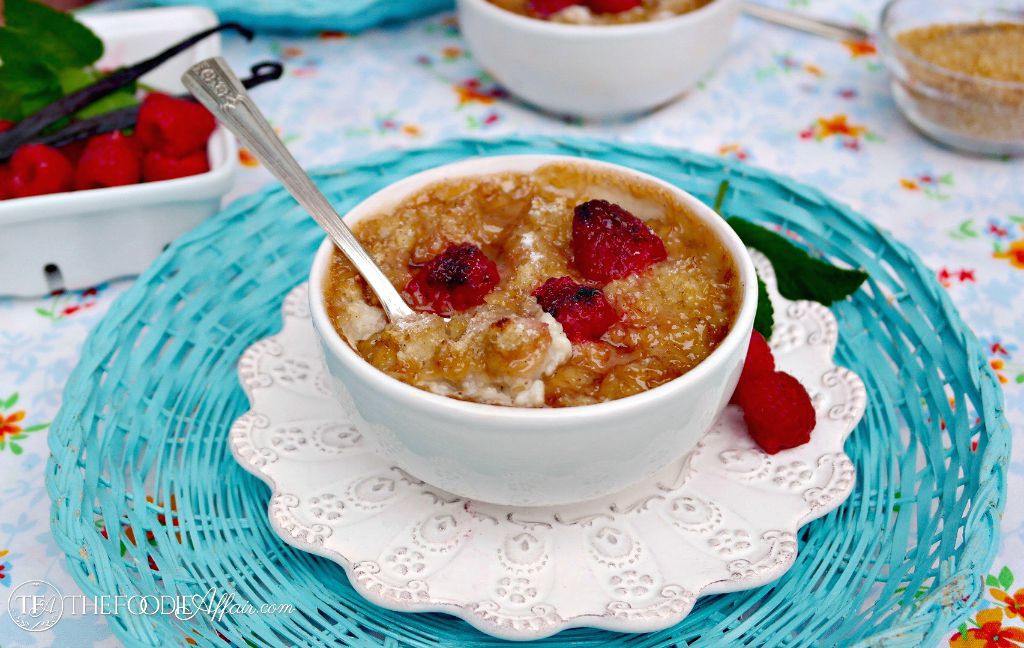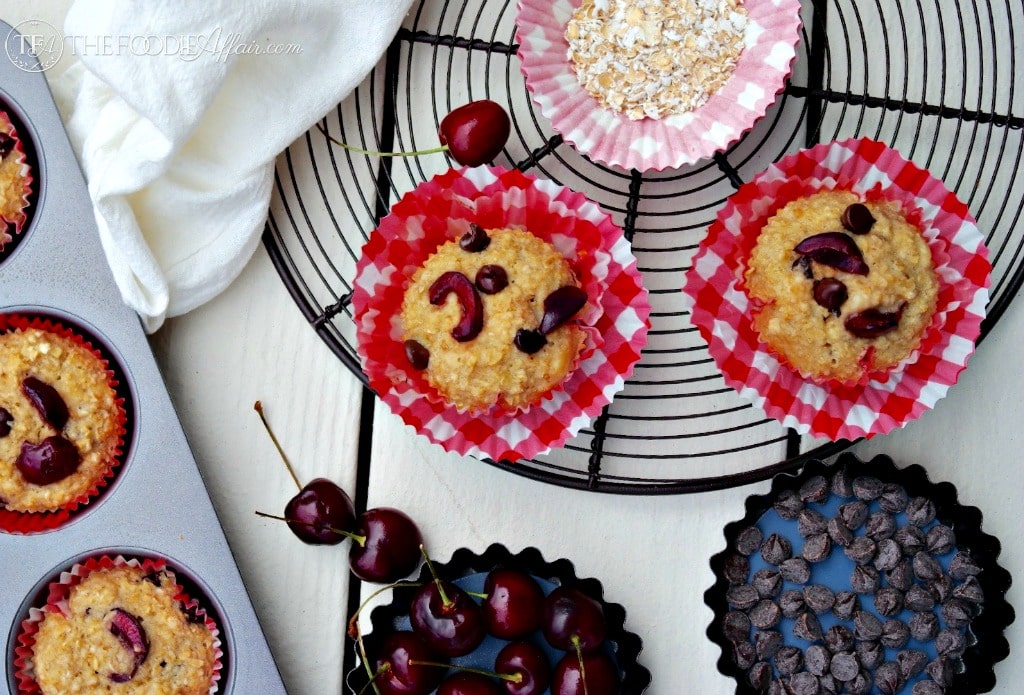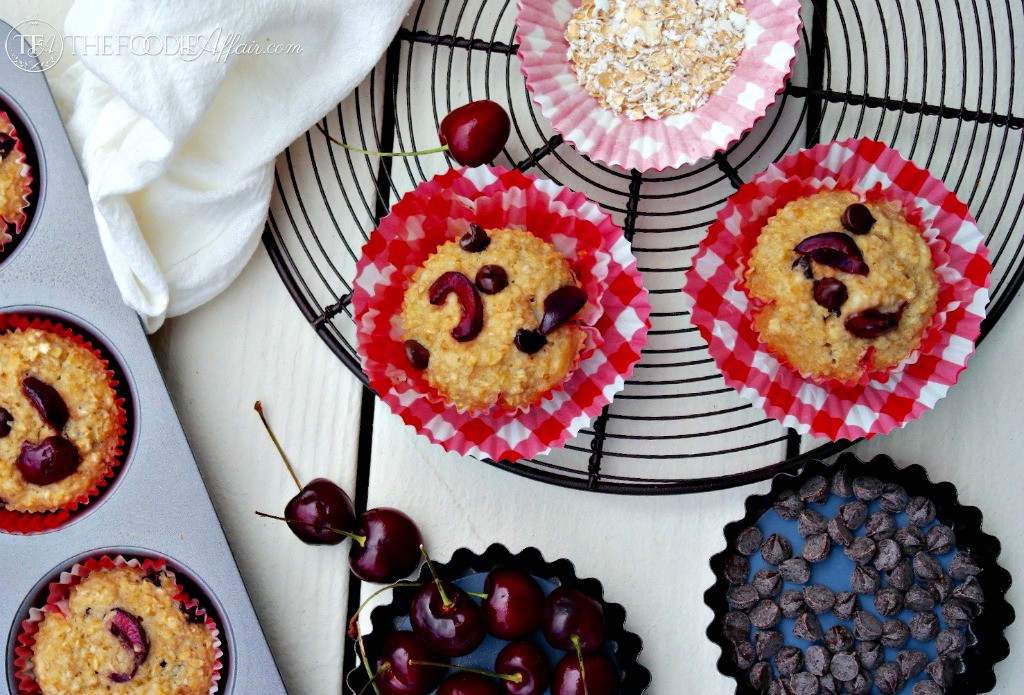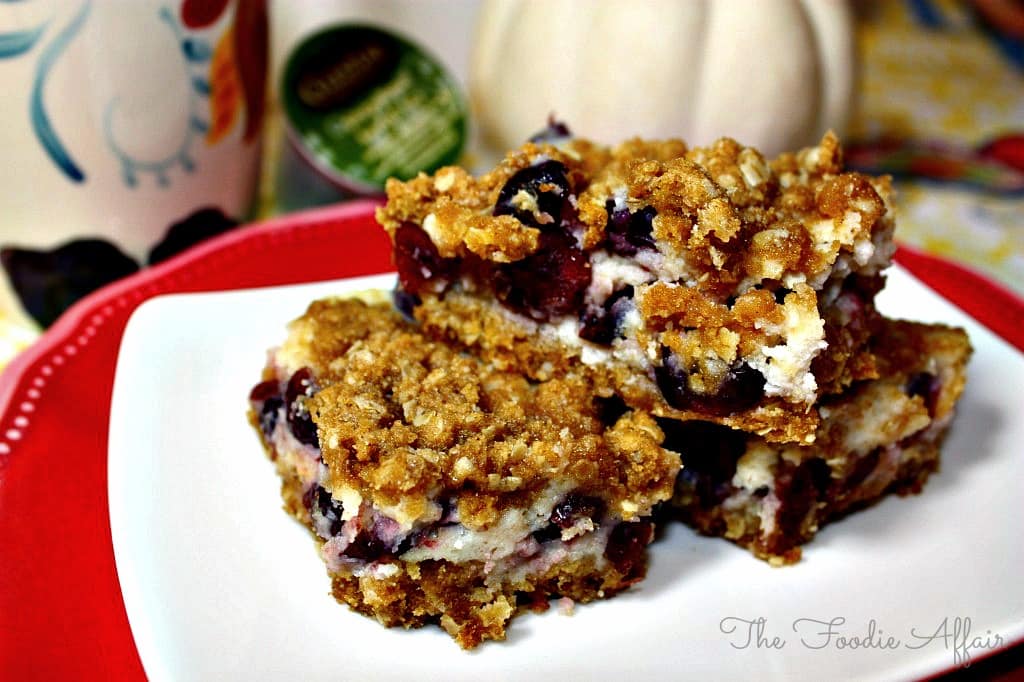 This post was first shared December 2015, I have since updated the photos and added additional helpful information, September, 2020.
PIN TO YOUR BREAKFAST, BRUNCH AND SLOW COOKED MEAL BOARDS