Creamy and healthy slow cooker apple cinnamon steel cut oatmeal cooked with maple syrup and vanilla. Add your favorite toppings like fruits and nuts! 
It's starting to feel like Christmas! Over the weekend we got our tree up and placed some of our favorite decorations throughout the house, and I even wrapped a couple of presents!
We wanted the kids to come over and help us with the tree since it's so fun to look at all the tree ornaments we've collected though the years. I've saved some adorable handmade ornaments that only I seem to appreciate (haha!) from when they were little.
There were lots of chuckles over baby pictures displayed in ornaments and the characters that still has limbs and heads intact! Who else has Luke Skywalker or Big Bird on their tree?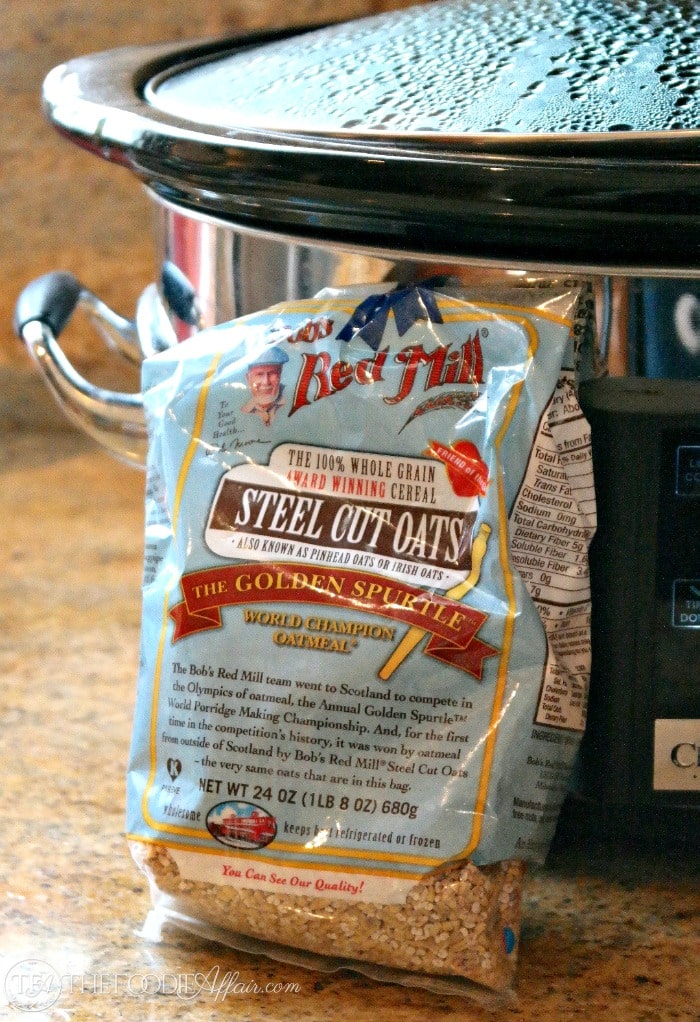 Christmas decorating takes lots of energy and I knew we would need a food break, so before the kids came over I put the steel cut oats into the slow cooker. Steel cut oats are my favorite type of oatmeal, but they they take longer to cook than old fashioned or instant, so you need to plan for that.
I was going to start the slow cooker right before going to bed so it would be ready in the morning, but the timing would be off. It would take 7 or 8 hours on low heat to cook and we didn't get started until 10 a.m. (20 year olds love sleep as much as I do!)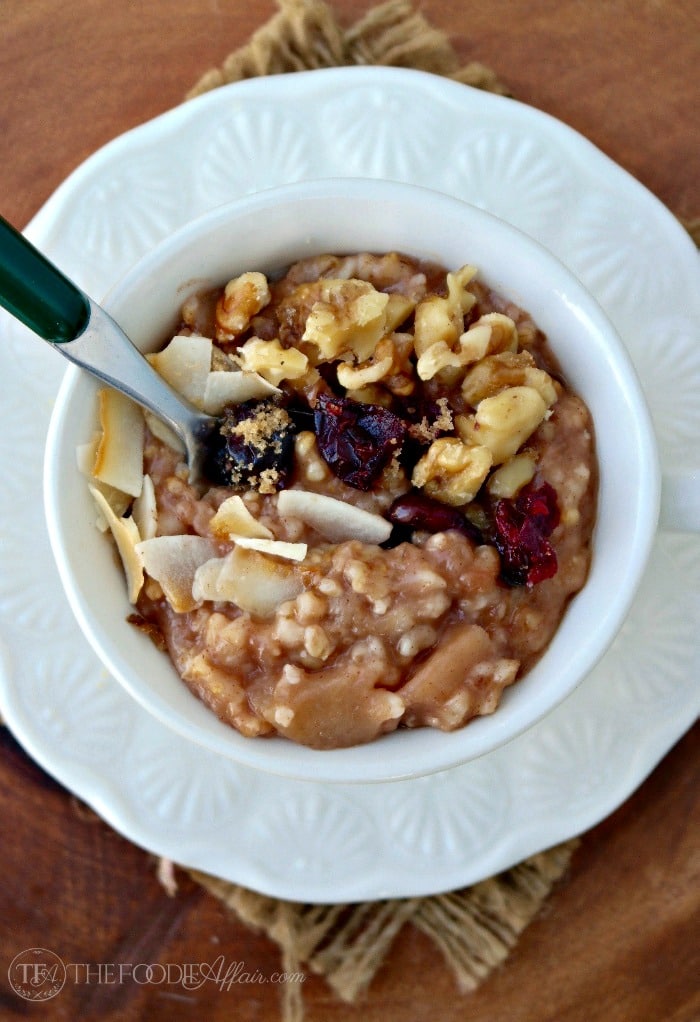 I tweaked the cooking by turning it on high heat for 3 hours, but first I heated the water in the microwave before adding it to the slow cooker, which I think saved about an hour of cooking time! I added 2 teaspoons of cinnamon that was heavenly with the apple! I also added vanilla and just a splash of maple syrup. Boy did the house smell delicious!
The fun part is adding your favorite toppings! I pulled out unsweetened coconut flakes, cranberries, walnuts and brown sugar. I don't think any of us added milk, but that's always an option to get the consistency that you like.
Slow Cooker Apple Cinnamon Steel Cut Oatmeal is a no-fuss healthy breakfast that is perfect for serving a crowd. Add this to your holiday menu and if there are any leftovers, reheat the oatmeal in the microwave with some milk.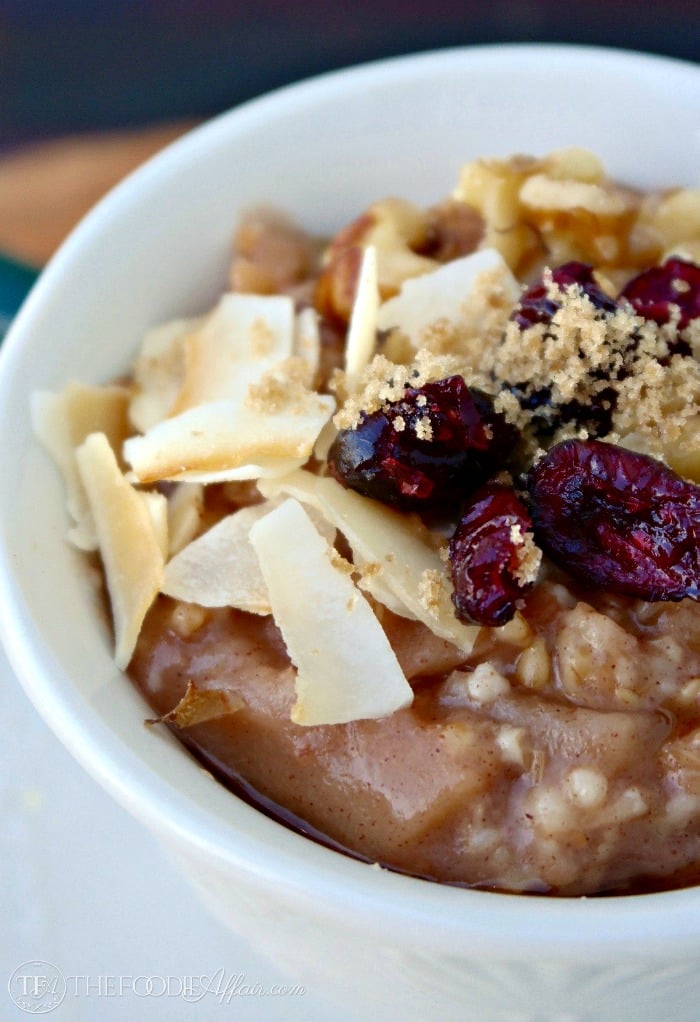 Yield: 4-6
Slow Cooker Apple Cinnamon Steel Cut Oatmeal
Total Time
3 hours
5 minutes
Ingredients
2 cups Steel Cut Oats
6 cups water, filtered and heated on high in the microwave for 7 minutes
2 teaspoons cinnamon
2 teaspoons vanilla extract
1/4 teaspoon salt
1 large apple, Granny Smith, peeled and diced
1/4 cup pure maple syrup
TOPPINGS (optional)
cranberries
nuts (walnuts, pecans, pumpkin)
coconut flakes
fresh fruit
additional sugar
milk of your choice
Instructions
Spray the inside of the slow cooker with non-stick cooking spray or grease with butter or coconut oil.
Add steel cut oats, hot water, cinnamon, vanilla, salt, diced apple and maple syrup to slow cooker. Cook on high heat for 3 hours (taste to check doneness. Cook longer if necessary). Serve with your favorite toppings.
Notes
Cooking times low heat 7-8 hour; high heat 3-4 hours.