This gluten-free granola with mixed nuts and coconut is crunchy and lightly sweetened with honey. Top your yogurt, ice cream or eat this granola with milk!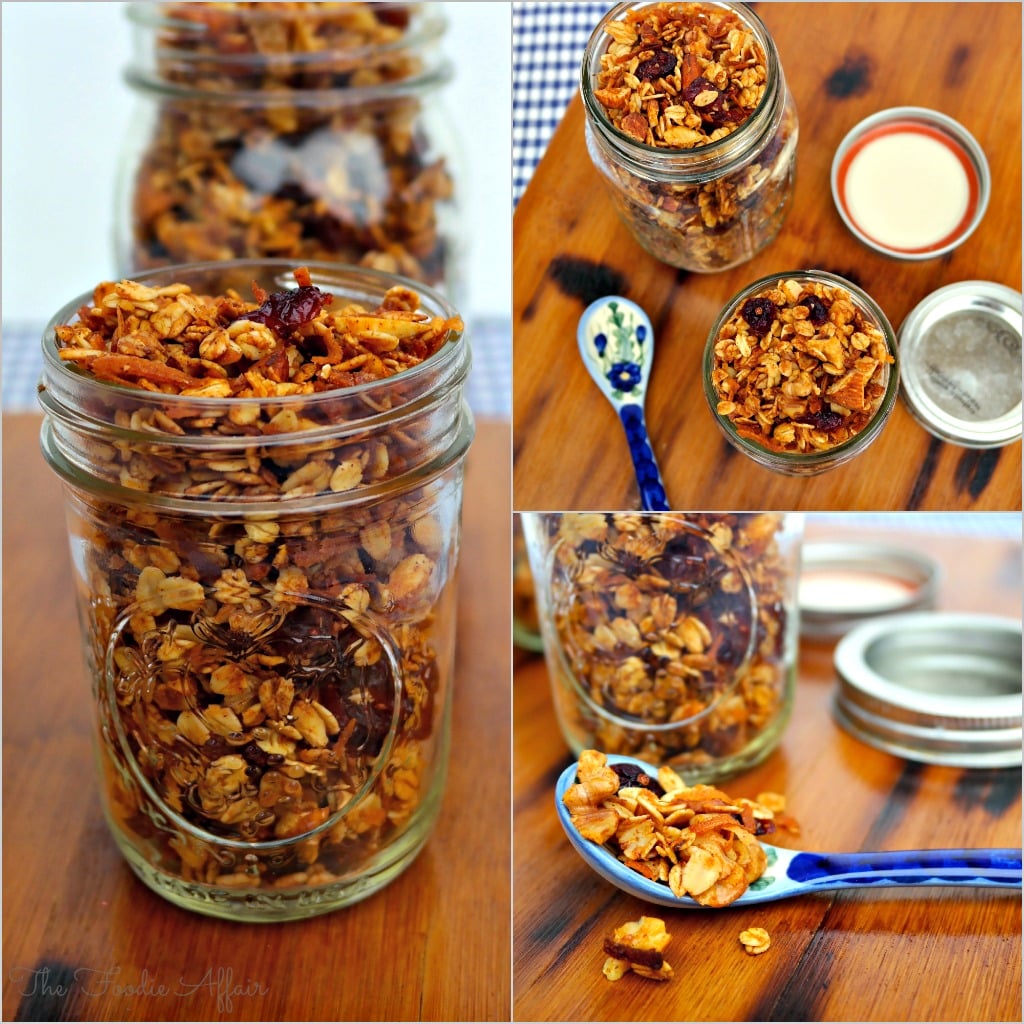 Not too long ago I got my husband to switch from flavored yogurt to plain Greek yogurt. I felt like it was a major win and something I feel good about because he eats yogurt just about every morning, and what he was eating was loaded with sugar! Not the best way to start a day!
Now he adds just a small amount of sweetener to plain yogurt, and has this Granola with Mixed Nuts and Coconut for an extra satisfying and filling topping!
When I switched to eating plain Greek yogurt I adjusted to the tartness by sweetening the yogurt with fresh fruits, stevia, xylitol or agave. Alan tasted several different brands, and also did a lot of ingredient comparisons before switching to a low sugar brand. It was shocking to learn that 5-7 teaspoons of sugar is packed in those small 6-8 ounce containers of yogurt!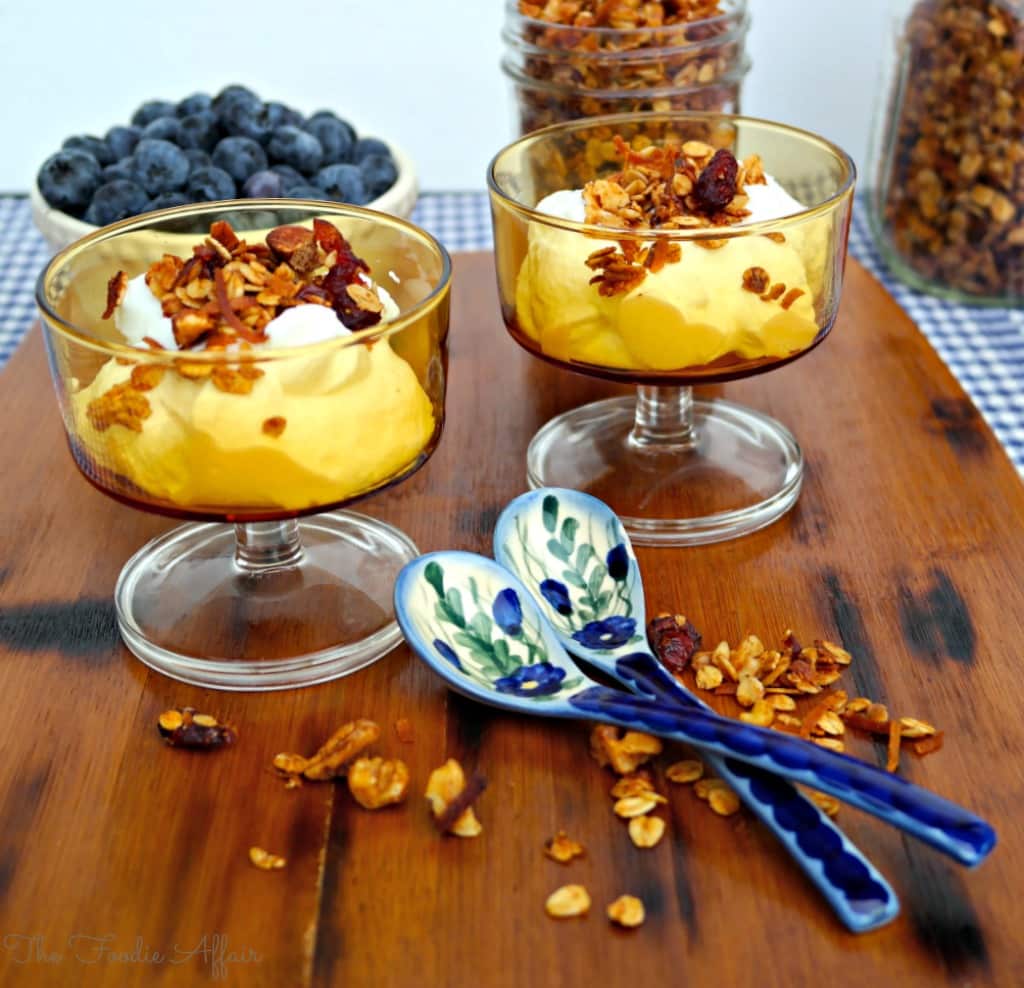 Topping your plain yogurt with this granola my be all the sweetener you need. This granola is baked with honey adding a light sweet taste, and enhanced even more with the coconut and cranberries.
I used gluten-free oats, which is what I had in my pantry, but I have also made this with regular quick oats. You can toss in some fresh fruit like blueberries, add milk and eat it like a cereal or munch on it between meals for a satisfying snack!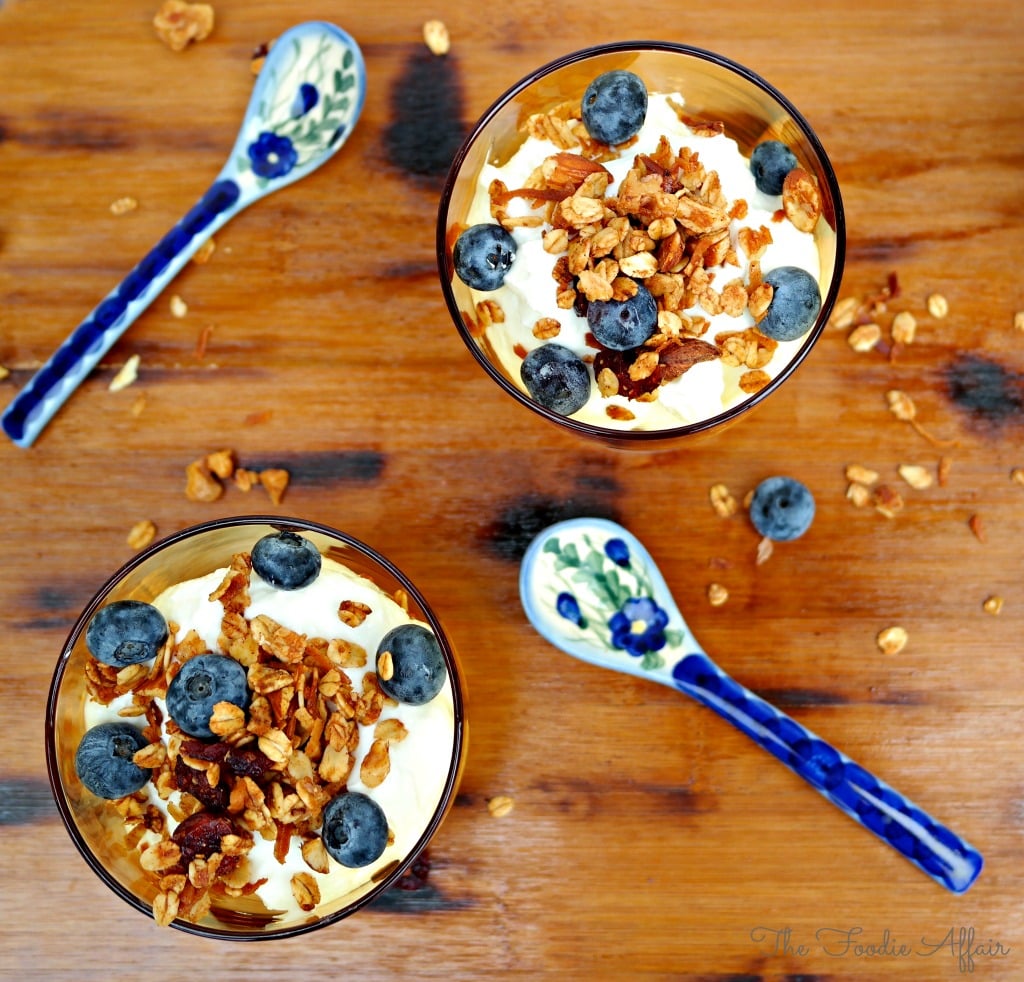 Yield: 12
Granola with mixed nuts and coconut
Prep Time 10 minutes

Cook Time 25 minutes

Total Time 35 minutes
Ingredients
2 cups gluten-free quick-cooking oatmeal (not instant)
1 cup mixed nuts (walnuts, almonds, pecans, macadamia)
3/4 cup shredded coconut, unsweetened
1/2 cup dried cranberries
1 teaspoon ground cinnamon
4 tablespoons honey ( I used local raw honey)
3 tablespoons coconut oil, melted
Instructions
Preheat oven to 350°.
In a large bowl mix together oatmeal, nuts, coconut, cranberries, and cinnamon. In a small bowl, mix honey and coconut oil together. Toss honey mixture into the oatmeal coating all the ingredients. Put the mix on a cookie sheet covered with a silicone baking mat. Bake 25-30 minutes. Every 5 minutes take out and stir the granola then flatten to a single layer. When granola is golden, remove from oven and let cool. Store granola in an airtight container for up to 2 weeks.


Are you a fan of quinoa? You also might like this Quinoa Pumpkin Seed Granola!