Thank you Greek Gods Yogurt for sponsoring this post.  All opinions are 100% my own.
This pavlova dessert has a light and airy meringue shell that is filled with chocolate strawberry Greek-style yogurt. Add fresh fruit for a spectacular simple dessert!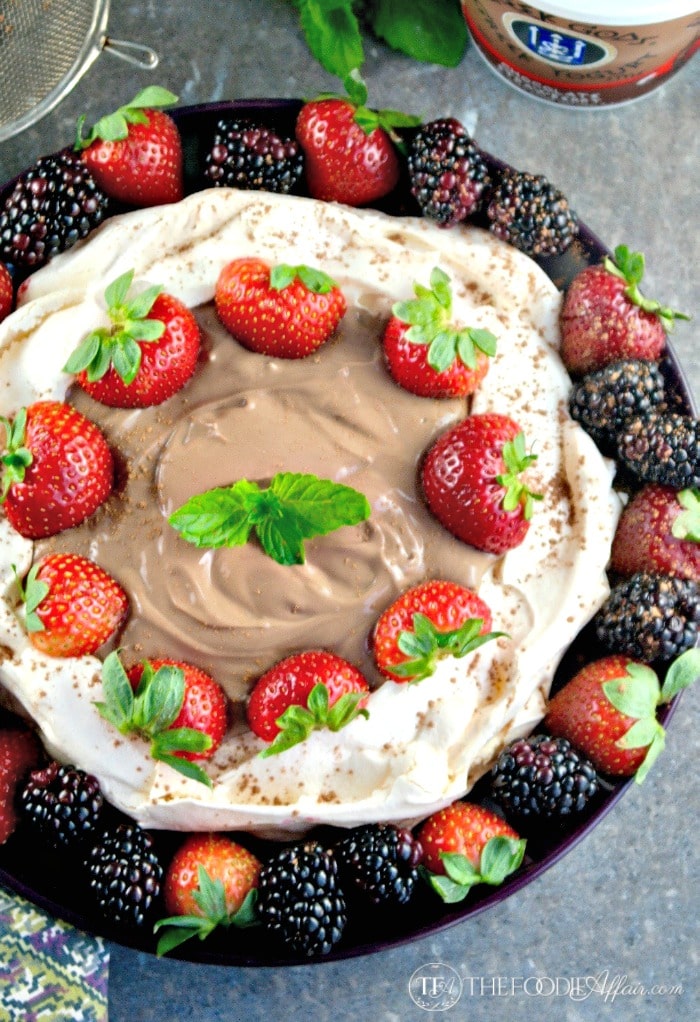 Easy pavlova dessert for the holidays.
Looking for a simple yet stunning dessert to add to your holiday table?  This easy pavlova dessert is just what you'll want to share with your family and friends.
Pavlova is usually served with whipped cream in the center.  These individual pavlova nests that I made for Easter will give you an idea of a traditional pavlova, but over the years I've seen some delicious variations like lemon curd or vanilla custard replacing the whipped cream.
Each variety is flavorful and pretty, and just the encouragement I need to add my own twist!  For this recipe I filled the crispy meringue shell with creamy Greek Gods Greek-Style Yogurt!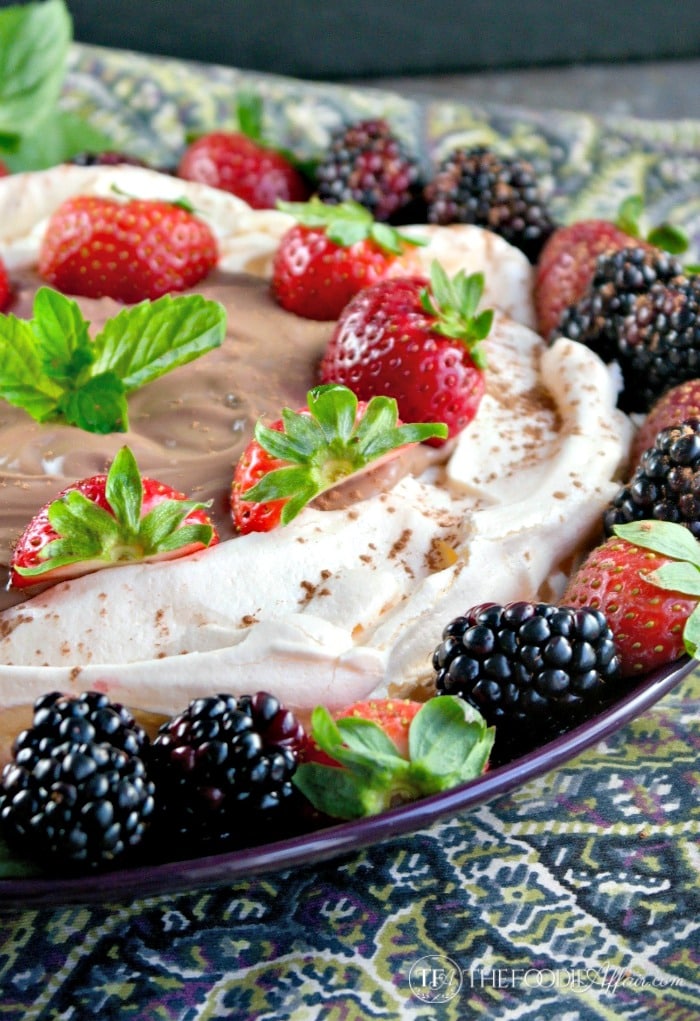 You can still add a dollop of whipped cream if you would like to stay true to the traditional pavlova, but once you take a bite of the rich chocolate and strawberry flavors that I added this will be your favorite dessert just as it is!
The Greek Gods added three new Greek-style chocolate yogurts!
The Greek Gods have added a delicious trio of chocolate Greek-style yogurts to their product line and as you can see from this chocolate cherry yogurt dip and this chocolate mocha smoothie bowl these yogurts turn effortless recipes into dazzling fusions of flavors.
Strawberry and chocolate are also two great ingredients together, so it's no surprise that The Greek Gods included the duo in their line of new chocolate Greek-style yogurts.  It's the perfect filling for a pavlova!
I served this pavlova dessert for a special friend who came to visit for the weekend.  We lingered over each bite as we chatted and caught up.  We just may have enjoyed a second piece!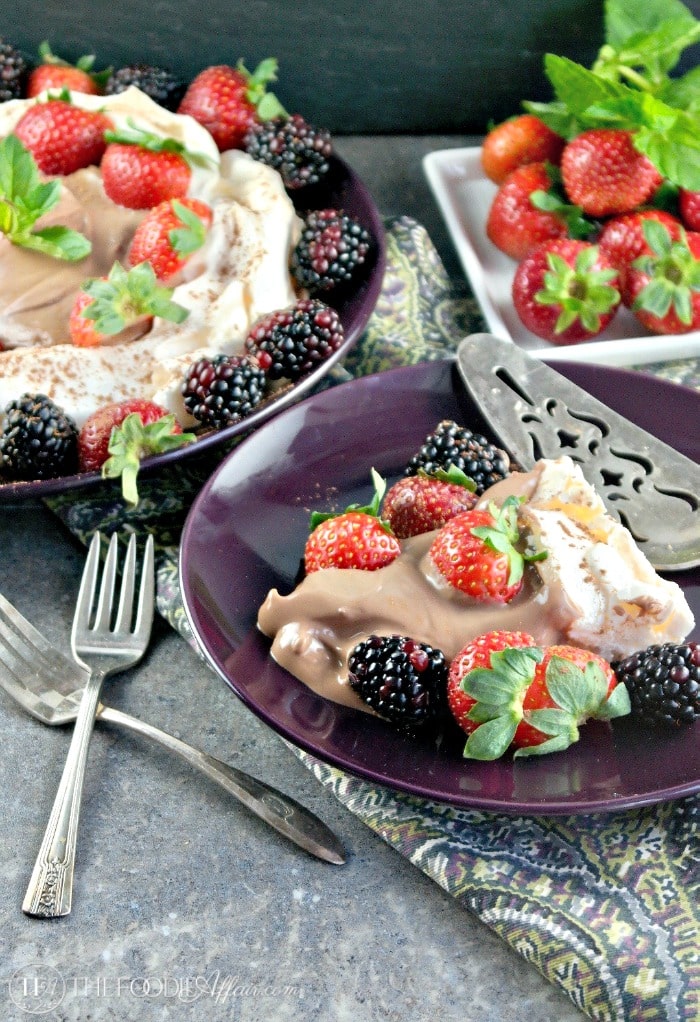 Yield: 8
Easy Pavlova Dessert filled with Chocolate Strawberry Yogurt
Ingredients
5 Egg Whites
1/2 teaspoon cream of tarter
pinch of salt
3/4 cup granulated sugar, superfine (blend regular sugar if you don't have superfine)
1 cup The Greek Gods Greek-Style Yogurt, Chocolate Strawberry
2-3 cups assorted fruits
1 teaspoon cocoa (optional for garnish)
Instructions
Preheat oven to 225 degrees. Line two baking sheets with parchment paper. For same size shells, draw 8-9 inch circles on the parchment paper and turn the paper upside down.
Pavlova
Beat the egg whites at medium speed until foamy. Add salt and cream of tarter, and beat at medium-high speed until soft peaks form. Add sugar one tablespoon at a time and beat on high speed until stiff peaks form.
With a spoon scoop meringue in the center of the parchment paper following the shape previously outlined. Build up the shells shaping with the back of a spoon so there is a rim higher than the center.
Bake for 50-60 minutes or until the shells are dry to the touch. Turn off the oven and leave the nests in the oven for 2 hours to continue to dry out. Cool on a baking rack.
When shell is completely cool place on a serving plate and add Chocolate Strawberry Greek-Style yogurt in the center. Spread evening. Add fruit to the inner and outer rim of the shell. Sift cocoa over pavlova. Gently cut in slices.
Notes
Note: the meringue in this recipe will yield two 8 1/2 - 9 inch shells.
Double the filling and fruit ingredients if you want to serve two pavlovas.