Low carb keto gravy is the perfect sauce for gluten-free diet followers too.  Enjoy this sauce over sausage, turkey or mashed cauliflower.  This easy full-flavor recipe is made with homemade stock, cream, butter and a thickener of your choice!
Farberware Cookware sent me free cookware in exchange for this post and a giveaway, however, all opinions are my own. #ad #Farberware #MyFamilyCooks #Giveaway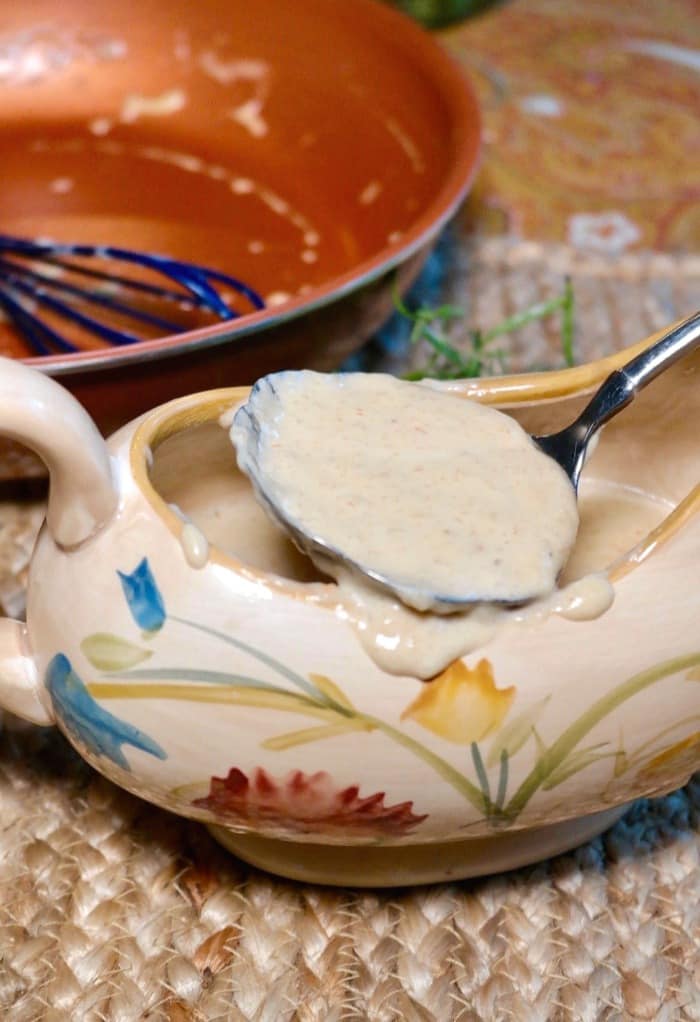 Keto Gravy Sauce
This gravy sauce is simple to make and a delicious way to enjoy some comfort food keto-style!
I experimented with a gravy sauce after Thanksgiving just in time to lather over our leftover turkey slices.  Delicious enough to eat by the spoonful, but save it for those days when you are craving comfort food!
How To Make Keto Gravy
You make keto gravy very similar to traditional gravy, except we will thicken our sauce by blending the onions and adding a gluten free thickener.
For this recipe we use 1/2 cup of chopped onion, which has 7 carbs.  If you are super-duper strict keto, then reduce the onion to 1/4 cup or leave them out.
The flavor from the onions are worth the carbs in my opinion, and you won't be eating the whole amount in the gravy boat at one serving.  At least I don't recommend that!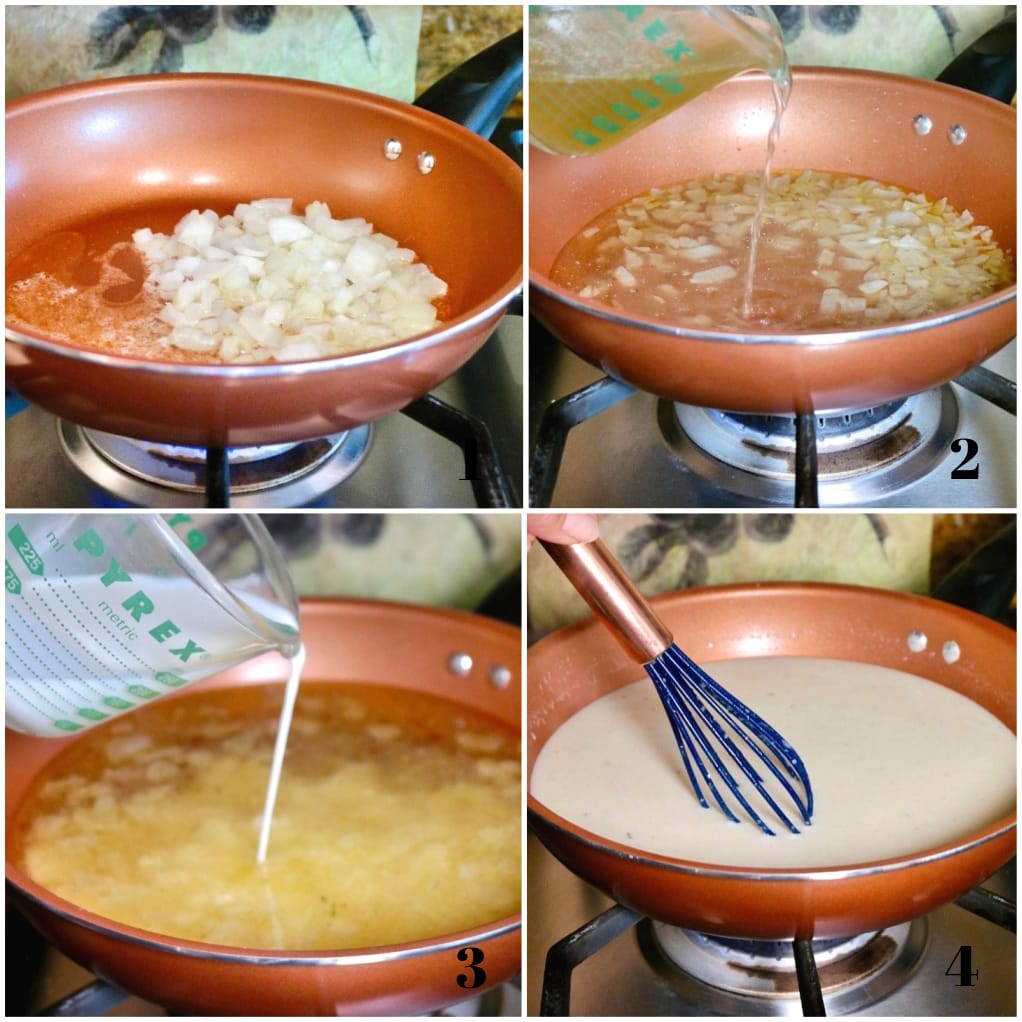 Steps To Make Gravy
Sauté onion in butter until soft and fragrant
Add broth or stock, then heavy cream
Mix in cream cheese
Blend ingredients
Place ingredients back in skillet
Season with salt, pepper and Worcestershire sauce
Add thickener (Psyllium Husk – my preference)
Top with additional butter (optional) and any additional fresh herbs
Clean up was a breeze with this ceramic nonstick Faberware skillet!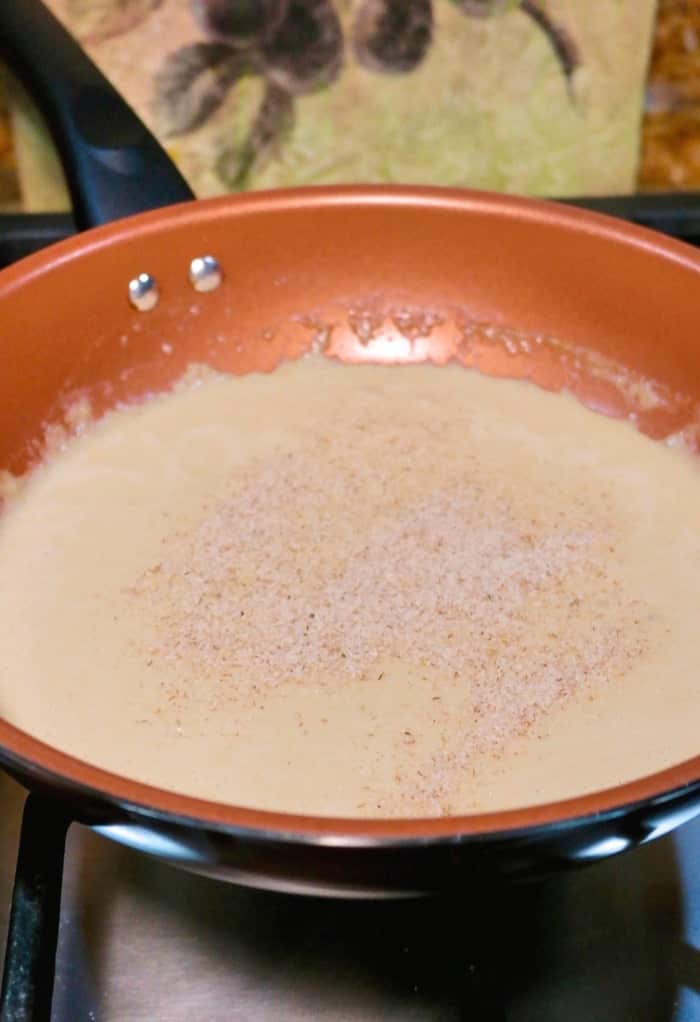 How To Thicken Keto Gravy
Obviously, the easiest way to thicken traditional gravy is to make a roux with flour, but that's not the keto way.  Don't fret though because I have a delicious alternative to flour, cornstarch or arrowroot with zero carbs and all the thickness you want.
First, you should know that when you make a gravy it can be thickened naturally by simmering the ingredients to evaporate the water in the stock.  It does work, but we tend to get impatient, which is why whisking in flour gives us instant satisfaction since it thickens almost immediately.
Here are some options to thicken the gravy without using flour, cornstarch or arrowroot.
Full fat Cream Cheese
Yogurt or Sour Cream
Guar gum or Xanthan Gum
Psyllium Husk Powder
I tried them all and ended up with a combination of 1 tablespoon of cream cheese and 1 teaspoon of psyllium husk powder, which I think gave me the best tasting gravy with the thickness I was looking for.
Add your choice after simmering the ingredients. Start with a tablespoon of yogurt or sour cream, and add more a tablespoon at a time to get to the consistency you prefer.
If using guar gum or xanthan gum you will need 1 teaspoon of the guar gum and about 1/2 teaspoon for the xanthan gum.  Just like flour, each will thicken quickly, so start with less and increase the amount as it bulks up.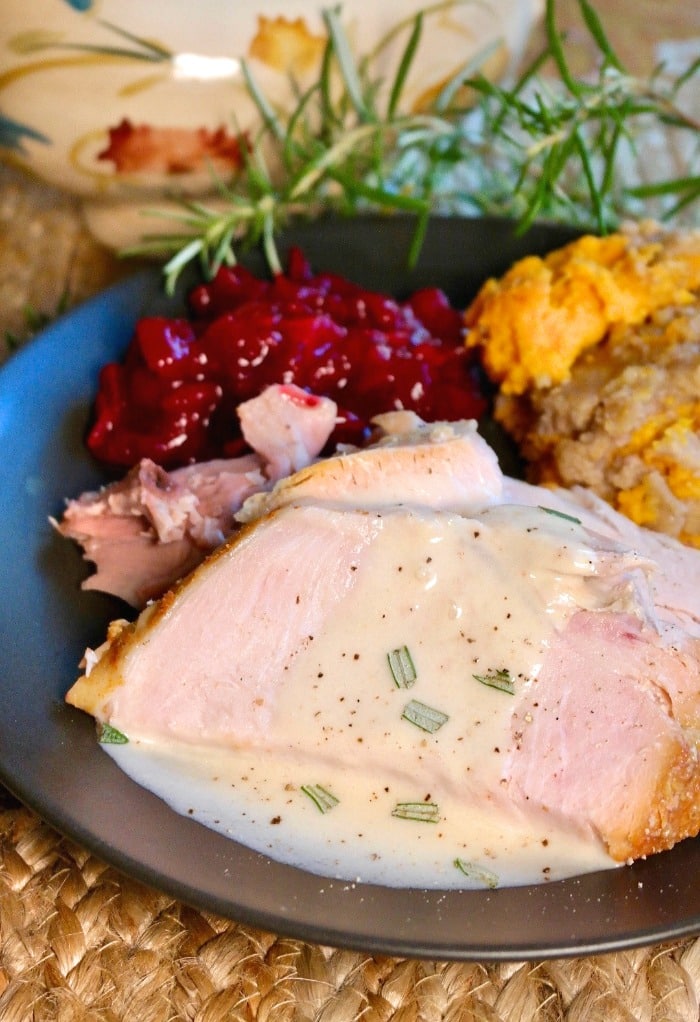 Low Carb Keto Gravy Recipe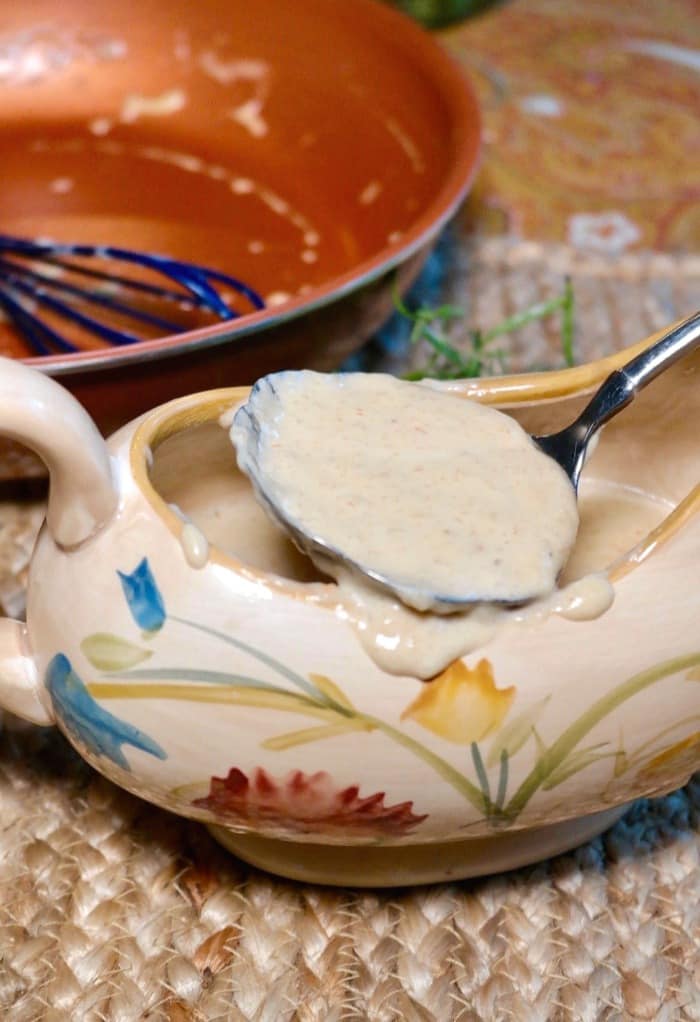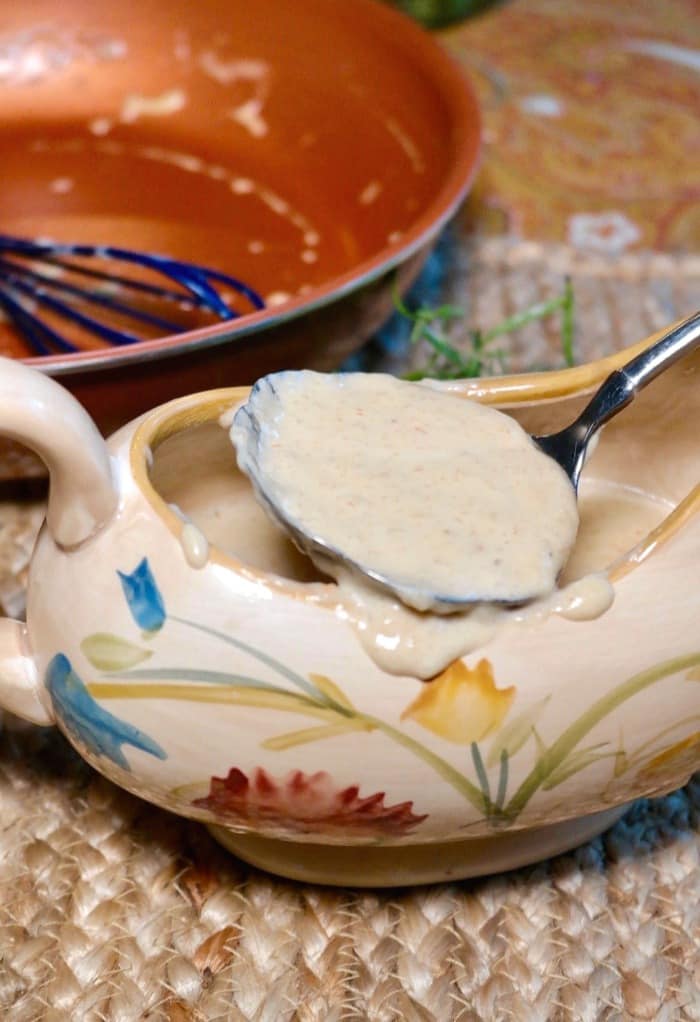 Comfort food keto-style! Use this easy low carb gravy sauce for biscuits and gravy, meats, and any dish you want additional flavor.
Ingredients
1/2 cup onion, diced
3 tablespoons butter, divided
2 cups stock or broth (beef, chicken, turkey, vegetable)
1/4 cup heavy cream
1 tablespoon cream cheese
1 teaspoon Worcestershire sauce
1 teaspoon psyllium husk
Salt and pepper to taste
Directions
In a medium skillet over medium heat add two tablespoons of butter and add onion. Sauté until onion is soft and fragrant.
Pour in stock and mix well, then add cream. Stir until all ingredients are warm, then add cream cheese and whisk until cheese melts.
Remove from stove and carefully place in a glass blender. Pulse until in smooth.
Place back in skillet and add 1 teaspoon of psyllium husk. Stir until desired thickness. Mix in Worcestershire sauce and 1 tablespoon of butter. Top with fresh herbs if desired.
Recipe Notes
1/4 cup of sauce is under 5 carbs
Loading nutrition data...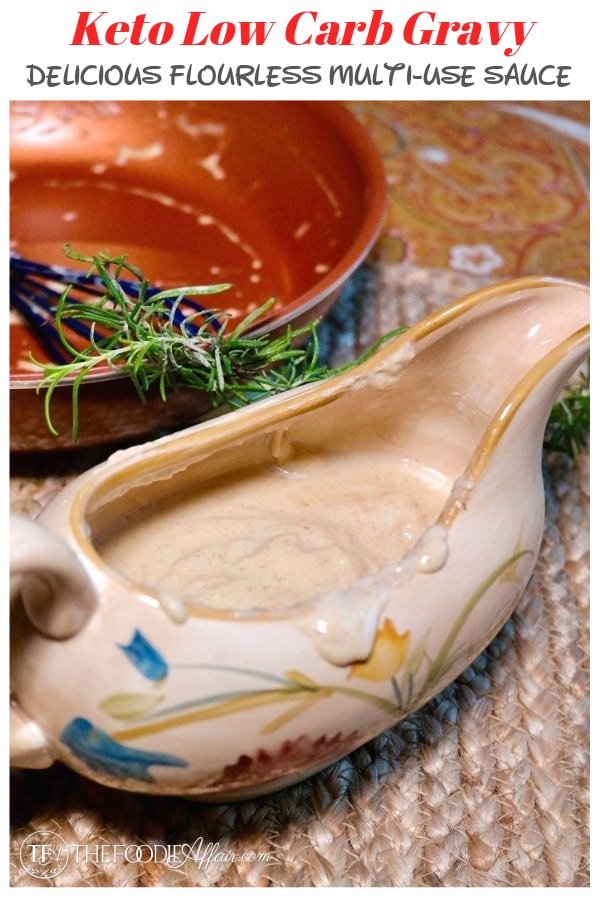 12 Days of Christmas Giveaways – Day 2
Juggling Act Mama has 12 days of amazing giveaways happening from now until Christmas Eve, so be sure to check them all out!
Some of the items below contain affiliate links; I am a participant a variety of affiliate programs, including in the Amazon Services LLC Associates Program, an affiliate advertising program designed to provide a means for us to earn fees by linking to Amazon.com and affiliated sites. However, I only promote things that I love and think you will love, too. For more information, please see our Disclosure Policy.
Today's giveaway is an awesome 11-piece Farberware Glide Cookware Set
, and it is awesome! Here's what's included in the set:
2 sauce pans
1 Dutch oven
2 skillets
3 lids
slotted turner, slotted spoon, pasta fork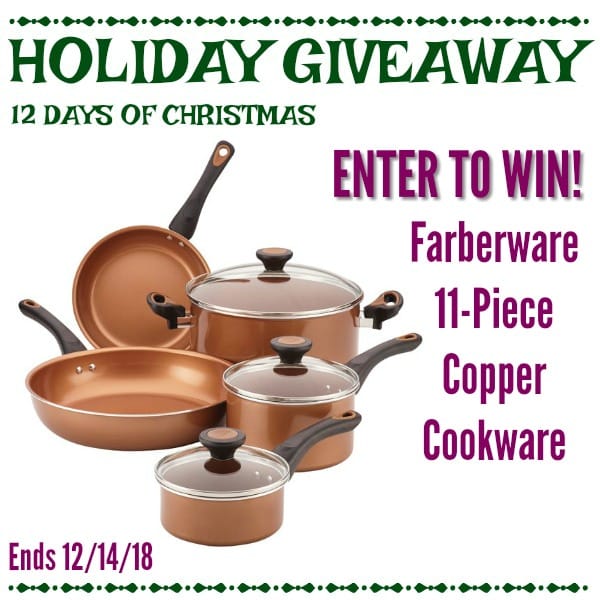 The Farberware Glide Cookware Set has a lot o f great features, including:
Oven safe to 350° F
Dishwasher safe for easy clean-up
Shatter-resistant glass lids
Comfortable handles for a confident grip
Copper color accents on handles and lid knobs
Lifetime Warranty
Farberware Copper Cookware Giveaway
Official Rules and Conditions: One winner will be receive an 11-piece Farberware Copper Cookware set. Open to US residents to adults 18+. One (1) winner will be chosen. Prize must be claimed within 48 hours of announcement or a new winner will be drawn. Prize will be delivered by the sponsor, Farberware. All entries will be verified. This giveaway is in no way associated with Facebook, Pinterest, Twitter, Instagram, Rafflecopter, or any other entity unless otherwise specified. Giveaway ends 12/14/2018. Enter using the widget below.
This holiday season, don't forget to shop through Ebates so you earn cash back on all your purchases!
Be sure to check out all the 12 Days of Christmas Giveaways happening at Juggling Act Mama December 1-12, 2018!