Quick and easy crock pot ham and bean soup recipe is hearty and filling! Put all the ingredients in a slow cooker and let the flavors blend together!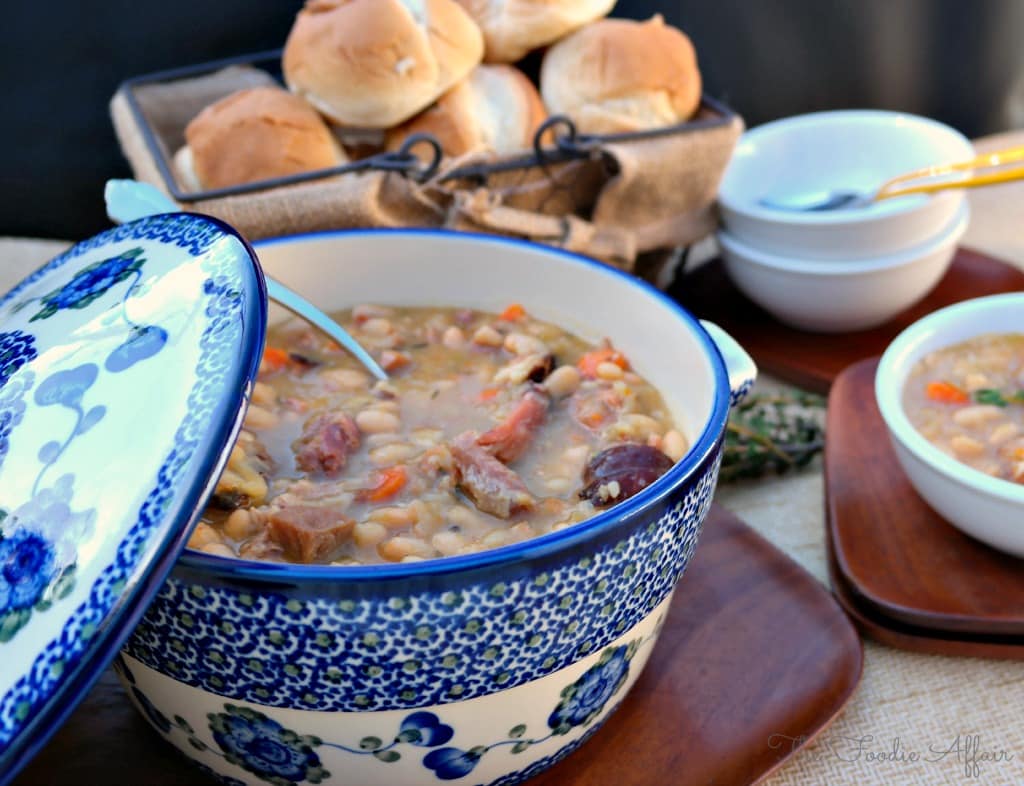 So there is some big news in our house and a few changes going on! After 28 years of active duty service my husband, Alan has retired from the Navy! Woo-hoo!!
I intended to share the news with a cocktail concoction, a little more celebratory than this Ham and Bean Crock pot recipe, but it seems fitting since he made this dish!!
Yes sirree! for a couple of days in a row, dinner was made when I got home from work.
I have to say, I REALLY like how these retirement days are treating us!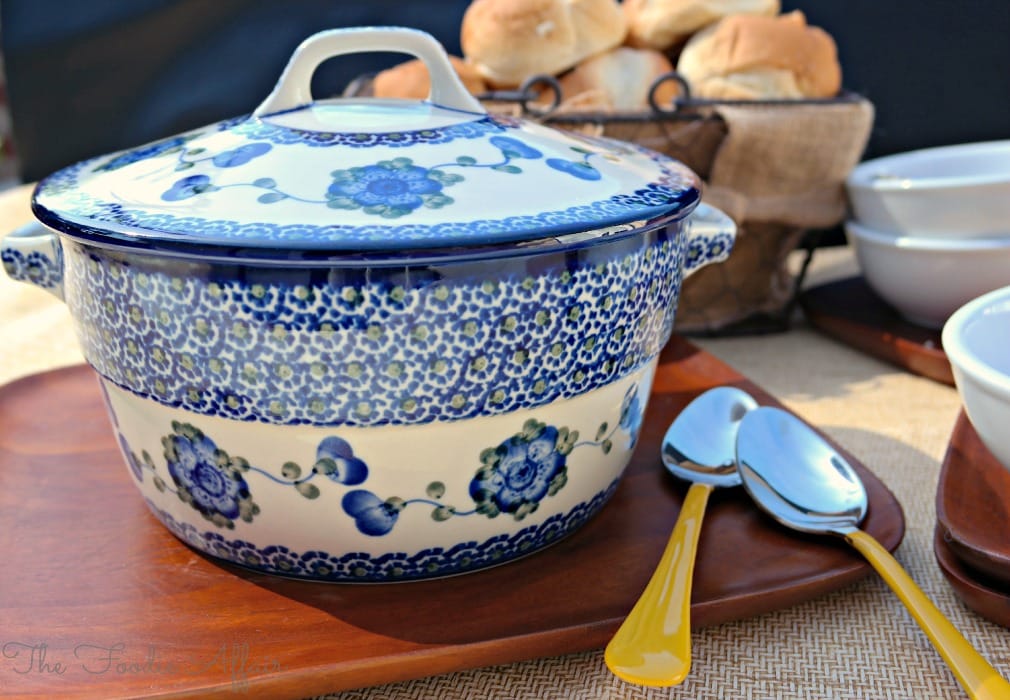 Well, maybe I shouldn't  get too excited, because everyone says Alan is too young to be fully retired, and he is!
But we also can't afford to live our same lifestyle in one of the most expensive places on EARTH, California without a few more bucks in our accounts, so it won't be long before he goes back to work!
Plus, on day three he's already antsy 🙂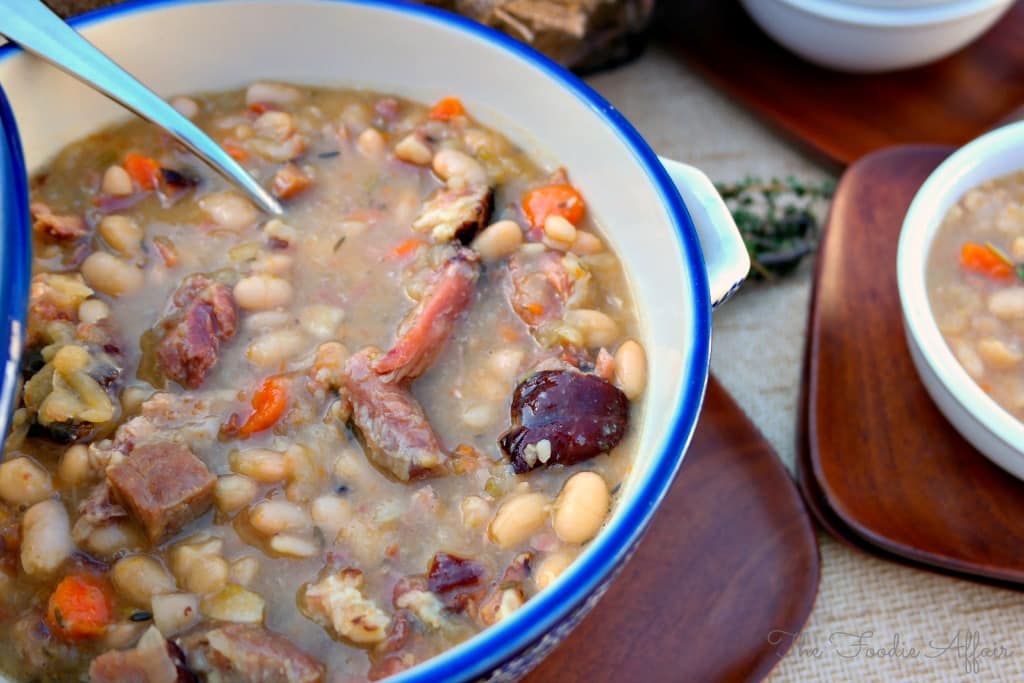 Yes, these prepared meals will be short lived. Another career is brewing, and he is already on contract for a teaching some techie computer course during the summer months.
Until then, he'll get to do whatever the heck he wants like paddle board at noon, brew another batch of beer, and shop for that motorcycle he's got an eye on!
And apparently, he has added making dinner to his list of things to do.
He may have been inspired a tinny bit by some prompting from me 🙂 "Hey, babe, why don't you look up a crock pot recipe to use that ham hock if you get a chance!"
I left it at that, and wallah, this gorgeous soup was made.
Swoon…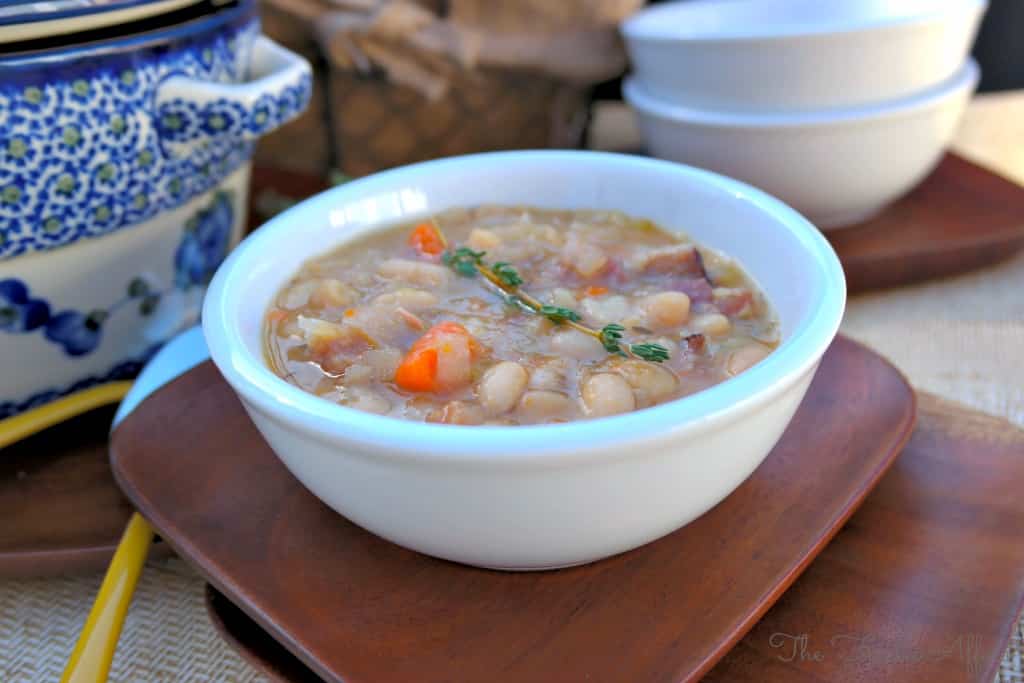 Yield: 6
Ham and Bean Soup Crock Pot
Ingredients
2 meaty ham hocks (about 1 1/2 lbs.)
1 pound dried white beans(great northern or cannellini)
1 quart low-sodium chicken broth
1 quart water
4 ribs celery, chopped
3 small carrots, sliced
1 large onion, chopped
3 garlic cloves, chopped
12 sprigs thyme
Salt and pepper to taste
Instructions
In a large slow cooker, combine the ham hocks, beans, broth, celery, carrots, onion, garlic and thyme sprigs. Cover and cook on low until the beans are tender, about 5 - 6 hours on low.
Discard the thyme stems. Remove the ham hocks and shred the meaty parts; discard the skin, fat and bones. Return the ham back to the slow cooker and season with salt and pepper.
Notes
The original recipe called for all chicken broth for the liquid, but we thought it was too salty, even with using low-sodium. It may vary, depending on the brand you use, so season to taste.


Adapted from White Bean & Ham Soup.