This simple low carb carrot cake mug cake is done in minutes! Satisfy your sweet tooth without baking a whole cake!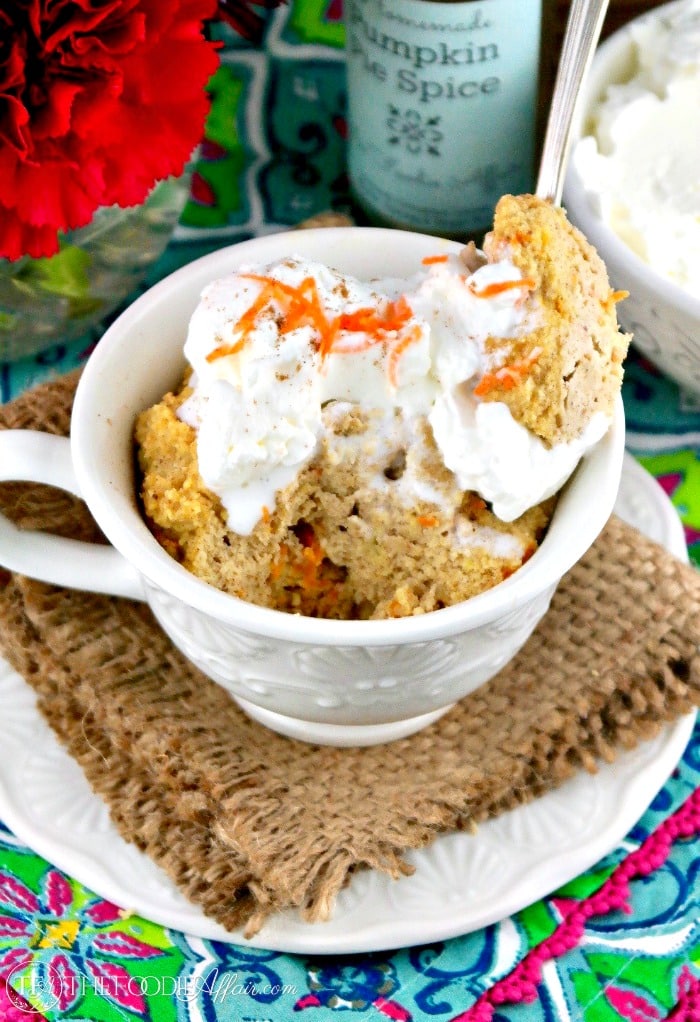 Single serving desserts are brilliant, especially when you're trying to keep the treats in the house to a minimum!
When I made this cherry almond mug cake I really thought I would go crazy with different flavor combinations because the options are endless.  Mug cakes are ity-bity, cute as can be, tasty desserts, and it only takes less than 5 minutes to make!
It didn't take long for my mug cake excitement to die down though, and it's not because my sweet tooth took a siesta.  NEVER!  I just got side tracked to try different treats like these chocolate dipped oranges and individual pavlova nests!
Now that I'm experimenting with more low carb recipes my interest has peaked once again.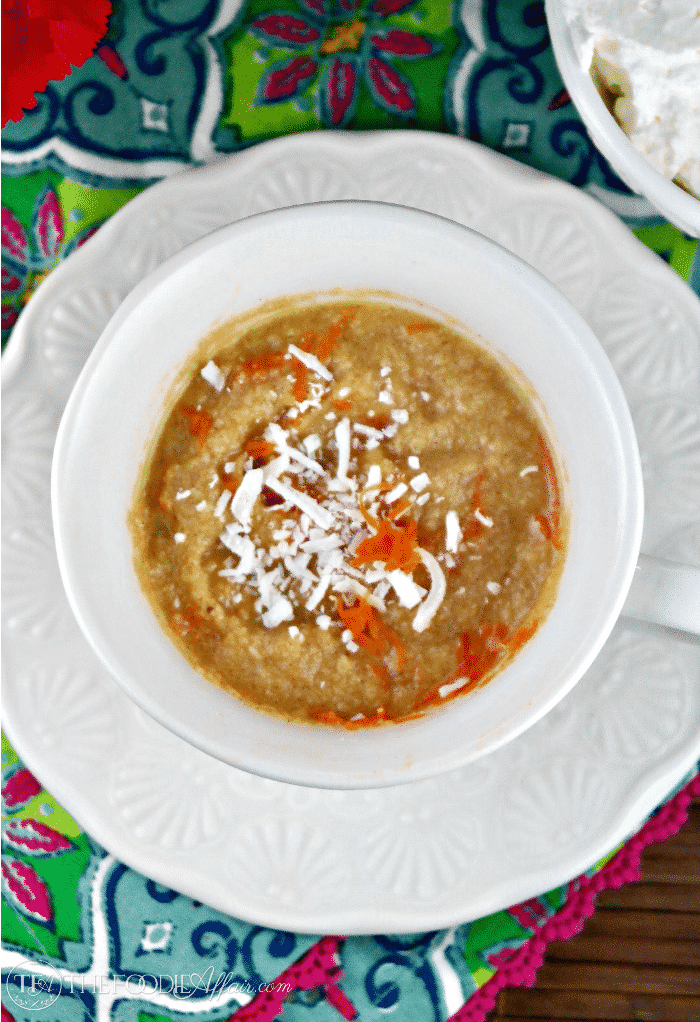 Baking low carb is tricky, because the ratios of the liquid to dry ingredients vary depending on the flour alternative used.  For this recipe I used both almond and coconut flours combined with a whole egg, almond milk, plus a nice dose of flavorful spices!
Next time I plan on experimenting with ground flax or chia seeds!  I was too full to taste test another batch (can you imagine if this was a whole cake?!).
This Low Carb Carrot Cake Mug Cake (say that 10 times fast) is only 6 carbs (without whipped cream), and 9 grams of protein!  No wonder it's filling!
Keep this single serving cake in mind the next time you're looking for a dessert just for one!  Top with fresh whipped cream or add a scoop of ice cream for an extra decadent dessert!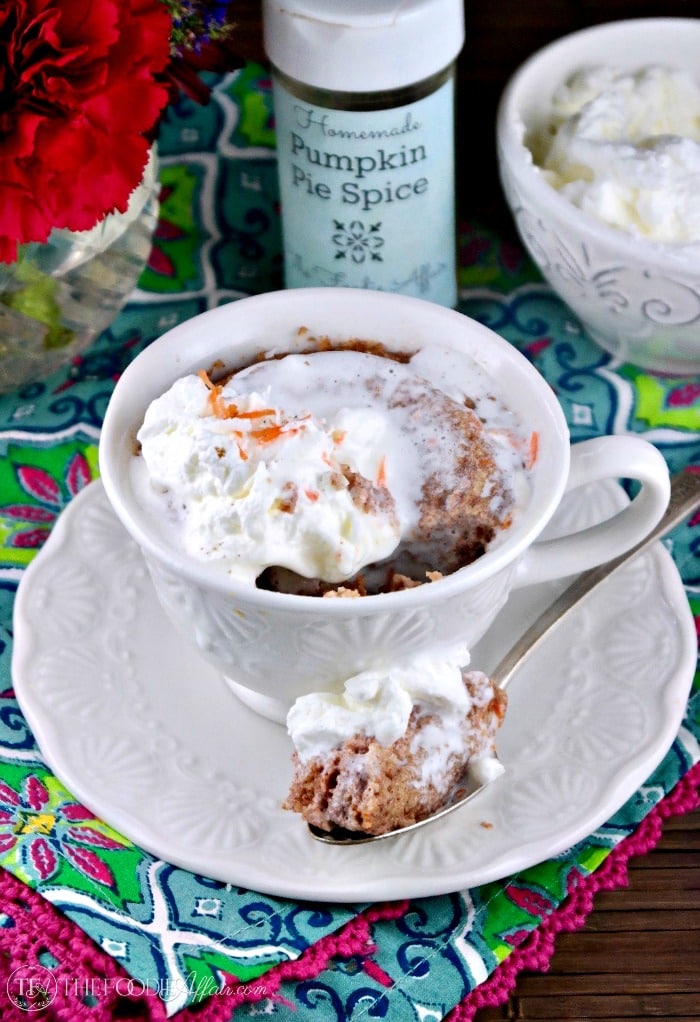 Yield: 1
Low Carb Carrot Cake Mug Cake with Whipped Cream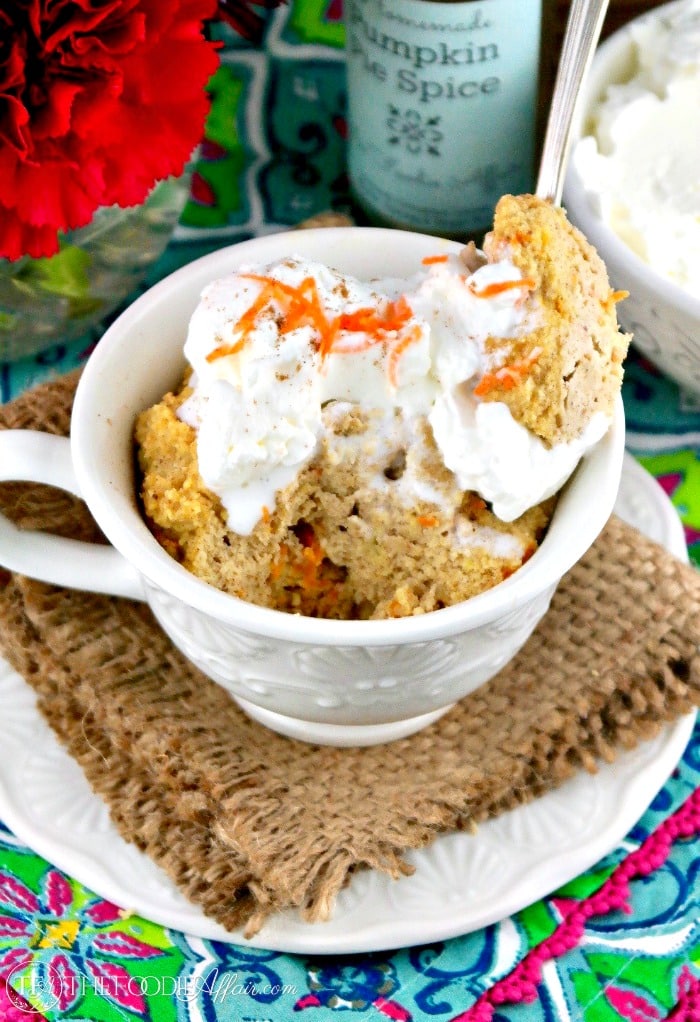 Prep Time 2 minutes

Cook Time 2 minutes

Total Time 4 minutes
Ingredients
1 tablespoon unsalted butter
1 tablespoon superfine almond flour
1 tablespoon coconut flour
1 egg
1 teaspoon vanilla extract
3 packets Truvia (or sweetener of your choice)
2-3 tablespoons unsweetened almond milk
1 tablespoon finely grated carrots
pinch of salt
Whipped cream (optional)
Instructions
In a six ounce mug or ramekin melt butter in microwave. Set aside a let cool.
In a small bowl whisk together almond and coconut flours, pumpkin pie spice, sweetener with a pinch of salt.
Add vanilla to butter and whisk in egg until combined. Stir in flour mix and add almond milk one tablespoon at a time. If the batter is too thick then add another tablespoon of almond milk. Fold in carrots and sprinkle with coconut flakes (optional).
Microwave on high for 45 seconds to 1 minute. Test with a toothpick. If it comes out clean it is done.
Notes
Adjust the cooking time according as needed. Your microwave oven may take up to 2 minutes to cook the cake.


Macronutrients are from My Fitness Pal.  Please calculate your own ingredients as each brand is different, which may change the calculations.
| | | | | | |
| --- | --- | --- | --- | --- | --- |
| Calories | Carbs | Fat | Protein | Sodium | Sugar |
| 171 | 6 | 15 | 9 | 81 | 1 |