Homemade tamales can seem like a daunting task to cook, but you taste fresh tamales from scratch, you won't eat them any other way!
This post is sponsored by Lenox®. The content and opinions expressed below are that of The Foodie Affair.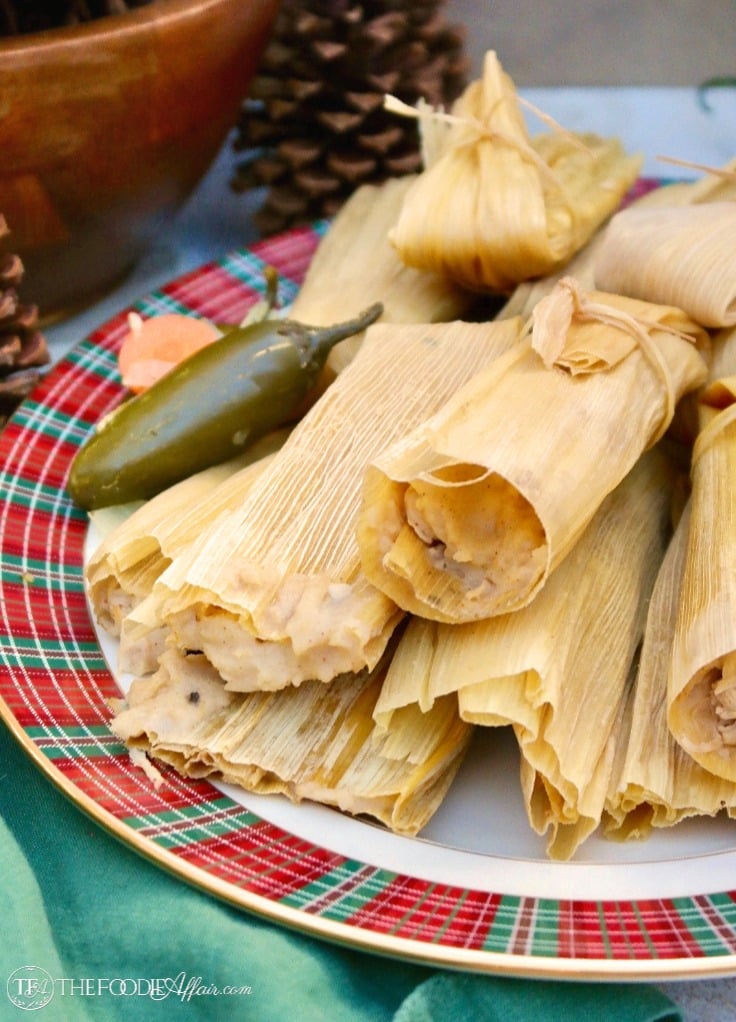 Homemade Tamales
I have been craving tamales for weeks, and right before Christmas I saw a flyer at work advertising tamales for sale.
I was so excited to support a new business and had planned on buying 4 or 5 dozen.
Sadly, when I called to place my order I was told that they had sold over 70 dozen tamales, and no more orders could be placed! What? NOOO!
My 4 dozen pork, chicken, and cheese tamale order would not be filled!
The news was super disappointing, but to be honest I'm not surprised that they were swamped with orders.
I have made homemade tamales several times with family and friends, and it's a time consuming process!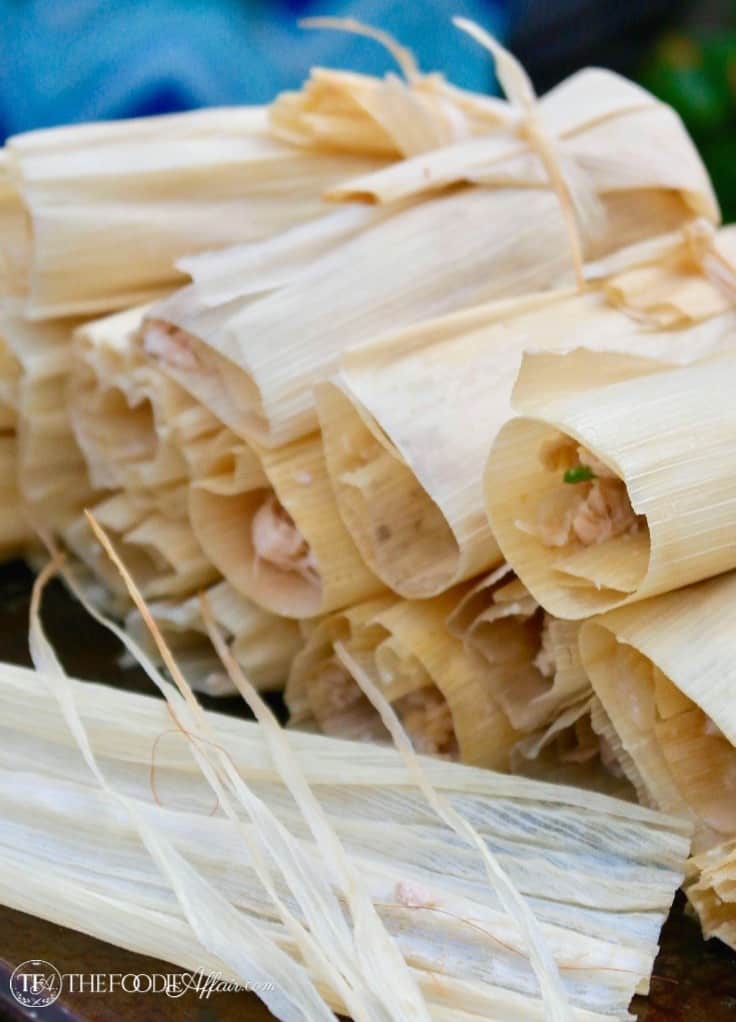 Tamales Recipe – A Labor of Love
My family traditionally makes tamales for the Christmas season or the new year, but we don't make them yearly like some families do. Sadly, I think we're on the five year plan!
Making tamales is a labor of love meant to be shared with those that you sit at the dinner table with.
I highly recommend recruiting your family or friends when making tamales, but if everyone disappears on you don't fret!
With a couple of procedure tweaks, I have streamlined the process and you will have no problem making these solo!
Although it does require a uninterrupted time slot to make tamales, the ingredients used are simple and there is nothing quite as delicious as a traditional homemade tamale!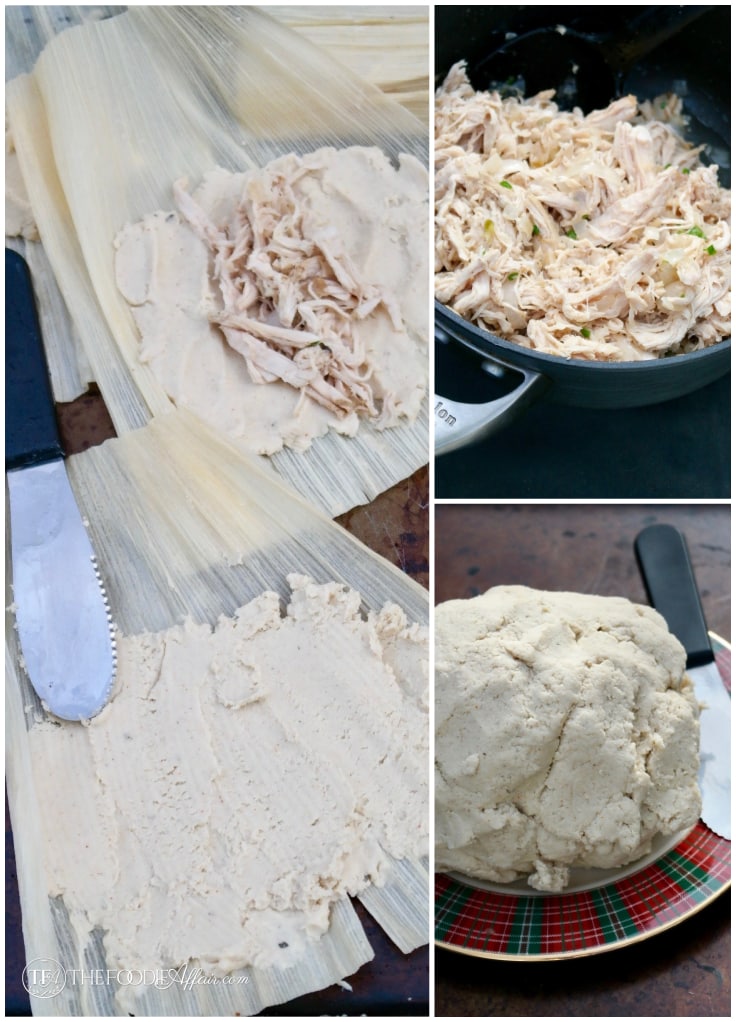 How to Cook Tamales
Step 1: COOK YOUR MEAT
There are many variations and lots of ways to make tamales. I have never cooked them the same way twice.
Partly because depending on where you live, some ingredients are harder to find than others.
Plus, every family has their own favorite style and flavors they're accustomed to.
Some people will make pork filled tamales with a sweet and spicy sauce, while others add ingredients like raisins or olives.
Luckily, I live in an area where there are several grocery stores that cater to authentic Latin cooks, so I've had some fun making sauces using different chili pods to cook my meat in.
For this recipe, I used Alton Brown's turkey tamale recipe because the ingredients are easy to find at any grocery store.
Basically, simmer the meat in a big pot of water flavored with chili powders and spices. Once it's cooked, shred the meat and add more spices to the meat.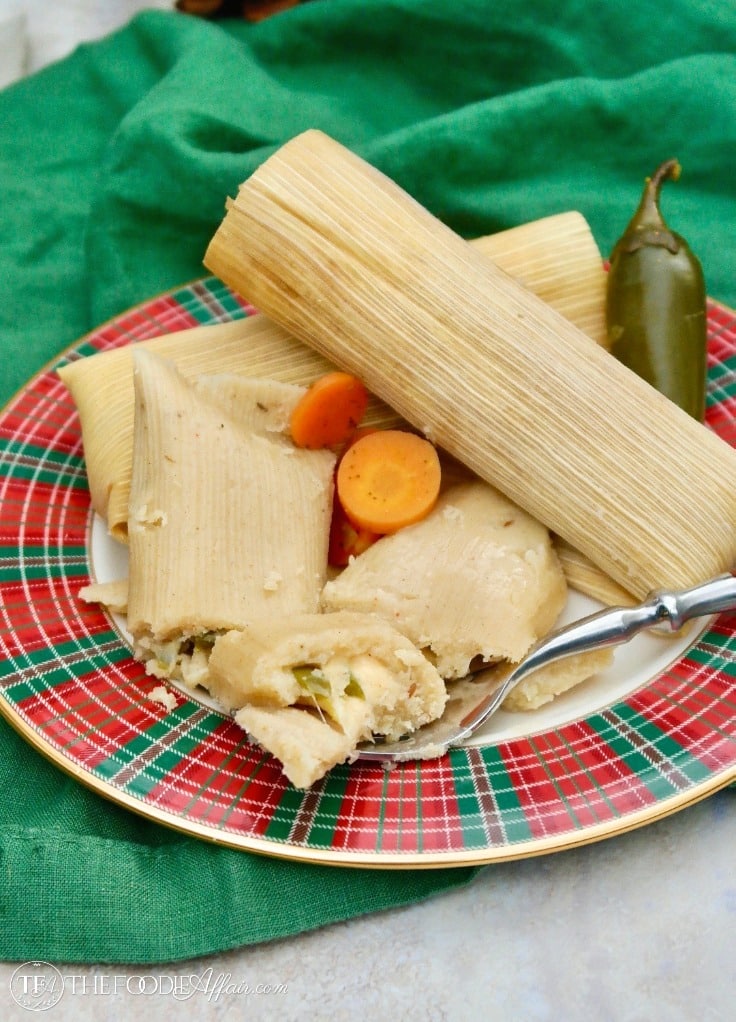 For a green chili base, you can use this tomatillo salsa verde sauce to cook your meat in or use to flavor the masa.
Meat tamales aren't the only option for great tasting tamales though.
We love cheese and jalapeno tamales, which takes zero cooking time, so keep this in mind if you want to really speed up the process!
STEP 2: PREPARE THE CORN HUSKS
More and more grocery stores are stocking dried corn husks and sell them year round. In fact, I noticed that Target carried corn husks!
Soak about 3 dozen husks in hot water and let them sit either overnight or until they are soft and malleable.
Be sure to keep the husks moist until you are ready to assemble the tamales so they don't dry out.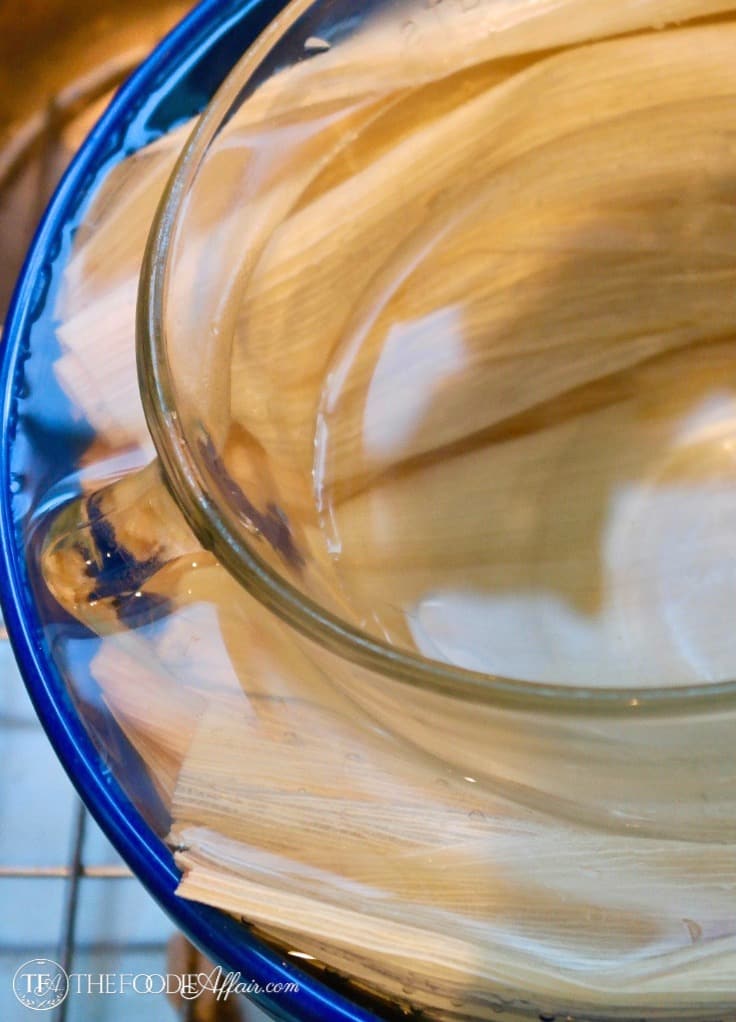 STEP 3: Mix The Corn Masa For Tamales
Mixing the masa is probably the funnest part of preparing tamales! It's play-dough for big kids – lol!
Corn meal flour, baking powder, salt, and lard (yes, use it!) mixed with the liquid from the cooked meat is what makes the masa taste so flavorful!
Getting the right dough consistency may take a bit of masa recipe tweaking. You don't want the dough too sticky and wet, but you need it to be spreadable.
Don't be afraid to adjust the ingredients!
STEP 4 ASSEMBLE THE HOMEMADE TAMALES
Once all the ingredients are ready, it's time to clear a work station, grab a cocktail and start creating tamales!
Remove the corn husks from the water and pat dry as you use them.
Place about 2 tablespoons of masa in the center of the husk and spread it evenly leaving about 1/4 inch from the wide end and 1 inch all other sides.
Add the meat in the center and roll the husk around the ingredients.
Pull strips from an unused husk and tie each tamale to hold it together (optional).
Place on a platter until ready to cook.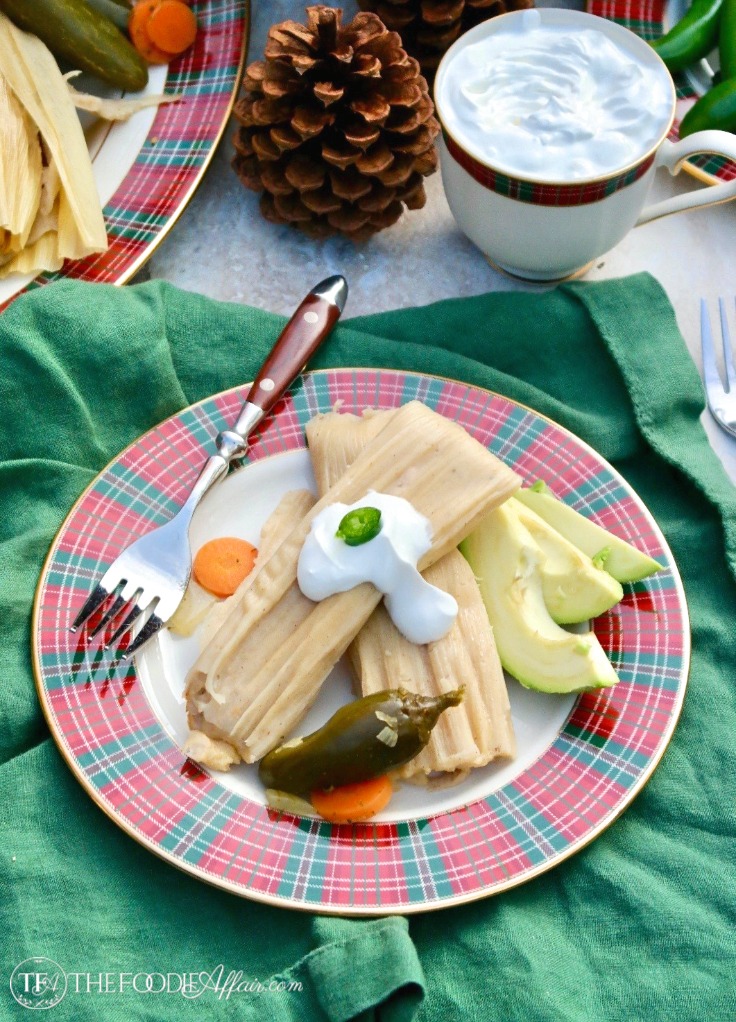 STEP 5 STEAM THE TAMALES
Steam tamales in a large double boiler making sure the tamales are not submerged in any water and continue to add water as it evaporates (check every 15 minutes).
Since the meat is already cooked, the goal is to cook the masa which can take up to two hours.
To speed up the process, use a pressure cooker and the cooking time will be cut to under a half hour!
For the Instant Pot method, add the metal steamer insert in the pot and place 1 1/2 cups of water in the cooker.
Place the prepared tamales seam side down like in this picture. Secure the lid and made sure the vent is closed.
For the cheese and jalapeno tamales, I recommend placing the tamales upright in the pot so the cheese doesn't ooze out of each bundle.
Set the pressure cooker on manual mode and set the time to 15 minutes. Let the tamales sit for another 10 minutes once the time is complete.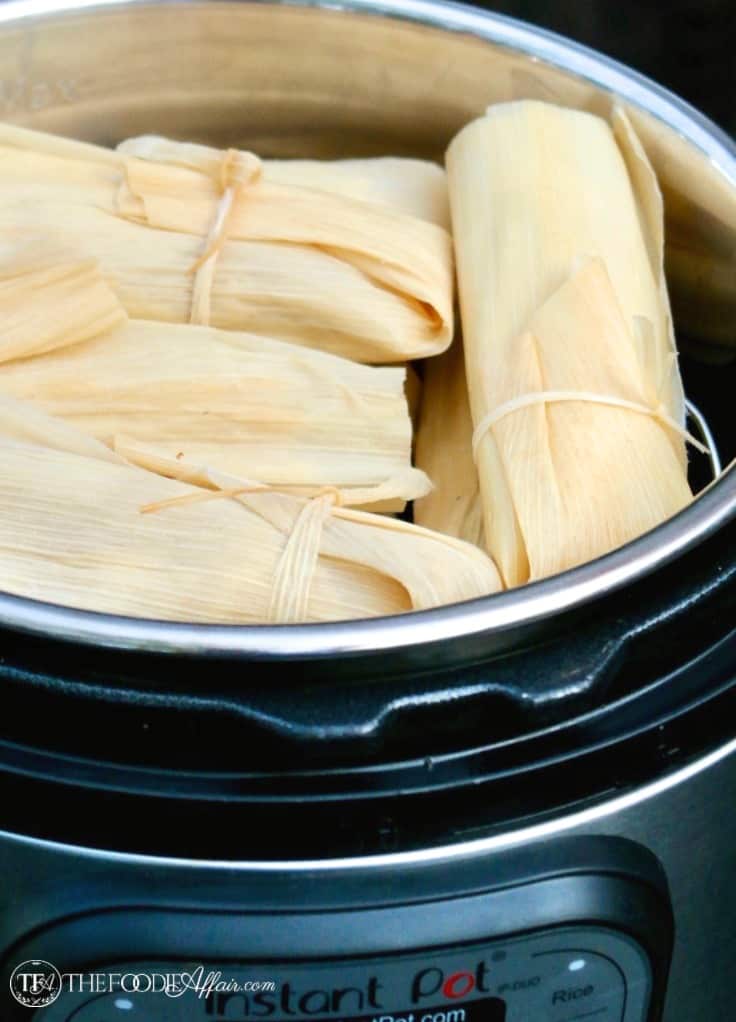 How To Eat Tamales
If you've never eaten tamales then you might not be aware that the corn husk is not eaten. The husk is used as a mold to shape the masa around the filling.
To eat the tamale follow these steps: gently unfold the tamale with your hand. Be careful because right after they are cooked, tamales are hot!
Gently unfold the husks from the cooked tamale with your fingers. Be careful! Tamales can be steamy and hot right after they are cooked!
Remove the husk from your plate. Our family places an empty bowl in the middle to collect all the corn husks, which are later thrown away.
Place the tamale on your plate and top with avocado slices, pico de gallo or healthy red enchilada sauce!
Tamales are eaten for breakfast, lunch or dinner! My favorite way to eat them is with a gooey egg on top!
Plate up your homemade tamales on some pretty plates! Your hard work should be showcased using your finest dishware!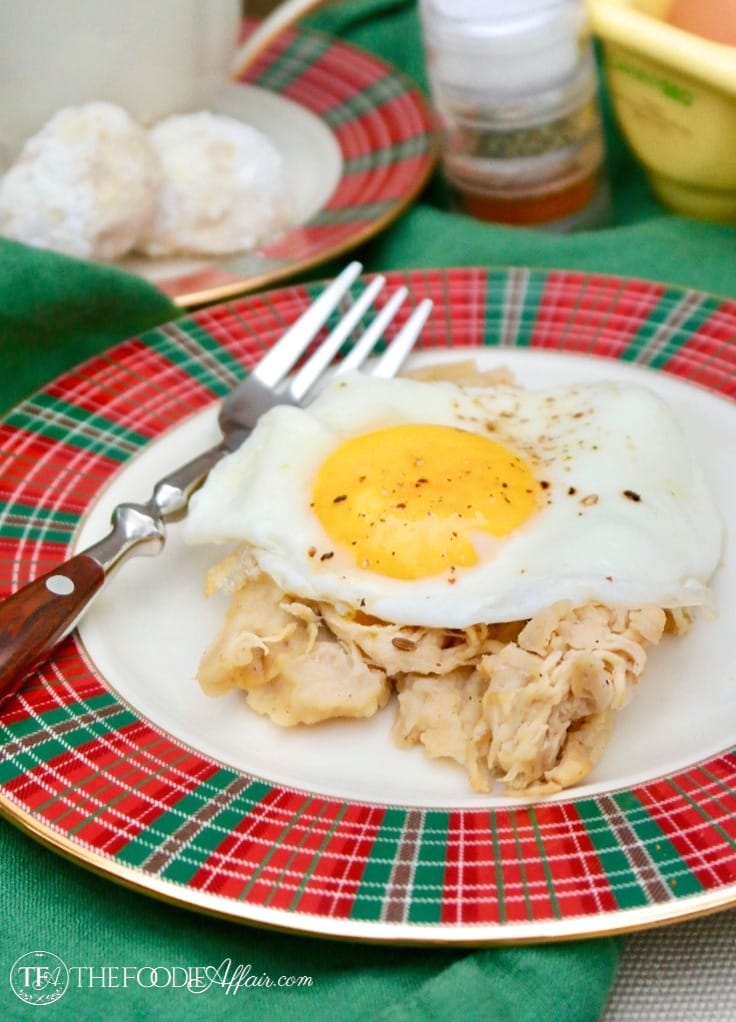 What to eat with tamales
Tamales are a meal of its own and quite filling, but we like to fill our plates up with a couple of Mexican side dishes.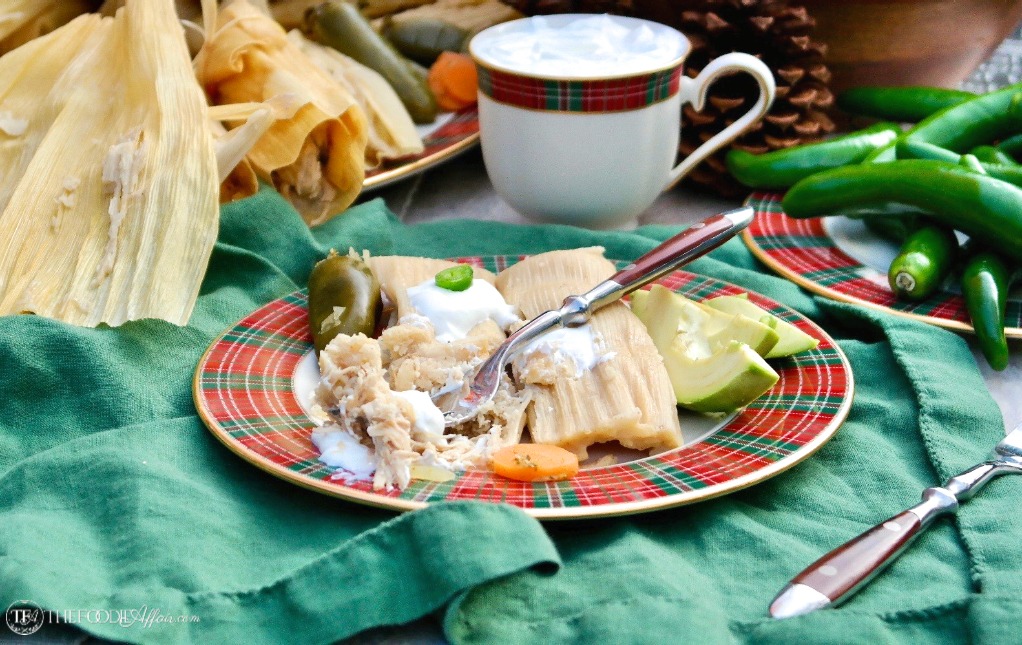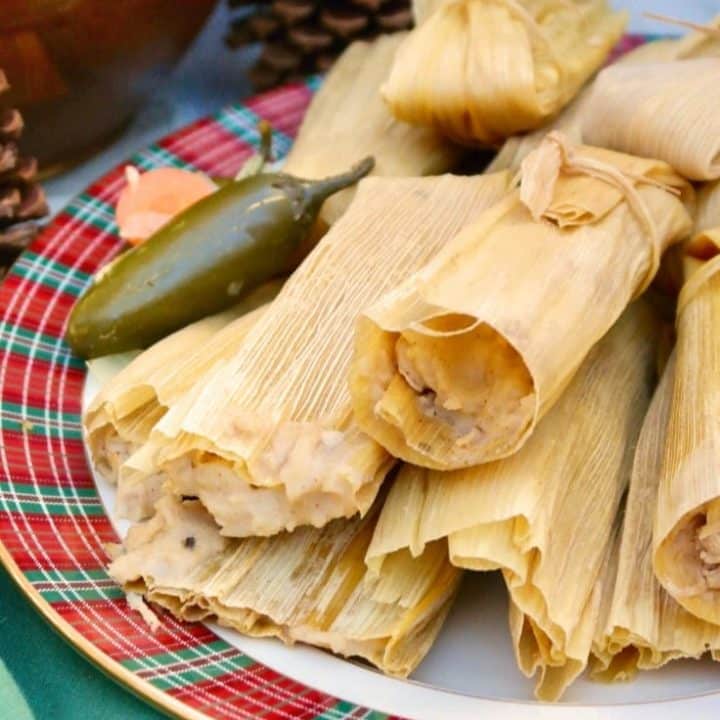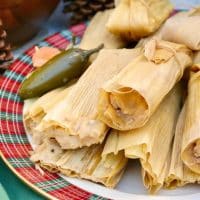 Homemade Tamales
This tamales recipe is a delicious labor of love meant to be shared with family and friends. Each homemade tamale is filled with shredded turkey or cheese & jalapeños! 
Print
Pin
Rate
Ingredients
For the Meat
2 1/2

pounds

whole turkey or chicken parts

2 1/2

quarts

of water

2

teaspoons

chili powder

1 1/2

cumin seeds

ground

1

teaspoon

cayenne powder

1

teaspoon

Mexican oregano

dried

1

teaspoon

kosher salt

1

teaspoon

black pepper
Season the Meat
1

onion

diced

4

garlic cloves

minced

1

serrano chili

seeded and diced

1/4

cup

avocado oil
Masa
3 1/2

cups

corn masa flour

1/2

cup

lard

1

tablespoon

kosher salt

2 1/2

teaspoons

baking powder

2 1/2

cups

liquid from cooked meat

3

dozen dried corn husks
Instructions
Cook the MeatIn a large stock pot add turkey or chicken with water, chili powder, cumin, cayenne, oregano, and salt & pepper. Bring to a boil, then simmer until meat is tender (approximately 2 hours). Once cooked, save the liquid. Remove meat from the pot, shred and set aside.  

Soak Corn HusksWhile meat is cooking prepare corn husks by soaking them in hot water until the husks are malleable.

Season the MeatIn a medium saucepan over medium-high heat add oil and diced onions. Reduce heat and cook until tender. Stir in garlic and chili pepper until fragrant. Add meat and 1/2 cup of the reserved meat liquid. Turn heat to low and simmer for about 5 minutes. Set aside until ready to assemble tamales.  

Prepare Corn MasaIn a large mixing bowl whisk together corn flour, baking powder, and salt. Add lard and with our hands work into lard into flour mix. Once incorporated, add reserved liquid from the cooked meat 1/2 cup at a time until a dough forms. Dampen a paper towel and place over the dough until ready to assemble the tamales.  

Assemble the TamalesTo assemble the tamales pat dry a corn husk and place on a baking sheet. Add about 2 tablespoons of masa in the middle of the husk and spread evenly leaving 1/4 inch from the wide end of the husk and 1 inch the remaining sides. Place 1-2 tablespoons of meat (or cheese and jalapeños) in the middle of the dough and roll husk around the ingredients. Fold the end and tie with strips of corn husks (optional). Place on a platter until ready to be cooked.  

Steam the TamalesTo cook tamales place in a large steamer. Cover and cook on simmer for up to 2 hours. Add water every 15 minutes to ensure the water does not completely evaporate.  

Pressure Cooker Steaming MethodFor the pressure cooker method, place the metal basket on the bottom of the pot and add 1 1/2 cups of water. Place tamales in the pot (ensure the water doesn't touch the tamales). Place the lid on top and lock in place. The vent should be in seal mode. Set on manual mode and set the timer for 15 minutes. Once complete let the tamales sit for another 10 minutes before removing them from the pot.  

Enjoy! 
Notes
For best flavor use both dark and light meat with the skin and bones intact. Once the meat is cooked, discard the skin and bones.
For cheese and jalapeno tamales use Oaxaca, mozzarella or monterey jack cheese. Cut into chucks the length of your desired tamale. Seed and slice jalapeno peppers.
Nutrition
Serving:
1
g
|
Calories:
303
kcal
|
Carbohydrates:
21
g
|
Protein:
23
g
|
Fat:
15
g
|
Saturated Fat:
4
g
|
Polyunsaturated Fat:
9
g
|
Cholesterol:
76
mg
|
Sodium:
558
mg
|
Fiber:
2
g
|
Sugar:
4
g
Disclaimer
Please note that the nutritional information provided are guidelines and may vary based on the brand of products used. For your specific nutritional goals use My Fitness Pal or Verywell Fit recipe calculators. All content within this site is not intended as medical diagnosis or treatment and should not be considered a substitute for professional medical expertise.