Honey Mustard Chicken Thighs with a hint of sweetness followed with a tangy spicy bite! These chicken thighs are lightly pan fried to lock in the flavor and then baked to perfection!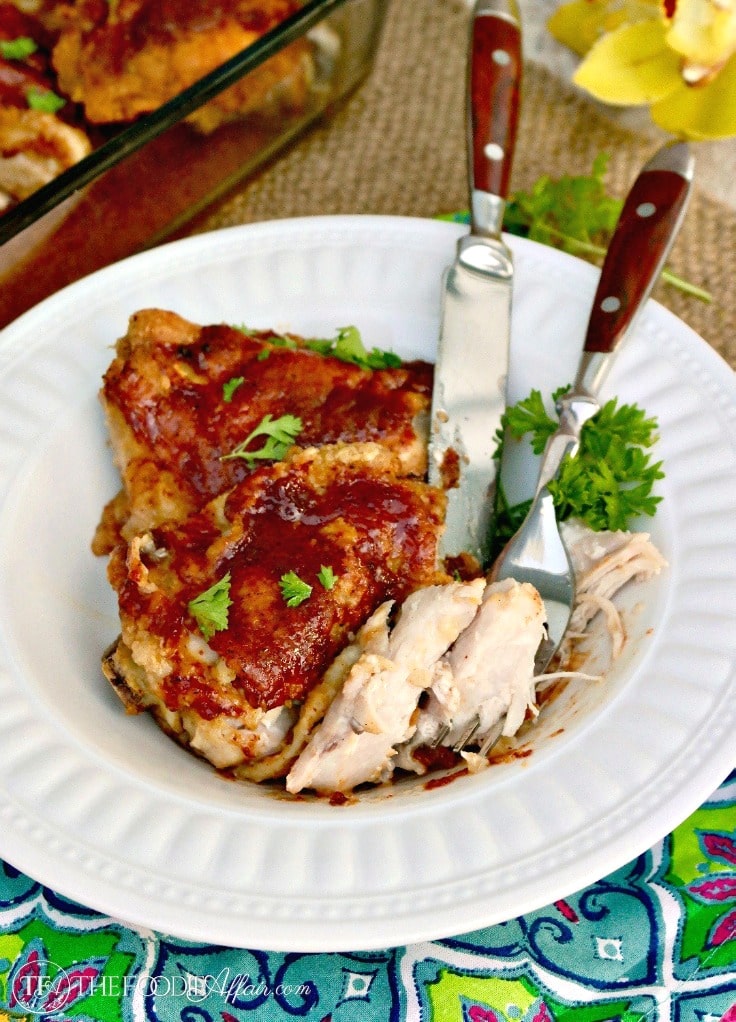 Honey Mustard Chicken Thighs
It's time for another Freaky Friday recipe reveal, friends!
This is the eighth or ninth Freaky Friday blog hop that I've participated in.  Our last blog hop was a cookie exchange during the holidays!
I get so excited when I get an opportunity to take a close look at my blogging buddies recipes.  First, it feels like I'm snooping around in a private recipe collection even though it's highly encouraged to do so.  Second, I know I'll find a recipe that you will absolutely LOVE!  My friends are awesome cooks!


This Honey Mustard Chicken recipe is from my friend Michelle who blogs at A Dish of Daily Life!
I've shared Michelle's recipes before.  You might remember this Southwestern Black Bean and Corn Salad and this Healthy Red Enchilada Sauce, which are both fabulous!  Next on my must make list is this Colorado Green Pork Chili and this Roasted Red Pepper Dip recipe!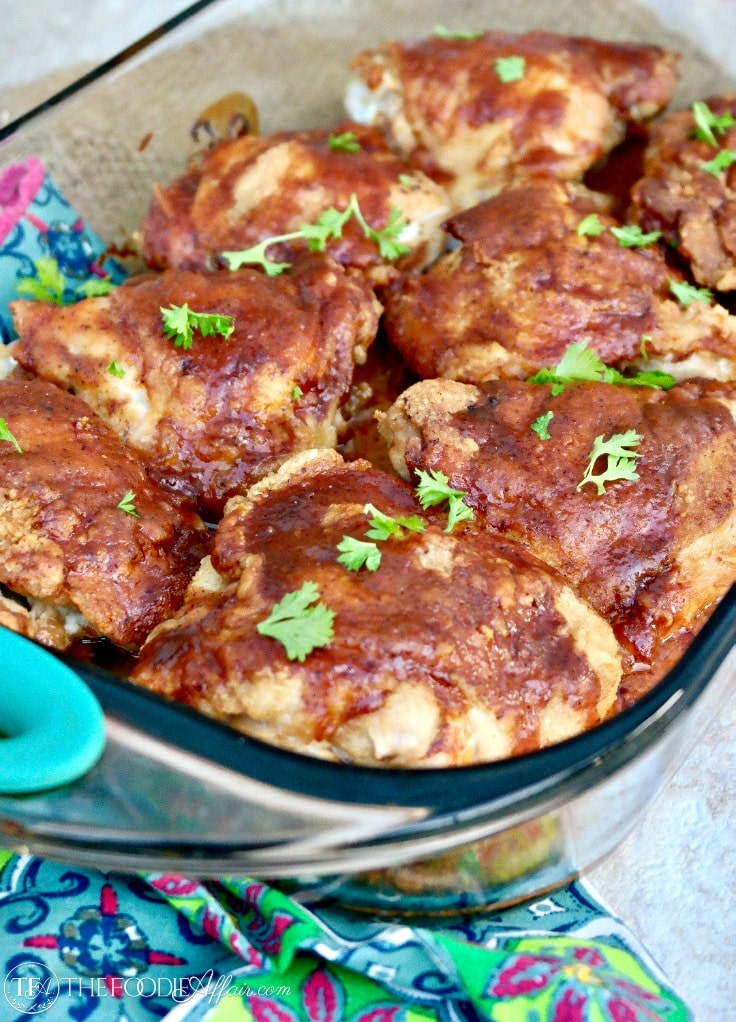 Are you always looking for new ways to serve chicken?  I am, so when I saw this honey mustard chicken I knew it would be a great dish for our evening meal AND a great lunch for the rest of the week!
This recipe is delicious and so simple to make!  I messed up though.  You see, Michelle added bacon on top of the chicken and I forgot about it!!
Let me explain in one word —>  CATS.
Our two felines are really, really bad inquisitive girls, and will get into any and ALL food if I leave it unattended.  Even for just a second!  They watch me like hawks and as I turn to pre-heat the oven they'll snag whatever is on the counter.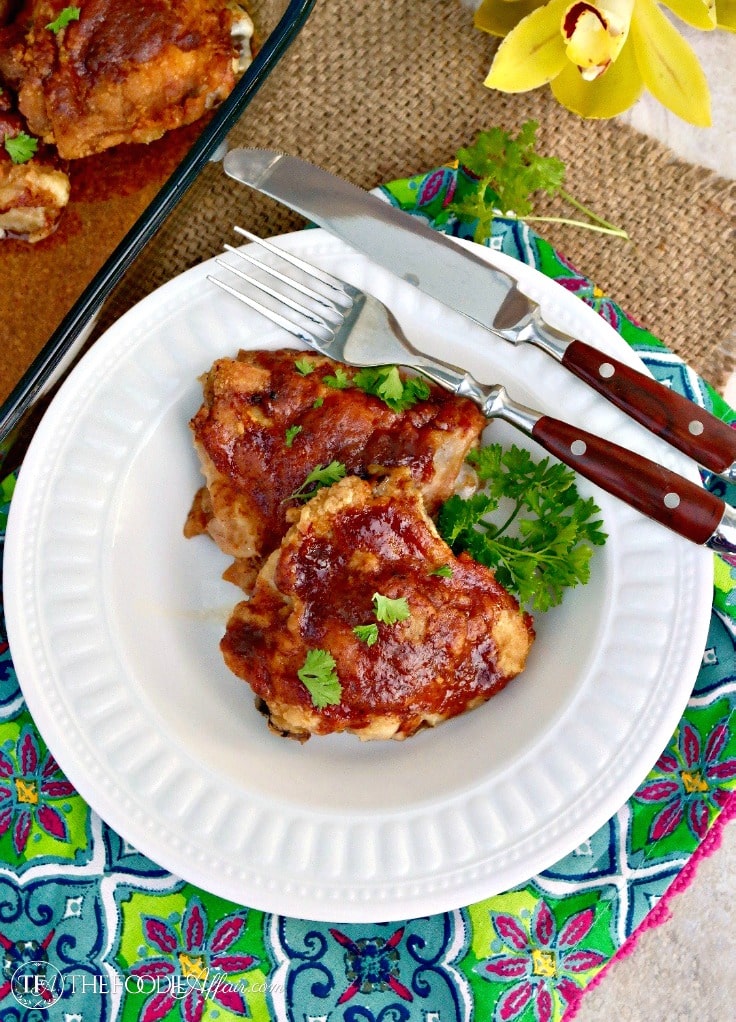 I cooked up my bacon like Michelle did with her sticky honey mustard chicken and put it in the refrigerator while I prepared the rest of the meal so my naughty girls wouldn't steal pieces of bacon.
There the bacon sat though our whole meal (and photos!).  It wasn't until I was licking my fingers from the delicious sauce from the chicken that I remembered the BACON!  I forgot the bacon!
I'm certain that you won't have the same challenge that I did, but just in case…who wants a BLT?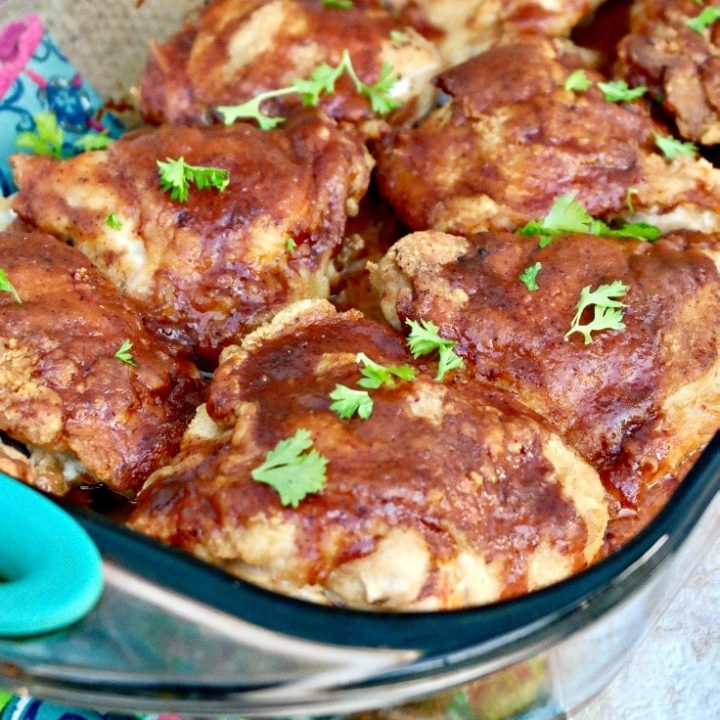 Delicious Honey Mustard Chicken Thighs - Pan Fried and Baked
Ingredients
5 slices of bacon
8 chicken thighs (with skin)
flour for dredging
salt and pepper to taste
1/4 cup honey
3 tablespoons Dijon mustard
1 teaspoon chili powder
1 tablespoon apple cider vinegar
Instructions
Preheat oven to 350 degrees.
In a large skillet cook bacon until crispy. Remove bacon and set aside.
Season chicken with salt and pepper and lightly dredge in flour.
Over medium heat cook chicken in batches skin side down in bacon grease until lightly browned (about 5 minutes). Turn chicken and cook an additional 3-4 minutes.
Place partially cooked chicken in a baking dish.
In a small bowl whisk together honey, dijon mustard chili powder and apple cider vinegar.
Coat chicken with sauce and bake uncovered for 20-30 minutes or until internal temperature reaches 165
Serve with chopped bacon.