Grilled Globe Artichokes With Balsamic Marinade
Globe artichokes are the largest flowers of the artichoke family making these great a great side dishes or hearty appetizers. These artichokes are marinated with balsamic vinegar, gently steamed, and then grilled. Serve hot or cold, with or without a dipping sauce.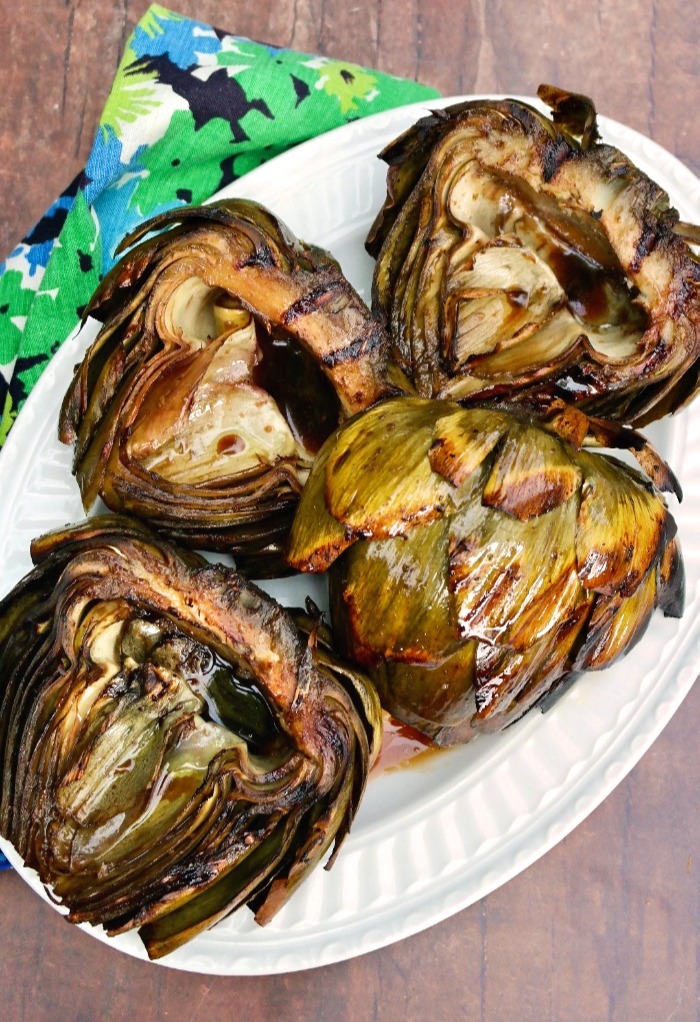 Globe Artichokes
Luckily for me, I happen to live in California near Castroville, known as the "Artichoke Capital Of The World" where we are able to get fresh artichokes all year long.
I usually add the hearts of the artichokes to recipes as I've done in this spinach and artichoke dip and these baked artichoke balls appetizer.
But my favorite way to eat artichokes is with the leaves intact.
Fresh globe artichokes are delicious, especially when tender and flavored in a delicious marinade. Easy to prepare, a bit sweet and tang, and finished on the grill.
I know that artichokes may sound tough to work with at first yet, but trust me once you will get familiar with how to work with them, this nutrient-rich food will become a staple in your diet.
But before jumping to the recipe let's have some ARTICHOKE 101 and find out what makes them an ideal food to include in your meal plans.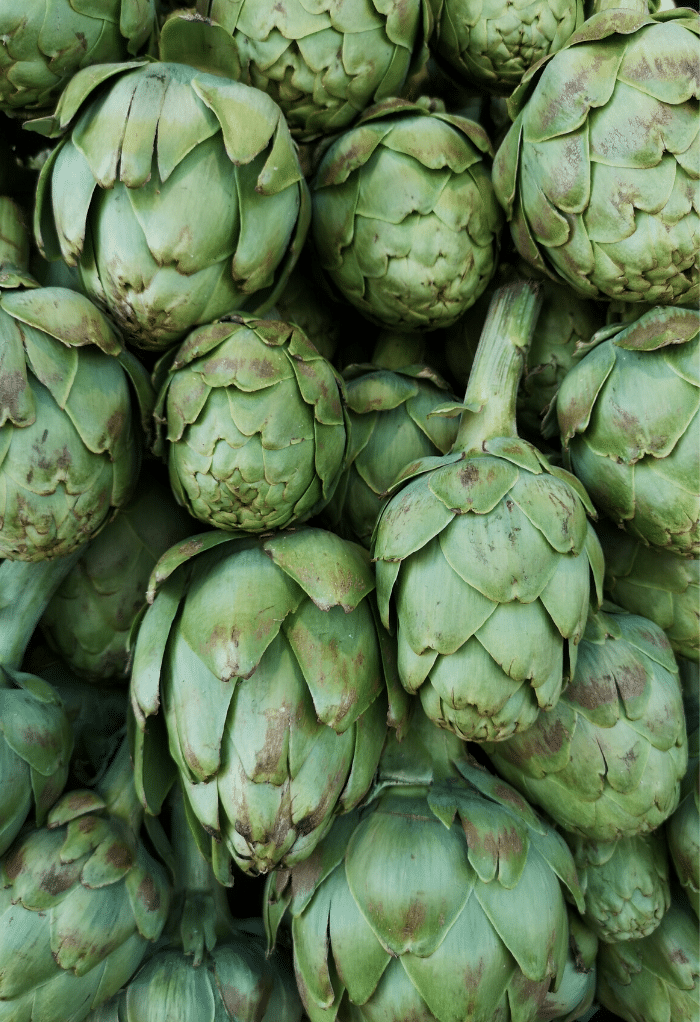 Technically, artichokes are immature flower buds of a thistle plant, but categorized as a vegetable.
This perennial plant grows all around the world, but its ancestor "Cardoon" first appeared in the Mediterranean region where it was eaten as food by ancient Greeks and Romans.
Today also the largest producers of artichokes are still in the Mediterranean region.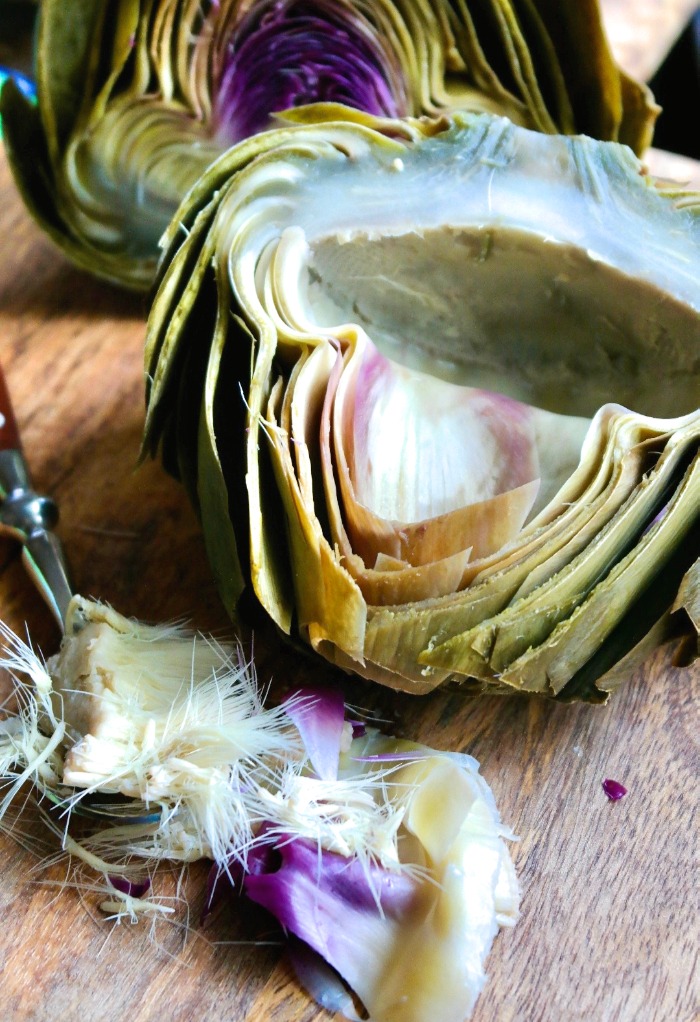 Types Of Artichokes (Globe Vs. Jerusalem)
There are many different artichoke plant varieties, and it's easy to get confused between the globe and Jerusalem artichokes.
However, they just share a common name and nothing else because they originate from different plant families.
The Globe artichoke belongs to the thistle family while the Jerusalem artichoke is somewhat similar to the sunflower plant and belongs to the Aster family.
Because "girasol" is an Italian word for sunflower it somehow ended up as Jerusalem instead, for this plant.
In case you are wondering, despite its name, Jerusalem artichoke is not connected in any way to the holy place as it originates from North America.
The globe artichoke on the other hand came from the Mediterranean region.
Additionally, globe artichokes are available in different varieties and sizes nowadays and almost every part of it namely the stem, the heart, and the base of the leaves is fit to consume.
In contrast, only the knobby tuber of Jerusalem artichoke is considered edible.
I have used globe artichoke in this recipe because when cooked in a particular way with ingredients like balsamic vinegar, olive oil, soy sauce, and ginger it just uplifts the taste of the dish to the next level while maintaining all the nutritional properties.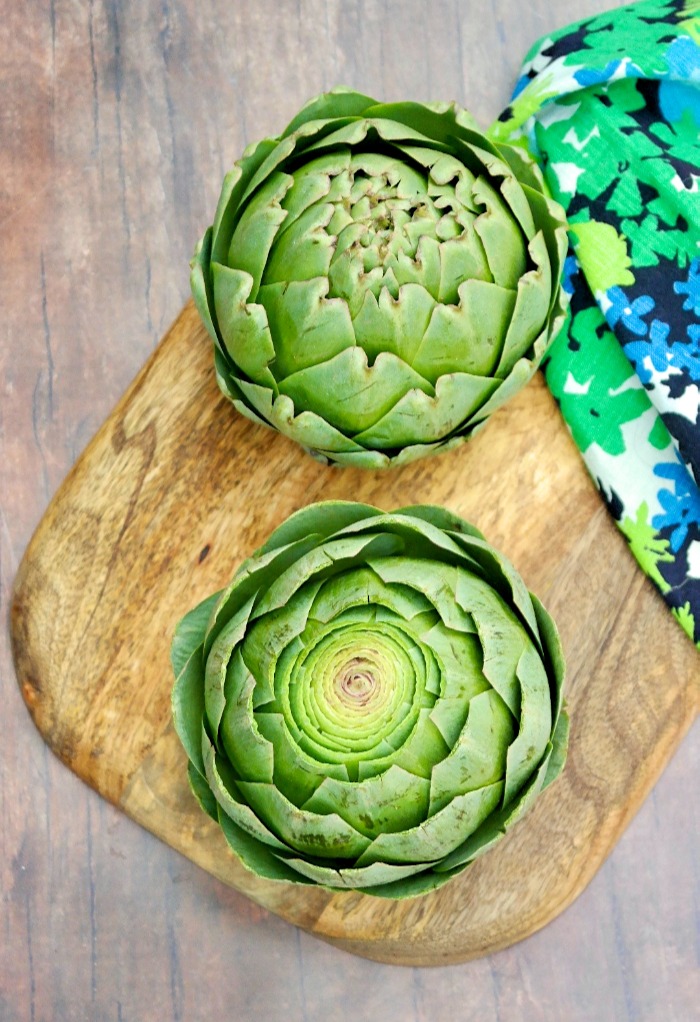 How To Pick Artichoke From A Store?
Artichokes are a great-tasting and healthy vegetable, but sometimes it becomes difficult to choose fresh ones from the store due to their closely packed leaves and appearance.
If this has intimidated you then don't worry, with these easy tips, you will become an expert in choosing the best artichokes from the bunch.
Although they are available all year round in the stores, their prime time is during artichoke season i.e. in Spring and Fall, at this time you will get the most affordable, delicious, and nutrient-rich artichokes.
Fresh artichokes are heavy compared to their size. A simple way to check this is by comparing its weight with other artichokes of similar size.
Afterward, check its leaves. Artichoke leaves should be green and tightly packed, and some may even have a purple tone to them, which is fine. However, loose, pitted, dry, and brown-tipped leaves show that the artichoke is not fresh.
Lastly, do the squeak test. In this step, you will hold the artichoke near to your ear, and lightly squeeze it with your fingers. If you hear a squishy squeak after squeezing, then you'll know that you've picked the correct one. Also, you can check the stem for a fresh cut, don't buy it if it looks curled or old and dry.
I personally use these criteria to choose the best and most flavorful artichokes from the grocery store and Farmer's market.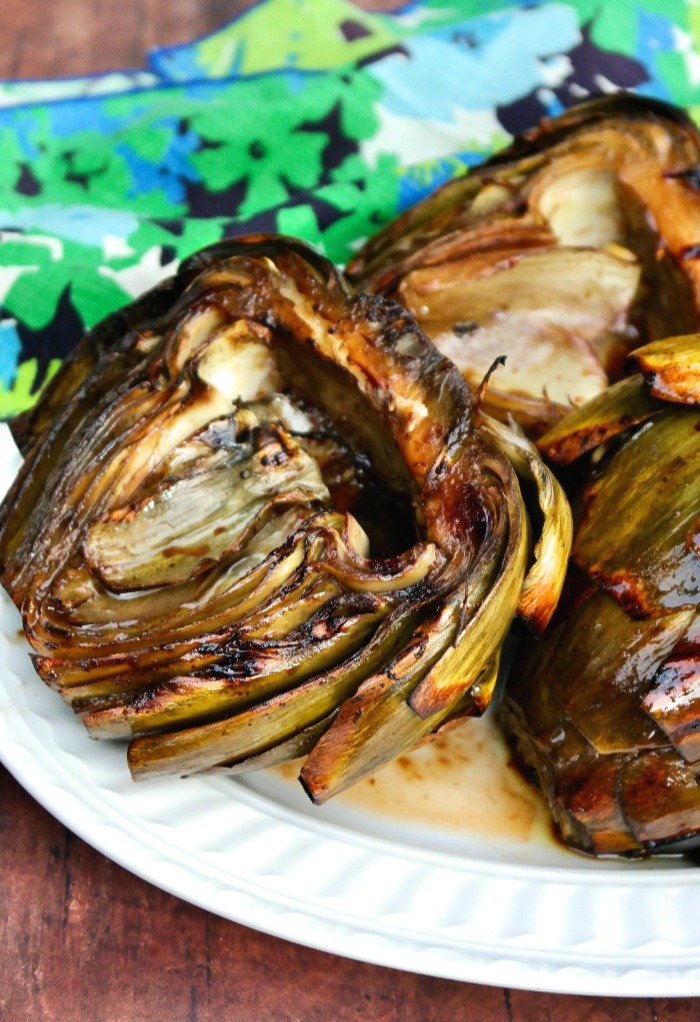 How To Store And Work With Artichokes?
Store Artichokes
It is essential to buy artichokes closer to the date that you are going to use them, to have the best flavors and nutrition. However, with these steps, you can store them in a refrigerator for a week.
Store them unwashed. Washing artichokes before storing can increase the chance of spoilage due to wear and tear during washing.
Sprinkle some water on the stem so that they don't get dehydrated. But, remember not to use too much water because it can lead to mold growth.
Now put them in a plastic bag and store them in the vegetable drawer of your refrigerator.
How To Prepare Artichokes
The art of working with artichokes has some secrets as well, which make it super-easy and convenient to use them, so whenever you cook artichokes.
Wash artichokes with cold water. If they are extra dirty you can also soak them in water for about 10 minutes. Note that artichokes tend to turn brown when cut due to oxidation. To combat this use a stainless steel knife and pots. Also, just rub some lemon when you make a cut anywhere on the artichoke to avoid browning.
The next step is to trim the stem and leaves. Cut 1/4th of the stem and use kitchen scissors to cut the thorny tips of the leaves.
Slice the top half or one inch of the artichoke with a serrated knife.
Once you have followed the above steps the artichokes are ready to cook. You can cook them by boiling, grilling, steaming, microwaving, pan-fried, and baking depending on your preference.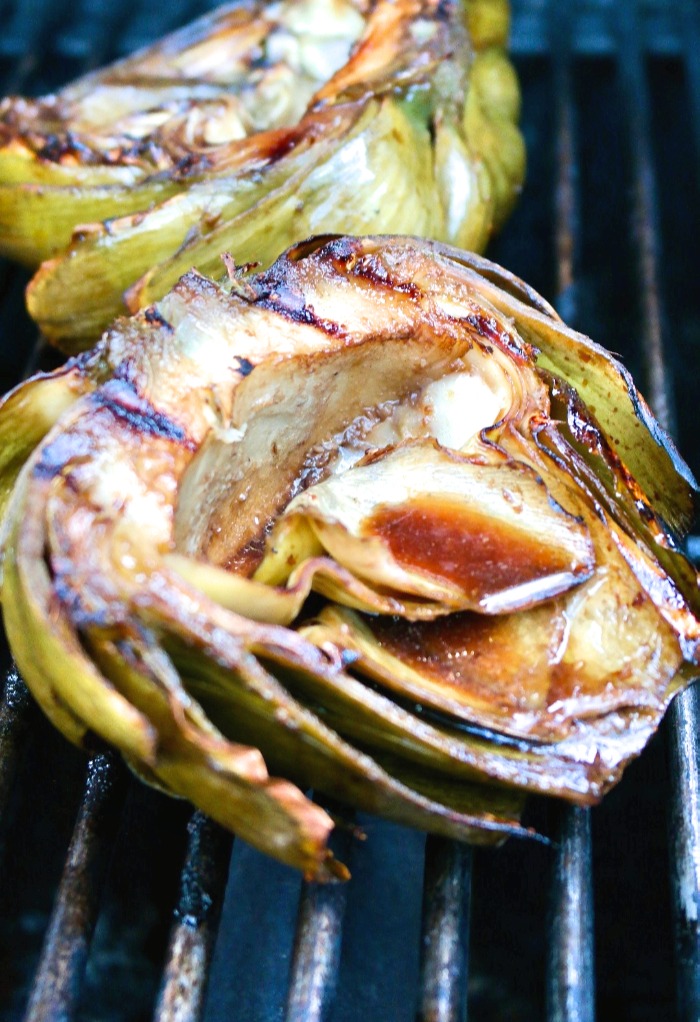 What Does Artichoke Taste Like?
Some individuals describe the flavor of artichoke as similar to that of celery and asparagus. However, artichoke taste majorly depends on the process of cooking.
For instance, steaming and boiling make them tender, juicy, and sweet. Stir-fried or pan-fried artichokes have a nuttier and sweet taste profile while grilling intensifies their taste and makes them sweet, smoky, and delightful.
Spoiler alert – This scrumptious artichoke with balsamic recipe includes both steaming and grilling to take the best possible taste out of the dish.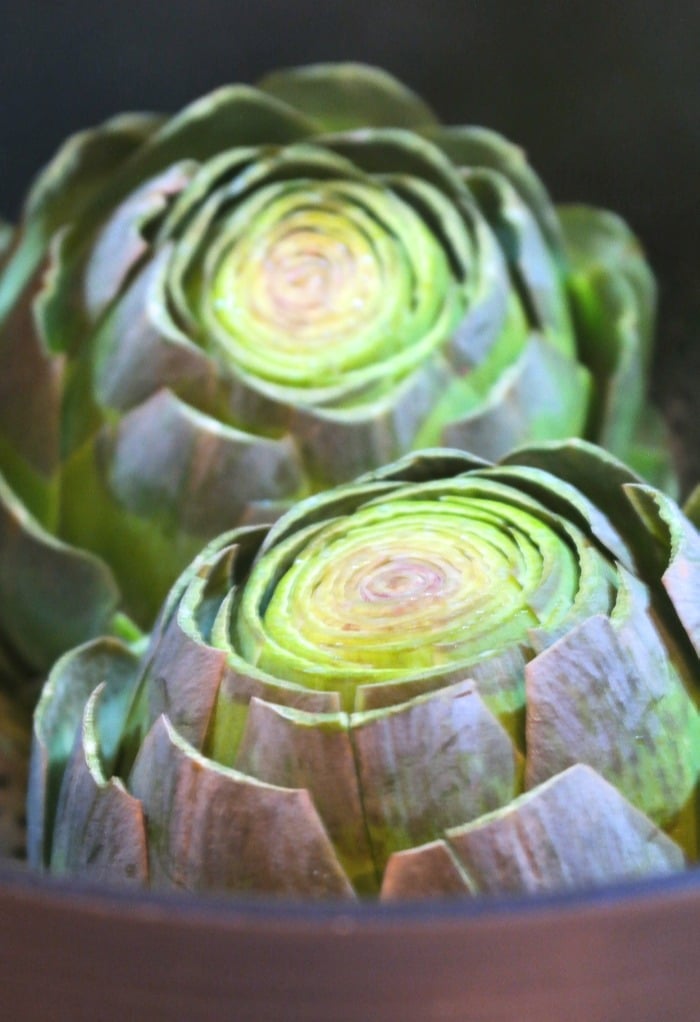 Health Benefits Of Artichokes
According to Healthline, artichokes are nutrient dense. Globe artichokes have a high amount of vitamin C, K, and minerals such as sodium, magnesium, manganese, etc, while Jerusalem is rich in vitamin B complex and minerals like iron, copper, potassium, etc.
The most amazing thing about them is that one medium artichoke contains approximately 7 grams of fiber, 4 grams of protein, and only about 50 calories.
Moreover,
They may help to lower bad cholesterol and regulate blood pressure thus maintaining a healthy heart.
Artichokes help in lowering blood sugar levels (great for low-carb and keto diet followers).
One of the richest sources of antioxidants.
What To Serve With Grilled Artichokes
If you plan on enjoying these artichokes as a side dish, serve them with one of these recipes:
Add grilled artichokes with a balsamic marinade to your menu soon!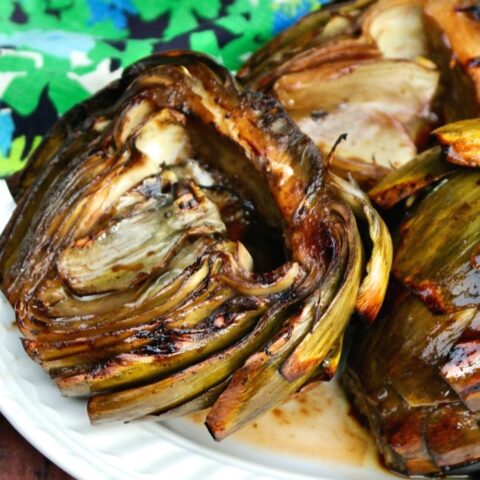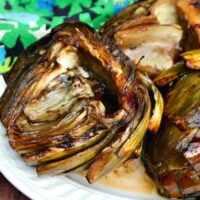 Artichokes In Balsamic Vinegar Marinade
Lightly steamed artichokes, marinaded overnight (for best tasting results), and grilled. These large globe artichokes are a delicious side dish or main appetizer to your meal.
Print
Pin
Rate
Ingredients
4

large artichokes

1/4

cup

balsamic vinegar

1/4

cup

soy sauce

1/4

cup

water

1/4

cup

olive oil

1

Tablespoon

minced garlic

Lemon juice
Instructions
Rinse artichokes under running water.

Slice artichoke tops off, trim tip of leaves and stem.

Rub freshly cut ends of artichoke with lemon juice (optional).

In a large stockpot add 2-3 inches of water and place in a steamer basket. Place artichokes in the basket. Bring water to a boil, then simmer with lid on the stockpot. Steam for about 20 minutes or until the leaves can be removed easily and the bottom pieces easily.

Remove from pan and cool.

Cut artichokes in half lengthwise and with a spoon scoop out the choke (fuzzy purple center).

In a small bowl whisk together balsamic vinegar, soy sauce, water, olive oil and garlic. Place in a ziploc large plastic bag with the sliced artichokes.

Marinade for a minimum of 2 hours. I usually marinade overnight.

To grill turn gas grill on medium heat. Lightly grease griddle grates. Place cut side on grates and cook for 5-7 minutes. Turn over and cook for another 3-4 minutes. Add remaining marinade in the center of each artichoke.
Notes
Serve with remaining marinade or mayonnaise.
Nutrition
Serving:
1
g
|
Calories:
104
kcal
|
Carbohydrates:
9
g
|
Protein:
2
g
|
Fat:
7
g
|
Saturated Fat:
1
g
|
Polyunsaturated Fat:
6
g
|
Sodium:
476
mg
|
Fiber:
4
g
|
Sugar:
2
g
Disclaimer
Please note that the nutritional information provided are guidelines and may vary based on the brand of products used. For your specific nutritional goals use My Fitness Pal or Verywell Fit recipe calculators. All content within this site is not intended as medical diagnosis or treatment and should not be considered a substitute for professional medical expertise.
Recipe from California Artichoke Advisory Board.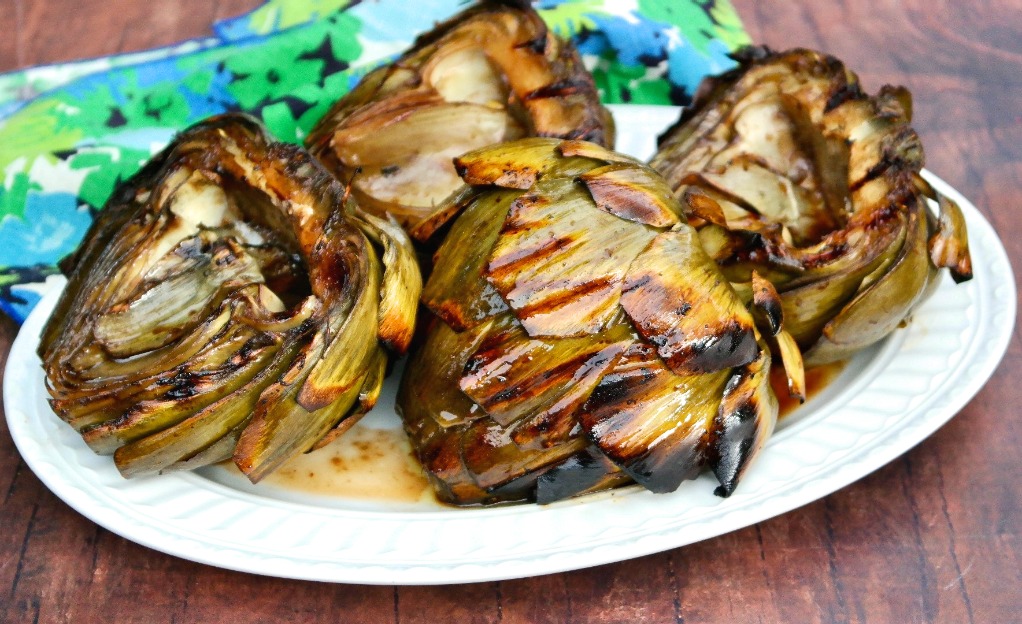 PIN TO YOUR SIDE DISH, APPETIZER, BARBECUE RECIPE BOARDS