Try this fresh and delicious way to make your own crushed pineapple for all your sweet and savory recipes. Simply enjoy with yogurt, cottage cheese or as a topping on ice cream.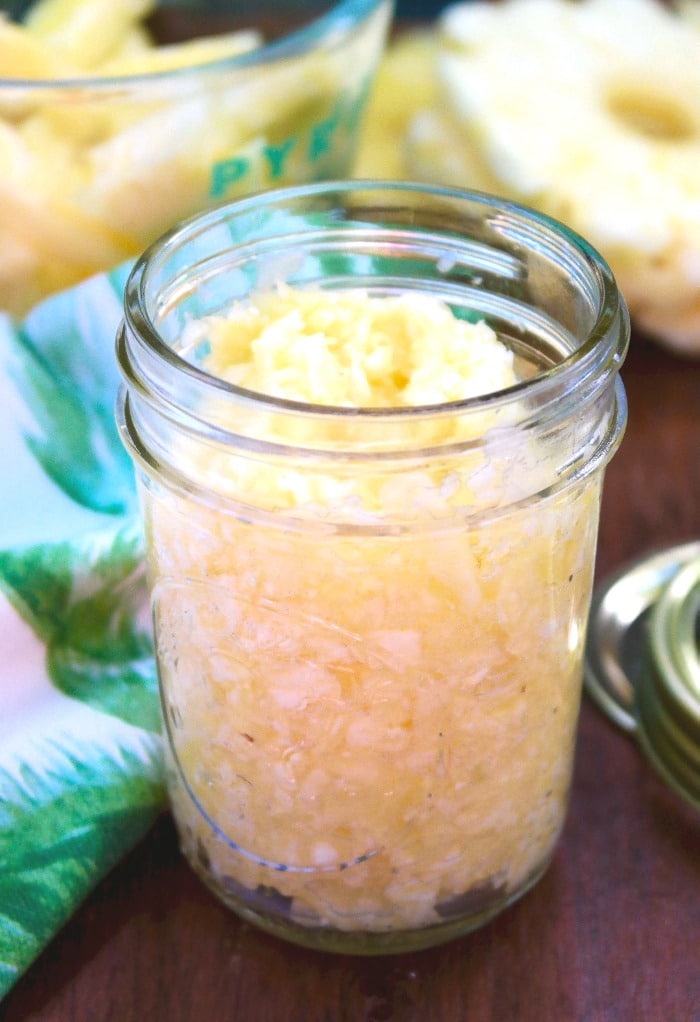 Crushed Pineapple
Now that I've showed you how to cut a pineapple, there is one other simple tip that I think you'll want to have at your finger tips.
Take those freshly cut pineapple rings and chunks and instead of buying canned crushed pineapple, make your own!
So simple to do and and doesn't get any fresher!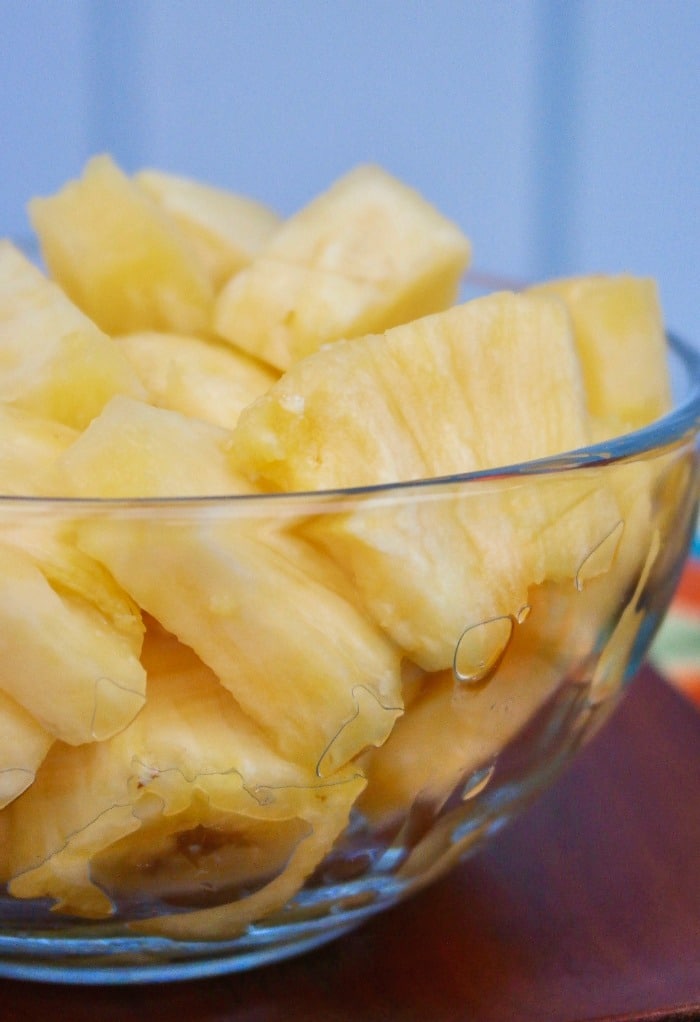 Why Should I Crush My Own Pineapple?
Economical – pineapple is often on sale for under two dollars each. One medium pineapple will yield about 5 cups of crushed pineapple.
Less recycling – obviously. No opening cans.
No sugar added – pineapple has natural sugars, but when processed by manufacturers they often add a heavy sugar syrup. You have control of the type and amount if you choose to add a sweetener.
Natural ingredients – no extra syrups or preservatives are added in homemade crushed pineapple.
How To Prepare Crushed Pineapple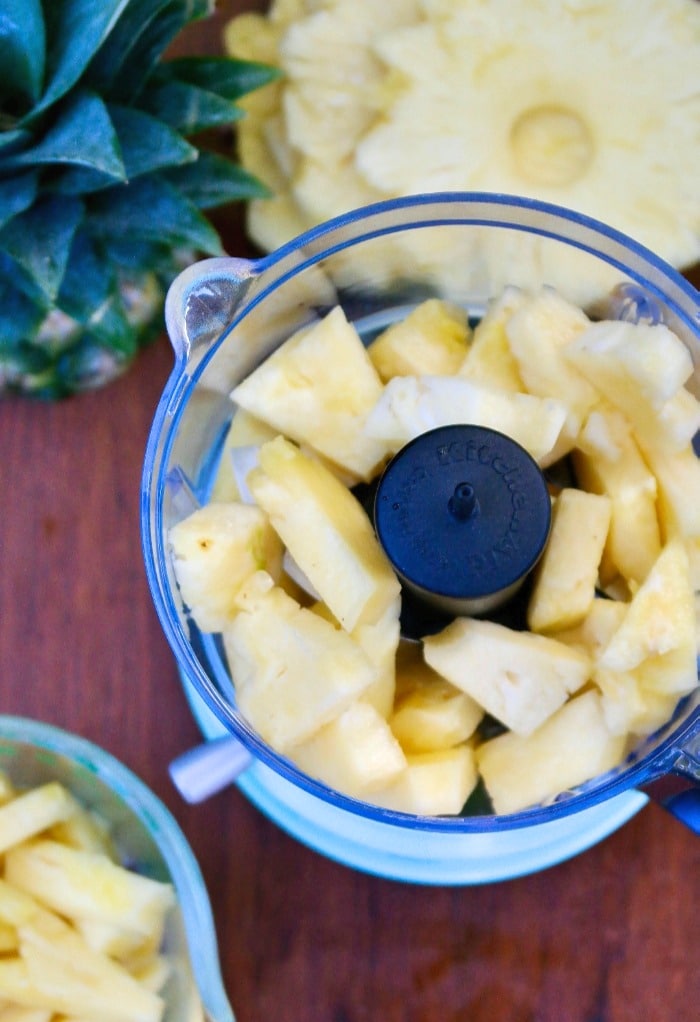 Step 1 Prepare Pineapple
Once you have a freshly cut pineapple. Cut about 1 cup (or more) of the flesh of the pineapple into chunks.
Make sure you have removed the eyes.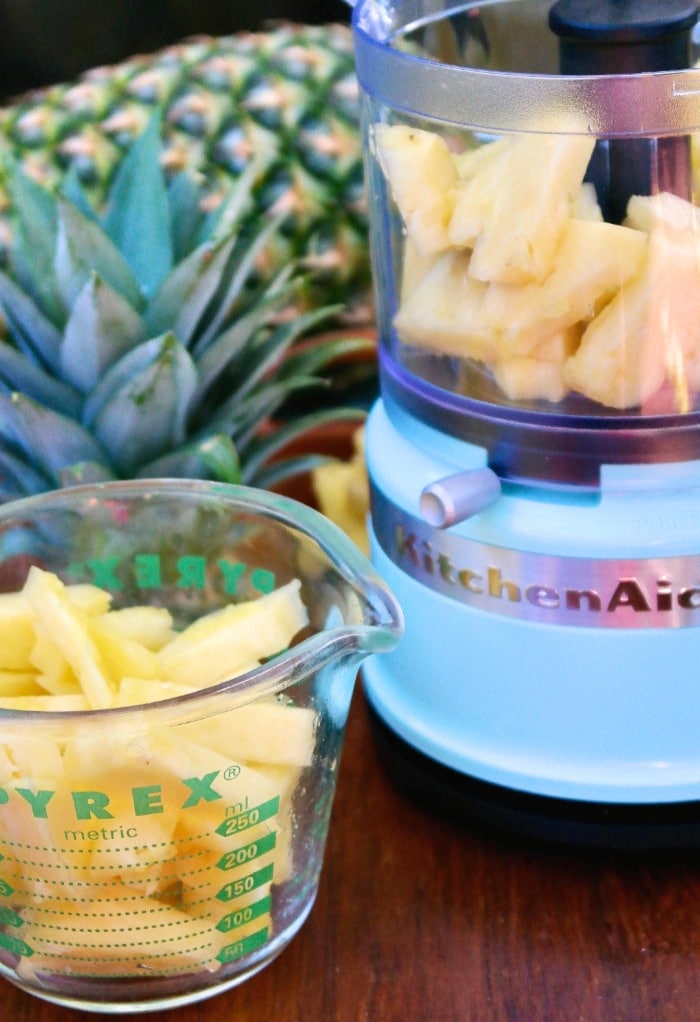 Step 2 Add Pineapple To Food Processor
Now add one cup at a time of the pineapple chunks in a food processor.
Set on chop mode and pulse for a couple of seconds 2-3 times.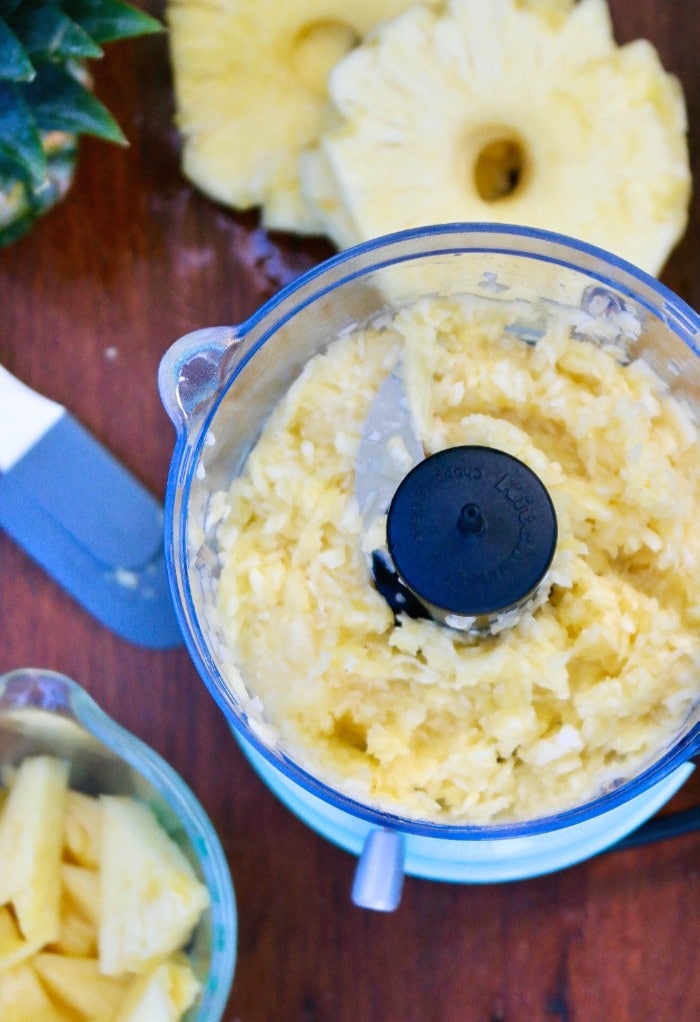 Step 3 Store Pineapple
Now all you need to do is either use your prepared pineapple or store in in an airtight container.
That's IT!
Fresh crushed pineapple can now be used right away or put in an airtight container to use later.
How Long Will Fresh Pineapple Last?
If properly stored in an airtight container, pineapple will stay fresh for 3-5 days.
If you don't think you will use all the pineapple, then freeze it.
Can Crushed Pineapple Be Frozen?
Yes! Place prepared pineapple in an ice cube tray. Place in the freezer.
Once frozen, remove from the ice tray and transfer to an airtight freezable container or freezer bag.
You can also freeze crushed pineapple in ziplock or vacuum freezer bags. I find that freezing small portions (1/2-1 cup) is easier to use when defrosted.
Use your frozen pineapple within 6 months for the best tasting pineapple.
Enjoy in a pineapple smoothie or this pineapple melon smoothie.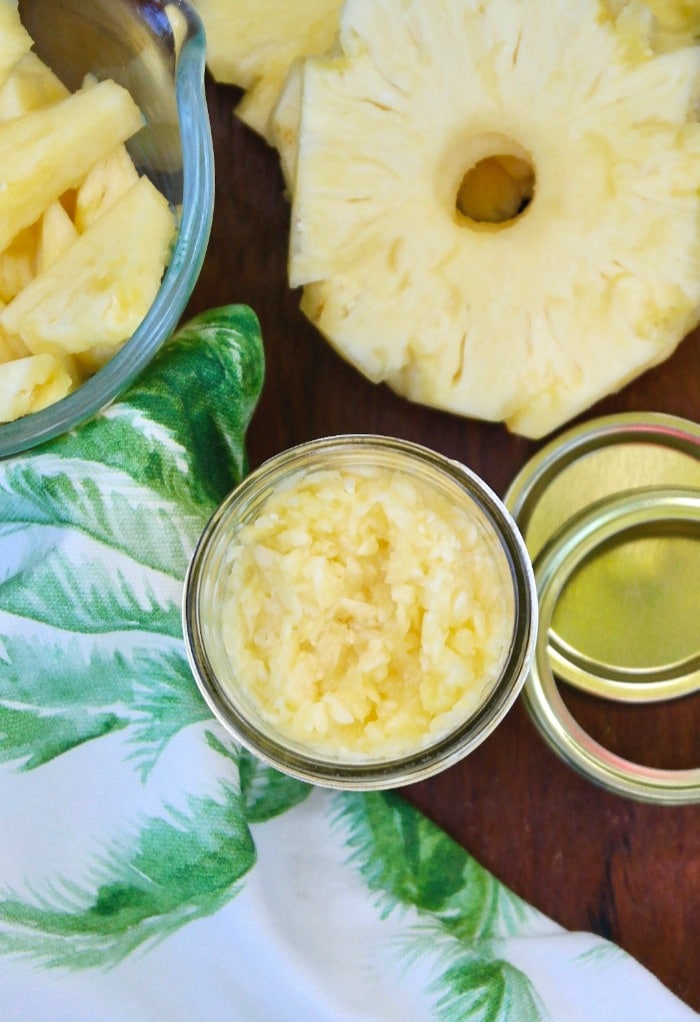 Measurements for Recipes
Now that you have your crushed pineapple ready for recipes you might want to know how to convert the measurements.
4 ounce small can = 1/2 cup
8 ounce medium can = 1 cup
20 ounce large can = 2 1/2 cups
Recipes To Try
Now that you have your crushed pineapple ready be sure to consider trying these recipes!
PIN TO YOUR DIY RECIPE BOARDS