French Toast Fruit Kabobs are Leftover banana bread made into french toast bites, and then skewered with pieces of fruit. Turns an ordinary breakfast into a special meal.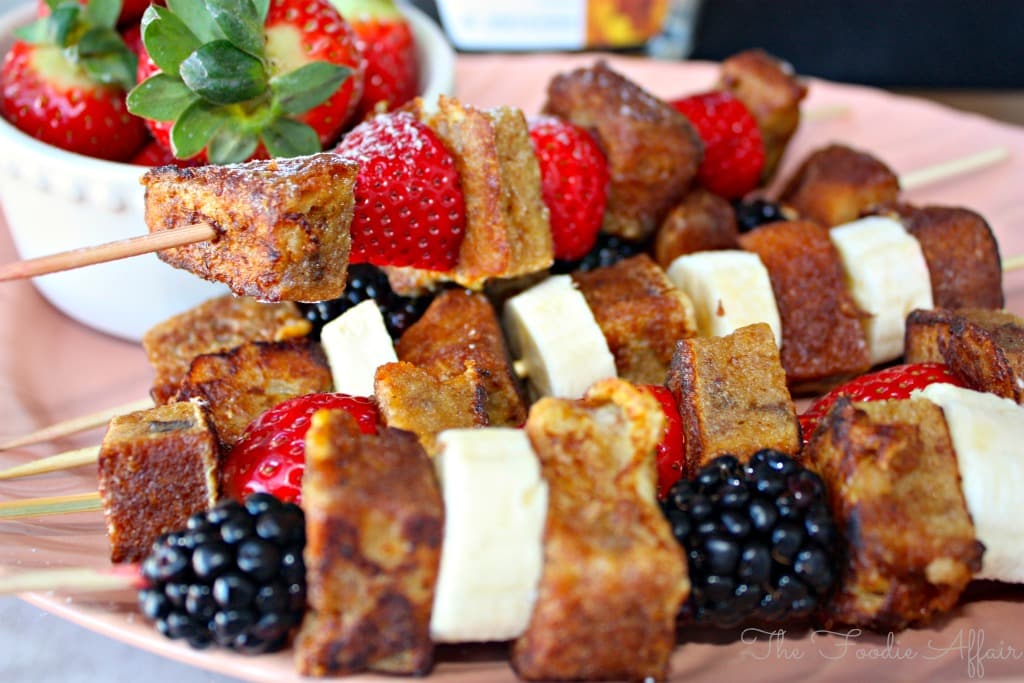 You may remember my Banana Bread French Toast Bites that I shared about six months ago. I used my leftover bread to make a whole new meal, french toast bites! Yummy pieces of banana bread dipped in an egg batter, then lightly pan-fried!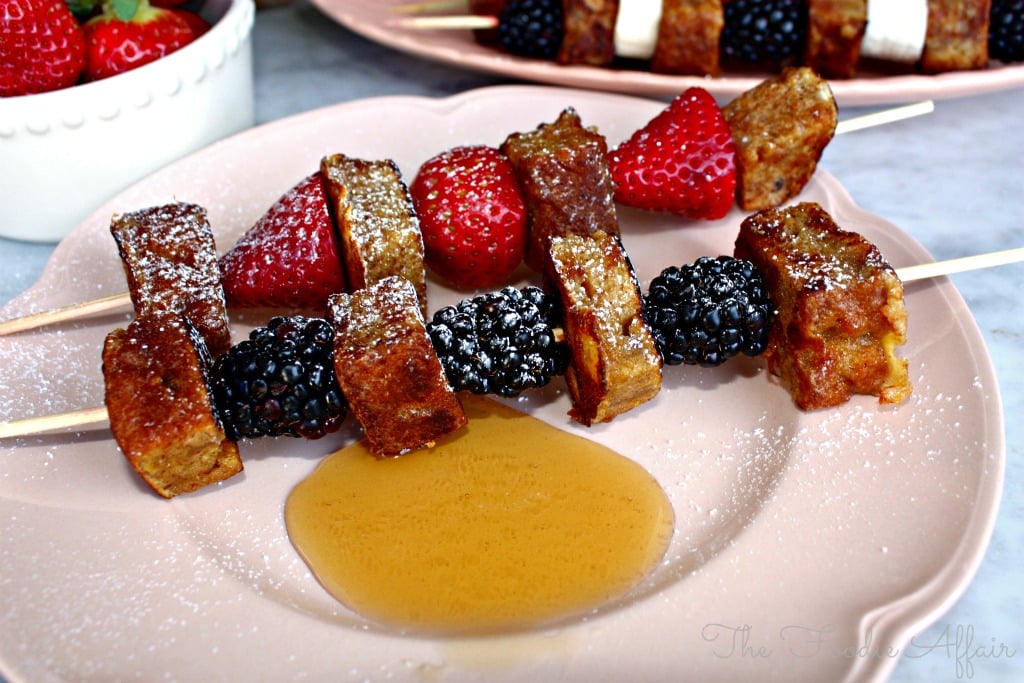 Fantastic recipe, but the photos on that post are not so great. In fact, they're pretty bad; dark and monochromatic. I cringed when I took a look myself!
I am so tempted to re-do photos from recipes as I glance back at what I shared when I first started this blog, but that would take too much time of my already stretched schedule.
Plus, I think it's a good visual reminder for myself as I continue to practice working on this blog, I really am learning a lot about food photography and styling!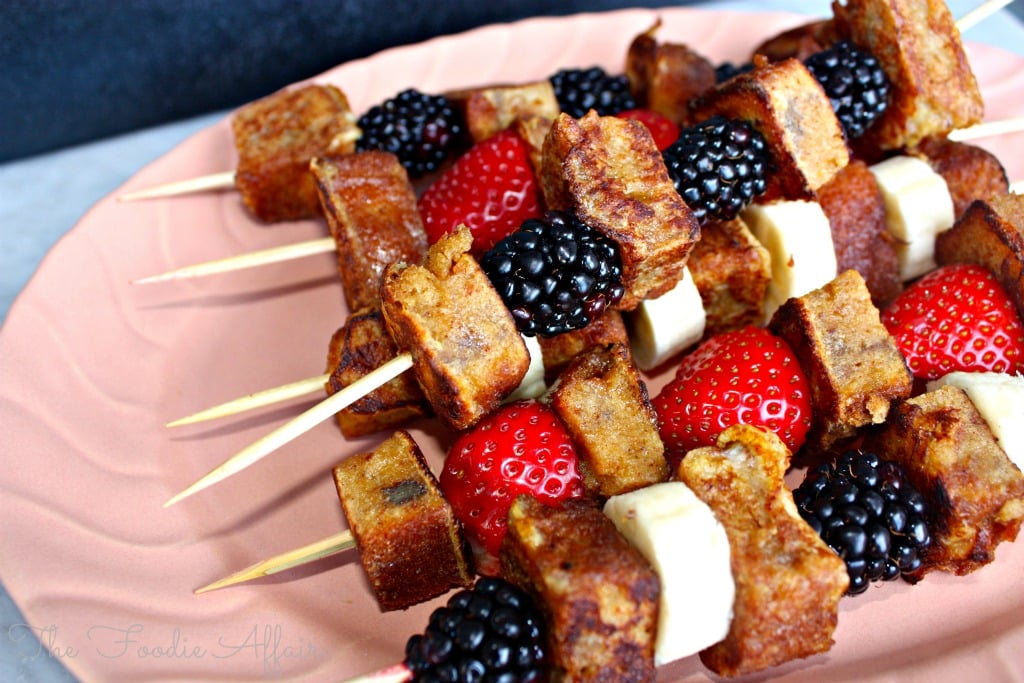 Gourmet Magazine isn't calling me to submit photos (darn, right?!), and I still have so much to master, but I have a lot to feel proud of, and my work here on The Foodie Affair is starting to shine!!
Say "YES", if you agree 🙂 I see your head nodding – haha!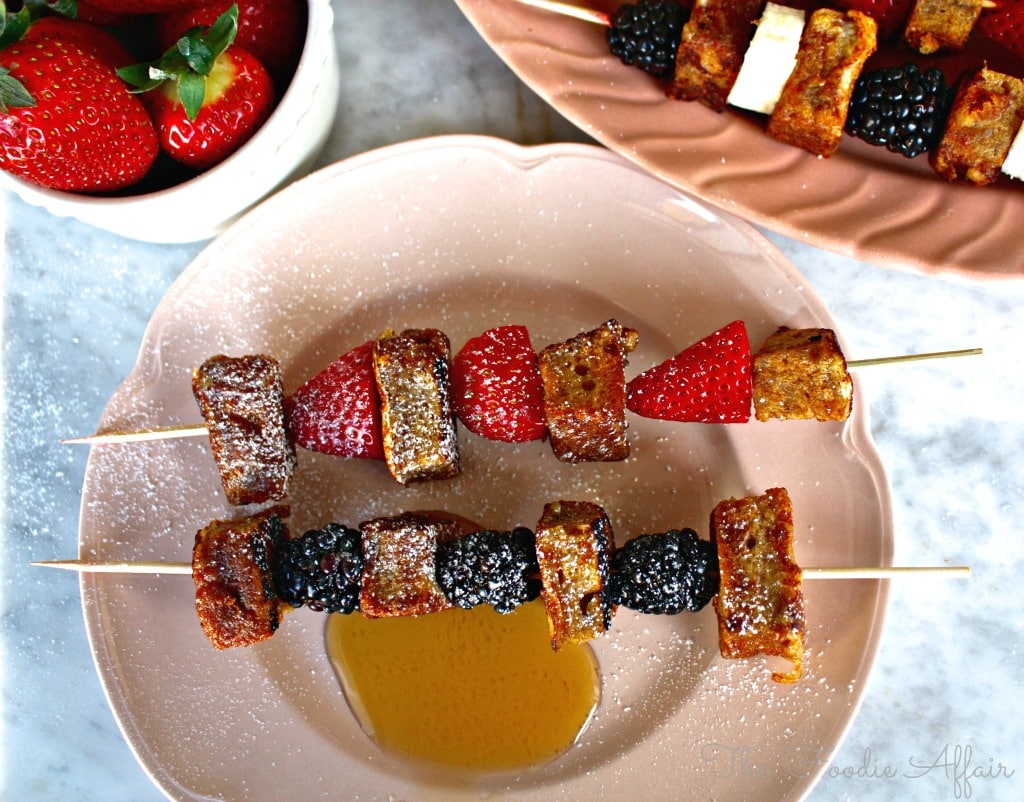 Ok, I got completely side tracked after seeing those old photos! Back to these French Toast Fruit Kabobs!
Serving a whole meal right from a little stick, brilliant don't you think?! Skewers are such a fun way to serve food, and for some reason everyone likes to stab their food with skewers, so you may get some helpers eager to make these French Toast Fruit Kabobs, and if you made the Coconut Banana Bread I shared with you last week and happen to have a little left, these kabobs can be put together quickly!
Fully assembled, these would be a great for brunch or any special occasion, like heart day (thump, thump), which is just around the corner, you know!
I dusted the kabobs with powdered sugar, and served them with maple syrup. Melted chocolate or a yogurt based dip would also be delicious.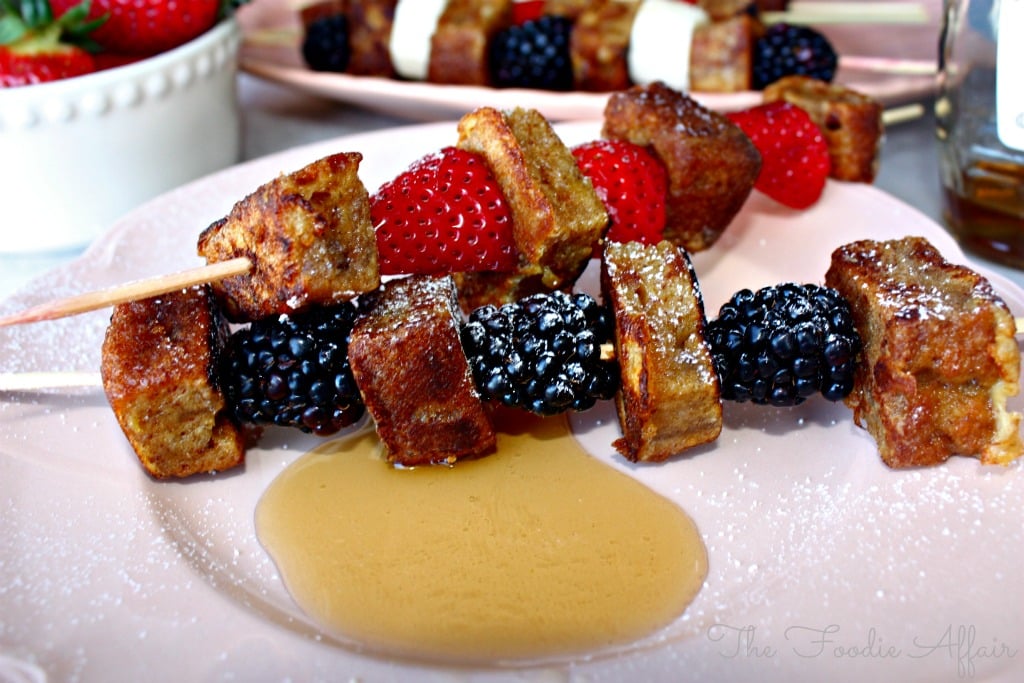 Yield: 4
French Toast Fruit Kabobs
Breakfast on a skewer! French toast bites with a variety of fruits. Dip in maple syrup or drizzle with melted chocolate.

Prep Time 15 minutes

Cook Time 5 minutes

Total Time 20 minutes
Ingredients
3 large eggs
½ cup milk
1 teaspoon vanilla
¼ teaspoon cinnamon
butter
Assorted Fruits: blueberries, blackberries, strawberries, bananas cut into bite size pieces
Bamboo skewers
Maple syrup
Instructions
Cut bread into 2 inch pieces and set aside. Whisk together eggs, milk, vanilla and cinnamon in a shallow dish. Over medium-low heat, add butter to a skillet or griddle. Coat bread pieces with egg mixture and place on heated pan. Cook for about a minute or until the bread is golden brown, then turn to cook the second side.
To assemble spear pieces by alternating french toast bites and fruit onto the bamboo skewers.
Dust with powdered sugar and serve with maple syrup
Notes
This recipe is best with banana bread that is several days old. If you have freshly made bread, you may want to toast the slices in the oven (400 degrees) for about 5 minutes to take some of the moisture out of the bread. The pieces may fall apart if it's too moist when coating with the egg mixture.
If the bread is thick, you may need to cook all four sides of each piece of bread.