Eggnog Bread made with seasonal egg and milk beverage, and then topped with a flavorful glaze and sprinkled with nutmeg! This bread makes a delicious holiday gift or morning treat!
Eggnog Bread
I've been putting my Kitchenaid mixer through quite a workout these past few days so that we'll have plenty of cookies to munch on and enjoy during our Christmas break!
Fresh out of the oven are these Ricotta Cheese Holiday Cookies. I also made Mexican Wedding Cookies (my favorite), Chocolate Chip Peppermint Cookies, and these Butter Brickle Cookies.
We also have a neighborhood holiday gathering that we go to every year and I'm in charge of bringing a dessert so I want to make sure to have plenty to pack up!
I'm on a baking roll! So I might as well add eggnog bread to the list, right?!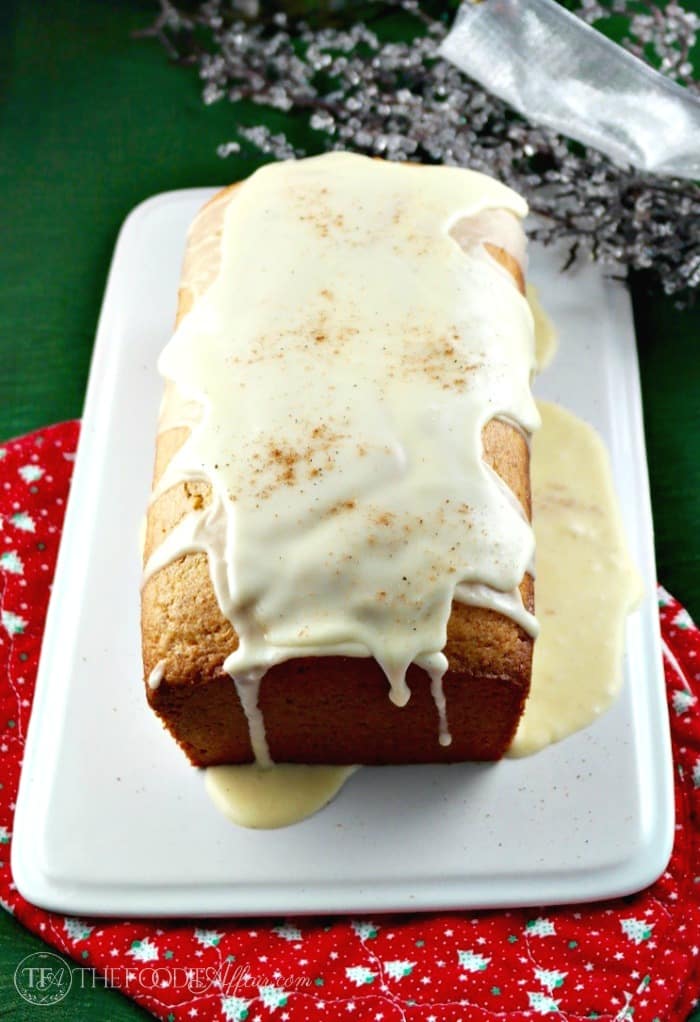 Eggnog quick bread
Are you an eggnog fan? We buy it every year, but I don't drink milk at all (just preference), so it's not that appealing to me. I do like the flavor and I'll have a sip or two, but that's about it.
Alan is the one that enjoys it the most or maybe it's the brandy that he adds that he likes best! We usually end up with a lot leftover, so instead of tossing it out adding it to baked goods sounds like better plan to me!
This recipe doesn't call for any proofing time.  Mix the ingredients, bake, cool and add the glaze.
An eggnog loaf makes a great holiday gift idea!
This eggnog bread baked up nice and tender, flavorful, and it's super easy to make!
Add this recipe to your holiday dessert try or spread the sweetness and give a mini loaf as a gift!
I made one large loaf, but you can also divide the batter and bake mini loafs!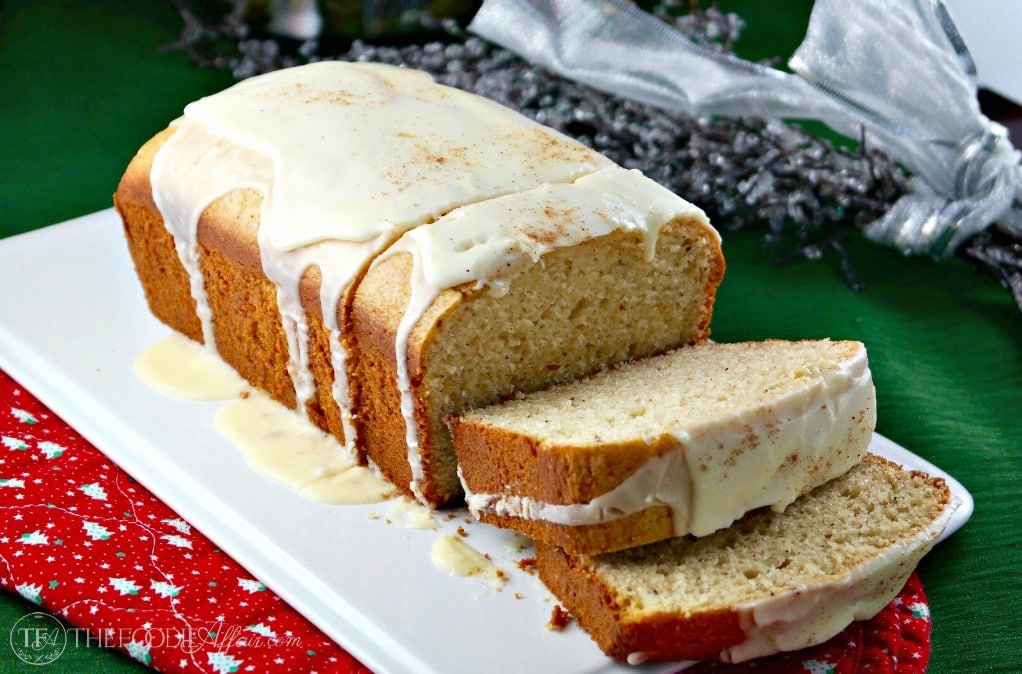 Yield: loaf
Holiday Eggnog Bread
Ingredients
2 eggs, beaten
3/4 cup granulated sugar
1 cup eggnog
1/2 cup butter, unsalted, melted and cooled
1 teaspoon vanilla extract
2 1/4 cup all-purpose flour
2 teaspoons baking powder
2 1/4 teaspoons ground nutmeg
1/2 teaspoon salt
ICING
1 cup powdered sugar, sifted
2 tablespoons eggnog
dash of nutmeg
nutmeg for garnish
Instructions
Grease the bottom of a 9" x 5" loaf pan with cooking spray or butter and set aside.
Preheat oven to 350 degrees.
In a medium bowl whisk together flour, baking powder, salt and nutmeg
In a large bowl combine eggs, granulated sugar, butter, egg nog, and vanilla. Mix well.
Add flour mixture to wet ingredients until all ingredients are combined. Pour batter into prepared loaf pan. Bake for 35-45 minutes or until a toothpick inserted in the center comes out clean.
Remove from oven and let cool or 5 minutes before inverting to a cooling rack.
For ICINGin a small bowl mix powdered sugar with eggnog one tablespoon at a time for desired consistency. Pour over cooled bread.



Recipe from Gooseberry Patch, Big Book of Holiday Cooking @2012