Whole wheat pumpkin apple bread with coconut oil and half the sugar of traditional recipes!  This delicious bread is a tasty breakfast or snack.  Turn a loaf into muffins if you would like!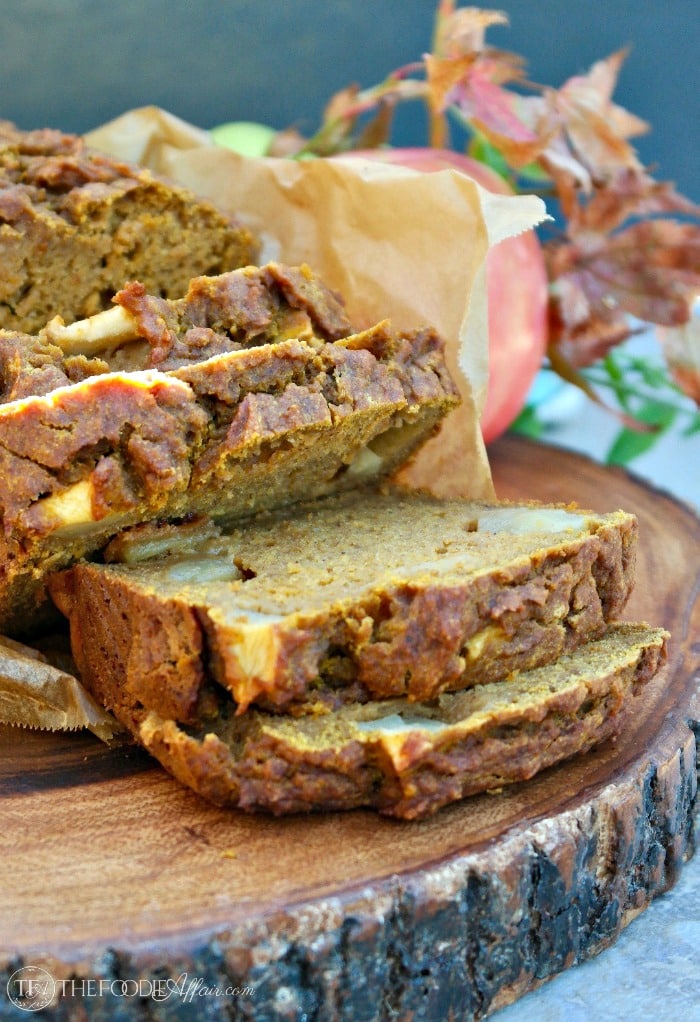 Tender and lightly sweetened tasty whole wheat pumpkin apple bread is the perfect snack when you want two of your favorite fall flavors in one delicious bite!
I woke up dreaming of this tasty bread and thought that I would squeeze in some baking time before getting on with my birthday activities yesterday.  It was a perfect morning listening to music in my pj's sipping on coffee while dicing up an apple.
What a great way to fill the house with the homey smell of pumpkin spices!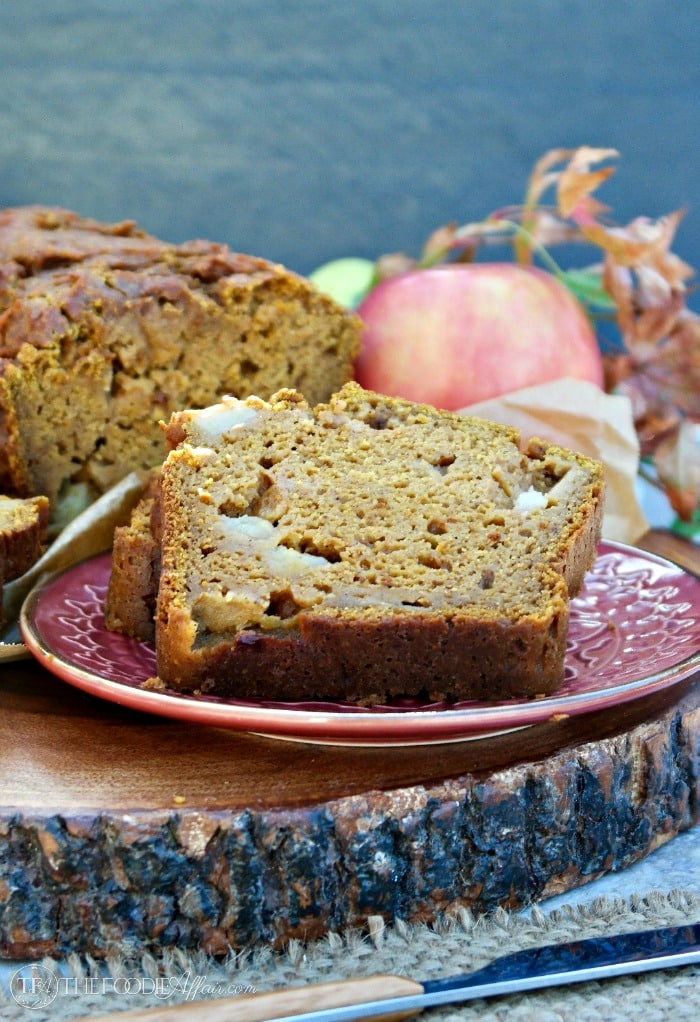 Pumpkin is such a great source of fiber and a healthy dose of Vitamin A in it's natural state, and I really wanted to keep some of those robust aspects intact so I healthified this bread just a bit by incorporating coconut oil with unsweetened applesauce, whole grains, and chunky apple pieces.
Adjust the sweetener to your preference
My recipe only calls for 1/2 cup of sugar, which may be quite a bit lower from some of the other bread recipes you've enjoyed.  Even with the low amount of sugar this bread is still a treat and tastes like one!
The apple also adds some sugar, so I think this bread is perfectly balanced, but feel free to add more sweetener or swap it for maple syrup or Stevia if you would like.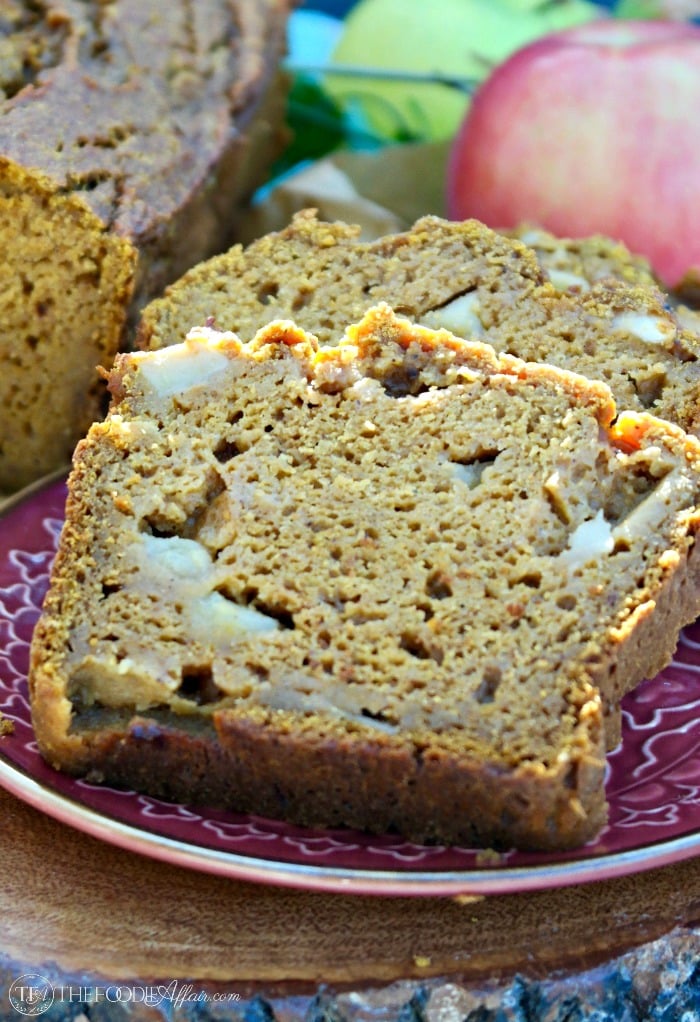 Have you tried baking with whole wheat pastry flour? It's such a nice way to add whole grains to baked goods keeping the tender fluffy texture without the the heavy twiggy taste of whole wheat.
Interested in mixing up the flavors?  Try using Apple Pie Spice in place of the Pumpkin Pie Spice. Both are so flavorful!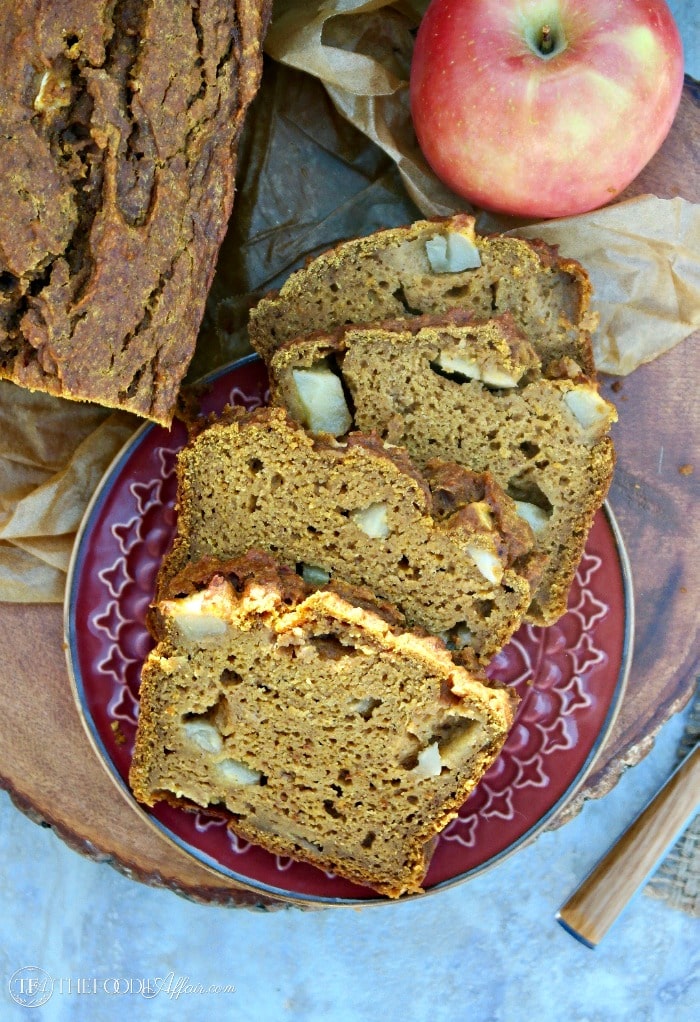 Whole Wheat Pumpkin Apple Bread
Author:
Sandra @ The Foodie Affair
Ingredients
2 cup whole wheat pastry flour
½ - 1 cup sugar (or sugar alternative like Maple Syrup, Truvia or Stevia)
1 tablespoon pumpkin pie spice
1 teaspoon baking powder
1 teaspoon baking soda
2 eggs, large
1 can (15 ounce) pumpkin puree
2 teaspoons vanilla extract
¼ cup coconut oil, melted and cooled
¼ cup unsweetened apple sauce
1 large apple, peeled and diced
Instructions
Preheat oven to 350 degrees. Lightly grease 8½ x 4¼ inch loaf pan.
In a medium bowl whisk flour, sugar, pumpkin pie spice, baking powder and baking soda. Set aside.
In a large bowl mix together eggs, pumpkin puree, vanilla extract, coconut oil, and apple sauce. Add the flour mix into the wet ingredients and mix until combined. Fold in apples.
Pour into prepared loaf pan and bake for 50-60 minutes or until a toothpick comes out of the center clean.
Cool on a cooling rack before slicing.