This basic crepe recipe, a French-style pancake can be filled with sweet or savory ingredients for a breakfast or lunch meal.  Get creative with the fillings and turn your meal from ordinary to EXTRAordinary!
This recipe was originally published in 2014.  It has been updated with new content.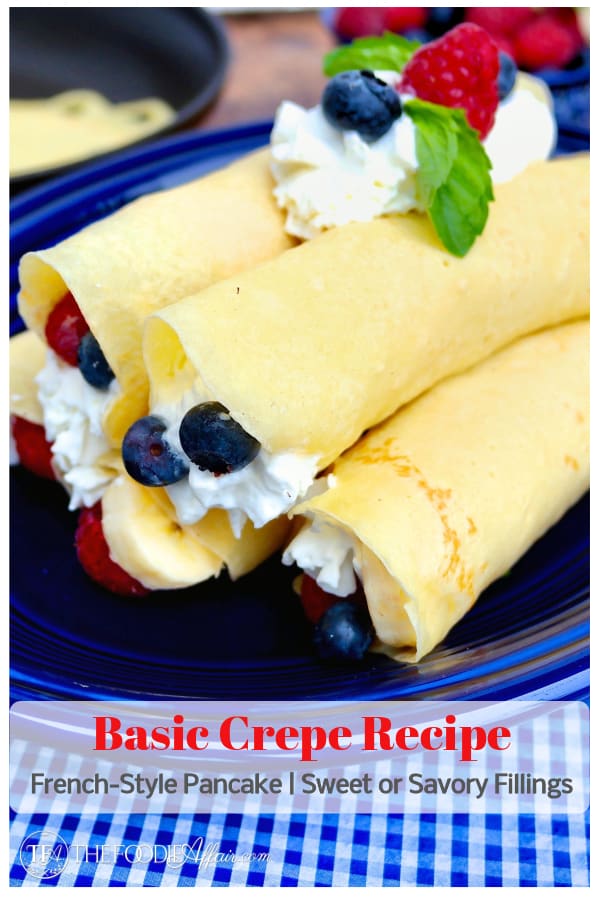 Basic Crepe Recipe
Crepes are light and delicate ultra thin pancakes!  Anytime you want a special breakfast or brunch keep these crepes in mind.
What I love about making crepes is that they are super easy to make the you can pretty much fill them with whatever you have in the refrigerator or pantry!
Plus, when I eat crepes they make me feel fancy, like I'm at a restaurant instead in my own kitchen!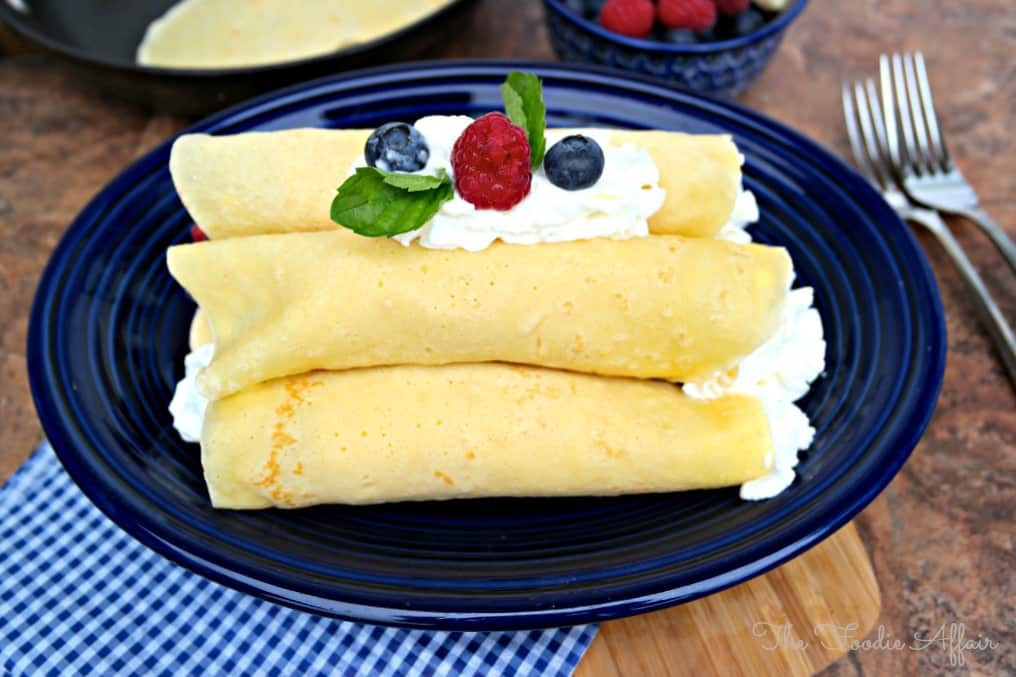 How to make basic crepes from scratch
I don't make crepes very often, but every time I whip up a batch I'm reminded how much we enjoy them!
We usually make them during the weekend when we're lounging around with no where to rush off to. My son proudly reminded me that he made these for me for Mother's Day a few years ago!
Whether or not you decide to make sweet or savory crepes, gather the following ingredients:
All-purpose flour, sifted
Salt
Eggs
Milk
Water
Vanilla extract (optional – add when making a sweet crepe)
Butter (for skillet)
Whisk together all the ingredients until smooth, then heat butter on a medium high heat.
Add ¼ cup of batter and swirl batter in pan forming a thin circular pancake. Cook for about 2 minutes and flip to cook other side.  Fill these babies up and enjoy!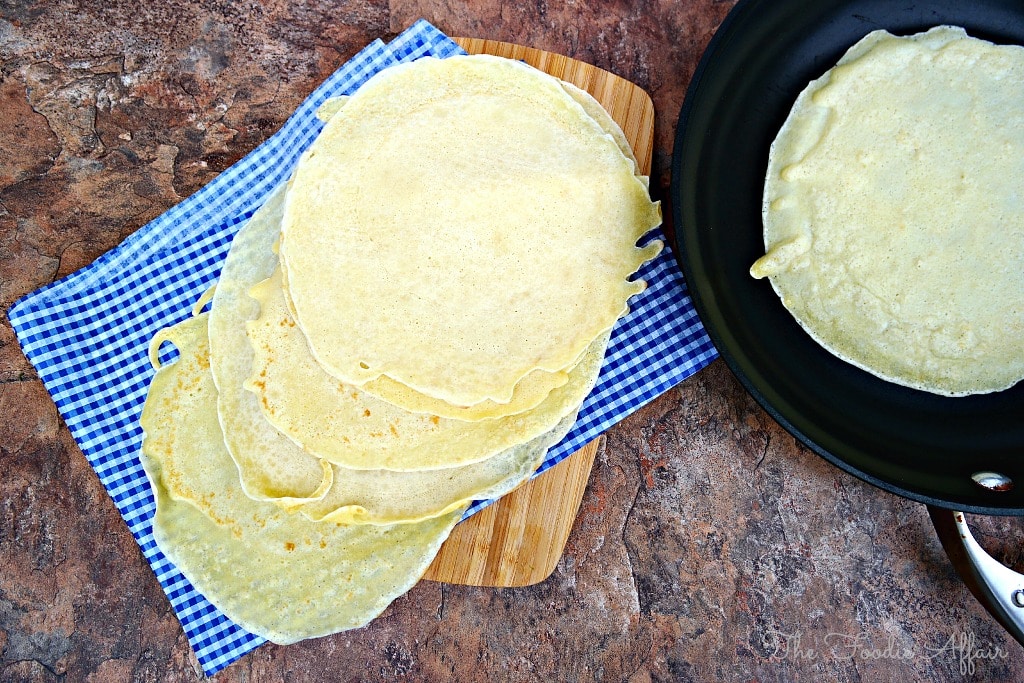 Get creative with the crepe fillings!
Once you have a basic recipe you can really get creative with the filling.
Add sweet ingredients
Pre-made fruit fillings like cherry or blueberry or make this homemade freezer apple pie filling
Fresh fruits  like bananas, diced apples – try a combination of berries like I made here
Fresh whipped cream
Puddings or sugar free lemon curd
Nutella
If you're craving savory flavors
Sautéed spinach, leeks or kale
Mushrooms sautéed in butter
Crab
Ham and cheese
Are you thinking of some of your own favorite ingredients you would fill crepes with?
Can you freeze crepes?
This recipe makes quite a few crepes and YES these can be frozen if you don't use them all up once you make a batch.
Here are the steps to freeze:
Cool completely
Layer each crepe between a piece of parchment or wax paper
Place in a freezer bag
Freeze for up to two months
When you are ready to use the crepes place frozen bag in the refrigerator overnight.  Each crepe can be warmed on a skillet over low heat or place in the microwave for 10-15 seconds.  Fill with your favorite ingredients!
They're great for a snack too! Fill them with your favorite yogurt or how about a little Nutella with some sliced bananas?
It's a heavenly combination, and don't forget the whipped cream!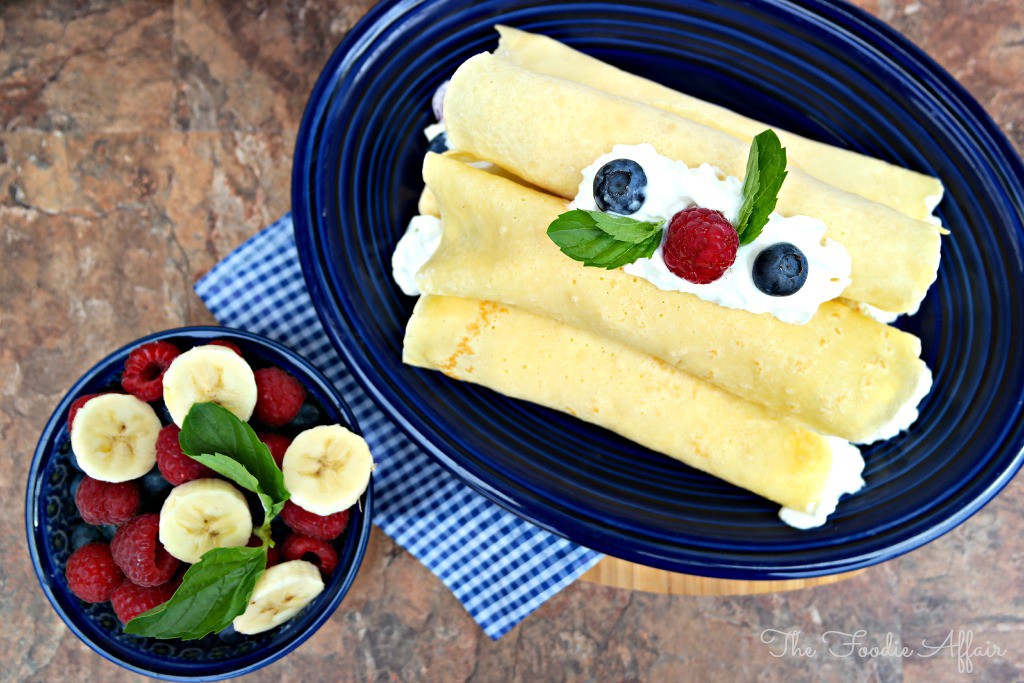 Yield: 15
Basic Crepe Recipe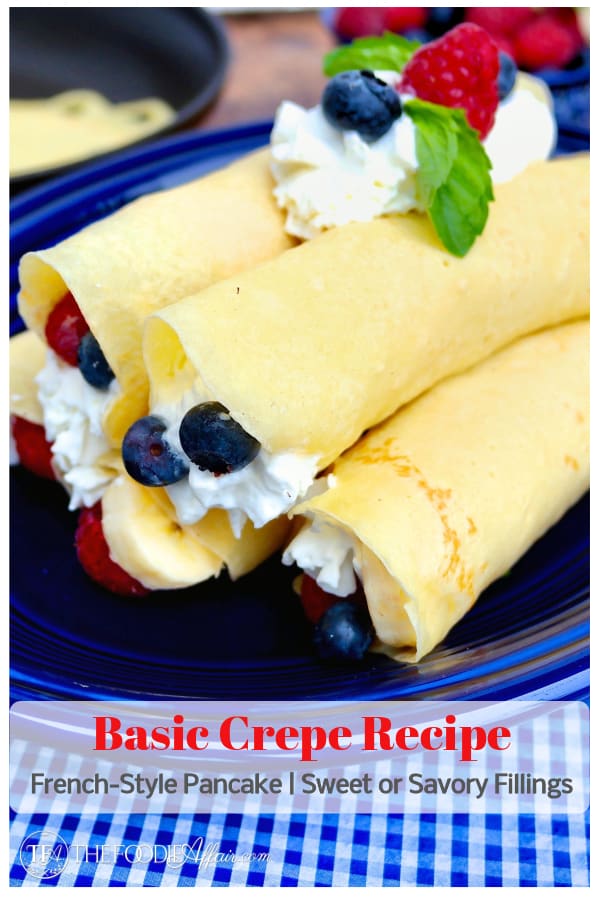 Ingredients
1 cup all-purpose flour, sifted
1/4 teaspoon salt
2 eggs
1/2 cup milk
1/2 cup water
1 teaspoon vanilla (optional - add when making a sweet crepe)
2 tablespoons butter, melted and cooled
Instructions
In a large bowl whisk together eggs, milk, water, vanilla and butter. Sift in flour and salt and whisk all ingredients together until batter is smooth.
Heat a skillet with oil or butter on a medium high heat. Add 1/4 cup of butter and swirl batter in pan forming a thin circular pancake. Cook for about 2 minutes and flip to cook other side.
Fill with ingredients of your choice.
Nutrition Information:
Yield:
15
Serving Size:
1 crepe
Amount Per Serving: Calories: 58 Total Fat: 2g Saturated Fat: 1g Trans Fat: 0g Unsaturated Fat: 1g Cholesterol: 30mg Sodium: 62mg Carbohydrates: 7g Fiber: 0g Sugar: 0g Protein: 2g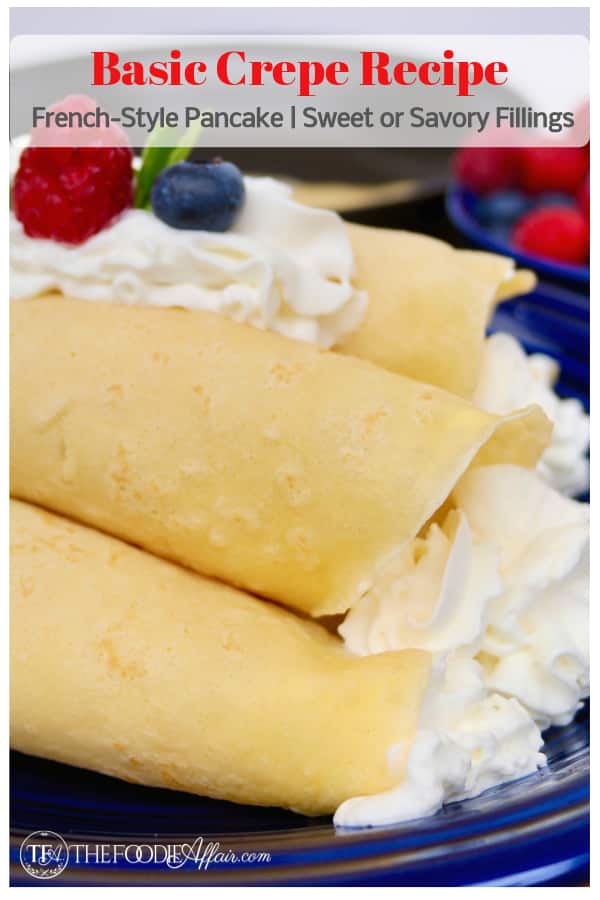 Low Carb Crepes
The traditional crepes are only 7 carbs each, but it you want to try a grain-free crepes under 3 carbs each, then check out this low carb crepe recipe with ricotta cream.