Easy No Rise Whole Wheat Pizza Dough! This fuss-free crust is made with white whole wheat, which has all the same healthy nutrients as whole wheat, except it's milder and lighter in color & texture!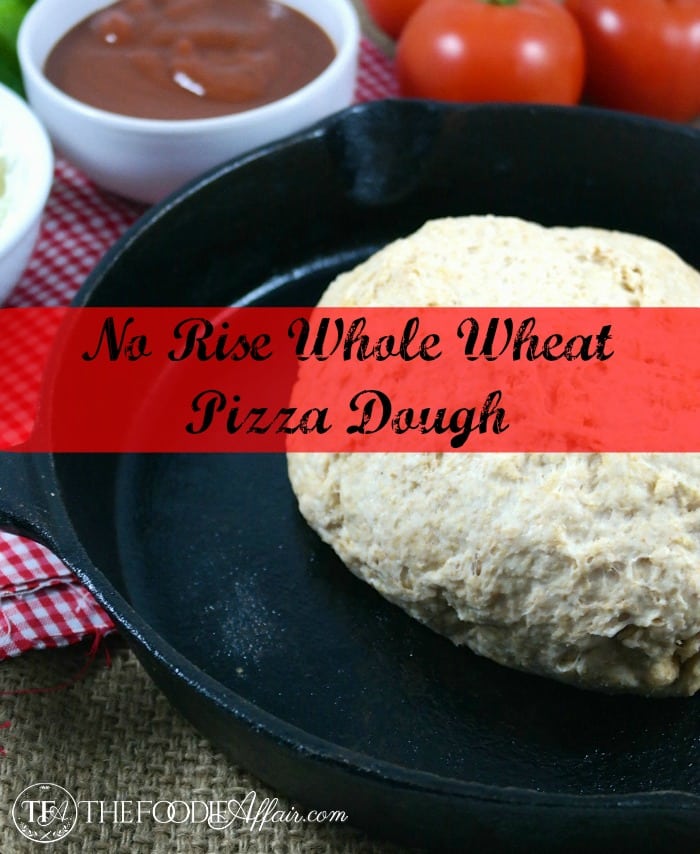 We eat pizza a lot. In fact, I'm 99.8% sure that we have our favorite pizza delivery on speed dial on our phone. Yep, I just confirmed it. Alan programed a couple of nearby pizza restaurants on our phone. Funny thing is, I'm not a big pizza fan. I like it, but not enough to order it as often as we do. Alan on the other hand could eat it several times a week. There are many evenings I just want to plop myself on the couch, pour myself a glass of wine and call it dinner. That's when the speed dial comes into play.
Pizza is such an inexpensive meal to make and I feel guilty or wasteful or just plain silly shelling out the $25 with tip when we order out, so I will make pizza at home using Trader Joe's prepared pizza dough when I remember to buy it. It's a quick meal and good in a pinch, plus they sell the whole wheat dough that I prefer, but my family thinks the flavor is too harsh and earthy or "twiggy" tasting.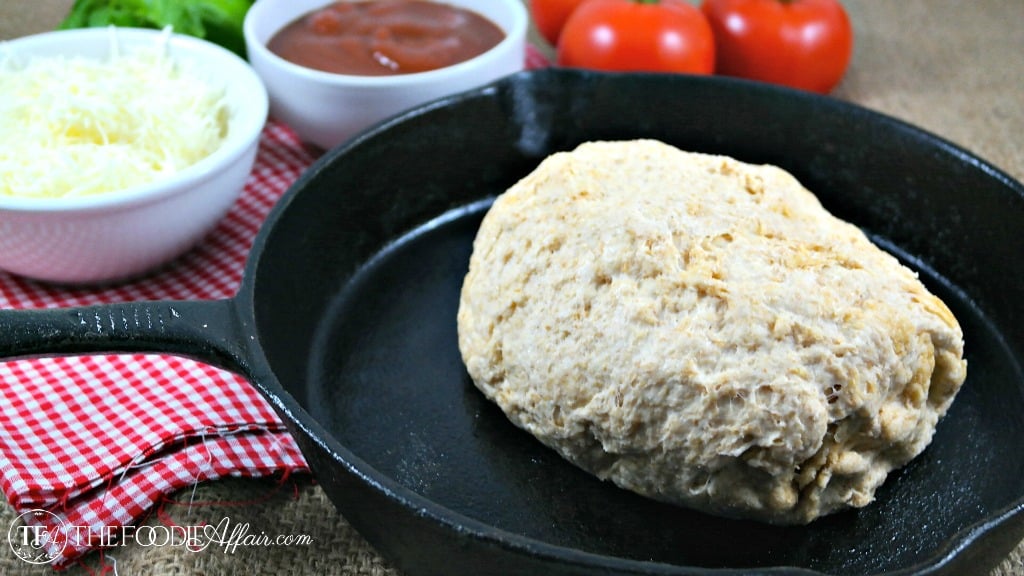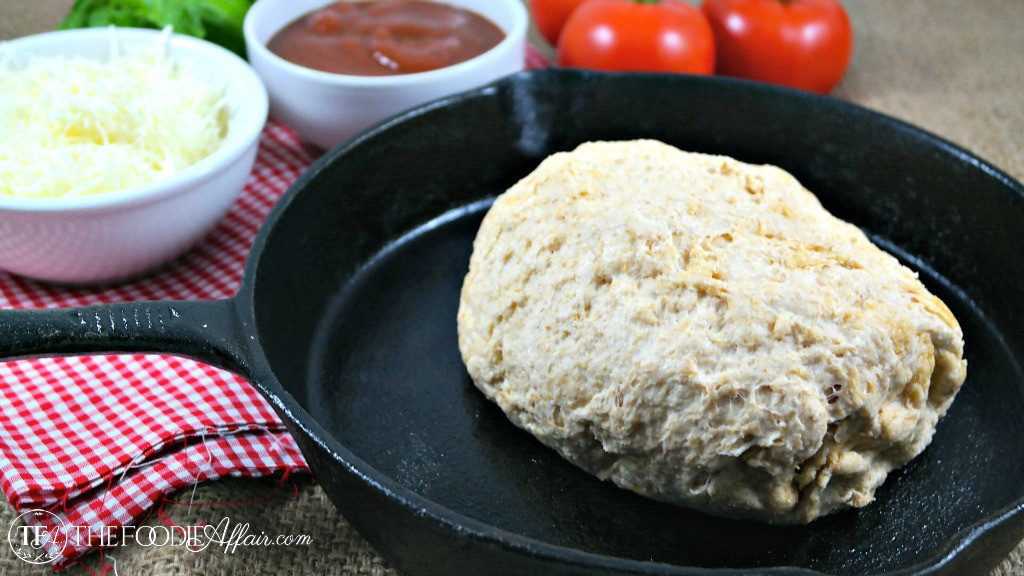 I found an outstanding solution that's economical, just as quick as waiting for delivery, and masks that pungent flavor that whole grains can have. WIN! Instead of whole wheat flour use white whole wheat flour, which is the same flour that I add in baked goods that you'll find in this Cherry Almond Mug Cake.
The white whole wheat flour is just as healthy as whole wheat, but it has a milder taste and comes from a lighter colored bran. I also use quick rise yeast. By the time I gather all my toppings the dough begins to expand, but I don't find it necessary to wait an hour for it to rise. Lastly, I took advice from King Arthur Flour's recipe A Tasty Whole-Grain Pizza Dough and added 2 tablespoons of orange juice to cut the bitter taste that whole wheat flour can have.
Now all that is left to do is pat the dough in an iron skillet or pizza stone, add your toppings and bake at 450 degrees! Bon appetit!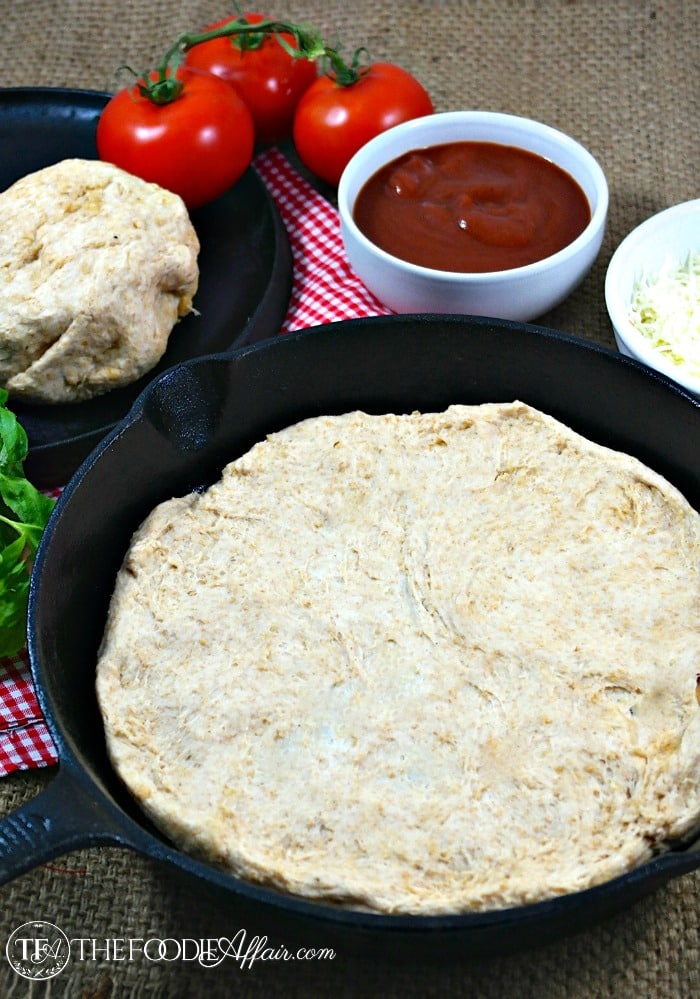 You can use a jarred pizza sauce, but it's easy to make homemade. I recommend Life Currents sauce from Debi's French Bread Pizza recipe!


Yield: 4
Easy No Rise Whole Wheat Pizza Dough
Prep Time 10 minutes

Cook Time 15 minutes

Total Time 25 minutes
Ingredients
1 cup warm water
1 (1/4 ounce) package of quick-rise yeast
2 1/2 cups white whole wheat flour
1 teaspoon salt
1 teaspoon sugar
2 Tablespoons olive oil
2 Tablespoons orange juice, lukewarm
Instructions
Dissolve yeast in warm water in a medium bowl. Add flour, salt, sugar, olive oil and orange juice and mix well until all the ingredients hold together and with your hands (dusted with flour) form a ball. Cover and let sit in the bowl while gathering pizza toppings.
With your fingers pat dough into the shape of your iron skillet or baking stone. Add toppings and cook at 450 degrees for 15-20 minutes.