This Air Fryer Pork Tenderloin is perfectly tender and bursting with savory flavors from a simple pork spice blend rub; paprika, onion and garlic powder, cumin, oregano, and ground sage. If you are looking for a flavorful easy meal to make, this Air Fryer Pork Tenderloin recipe is for you!
Honestly, I'm totally hooked on my air fryer. Have you tried this Air Fryer Chicken Breast Recipe? The simplicity of an air fryer is like having a magic little box that makes crispy food without the fat or calories that come with frying. And it cooks everything quickly too! This Air Fryer Pork Tenderloin is so flavorful and fork-tender, you'll wonder why you ever spent time cooking it any other way.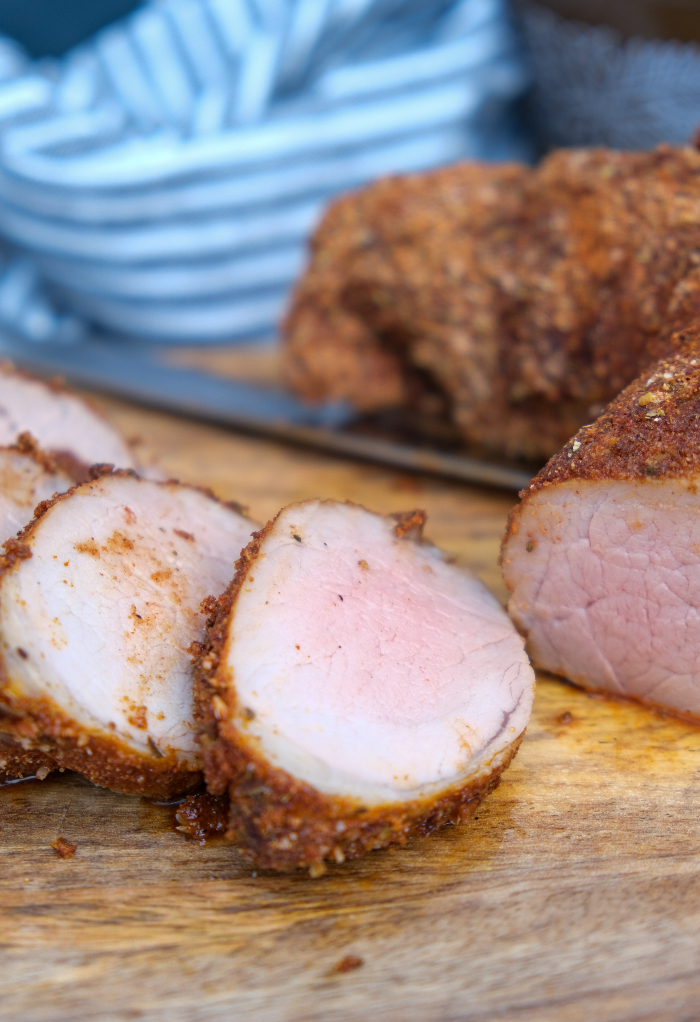 WHY YOU'LL LOVE THIS PORK TENDERLOIN AIR FRYER RECIPE
This tender pork tenderloin recipes is simple to put together and super flavorful. You will love the crust that forms on the outside of the tenderloin adding flavor to each delicious bite. Did you know that Pork tenderloin is often described as the filet mignon of pork?
Easy Recipe – This air fryer pork tenderloin recipe takes very little effort which makes for a busy weeknight meal.
Versatile – This is the perfect pork dinner any night, but it also works great for entertaining and potlucks! Pork sliders is a great way to enjoy leftovers or serve at a party.
Quick – It cooks in just minutes in your air fryer, so it's a fast and convenient dinner that everyone will love!
Healthy & Delicious – This juicy pork tenderloin is one of the leanest cuts of pork. A three-ounce serving is 120 calories and 3 grams of fat. Healthy and nutritious, but it tastes even better than the ones you order at your favorite restaurant!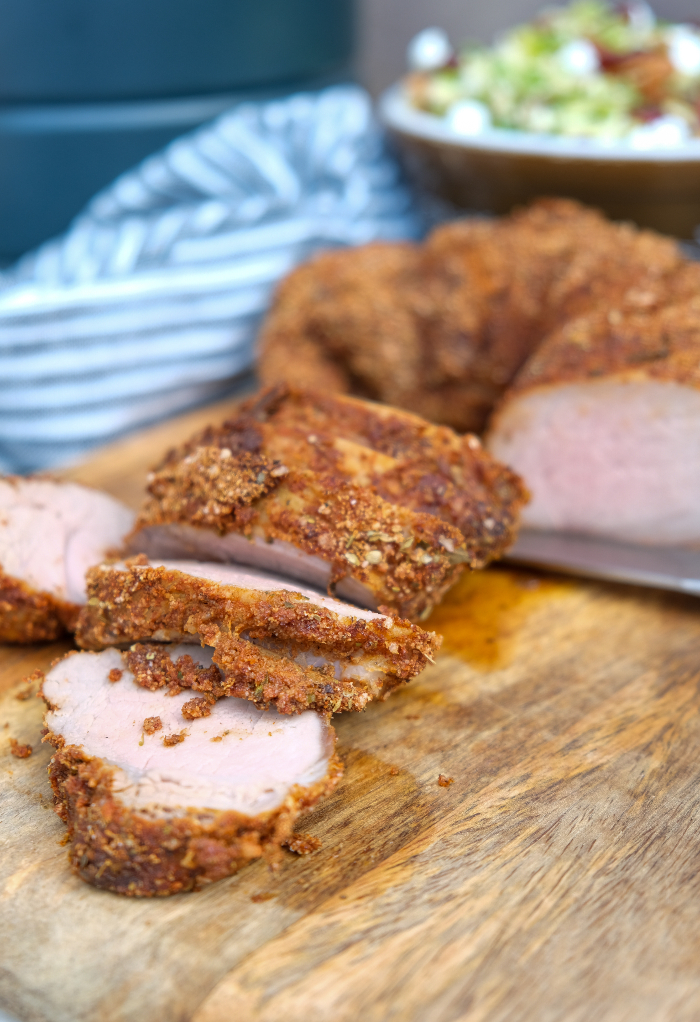 EQUIPMENT NEEDED TO MAKE THIS RECIPE
mixing bowl
whisk
air fryer
paper towels
INGREDIENTS FOR AIR FRYER PORK TENDERLOIN
The spices in this recipe make a delicious dry rub that gives your pork tenderloin an amazing flavor.
Pork Spice Rub
smoked paprika
kosher salt
black pepper
garlic powder
onion powder
oregano
mustard powder
ground cumin
ground sage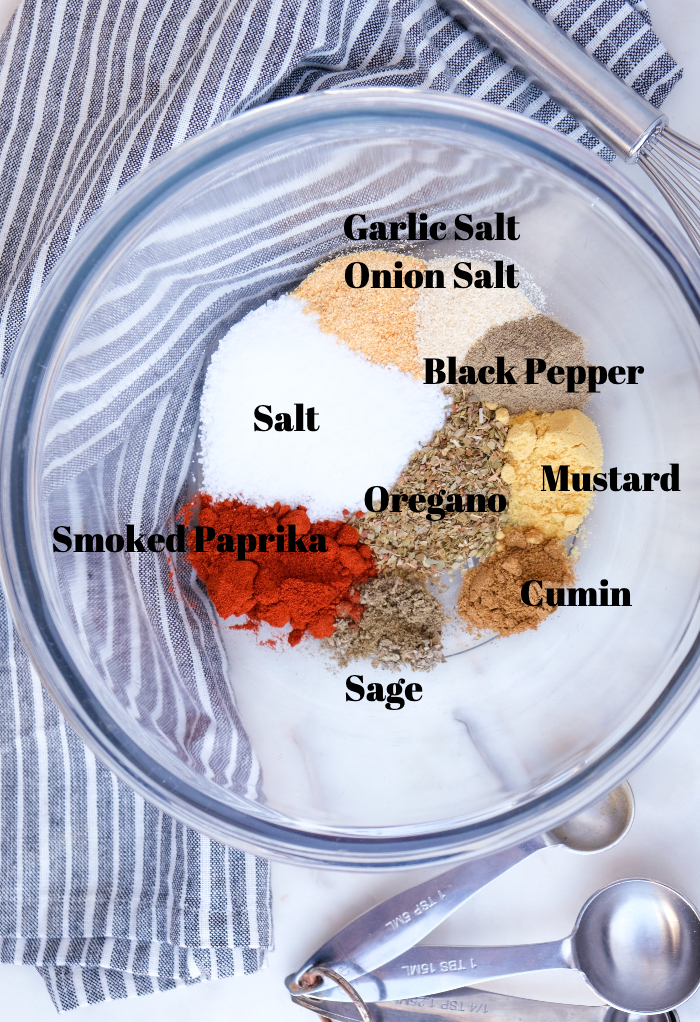 HOW TO MAKE AN AIR FRYER PORK TENDERLOIN
STEP 1: MIX THE DRY RUB
Add spices to a large mixing bowl and whisk ingredients together. Remove 2 tablespoons of pork rub and place in an airtight container. See notes in the FAQ section.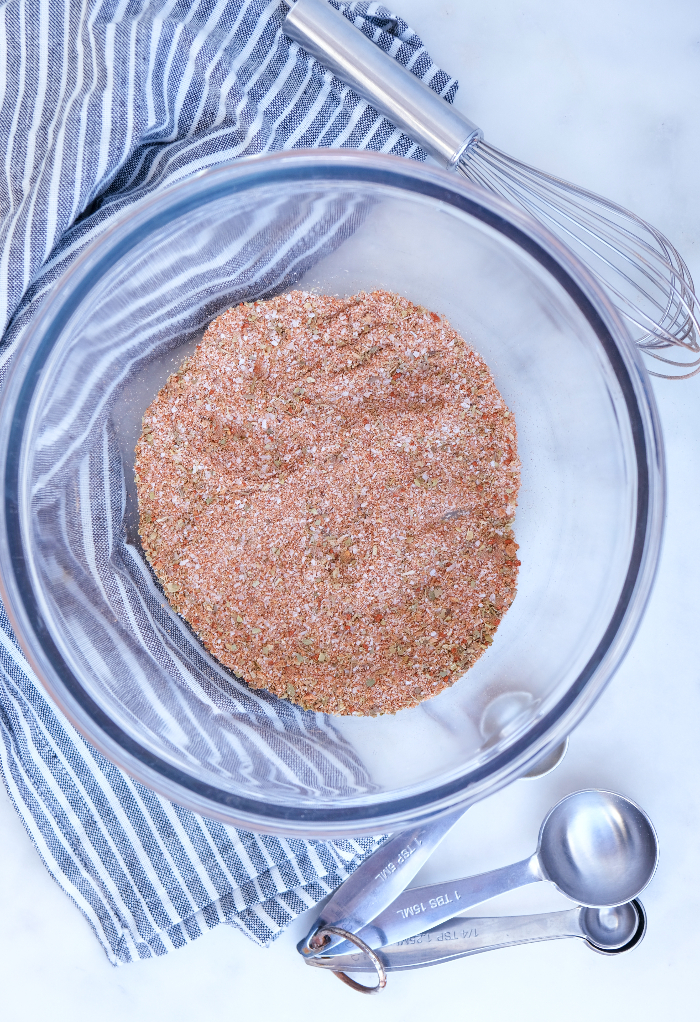 STEP 2: REMOVE THE SILVER SKIN
The silver-white cognitive tissue is tough and hard to chew, so you will want to remove it from the pork. Place the pork on a cutting board and with a sharp knife cut just below the tissue and above the meat. Cut through the length of the silver skin to remove it. You may need to repeat this method a couple of times.
STEP 3: RUB THE TENDERLOIN
You want to start with dry pork. Pat the pork tenderloin with dry paper towels and remove as much moisture as possible. Place the pork in the mixing bowl with 2 tablespoons of pork rub. Pat the rub on all surfaces of the pork. Add reserved rub if needed. Gently shake excess rub off of the pork.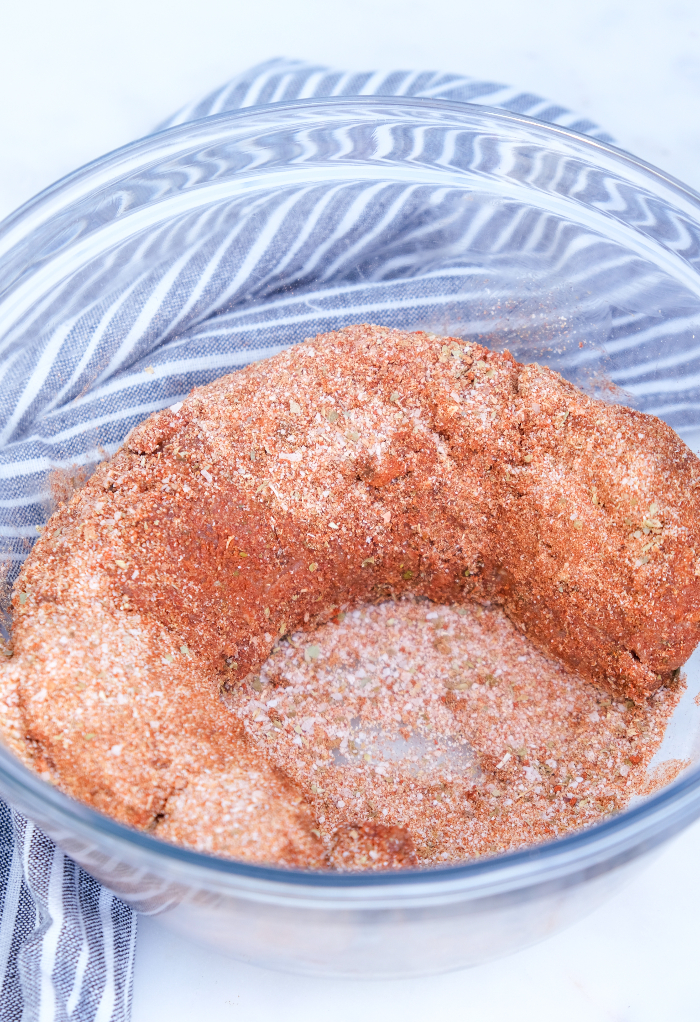 STEP 4: AIR FRYER THE TENDERLOIN
Place the pork tenderloin in the air fryer basket and turn temperature to 375°F degrees. Depending on the size of your air fryer basket, the pork may wrap around the circumference of the basket. Next, turn the timer on to cook for 17 minutes or according to the manufacture's recommended cooking time. Turn pork over halfway through the cooking time.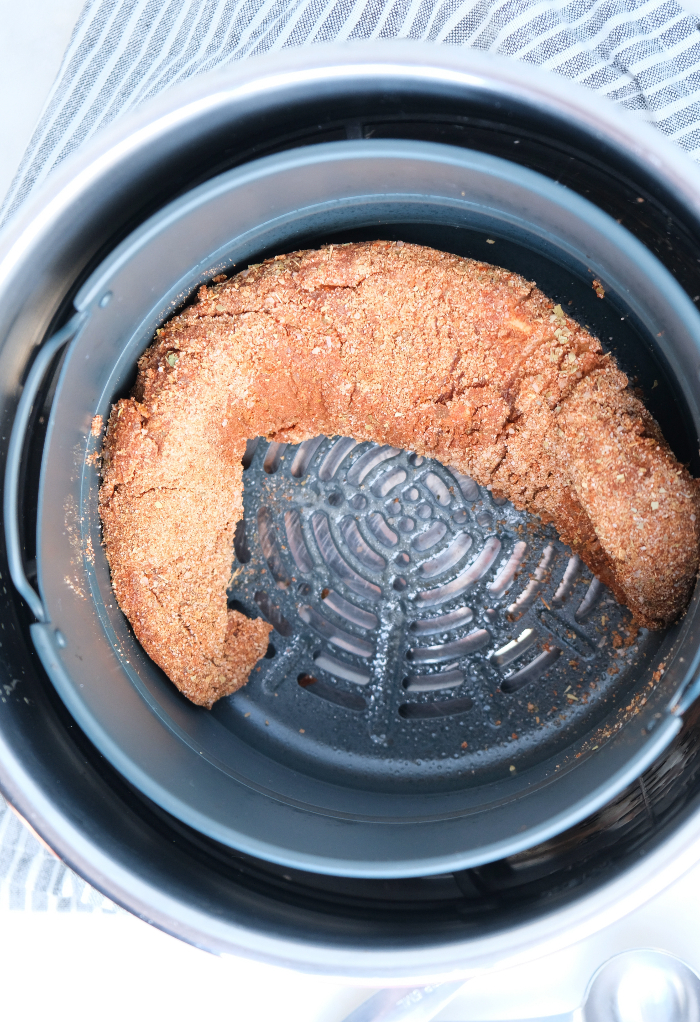 STEP 5: REST THE PORK TENDERLOIN
Remove pork when the internal temperature of the meat reaches 140°F degrees and let the pork tenderloin rest for 3 minutes before slicing. While resting, the pork will continue to cook. The pork is completely cooked when the internal temperature reaches 145°F degrees (recommended by the USDA) and still a little pink.
WHAT TO SERVE WITH PORK TENDERLOIN
Are you wondering what you should serve with your pork tenderloin? The options are endless, and most vegetables and potatoes will go well with this dish, but here is a list of my favorite side dishes to serve with my air fryer pork tenderloin recipe.
SUBSTITUTIONS AND ADDITIONS
If you love this air fryer pork tenderloin recipe as much as I do, here are a few suggestions to make it your own.
Spicy – Add cayenne pepper or red pepper flakes to give it a little heat if you like that kick of flavor!
Sweet – If you are like your pork a little sweet add one tablespoon of brown sugar to your dry recipe ingredients for a slightly sweet taste.
Flavor – For more flavor you can increase the garlic, pepper, and onion powder to your liking.
Use Different Cuts of Meat – Use the same pork rub with a different cut of meat like pork chops, pork medallions or a larger cut of meat like pork loin roast. The cooking time will vary, but as long as you reach the internal meat temperature of 145°F degrees the steps will be the same.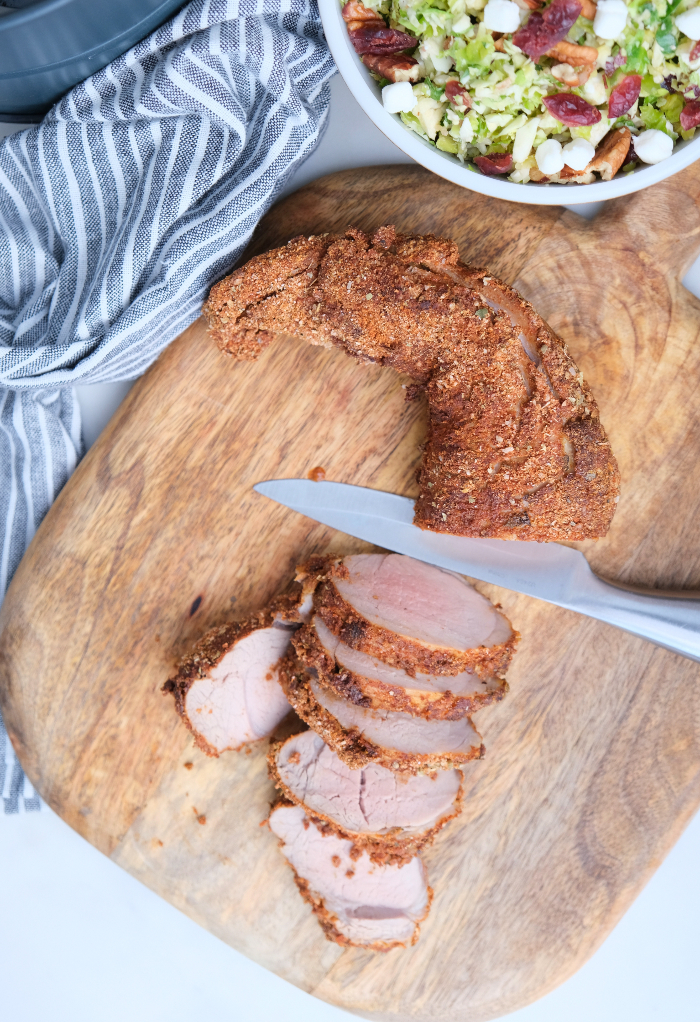 HOW TO REHEAT & STORE AIR FRYER PORK TENDERLOIN
Storage: You can store air fryer pork tenderloin in the refrigerator for up to 3 days.
Reheating: To reheat, slice, and place on a baking sheet lined with parchment paper. Bake at 425°F degrees until warmed throughout.
Air Fryer Reheating: To reheat in the air fryer, place slices in the air fryer basket and cook at 325°F degrees for 5 minutes or until warmed throughout.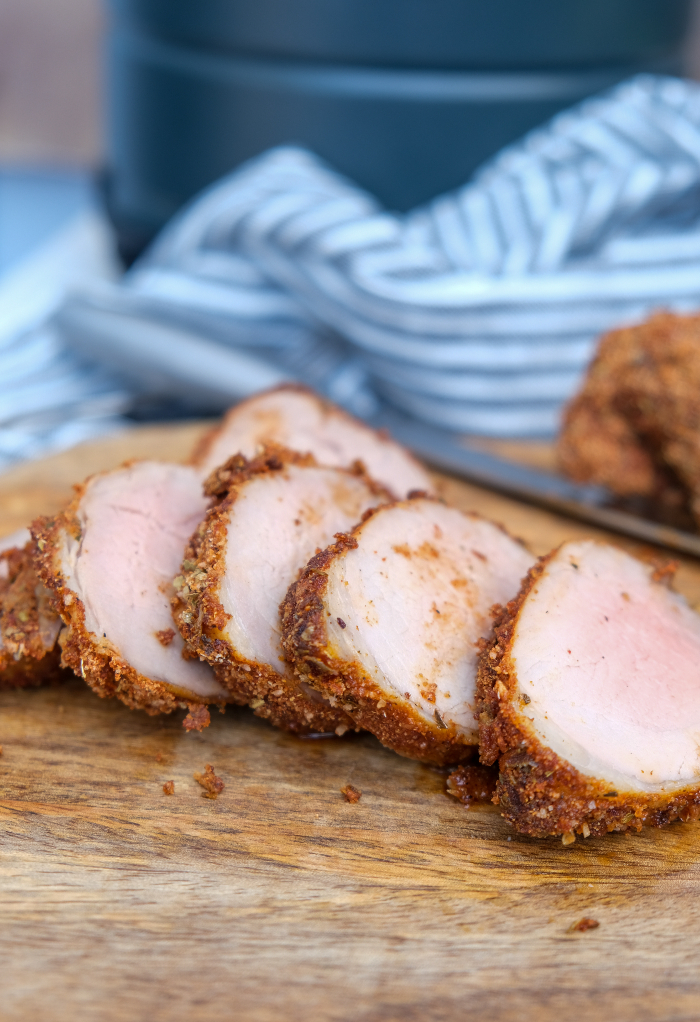 AIR FRYER PORK TENDERLOIN RECIPE FAQS
How much dry rub does this recipe make?
The ingredients for the rub will make 4 tablespoons. Generally, you will need 2 tablespoons of pork rub per pound. 17-19 minutes of air fryer time per pound of pork tenderloin.
Can I freeze cooked pork tenderloin?
This recipe works best when the cooked pork tenderloin is used immediately. However, if you do need to store leftovers you can freeze leftover pork tenderloin for up to three months.
What is the best temperature for pork?
For pork, the USDA recommends 145°F degrees. However, if you prefer your meat well done, then it is safe to cook until 160°F.
What is the difference between pork tenderloin and pork loin?
Pork tenderloin and pork loin are two different cuts of the animal. Pork loin is from the pig's back. It's a large muscle that is often packaged like a roast. The Pork tenderloin is from the pig's spine. This is a muscle that isn't used for movement so it is tender. This is often packaged in two 1-1 1/2 pound cuts per package.
MORE RECIPES WITH PORK YOU'LL LOVE
Don't forget to come back and let me know how this Air Fryer Pork Tenderloin recipe turned out for you.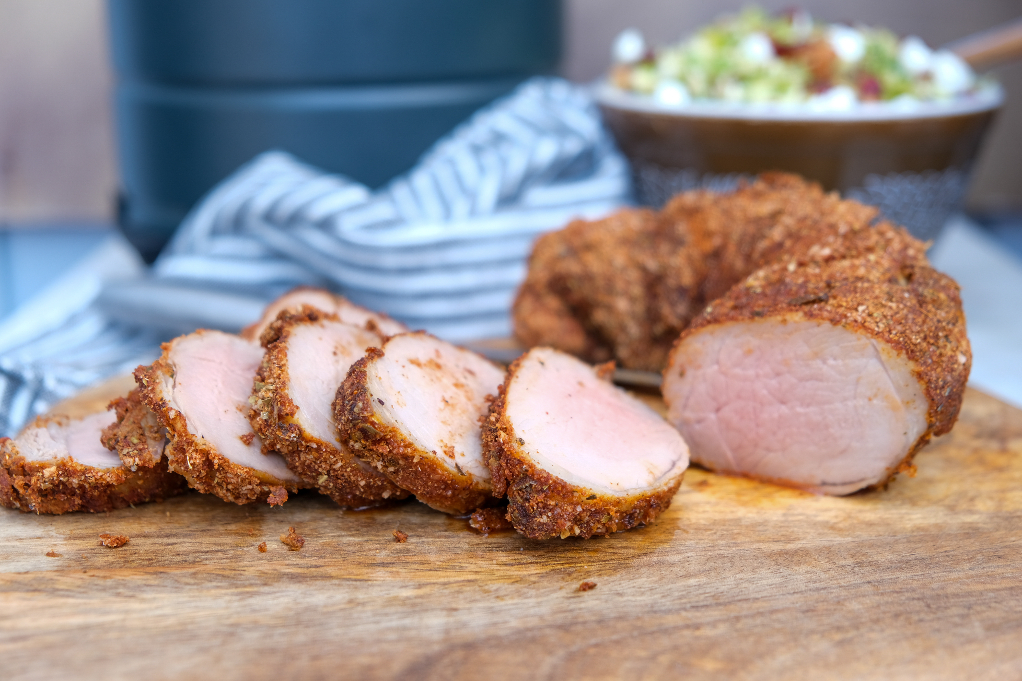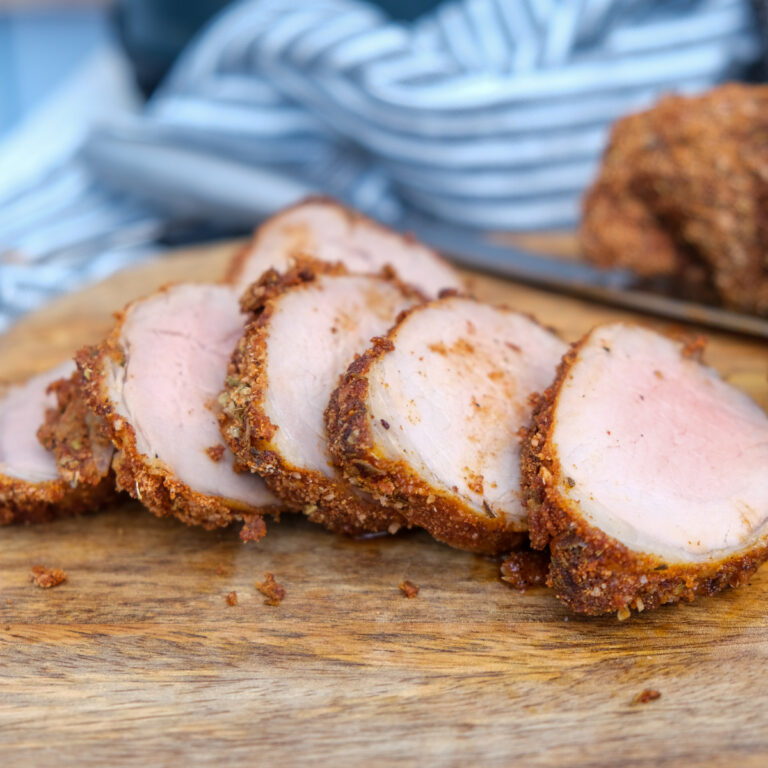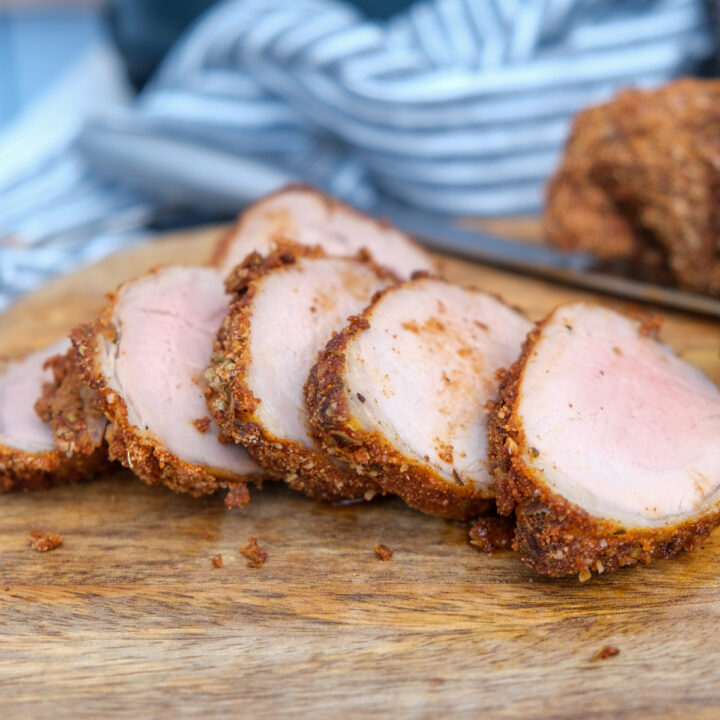 Air Fryer Pork Tenderloin Recipe
Additional Time:
3 minutes
Tender and juicy pork tenderloin cooked in an air fryer. The crisp coating protects the meat adding delicious flavor to each bite.
Ingredients
1 - 1 1/2 Pork Tenderloin
Pork Rub
1 Tablespoon smoked paprika
2 teaspoons kosher salt
3/4 teaspoons black pepper
1 1/2 teaspoons garlic powder
1 1/2 teaspoons onion powder
1 teaspoon oregano
3/4 teaspoons mustard powder
1/2 teaspoon cumin
1/2 teaspoon sage
Instructions
In a large mixing bowl whisk together the paprika, salt & pepper, garlic powder, onion, powder, oregano, mustard powder, cumin and sage. Set aside.
Place Pork tenderloin on a cutting board and with a sharp knife remove the silverskin from the pork. Discard the silverskin.
With a dry paper towel pat all the surface of the pork removing as much moisture as possible. Throw away the damp paper towels.
You will use 2 tablespoons of pork rub per each pound of pork tenderloin. Pictured is a 1 pound tenderloin.
Remove 2 tablespoons of the pork rub from the mixing bowl.
Place pork in the mixing bowl with the remaining pork rub and coat the tenderloin with the rub. Gently pat the rub on the pork.
Shake off any excess pork rub and place in the air fryer basket.
Turn the air fryer to 375°F degrees and set the timer to 17 minutes or according to the manufactures recommendation. Turn the pork half way though the cooking time. Cook until the internal meat thermometer reaches 140°F degrees.
Let the pork tenderloin rest for 3 minutes before cutting into it. The meat will continue to cook and according to the National Pork Board, pork tenderloin should reach 145°F degrees.
Notes
Pork tenderloin is often sold in packs of two. Each tenderloin will be 1 -1 1/2 pounds each. This recipe will provide enough pork rub for up to 3 pounds.
Most air fryer baskets are made with non-stick coatings, so it isn't necessary to grease the basket with cooking spray or any other oil.
Follow the air fryer's manufacture guideline for cooking times. I followed the Instant Pot Air Fryer cooking table.
Just a great pork rub is from RecipeTin Eats.
Nutrition Information:
Yield:

4
Serving Size:

1
Amount Per Serving:
Calories:

64
Total Fat:

2g
Saturated Fat:

1g
Trans Fat:

0g
Unsaturated Fat:

1g
Cholesterol:

23mg
Sodium:

651mg
Carbohydrates:

3g
Fiber:

1g
Sugar:

0g
Protein:

9g
Please note that the nutritional information provided are guidelines and may vary based on the brand of products used. For your specific nutritional goals use My Fitness Pal or Verywell Fit recipe calculators. All content within this site is not intended as medical diagnosis or treatment and should not be considered a substitute for professional medical expertise.
PIN TO YOUR RECIPE BOARDS