This cocoa spiced pork tenderloin is made with a simple dry rub seasoning; cinnamon, cocoa, powder and chili powder, coriander and allspice. Top with a fruity pineapple salsa for a delicious contrast in flavors!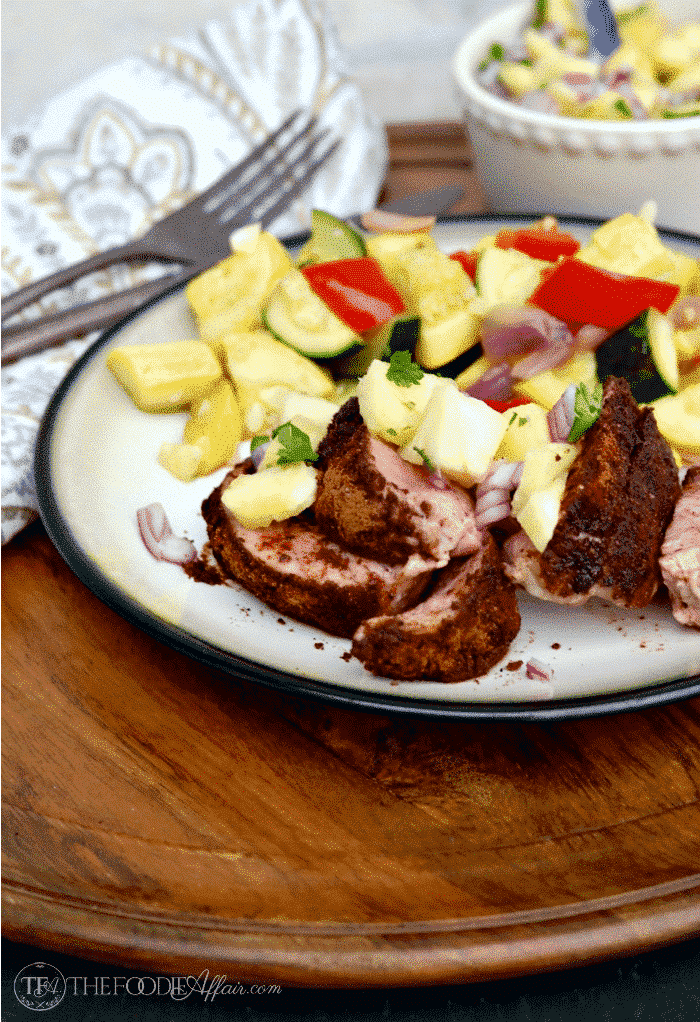 This delicious thirty minute meal is quick to make during the week and also a great cut of meat to serve guests. The cocoa (unsweetened) with a hint of chili pepper offers warm flavors, and then when you add some sweet pineapple your taste buds are going wild!
I got this recipe from the wellness site though work. Every so often emails will pop into my inbox that reminds me that I can take a fitness challenge or try a new healthy recipe.
The website offers good information and the bonus part is that it's free, but when they hold classes they're usually held wherever they can find space that will accommodate Zumba enthusiasts. Who wants to workout in the middle of a lobby while folks are leaving the office for the day? Nawh. Not for me.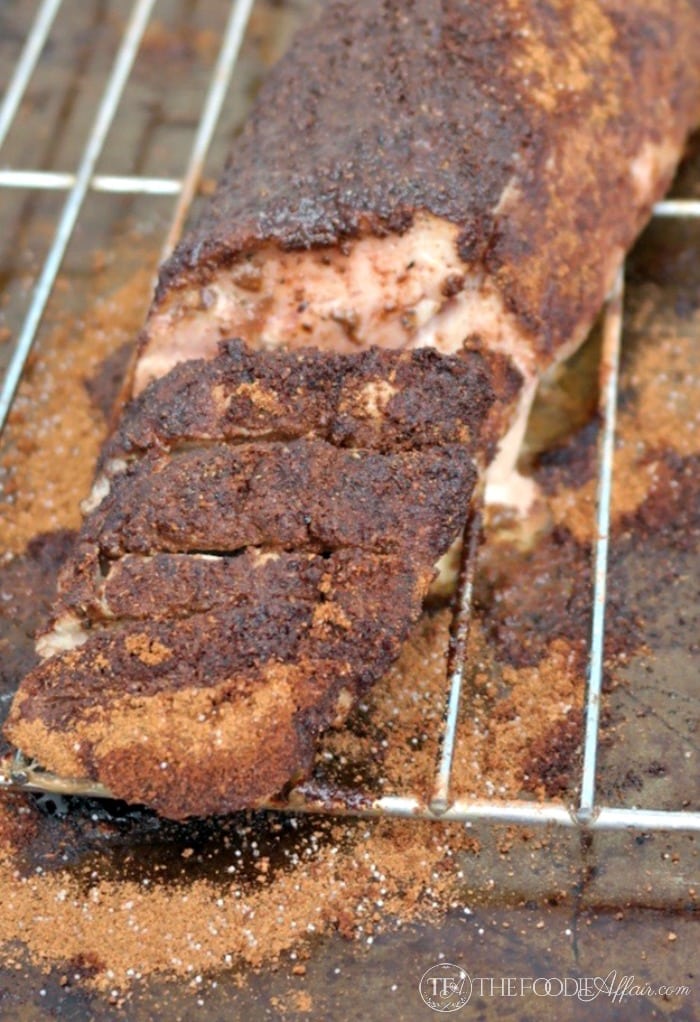 I do my own thing and hit a gym that's on my way home from the office. The only thing I have to battle is the clique of gym long timer (rats?) who save weights and equipment for their buddies. Pshhh. Whatever.
Truth be told, my feelings are kind of butt hurt that I haven't been folded into their equipment saving club. They have no idea that I have granola and delicious apple spice smoothies to share. Everyone should have a good source for snack makers in their pack don't ya think?
They have no idea that I would totally invite them over for a tasty dinner for meals like this cocoa spiced pork tenderloin. Ok. Maybe not, but why limit your circle when the possibilities for new experiences and faces are sweating right in front of you?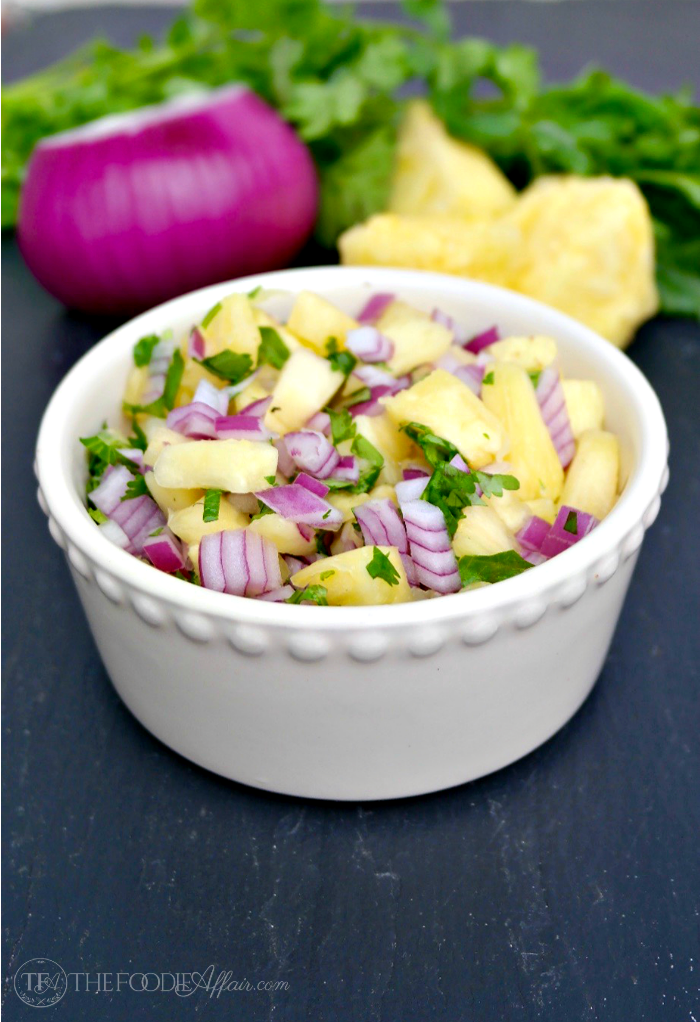 It's such a good feeling to know that my BFF, Alan will be at home waiting for me after I get my workouts in for the day, and is ready to hear out my woes and offer support. "Those old fogies don't deserve to get to know you!"
Yeah, I agree! Then we go on making old folk jokes…it's ok since they ARE older than us! Lol
When Alan tasted this pork dish his reaction was super cute. "OMG, babe, this is AH-MAZ-ZING!" I knew he wasn't just being nice after my sad story. He really likes to add a little heat to his foods, and I like to cool it down, so this is the perfect meal that makes both of us happy.
Give this a try won't you?! You can also use this rub on beef tenderloin with the same tasty results!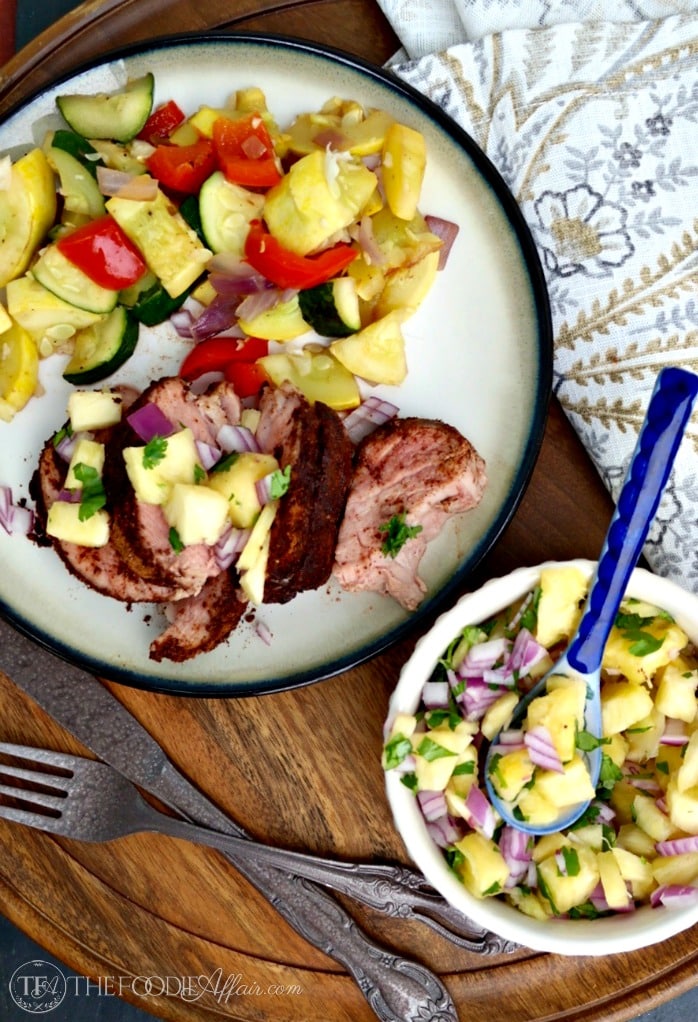 Yield: 4-6
Cocoa Spiced Pork Tenderloin with Pineapple Salsa
Prep Time 15 minutes

Cook Time 25 minutes

Total Time 40 minutes
Ingredients
1 pound port tenderloin
Olive oil for coating meat
Pineapple Salsa
1/2 cup diced pineapple
1/4 cup red onion, minced
2-3 tablespoons fresh cilantro, chopped
1 tablespoon lemon juice
Cocoa-Spiced Rub
1 teaspoon ground black pepper
1 teaspoon ground coriander
1 tablespoon cinnamon
1/4 teaspoon allspice
1 tablespoon cocoa powder (unsweetened)
1 teaspoon chili powder
1/4 teaspoon salt
Instructions
Preheat oven to 350 degrees.
For the salsa, in a small mixing bowl combine the pineapple, onion cilantro and lemon juice. Set aside.
In a small bowl whisk together all rub ingredients. Lightly brush on olive oil over the whole tenderloin. Cover prepared seasoning rub over the tenderloin.
Place mean on a baking sheet and cook for about 15-20 minutes or until the internal temperature reaches 145 degrees. Let the meat rest for 5 minutes before cutting it in slices.
Serve with pineapple salsa