Making hard boiled eggs in an air fryer is incredibly simple and easy. In just a few minutes, you can have perfectly cooked eggs that are firm on the outside and soft on the inside. If you're looking for a quick and easy breakfast or snack, then you should definitely try making hard boiled eggs in an air fryer!
No air fryer? Be sure to check out how to make perfect hard boiled eggs on the stove and in an Instant Pot or Egg Cooker.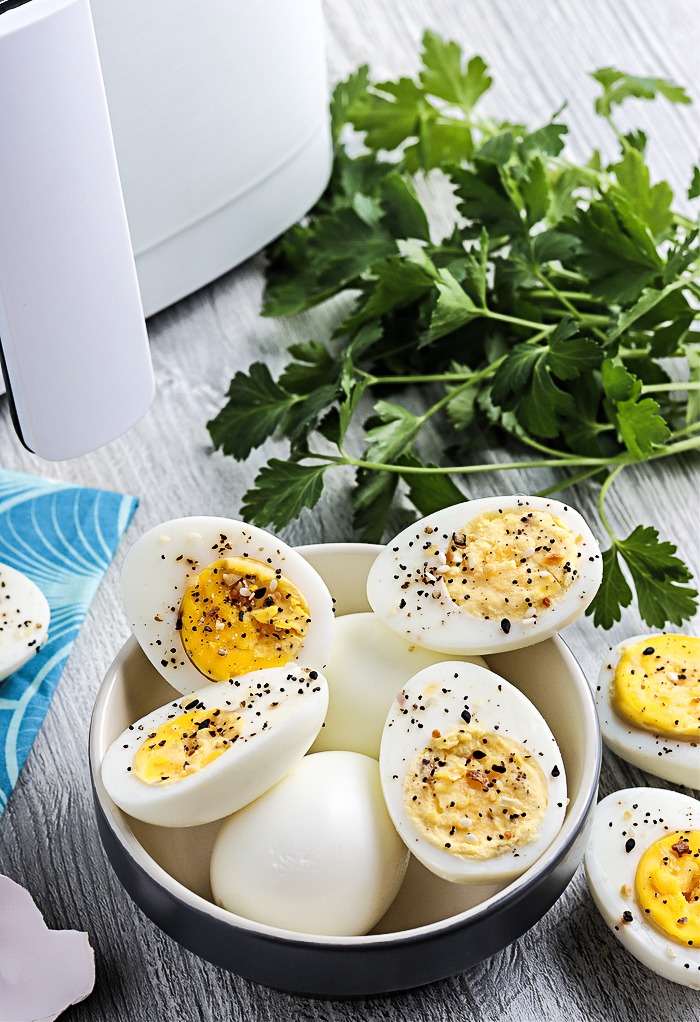 WHY YOU'LL LOVE THIS RECIPE
You know what they say, breakfast is the most important meal of the day. But who has time to cook a big breakfast every morning? If you're looking for a quick, healthy breakfast option that will help you start your day off right, look no further than air fryer hard boiled eggs!
Cooked in just minutes, these hard boiled eggs are perfect for a quick breakfast or snack.
Perfect for meal prep, these air fryer hard boiled eggs can be made ahead of time and stored in the fridge for a quick and easy breakfast or snack all week long!
They are also packed with protein and nutrients, making them a great option for those looking for a nutritious meal.
Great for your weekly meal prep, plus they are low carb to help you stay on track with your diet.
EQUIPMENT NEEDED
Cooking hard boiled eggs in an air fryer is a quick and easy way to make a healthy breakfast or snack. Here's what you need to get started:
Air fryer
Tongs or a slotted spoon
Large bowl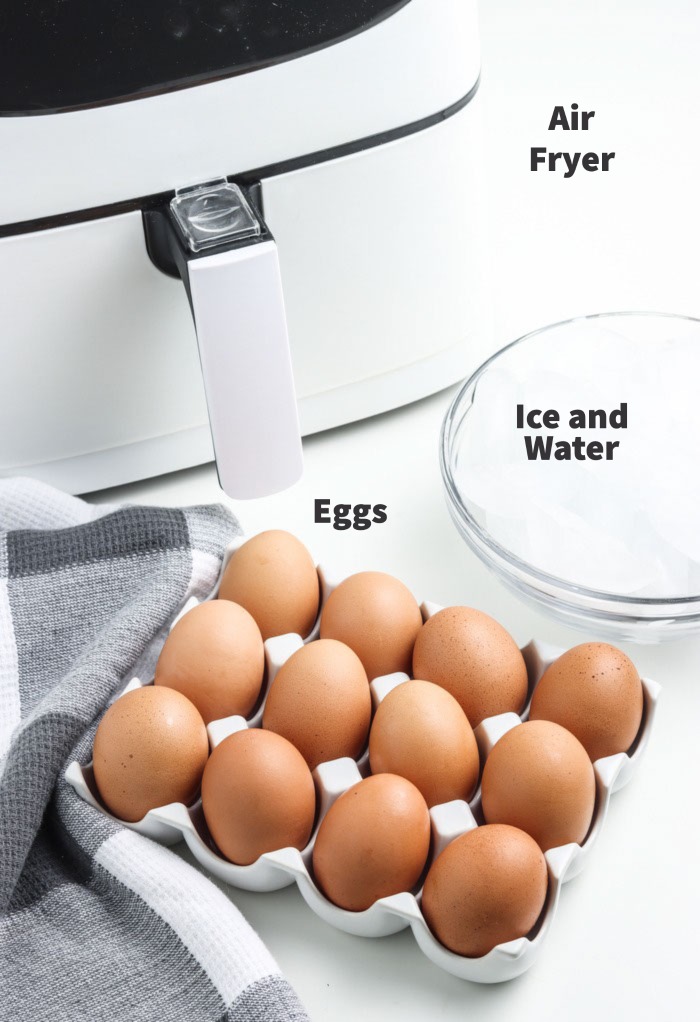 INGREDIENTS
All you need to make this recipe is eggs, water and ice to make this delicious and easy hard boiled eggs recipe. If you are looking for an easy breakfast on the go, then this is the recipe for you.
Eggs, depending on size of air fryer
Water
Ice cubes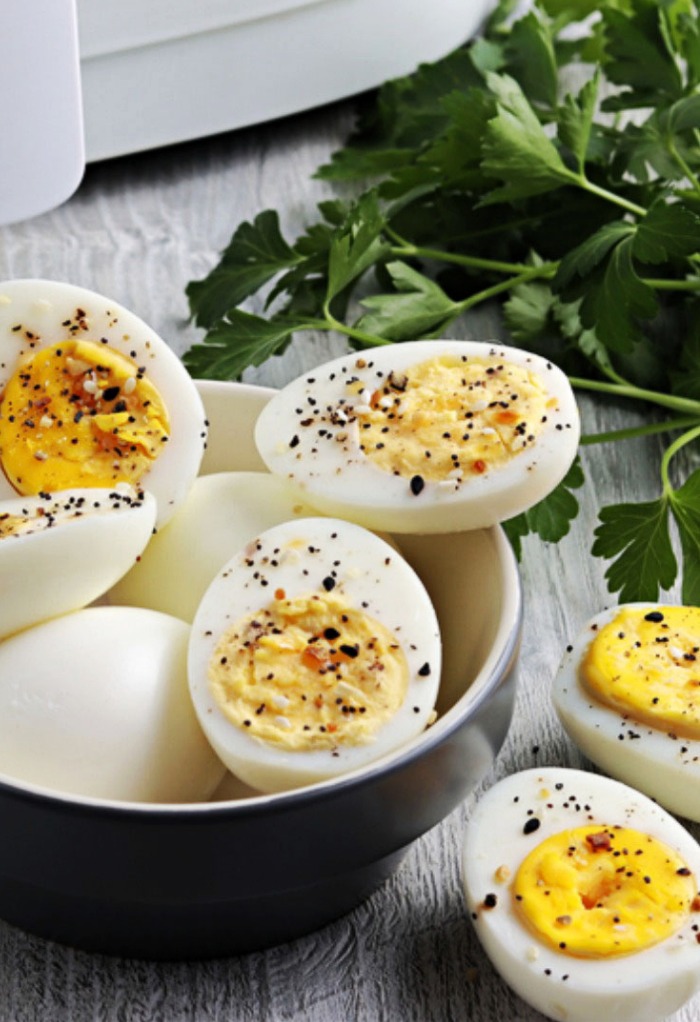 HOW TO MAKE AIR FRYER HARD BOILED EGGS
Making air fryer eggs is easy and it results in perfectly cooked eggs every time! Simply follow the easy steps below and you'll have easy peel eggs in no time at all. First, inspect the eggs. If you find crack the don't cook then in an air fryer.
STEP 1: PREHEAT THE AIR FRYER TO 250°F DEGREES
Preheat the air fryer at 250°F degrees for 5 minutes. Preheating gets the air circulating, which is key to perfectly cooked eggs.
STEP 2: ADD THE EGGS TO THE AIR FRYER BASKET AND COOK
Add eggs to the fryer basket and cook according to times listed in the notes below.
STEP 3: MAKE A BOWL OF COLD WATER
While eggs are cooking add ice and water to a large bowl to make an ice bath.
STEP 4: ADD THE EGGS TO THE ICE WATER BATH
When eggs are done remove them from the fryer basket directly into the bowl of ice water and let them cool for 10 minutes.
STEP 5: PEEL AND STORE THE EGGS
Peel the eggs under cool water and serve or store in a sealed container for up to 1 week in the refrigerator.
COOK TIME FOR AIR FRYER HARD BOIL EGGS
Want to make sure that your egg yolks turn out perfectly? Follow the cook times below and you will have perfect eggs in the air fryer every time.
Soft-boiled set timer for 13 minutes
Medium-boiled set timer for 15 minutes
Hard-boiled set timer for 17 minutes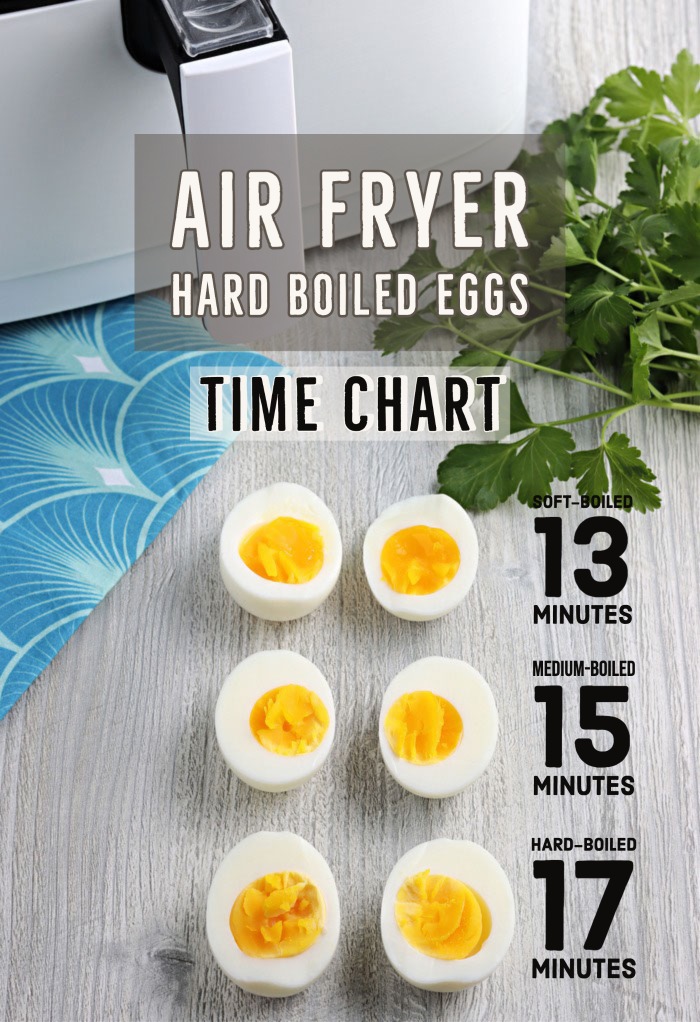 WAYS TO USE HARD BOILED EGGS
Once you have cooked your hard boiled eggs in the air fryer, there are so many ways to eat them. Here are a few of our favorites. This easy air fryer recipe is a great way to skip the hassle of boiling water on the stove top.
Egg salad or egg salad sandwiches
On top of your favorite salad
As a snack with some fruit or veggies
Potato Salad
Top with bagel seasoning and eat as a snack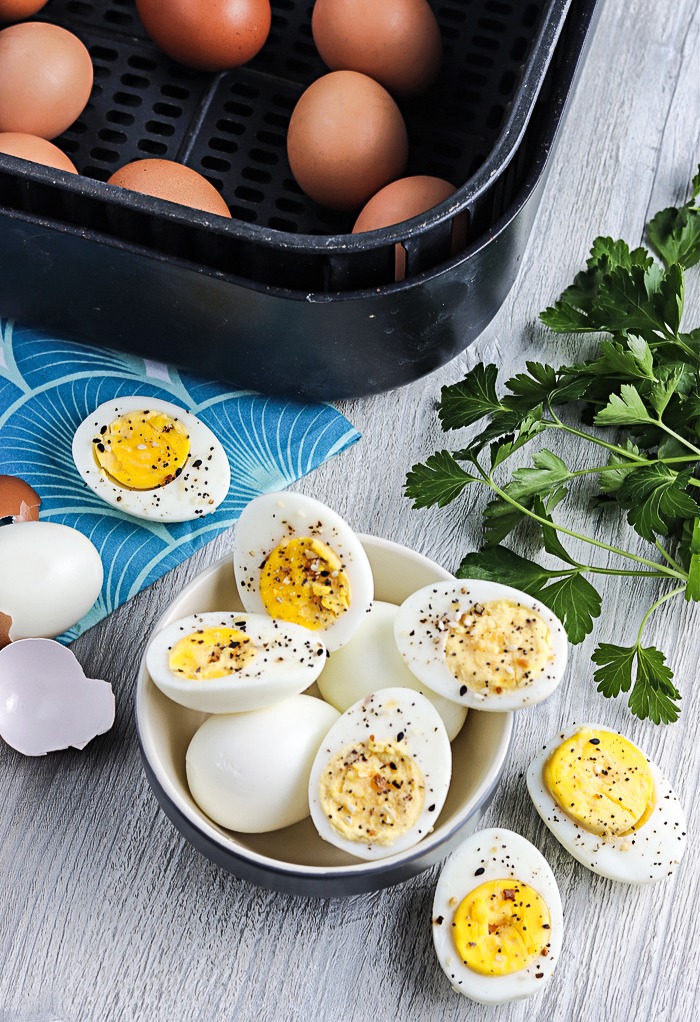 HOW TO STORE
Hard boiled eggs can be stored in the fridge for up to one week. I recommend storing them in an airtight container so they don't absorb any other flavors from your fridge.
FAQS
Is it safe to boil eggs in an air fryer?
Yes, boiling eggs in the air fryer is perfectly safe. In fact, it can be a great way to cook eggs if you're short on time or don't want to dirty up a pot. The air fryer uses hot air which helps these eggs cook perfectly every time.
Can I use any type of egg for this recipe?
Yes, you can use any type of egg for this recipe. No matter if they are fresh eggs or older eggs, you can even use this recipe for extra large eggs.
What is the best way to peel hard boiled eggs?
The best way to peel hard boiled eggs is to let them cool in an ice bath for at least ten minutes. This will help to loosen the eggshell from the egg white and make peeling them a breeze. You can also peel under running cool water.
Why do my air fryer eggs have brown spots?
If your air fryer eggs have brown spots, it is because they were overcooked. Be sure to cook them for the times listed in the recipe so they turn out perfectly every time.
OTHER DELICIOUS AIR FRYER RECIPES YOU MAY ENJOY
What's your favorite method when making boiled eggs? Let me know if your try the air fryer method and if it turned out well for you! Also, did you know you can pop popcorn in an air fryer?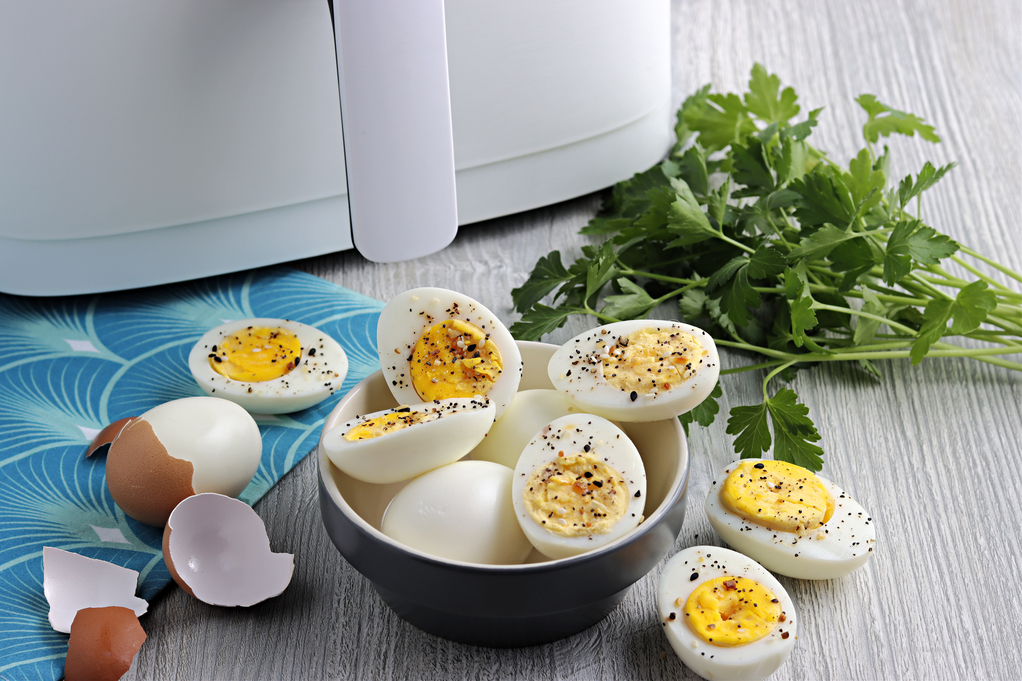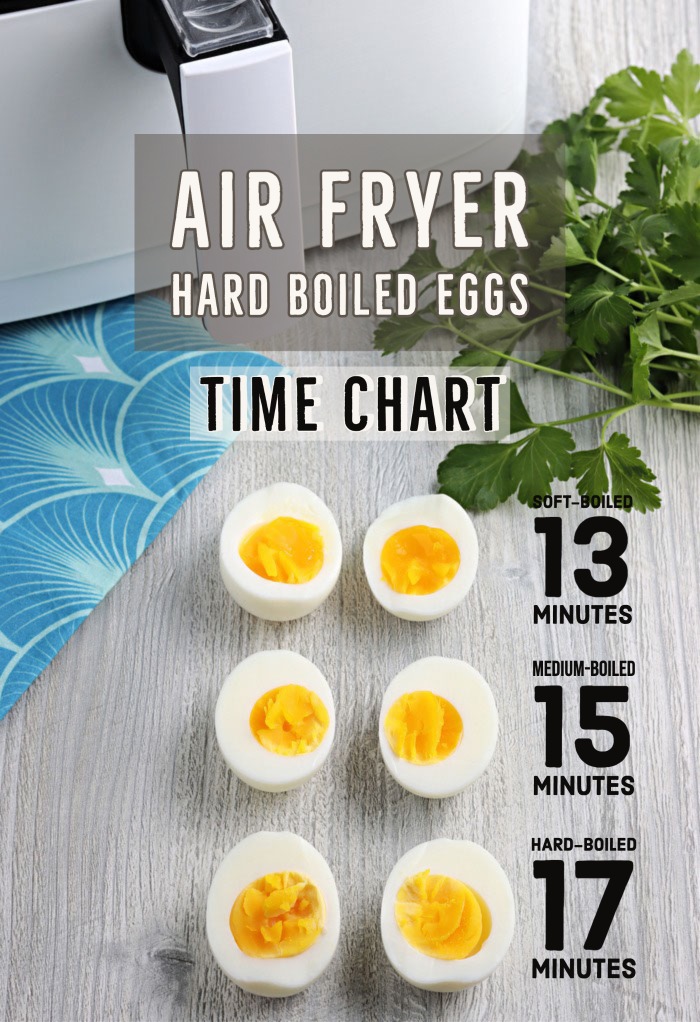 Easy Air Fryer Hard Boiled Eggs Recipe
Additional Time:
10 minutes
Air fryer hard boiled eggs. This is an easy no fuss way to cook hard boiled egg. Cook according to the time chart from soft boiled to hard boiled depending on how you like your eggs.
Instructions
Preheat the air fryer to 250°F degrees for 5 minutes.
Add eggs to the basket of the air fryer.
Set time according to your cooking preference, for soft-boiled 13 minutes, medium-boiled 15 minutes, hard-boiled 17 minutes.
While air fryer is cooking the eggs fill a large bowl with ice and water.
When the timer goes off gently place the cooked eggs in the prepared ice water. Let sit for 10 minutes.
Crack and peel or place in the refrigerator and crack and peel under cool running water when desired.
Notes
Amount of eggs is determined on the basket side of the air fryer.
If you don't reheat the air fryer, you may need to add additional time to cook the eggs.
Nutrition Information:
Yield:

12
Serving Size:

1
Amount Per Serving:
Calories:

72
Total Fat:

5g
Saturated Fat:

2g
Trans Fat:

0g
Unsaturated Fat:

3g
Cholesterol:

186mg
Sodium:

71mg
Carbohydrates:

0g
Fiber:

0g
Sugar:

0g
Protein:

6g
Please note that the nutritional information provided are guidelines and may vary based on the brand of products used. For your specific nutritional goals use My Fitness Pal or Verywell Fit recipe calculators. All content within this site is not intended as medical diagnosis or treatment and should not be considered a substitute for professional medical expertise.