Pork chops mushroom cream sauce cooks in under 30 minutes!  This meal is made with caramelized onions, baby bella mushrooms and finished with a dash of heavy cream.  Serve with Mock Mashed Potatoes and you have one tasty low carb dish!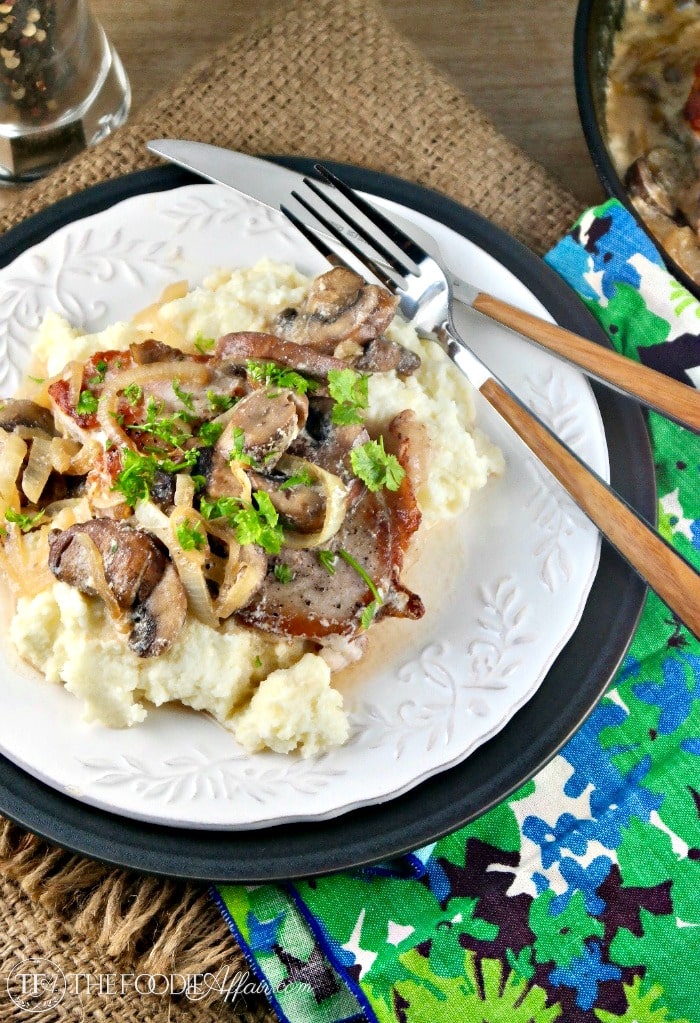 Don't you love a tasty hearty meal that looks like you were in the kitchen for hours, but actually the dish comes together in under 30 minutes?  Lately that has been my cooking criteria, food that is scrumptious, filling, and simple to make!
As the summer ends and schedules change, I bet that's what you'll be gravitating towards too!
This Skillet Chicken Enchiladas recipe has been a family favorite dish for years.  I like it because it's filling and tasty as well as versatile!  I like to change the green sauce to red and swap the chicken for beef for a completely different tasting meal.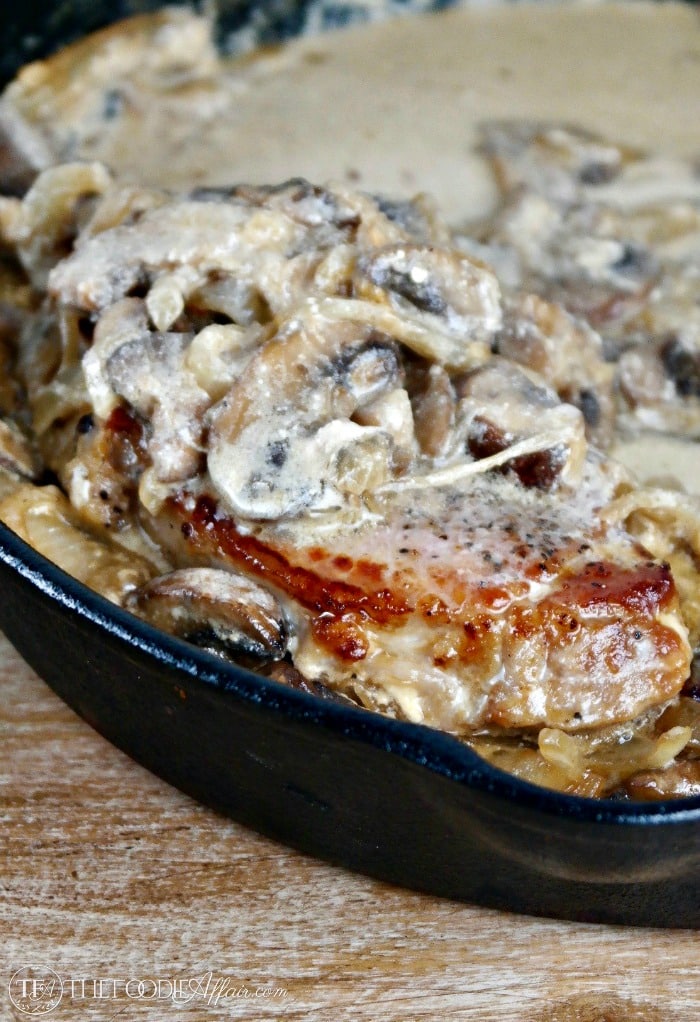 Which is probably why I like this Pork Chops Mushroom Cream Sauce recipe so much too!  I've made this dish three times in the past month, except each time I use a different cut of meat; chicken, beef, and now pork!
Chicken is usually what I use most often.  It cooks quick and it's super lean and filling, but guess what?  "The other white meat" is just as good!
Looking for a vegetable to serve with this meal?  How about trying these Parmesan Roasted Green Beans?!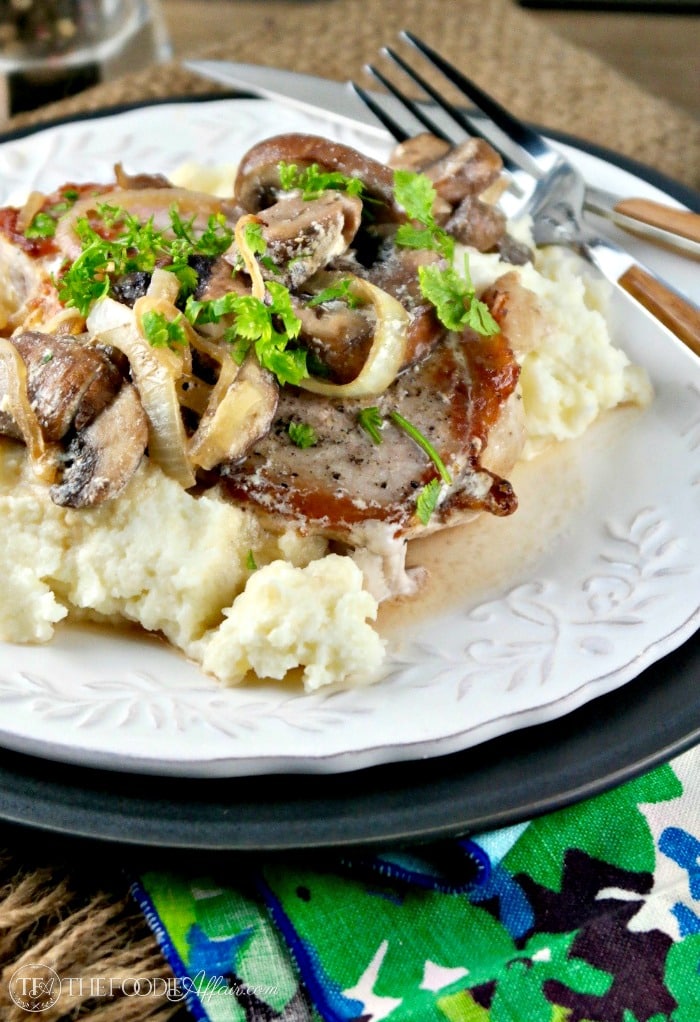 Yield: 4
Pork Chops with Mushroom Cream Sauce Skillet Meal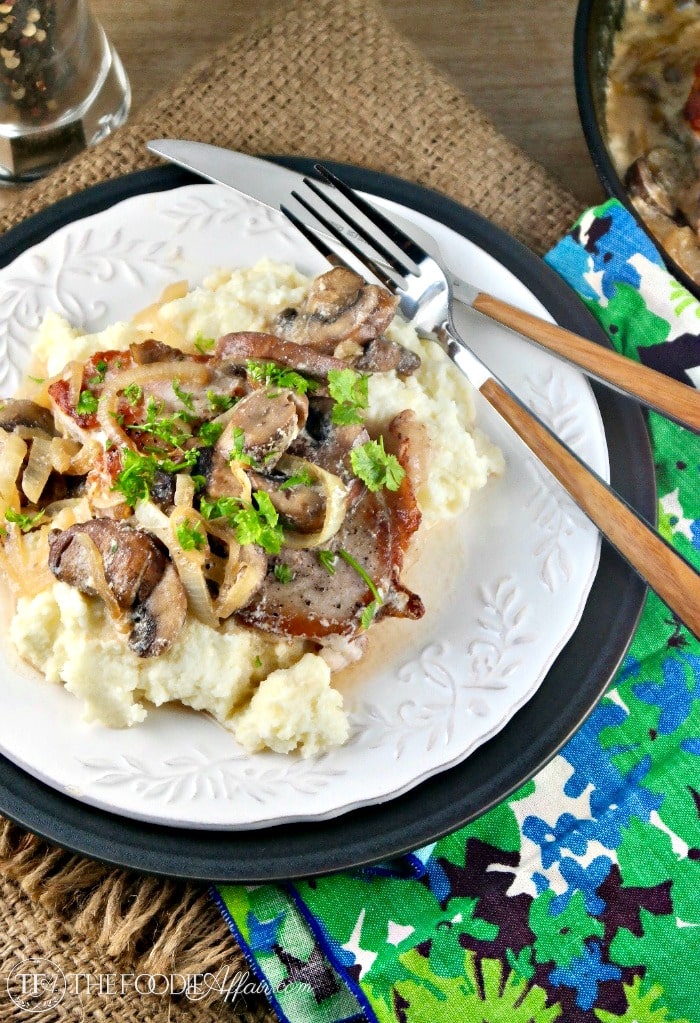 Ingredients
4 ¾ - 1 inch boneless pork chops
1 8 ounce package mushrooms, sliced
2 tablespoon butter
1 large onion, sliced
salt and pepper to taste
3/4 cup heavy cream
2 garlic cloves, crushed
1 teaspoon arrowroot and 1 tablespoon water (optional)
Instructions
Season both sides of the pork with salt and pepper. Add 1 tablespoon of butter to a large skillet and cook pork on each side for 2-3 minutes. Remove meat from skillet and transfer to a plate. Cover with foil.
Add the remaining tablespoon of butter to the skillet. Add sliced onions and season with a pinch of salt. Cook stirring often to make sure the onions do not burn (about 10 minutes). Add mushrooms and garlic. Continue to cook until desired tenderness.
In a small bowl whisk together arrowroot and water (if using). Whisk in cream. Add to skillet and place pork back in the skillet. Reduce heat to low and cook for 15-20 minutes uncovered or until the internal temperature reaches 145 degrees
Notes
Macronutrients from verywell.com recipe analyzer
Nutrition Information:

Amount Per Serving: Calories: 269 Total Fat: 17.1g Carbohydrates: 4.9g Protein: 23.4g