One bowl Sugar Free Peanut Butter Cookies with only 4 ingredients are sure to please peanut butter lovers!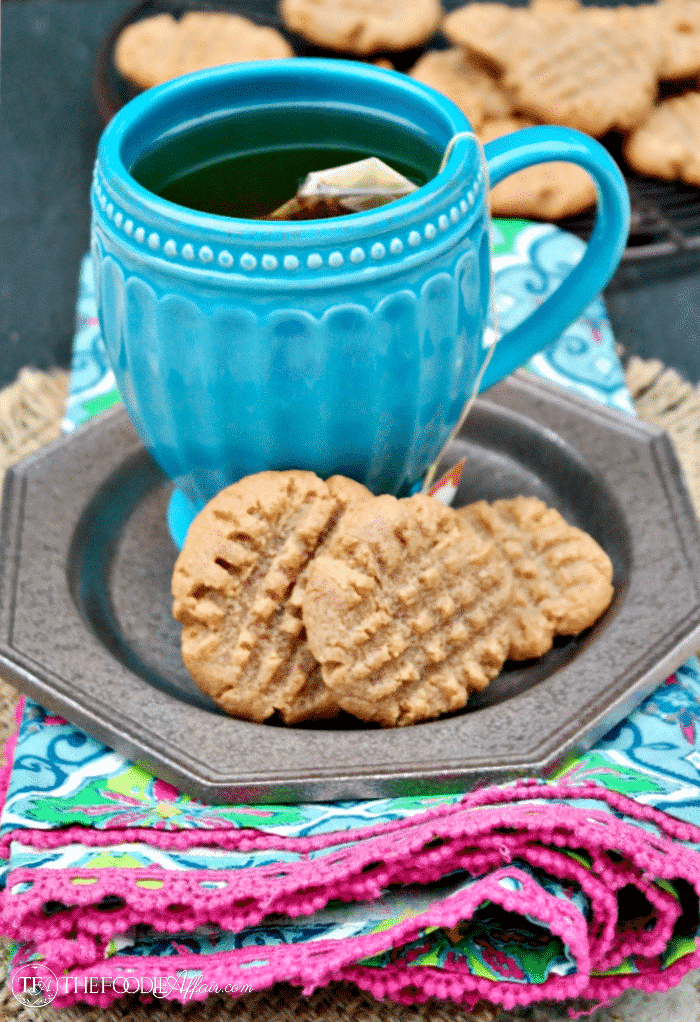 What? Cookies that don't send your glucose levels sky high?  Yep!  These babies are made with a combination of stevia and organic erythritol, which is a non-GMO sugar alcohol from fruits and vegetables.  Erythritol adds sweetness like sugar without causing a spike in blood sugar, plus there is almost zero calories in erythritol.
Erythritol used exclusively leaves a cool sensation in your mouth, which tastes a little off.  It's hard to explain, but something doesn't taste right to me when I use only erythritol in recipes.  Stevia on the other hand can taste bitter.
I found a perfect way to cancel the harsh sugar flavors by using a combination of erythritol and stevia in this sugar free peanut butter cookie recipe.
Have you noticed all the varieties of sugar alternatives that are available in grocery stores?  I've been experimenting with a lot of different brands. My favorite brands combine sugar alcohol and stevia just like I have.
The duo is the best tasting blend of low-carb sweetness!
I have used Swerve, Truvia, and Whole Earth Sweetener, which is in these Carrot Cake Protein Pancakes (YUM) and this Lower Sugar Homemade Pumpkin Spice Coffee Creamer.
I also found a new brand called Sugar 2.0.  Now this brand is a little different.  Sugar 2.0 is a combination of real cane sugar and non-gmo soluble corn fiber.  Fiber helps lower the insulin spike, so for occasional treats this might be another option to use in baking!
You'll love this simple peanut butter cookie recipe just as written, but if you're feeling adventurous test a combination of sweeteners!  I'm happy to be your test taster 🙂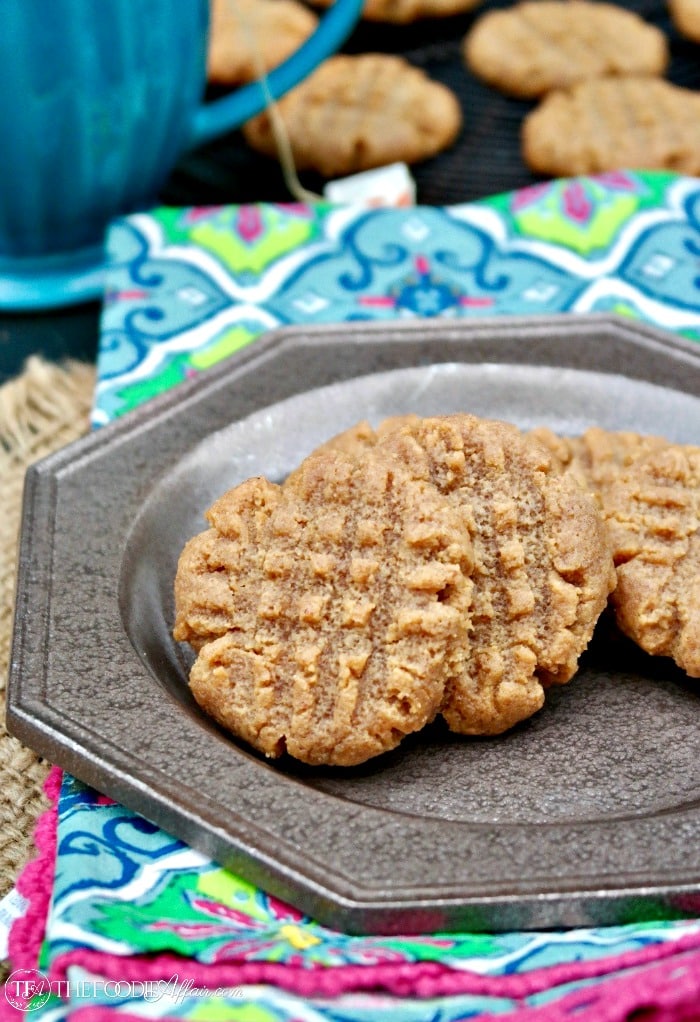 Sugar Free Peanut Butter Cookies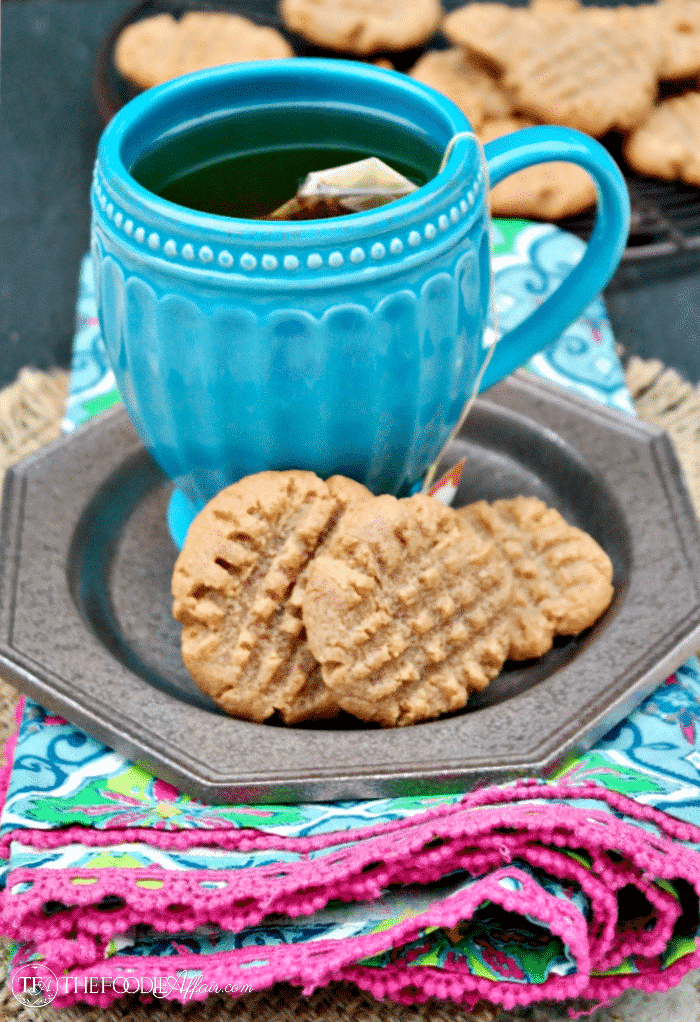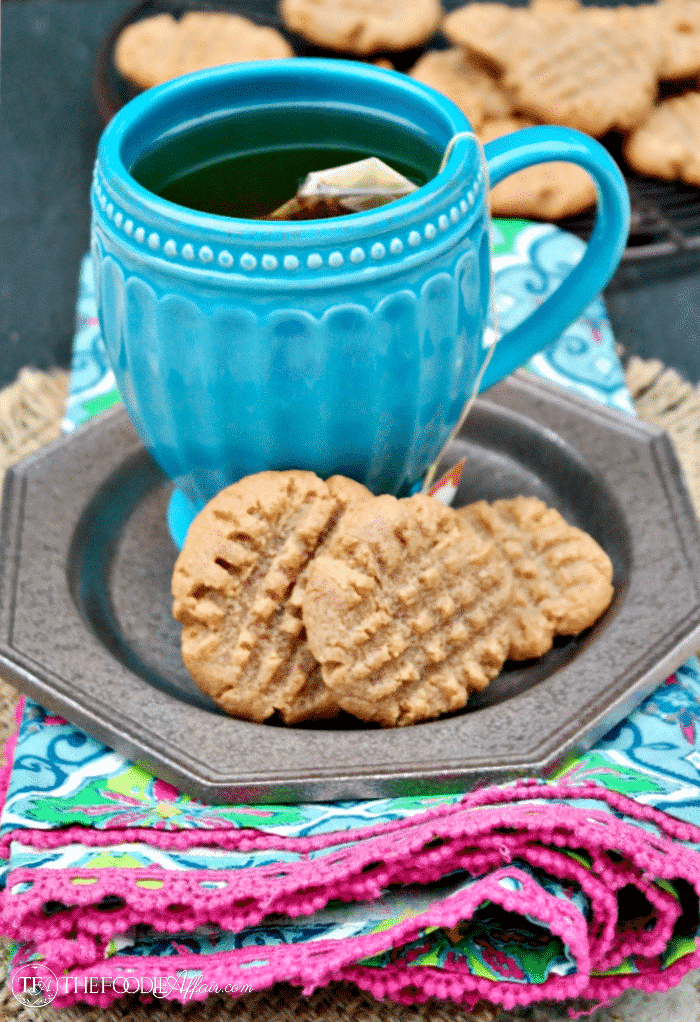 Ingredients
1

cup peanut butter (no sugar added)

1/4

cup sugar alternative (erythritol-organic)

5

drops liquid stevia

1

teaspoon vanilla extract

Pinch kosher salt

1

large egg

2

tablespoons Monk Fruit (optional) to roll cookie dough in
Instructions
Preheat the oven to 350 degrees. Line a baking sheet with parchment paper and set aside.
In a medium bowl beat with a mixer the peanut butter, erythritol, stevia and salt until the ingredients are incorporated. Blend in the egg and vanilla.
Scoop small balls of the dough and roll into monk fruit (optional). Place on prepared cookie sheet and gently press with a fork and form a crisscross pattern. Bake for 8-12 minutes. Cool approximately 5 minutes before transferring to a cooling rack. Store in an airtight container.
Recipe modified from these Flourless Peanut Butter Cookies.