Pecan Pie Bites baked in crispy wonton wrappers have all the flavor of a slice of pecan pie, but without all the calories and fat of a traditional slice of pie!
Pecan Pie Bites
These cute pecan pie tasters are simple to make and have just the right amount of sweet-tooth satisfaction you'll enjoy during the holiday season!
Not only does using wonton wrappers for the crust save you a lot of time in the kitchen, but you'll be skipping out on a few calories as well!
Each wrap is only about 20 calories, and a rough calculation of the remaining ingredients brings these bites to 111 calories each!
Yes you CAN have your cake or pie in this case and eat it too!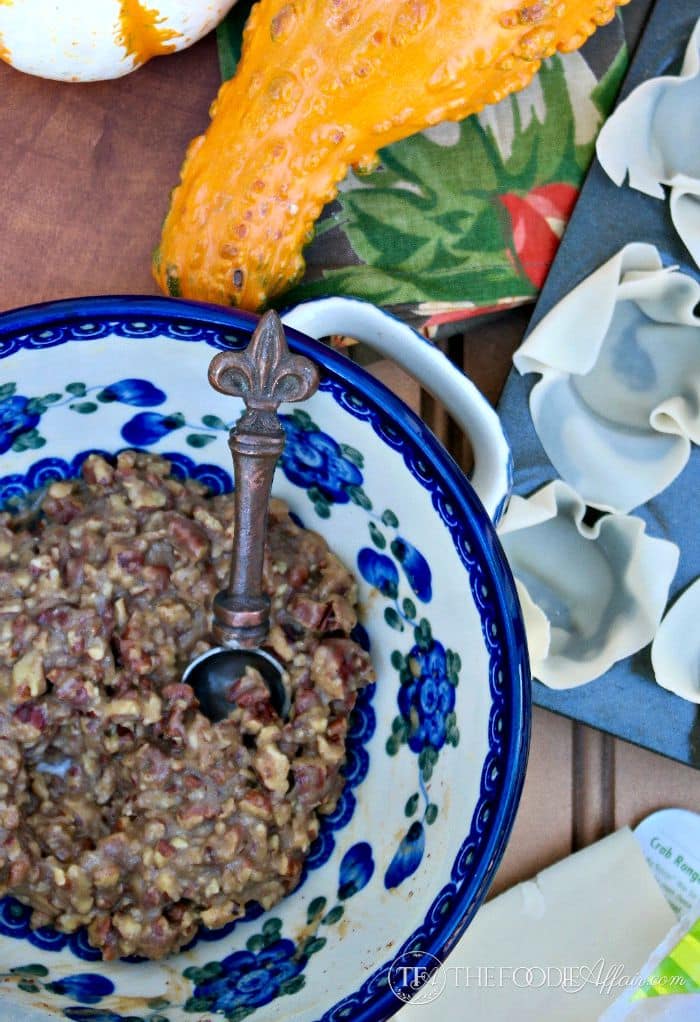 How to make mini pecan pies
Baking an old-fashioned pecan pie can take up to an hour, but these bite size beauties only take about 10 minutes, so when you remember late at night that you volunteered to bring a dessert to a potluck, these little guys will come together without any added stress! 
First, grease a mini muffin pan and gently press in the wonton wrapper forming a pie crust for the filling.
Next, in a medium size bowl mix together the chopped pecans, brown sugar, heavy whipping cream and a splash of vanilla.
Add a tablespoon in the center of each wonton wrapper and bake for about 10 minutes or until the edges of the wrapper start to turn a light golden brown.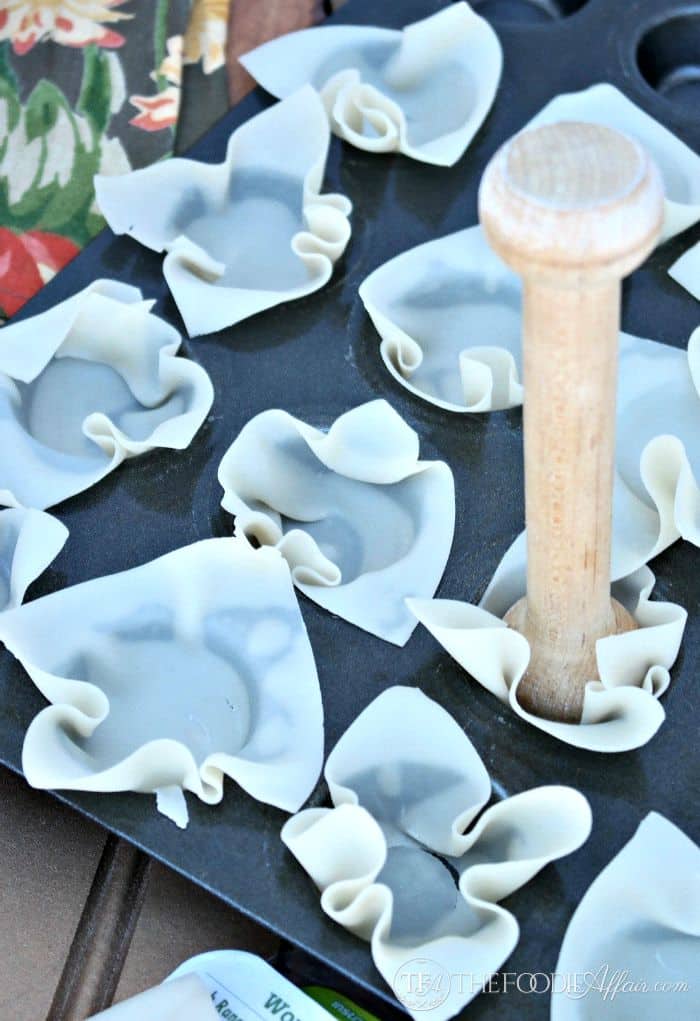 I whipped up a batch to share at a work potluck and they were first to go!  Next time I'll double the recipe!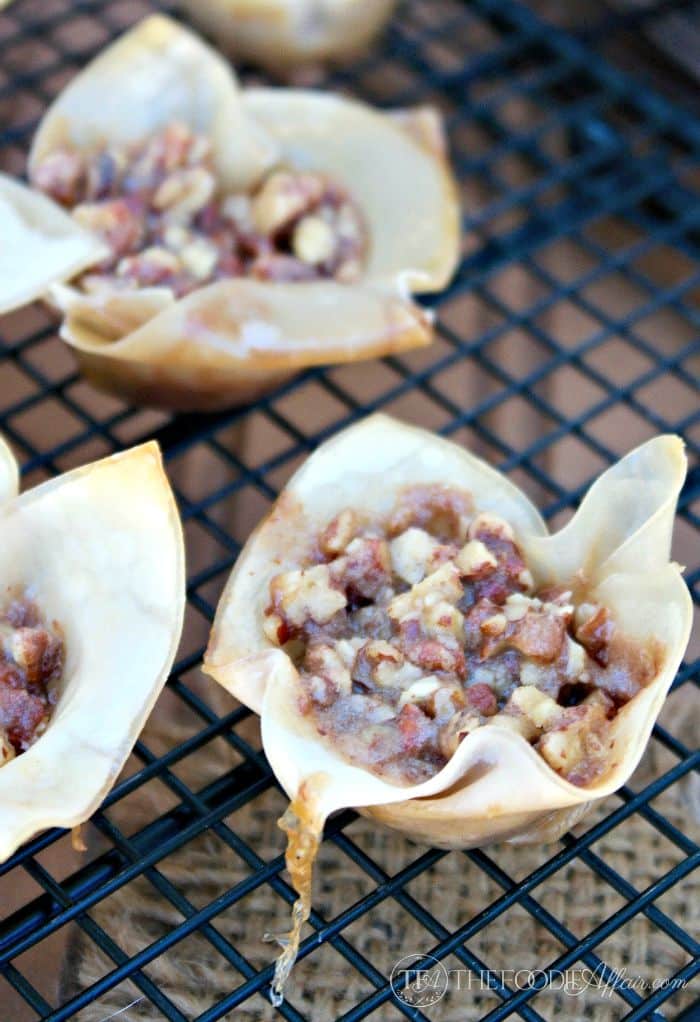 Looking for some more mini pie recipes to add to your dessert table?  Give these a try!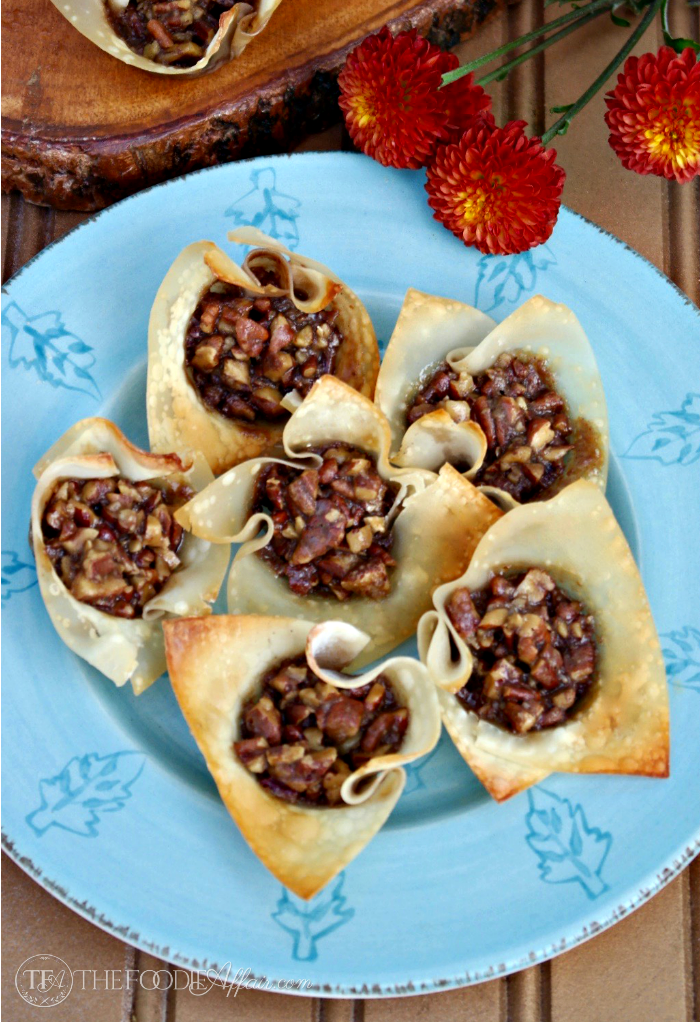 Be sure to keep these pecan pie bites in mind as the holiday schedule gets busier.  Add some fresh whipped cream or even a little spoonful of ice cream for the ultimate treat!
Yield: 15
Wonton Pecan Pie Bites
Ingredients
15 wonton wrappers
1 cup pecans, chopped
1/2 cup brown sugar, firmly packed
1/4 cup heavy whipping cream
1 teaspoon vanilla
Instructions
Preheat oven to 350 degrees
With baking spray lightly coat mini muffin tin pan and gently place each wonton wrapper in the pan.
In a small bowl mix the brown sugar, whipping cream and vanilla together. Fold in the pecans. Fill each wrapper with 1 rounded teaspoon of filling. Bake until lightly browned on the edges. Remove from oven and let sit for 2 minutes. Move to a cooling rack.