Cute portable jelly jars with delicious layers of sweet potatoes and creamy yogurt between the crumbs of ginger snaps! Delightful in the morning for breakfast, and decadent enough for a dessert. You decide.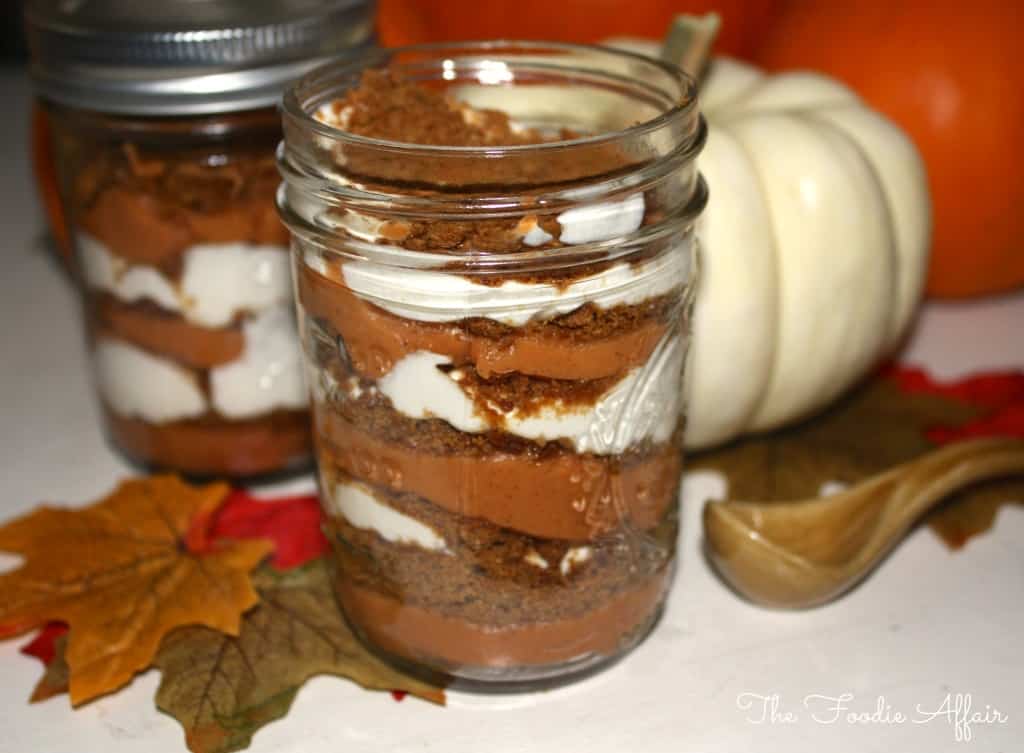 This is one of those recipes that I stumbled on while looking thorough a store published magazine from my local Vitamin Shoppe. I was replenishing my favorite vanilla protein powder for my smoothies, which I whip up at least 3 times during the week, and was also looking for a new chocolate flavor!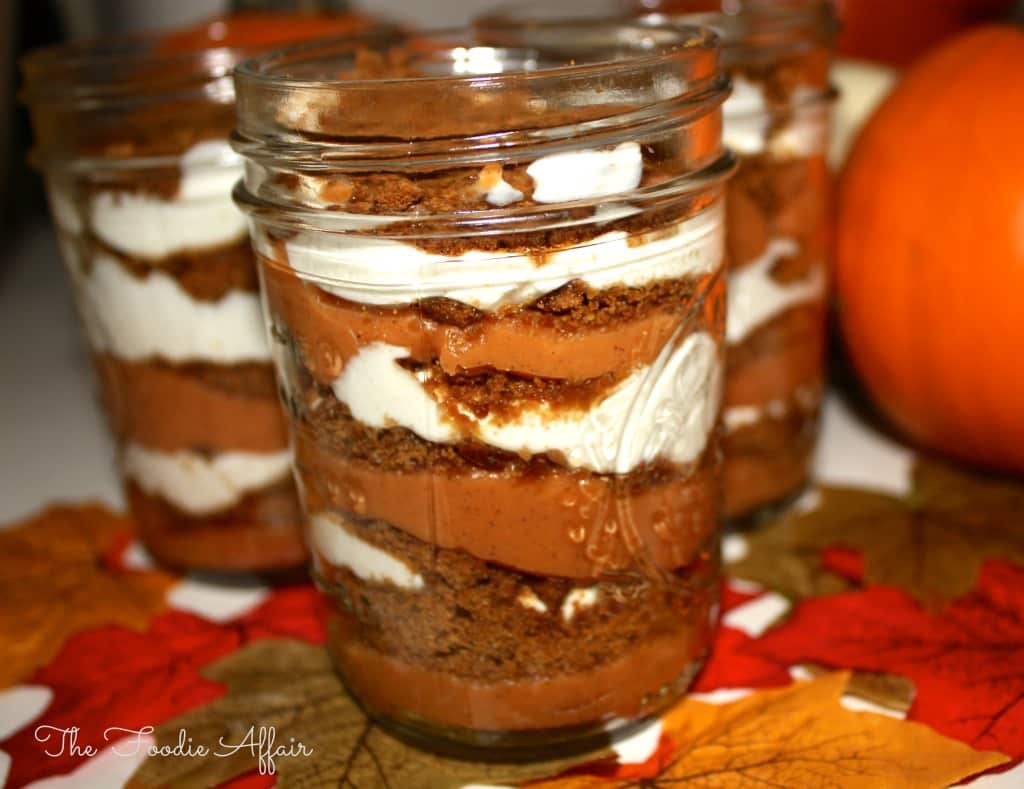 I must have had that HELP ME overwhelmed look, which would have been correct because I was! There are sooo many variations and brands of chocolate protein powders lined up throughout the aisles! The staff at the store was kind enough to tell me about their favorite brands, and after looking at all the ingredients comparing calories, protein, carbohydrates, I finally walked out of the shop with my chocolate fix and 4 different fitness magazines they threw in my bag. Actually, the magazines seemed to be ads for different products. I think they want me to do my homework before I come back 🙂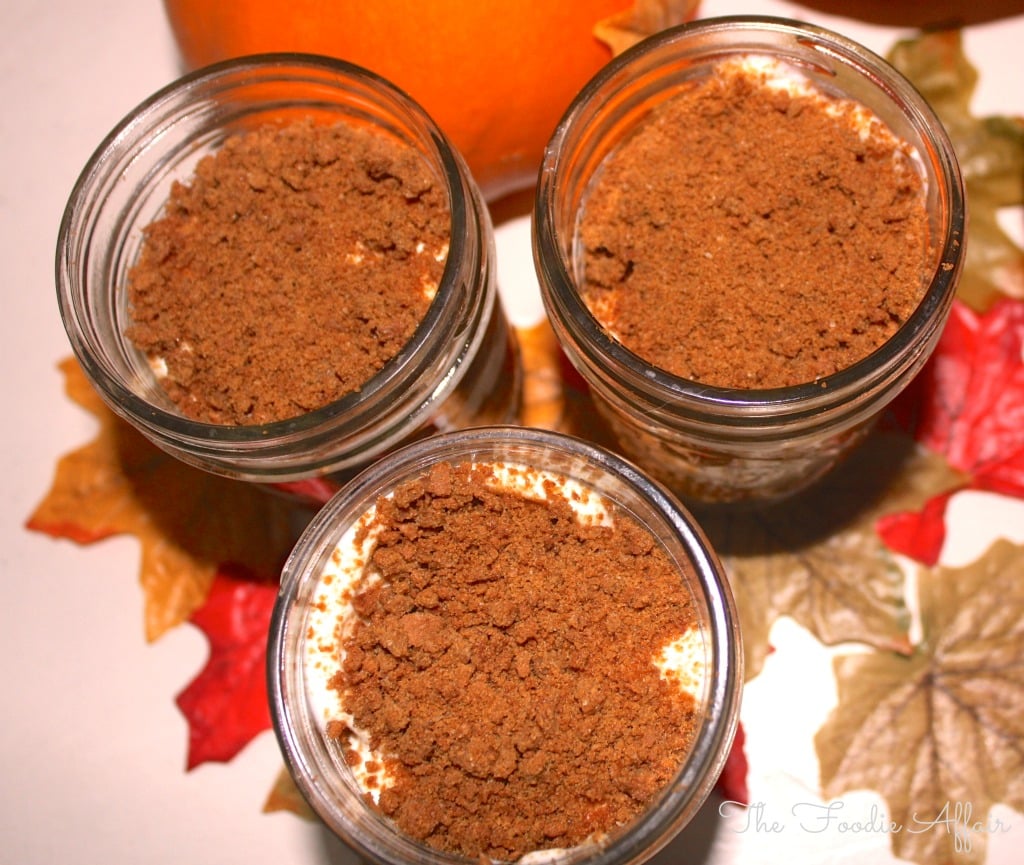 I don't know how this recipe got stuck between all those muscular guys (gals too, but mostly buffed men) selling pre-workout beverages, and cut the fat products, but I was fixated on it…
the RECIPE, silly!
I love sweet potatoes and this variation looked too yummy not to try! Even with the cream cheese, I think it's a fairly healthy parfait. I switched up the ingredients, using stevia for some of the sweetener, and only a fraction of the cream cheese the original recipe suggests. I also added a little orange juice.

Yield: 4
Sweet Potato Ginger Parfaits
Total Time
2 hours
10 minutes
Ingredients
2 large sweet potatoes, (approximately 2 lbs), cooked
2 Tablespoons brown sugar
1/3 cup unsweetened vanilla almond milk
1 Tablespoon blue agave nectar
1/2 teaspoon cinnamon
1/4 teaspoon ginger
3 ounces softened fat-free cream cheese
8 ounce 0% fat Greek yogurt (I used Fage)
4 drops liquid vanilla stevia or 2 Tablespoons honey
1/2 teaspoon vanilla extract
1 tablespoon orange juice
1/2 cup crushed ginger crisp cookies
Instructions
Slice sweet potatoes and scoop the flesh out while it is still warm: place in a blender or food processor, add brown sugar, and puree until the sugar has melted. Add almond milk, agave, cinnamon, ginger, and puree until smooth. Transfer to a bowl and let cool.
Combine cream cheese, yogurt, sweetener, vanilla and orange juice. Beat with a mixer until light and fluffy.
Among four 6-8 ounce glasses, layer the sweet potato, ginger snap crumbs, yogurt mixture, then ginger snap crumbs. Repeat until all ingredients are used (about 3 layers). Top with a sprinkle of the ginger cook crumbs. Cover and chill for at least 2 hours.
Notes
To cook sweet potatoes, clean and pierce potatoes, then roast in the oven at 375 degrees for about 1 hour (or until soft), or microwave for 8-10 minutes.
To crush ginger crisp cookies, place in a Ziplock baggie (1 qt) and crush with a rolling pin or pulse in a food processor.
To layer in parfait jars, put the sweet potato and cream cheese mixtures in two seperate piping bags to distribute in the jars.
My little jelly jar went to work with me, and instead of my usual oatmeal or smoothie morning breakfast routine, I ate half of my Sweet Potato Ginger Parfait, and saved the other half for an afternoon snack!
While eating what tasted like a delicious creamy pie, I imagined I was eating at a quaint restaurant 🙂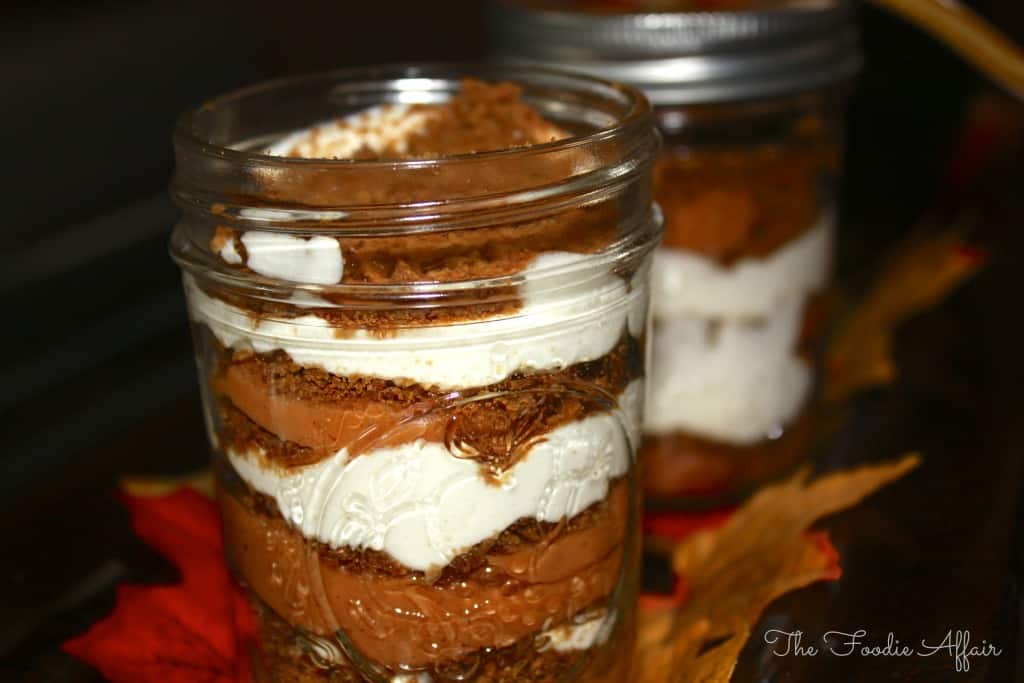 Dang, that was one good parfait. Had I been at a restaurant, I would have left a big tip 🙂