Savory cornmeal muffins for the perfect grab and go meal! Top these Bacon and Egg Breakfast Muffins with maple syrup for a delicious meal!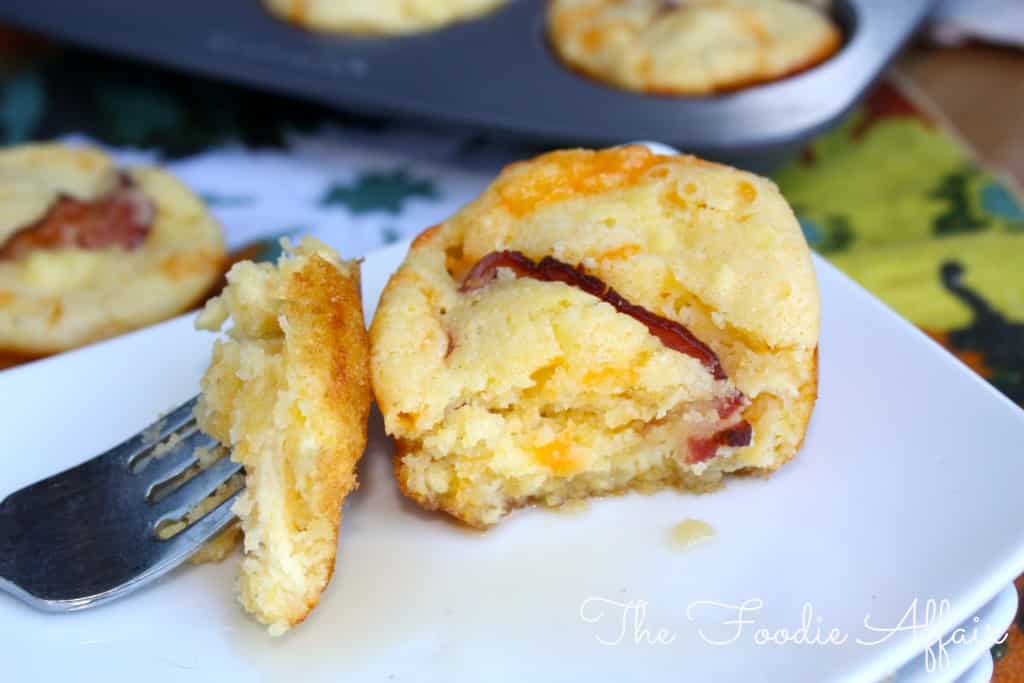 You know how after a big meal  you slip into your food coma, moaning and groaning about how you will never eat again?
Yeah, it happens, especially after holiday meals like Thanksgiving, but in reality one large meal isn't going to sustain you for long.
After you sleep it off, you'll forget about how uncomfortable your waistline felt, and ummm, you'll be hungry again!! Good thing foodies like you and me don't take those moments too seriously!
It's time for round two 🙂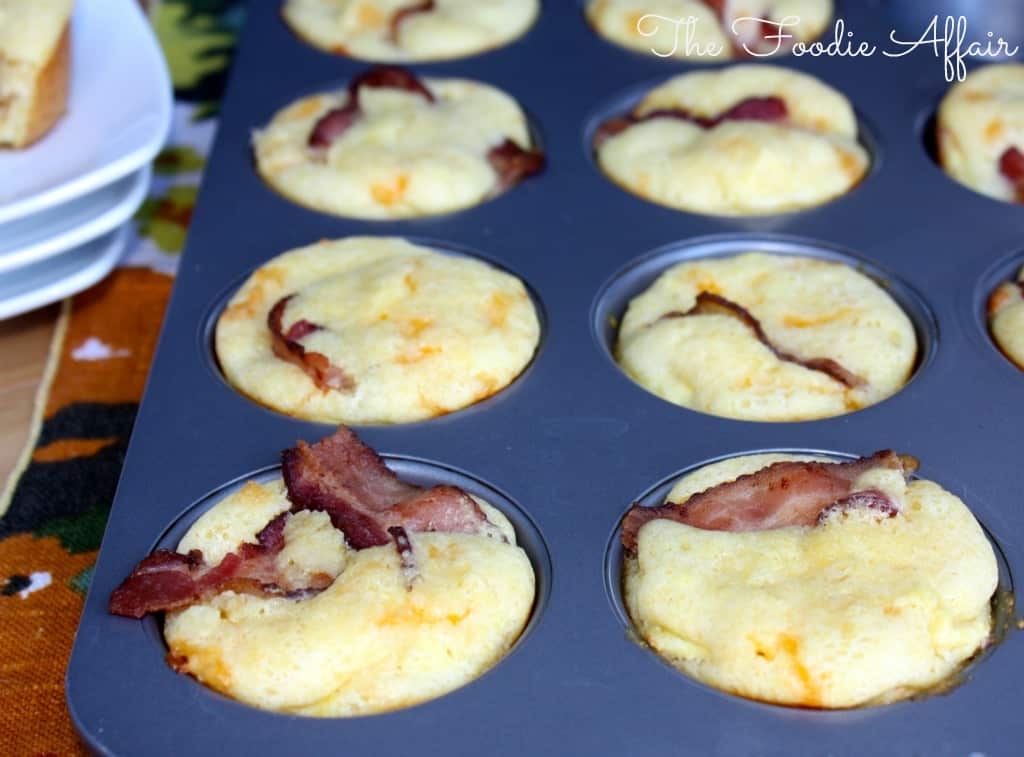 These scrumptious muffins have bacon and scrambled eggs buried through Jiffy corn muffin mix. Make these flavorful little breakfast bundles so they are ready to grab and go at your convenience!
You'll appreciate having a portable meal as the weeks get busier with holiday activities like SHOPPING 🙂
These muffins would also compliment a brunch menu or a special breakfast meal like Christmas morning!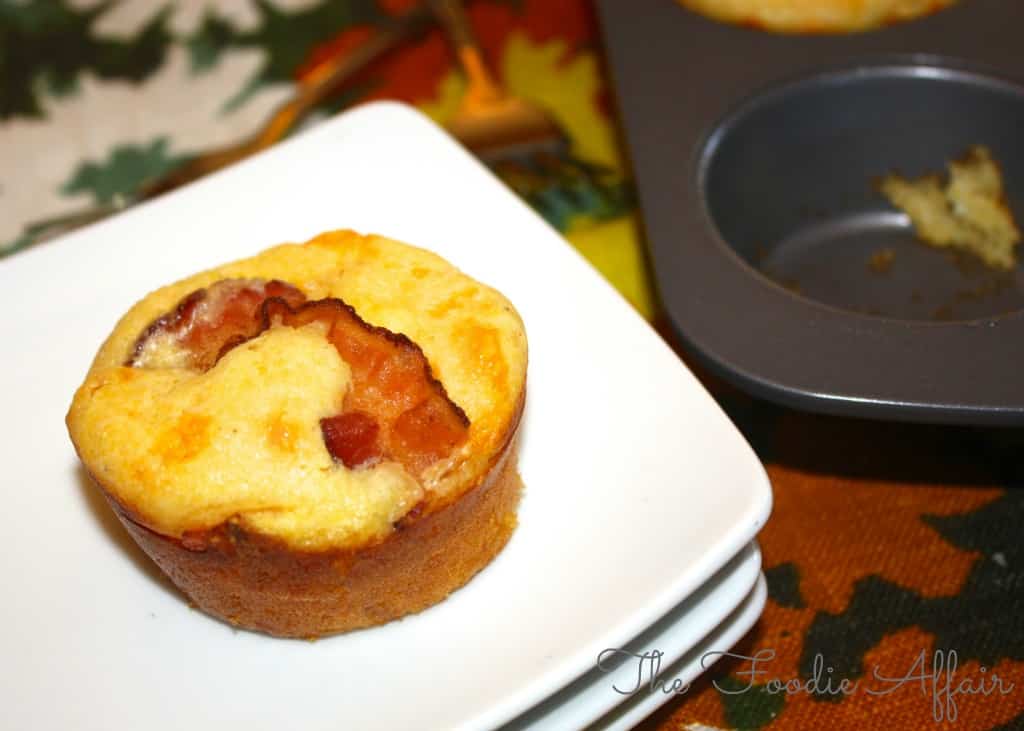 If you opt to serve these for brunch, serve them with maple syrup. Drizzle a little syrup next to the muffin, and dip each forkful into the sweetness.
The sweet/salt combination is heavenly. Simply delectable, and I'm certain you'll end up with two muffins on your plate 🙂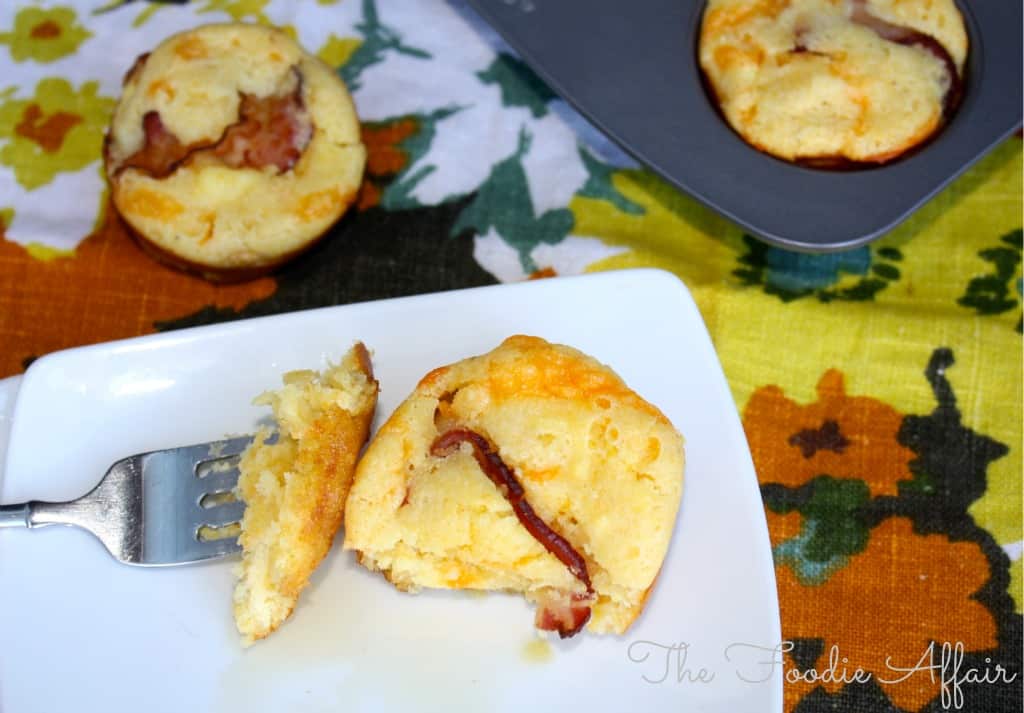 Yield: 12
Bacon and Egg Breakfast Muffins
Ingredients
4 slices bacon, cut into thirds
1 box Jiffy Corn muffin mix
5 eggs, divided
1 cup milk
3 Tablespoons butter, melted and cooled
1/2 cup shredded cheddar cheese
Maple syrup (optional)
Instructions
Preheat oven to 400 degrees. Grease muffin pan with cooking spray or butter.
In a large skillet cook bacon just until it begins to crisp. Remove bacon and set aside on paper towels.
Remove all but 2 tablespoons of bacon drippings from the skillet.
In a small bowl, scramble 3 eggs together adding 2 tablespoons of water, and a shake of salt and pepper.
Cook eggs in skillet over medium heat. Let eggs set on the bottom (without stirring). Lift the edges with a spatula allowing the liquid to seep below to cook. Cook until set and remove from pan.
In a small bowl stir corn muffin mix, milk, remaining two eggs, melted butter, and cheddar cheese together until blended. Add cooked eggs, breaking them up in pieces while stirring into the batter (don't over mix). Spoon into muffin cups (about 1/3 cup each), and top with a piece of bacon.
Bake for 15 minutes or until a toothpick inserted in the center comes out clean. Cool, remove from pan. Serve with maple syrup if desired.


Adapted from Better Homes and Garden, April 2012