Low Carb Cinnamon Almonds lightly toasted with a sweet tasting glaze. This snack is a great afternoon pick-me-up or addition to a salad.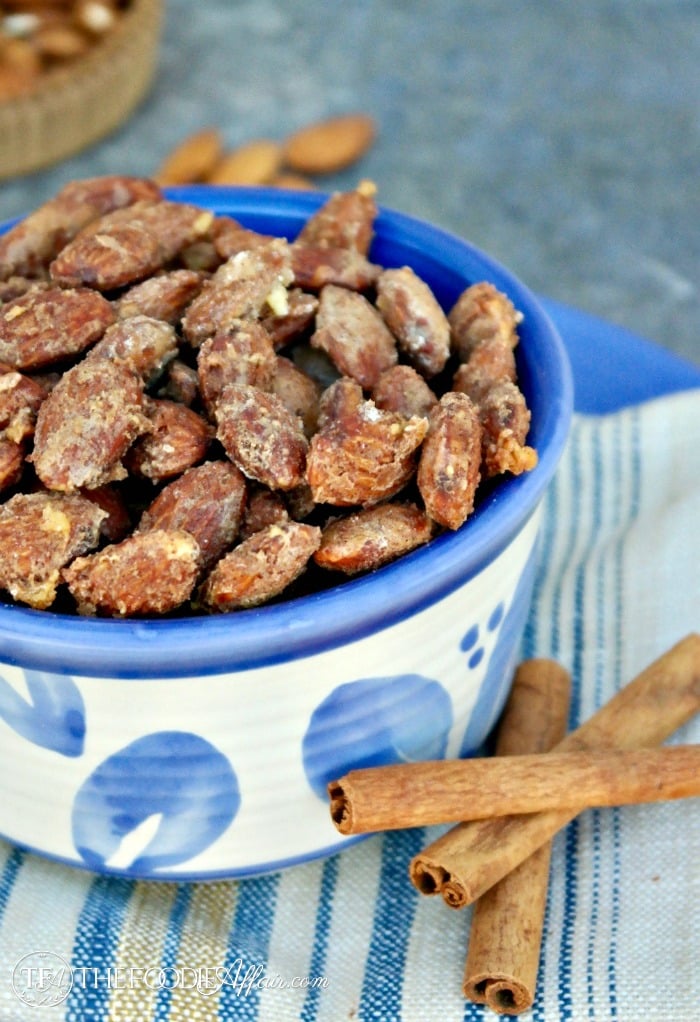 You know those crunchable thick sugar coated almonds that you can get at special events like street fairs or art & craft events?  They're usually near the kettle corn booth.
The aroma is enticing and we buy them every so often, but they're probably not the best choice because they're loaded with sugar.
Not to suck the snack joy out of your munching, but just so you know, 1/4 cup of  those sugar bombs have about 16 grams of carbs, which can negate the good fiber (4 grams) and protein (8 grams).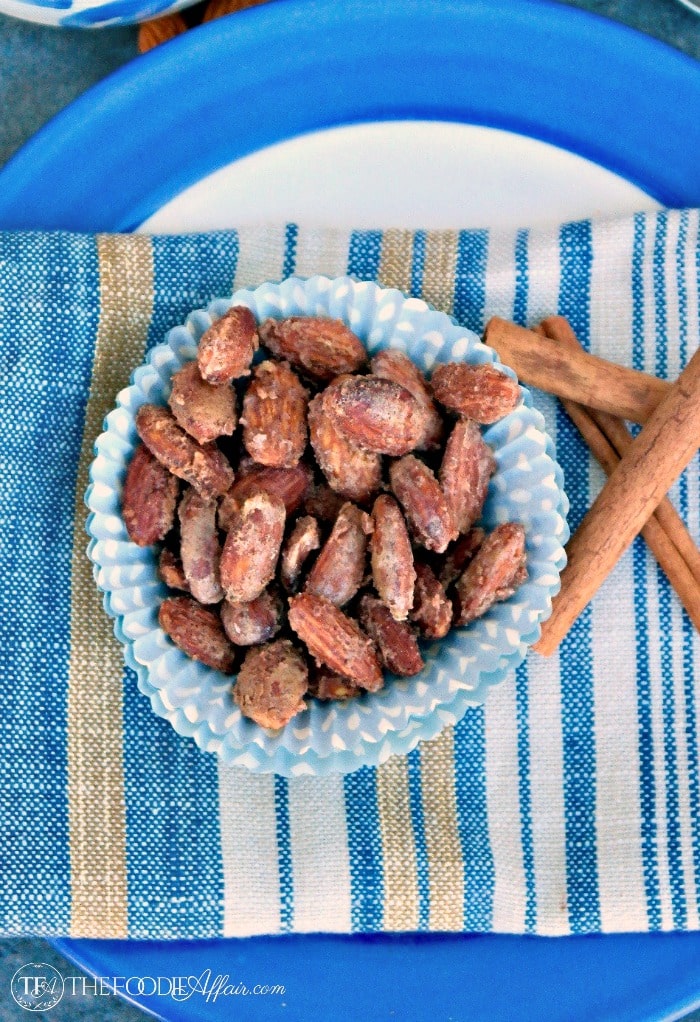 With this recipe we cut the carbs to half (about 7 total/net 3) by using sugar alternatives like erythritol!  Erythritol doesn't spike blood glucose or insulin levels, so it's a good option for anyone that watches their sugar intake.
The best part is that these low carb cinnamon almonds are just as delicious as any sugar coated almond I've bought!
I added some to a popcorn snack mix making a tasty sweet and salty flavorful combination! You can also make your own trail mix by mixing these with plain walnuts and macadamia nuts!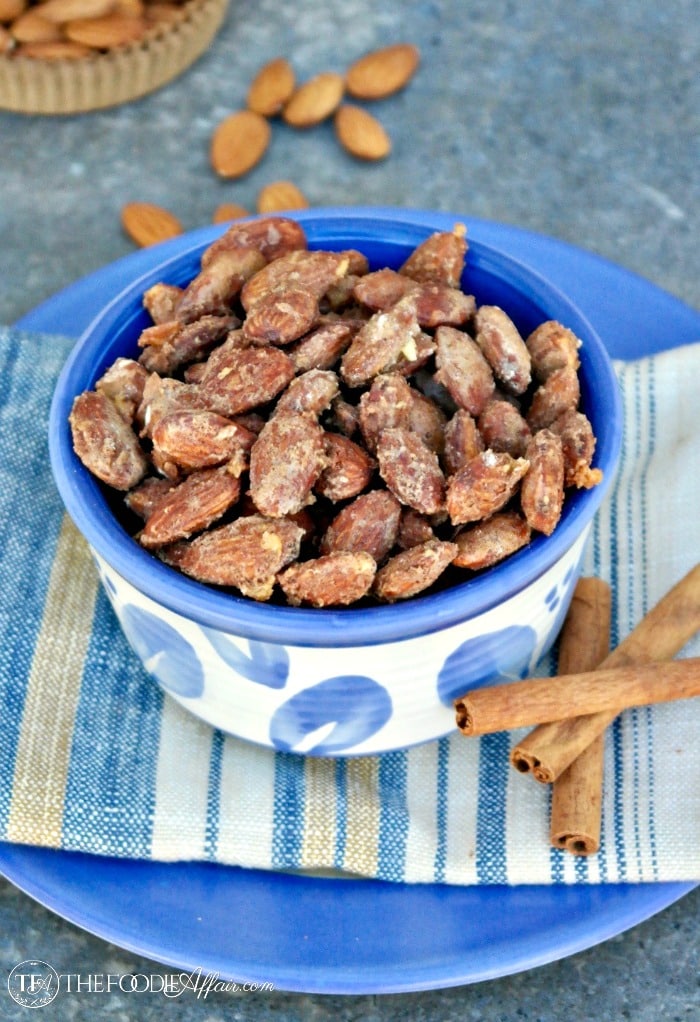 Yield: 2 cups
Low Carb Cinnamon Almonds Lightly Toasted With A Sweet Tasting Glaze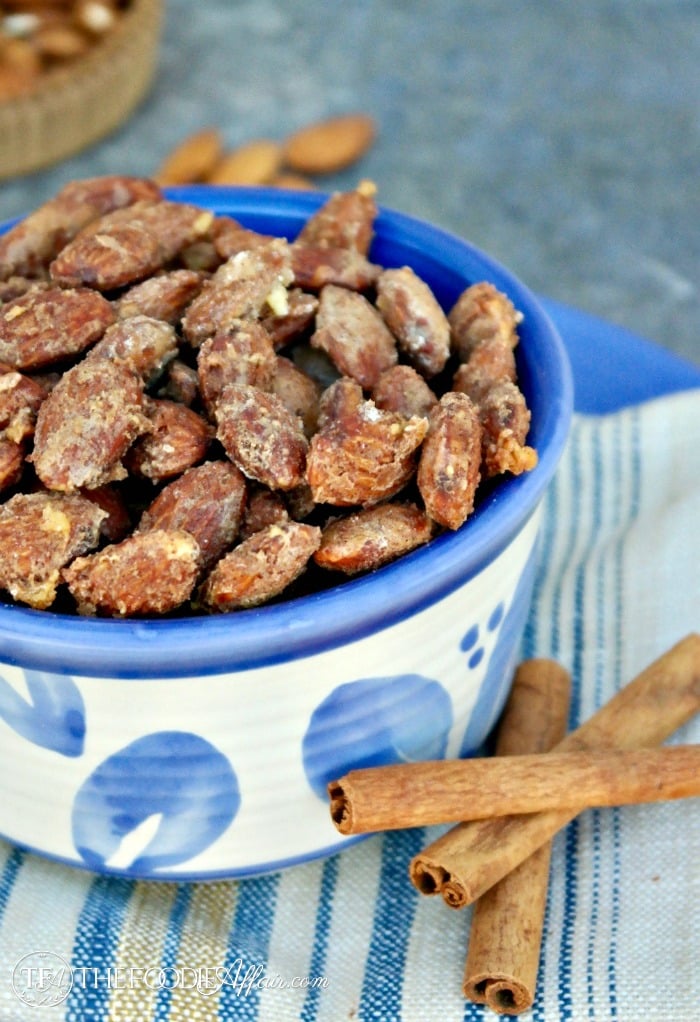 Ingredients
2 cups almonds, unsalted
1 egg white
1/4 cup powdered sugar alternative (I used Swerve)
1/4 cup brown sugar alternative (I used golden monkfuit)
1/2 teaspoon salt
1 teaspoon ground cinnamon
Instructions
Preheat oven to 325 degrees. Line a baking sheet with parchment paper and set aside.
In a large bowl beat egg white until frothy. Beat in vanilla extract.
Fold in almond coating each nut.
In a small bowl whisk together sweeteners, salt and cinnamon. Pour over nuts and fold into mix.
Spread nuts on prepared baking sheet and bake for 15 minutes. Flip almonds over and continue to toast for an additional 10-15 minutes. Cool and store in an airtight container.



Inspired by Taste of Home Cinnamon Toasted Almonds