Tried and true family recipe from Nana herself! This Pozole Mexican Soup with pork and hominy is a family favorite dish often served during the holidays!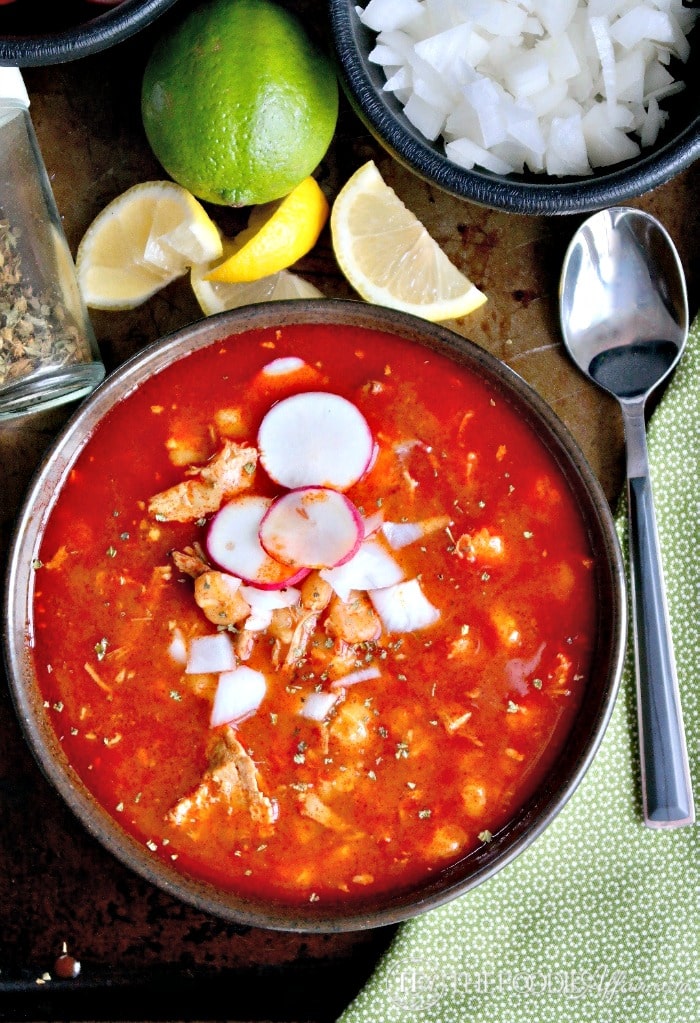 I'm so proud to share this recipe today!  Have you had pozole before?  It's a simple Mexican hearty soupy stew made with pork and hominy.  It's very similar to menudo, which is Is made with the same base with the addition of tripe.
I never liked the texture of tripe, so I always passed on the dish or took the tripe out of my bowl.  I'm not quite sure when I realized that there was another version of the same soup, but pozole was always preferred over menudo.
Pozole Mexican Soup is similar to menudo except without the tripe.
This meal takes about 3-4 hours to make, and not hard to make, but takes some patience to let all the flavors meld together.  Not only does this pozole taste AMAZING, but it was made with love by me and a dear friend that came to visit for the weekend!
Eva and I met through a mutual friend and instantly bonded over our love for cooking, so when we were chatting about our plans we knew cooking would be involved.
Both of us always remember our abuelitas being the pozole makers.  Neither Eva or I have ever attempted to make the dish ourselves until now!
Have you ever written down a recipe from someone that is describing it by memory?  It's kind of like giving directions to a destination.  "You'll see a gas station on the right. Go through two stop signs and then make a left!"  
Eva wrote down her Nana's recipes exactly as her mother told her, "add water like you add it to beans" and we obediently followed the steps. The results are fantastic!
You'll love all the flavors in this pozole Mexican soup!
The broth is a combination of chili powder and red chili sauce that is mixed in with a large pot of pork that has simmered for several hours.
You'll know it's ready when the meat is tender and breaks into shreds easily when poked with a fork. Top each bowl with a combination of garnishes like onion, radish, and shredded cabbage and dig in!
We did our abuelitas proud!  Stay tuned for a fun cocktail that we enjoyed while this soup was cooking!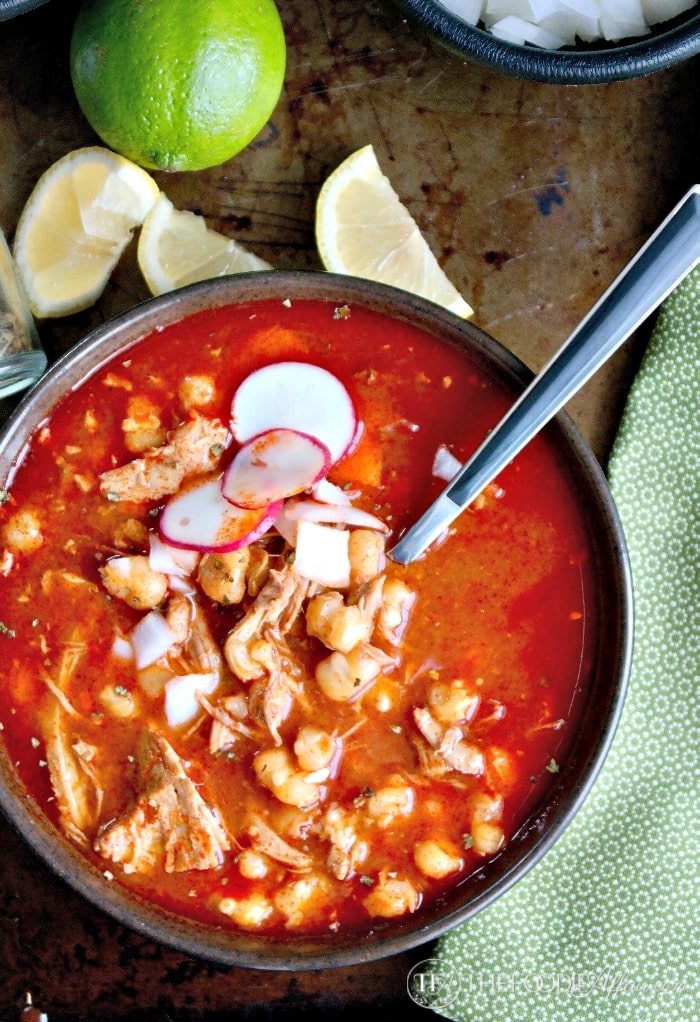 Nana's Pozole Mexican Soup
Author:
Sandra @ The Foodie Affair
Ingredients
5-6 pounds of pork shoulder, cut in large chunks
1 bay leaf
1 tablespoon salt
1 tablespoon garlic, minced
1 (28 ounce) can red chile sauce (Las Palmas) NOT Enchilada sauce
1 tablespoon red chili powder
1 teaspoon cumin
2 (29 ounce) white hominy, drained
GARNISH - TOPPINGS
diced onions
Mexican oregano
sliced radishes
shredded cabbage
lemon or lime wedges
Instructions
Add meat to a large Dutch oven (7 quart) and fill with water leaving a couple of inches from the top.
Add bay leaf, salt, and garlic. Bring to a boil and continue to cook for 3-4 hours lowering the heat to prevent the water from boiling over. Add water if the water evaporates too quickly.
When meat is tender and shreds easily add red chili sauce, chili powder and cumin. Break up meat into the bite size pieces (your preference).
Add hominy and cook for an additional ½ hour to 40 minutes.
Taste and add additional salt if needed.