This fruit breakfast casserole is packed with a mix of fresh and frozen berries over a coconut milk bread base. This recipe is the perfect amount for serving a small crowd.
Do you usually skip making breakfast casseroles unless you have guests over? Casseroles are hearty and filling and made to serve a crowd, but sometimes I want to enjoy the same yummy dish I would serve my friends, but I don't want eat the same breakfast all week long.
Instead of making a meal intended to serve 8-10, this fruit breakfast casserole bakes in a 8 x 10 – inch pan and is plenty for 4-6 people!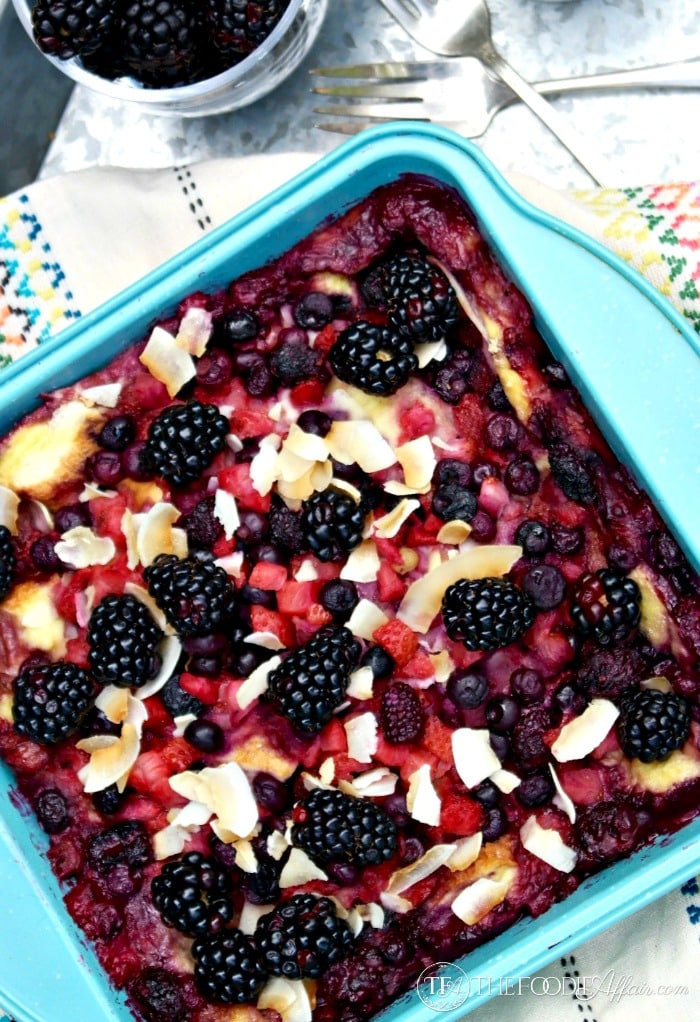 I originally made a large size casserole of this dish for one of my bestests long-time friend (and her hubs & daughter).  I've mentioned Sherri before when I shared this celebration cake. Sherri's daughter attended a volleyball clinic at our local college and while she was at the day camp the four of us chatted non-stop catching up on the latest!
I made this casserole ahead of time with day old bread when I served it for guests, but this smaller casserole can be assembled in the morning. For either method you will need to add the frozen fruit (partially thawed) right before baking. The fresh fruit I added before serving!
This is also flavored with coconut milk, coconut extract, and on the bottom is a mix of butter and coconut palm sugar adding just the right amount of sweetness! Enjoy this with a sprinkle of powdered sugar or add some fresh whipped cream!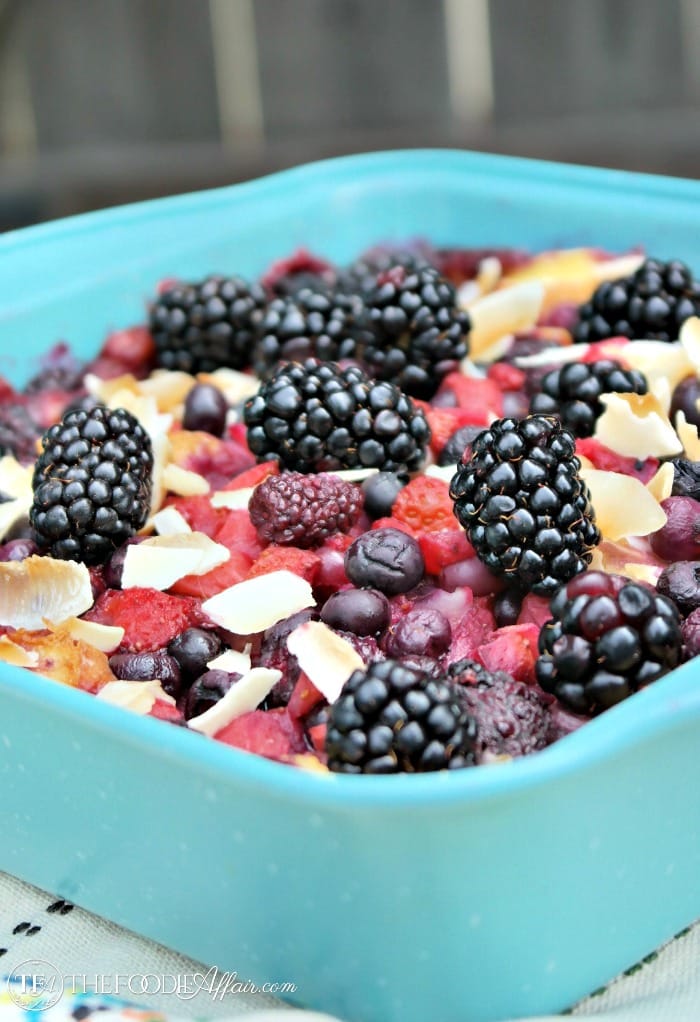 Mixed Fruit Breakfast Casserole
Ingredients
4-5 cups diced 1/2 inch cubes white bread (about 1/2 loaf) I used Sara Lee Artesano Bread
1 3/4 cups coconut milk, unsweetened
4 eggs
1 teaspoon coconut extract
1/4 cup butter
1/4 cup coconut palm sugar
pinch of salt
2 cups mixed frozen berries (partially thawed)
1/4 cup coconut flakes, unsweetened
Fresh berries for topping
Directions
Place frozen berries in a colander and let thaw for 30 minutes.
Pre-heat oven at 350 degrees.
Grease an 8 x 8 - inch baking pan and set aside.
In a large bowl whisk together coconut milk, eggs, and coconut extract.
In a small saucepan over medium heat melt the butter, coconut sugar, and salt until syrupy. Pour on the bottom of the prepared pan.
Place bread over the butter/sugar combination and then pour the egg mix on top making sure each piece is soaked with egg. Add fruit and cover with foil. Bake for 30 minutes. Remove foil and sprinkle coconut flakes over the fruit. cook an additional 10 minutes or until a knife inserted in the middle is clean.
Serve with fresh fruit and powdered sugar.
Recipe Notes
You can substitute the coconut extract for vanilla extract.
This recipe is inspired by my Freaky Friday blog hop friends at Bell of the Kitchen and PicNic.