This Basic Michelada Recipe is a Mexican beer cocktail made with cold cervezas, juice, lime, and assorted spices served in a chili and salt- rimmed glass!
Hello lovelies! It's Ashley!  I am back with the follow-up recipe that I hinted about in my last post. Hopefully you haven't used all of your Vegan Worcestershire Sauce, because you will need it for this next treat.
.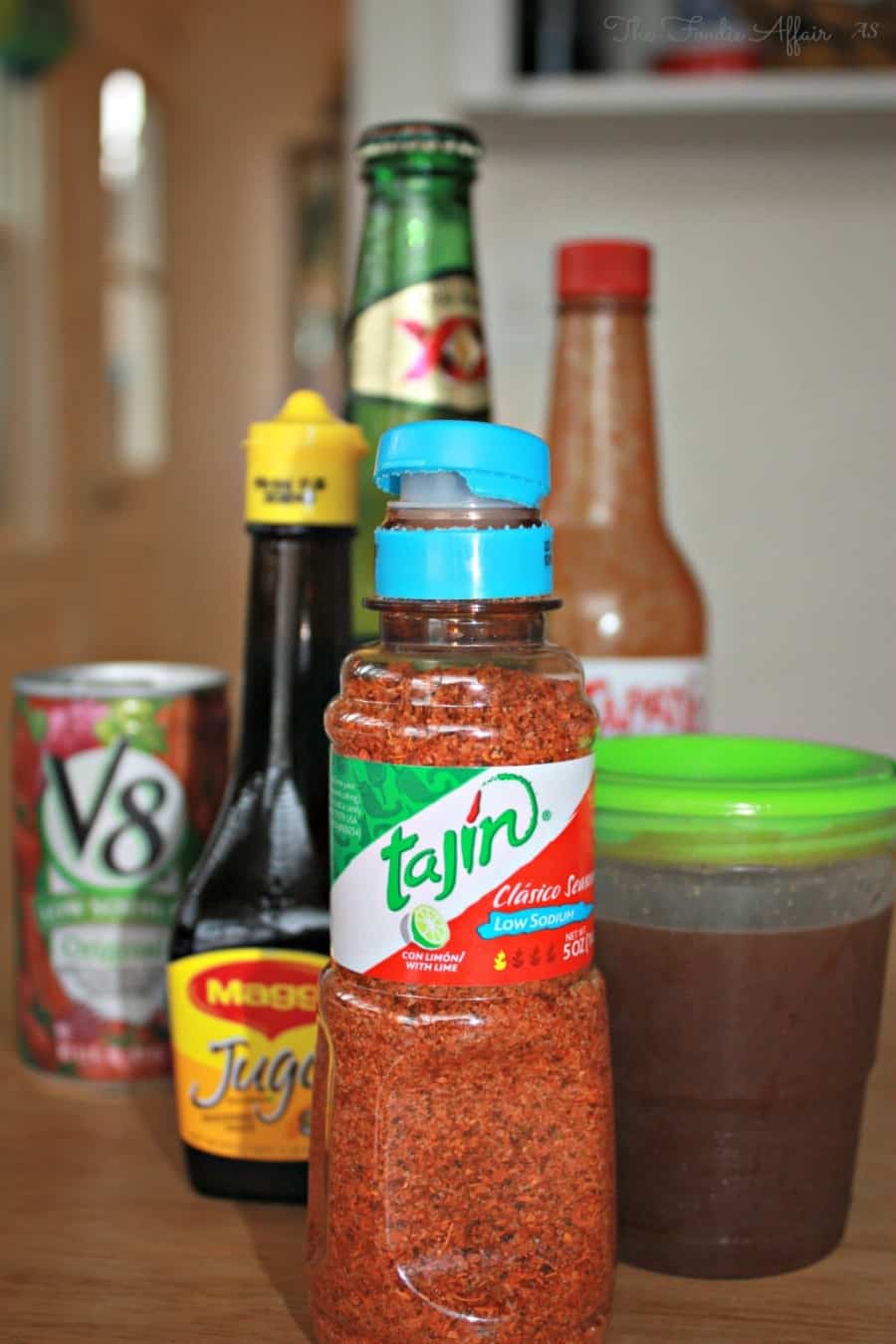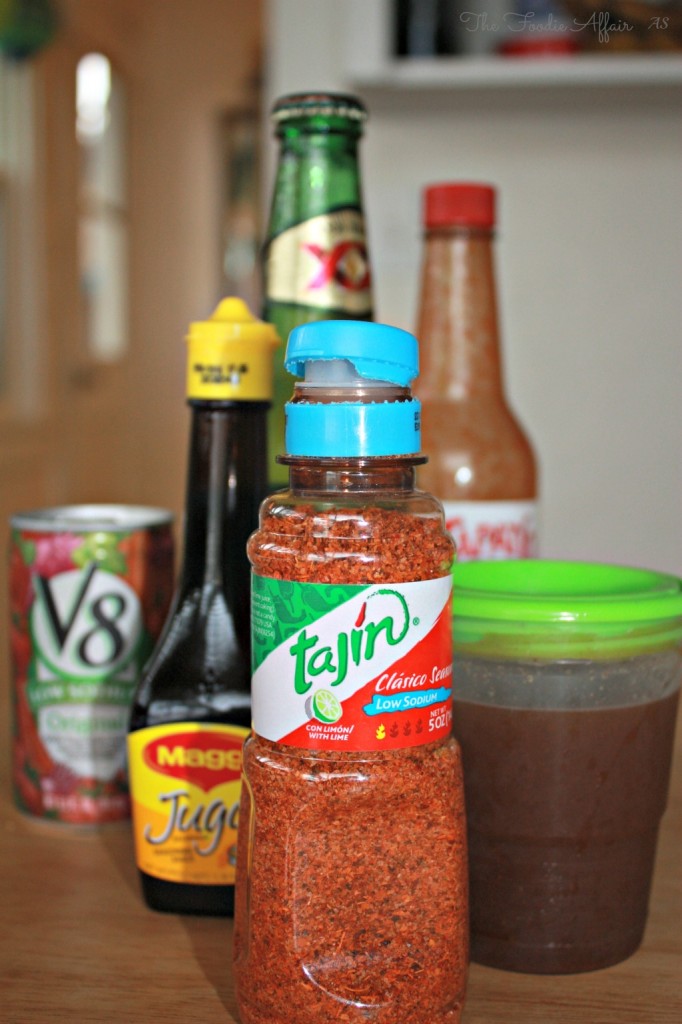 So I know that if you follow The Foodie Affair, you have seen the delectable cocktails that my mom is so fab at making. It's definitely something we're enthusiastic about in my family. Why spend too much at a restaurant for a sugary, cheaply made treat, when you can make it at home exactly to your liking?
Those cocktails usually revolve around a liquor, some flavorings, and la-dee-da, voila, you have a drink! However, recently I feel like everywhere I look, I see people ditching the liquor and instead talking about beer cocktails. I'm a little snobby about beer, to be honest. When I can afford them, I like interesting craft brews and I like them just the way they were brewed; those master brewers know what they're doing and I trust 'em. Keeping this philosophy in mind, the concept of a beer cocktail seemed strange, unfamiliar, even sacrilegious to me. Why mess with a good thing?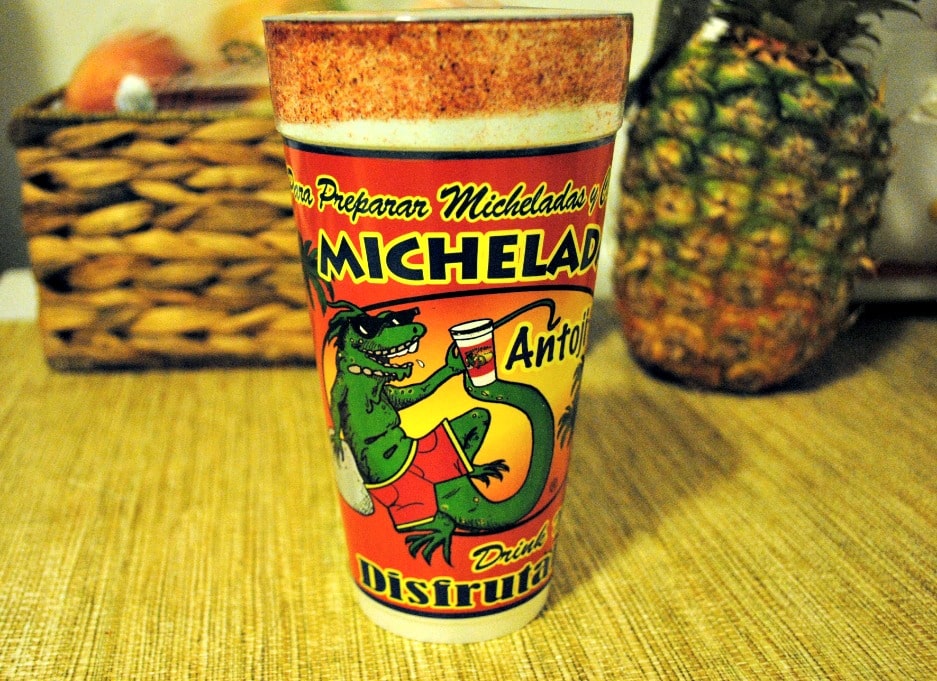 (Photo credit: A Gray Rainbow)
My first introduction to the Michelada occurred in the aisles of a liquor store. Maybe you've seen the strange iteration there before: a tall styrofoam cup with a smattering of spices along its edge, ostensibly filled with more spices, waiting for a beer. It looked strange, and yet, the concept intrigued me. A spicy beer? Cold, refreshing, with a punch of heat? I did my research.
Apparently Micheladas, sometimes called Cheladas, are a kind of beer cocktail commonly found in Mexico (and more increasingly in the US too). They don't consist of one absolute recipe, as different regions in Mexico put their own spin on the idea. In its most basic form, you combine a Mexican lager with lime juice and seasoning. Some additions I saw mentioned many times were tomato or clamato juices, as well as Maggi and Worcestershire sauces. So, once I made my Worcestershire, I mixed up a pitcher of Micheladas! They're pretty low in alcohol, so they make a nice morning-after or early afternoon sipper. Once you've started adding ingredients, I encourage you to tweak it to your personal tastes. As far as I've learned, in the world of Micheladas, the personal touch is what makes the drink.



Yield: 6-8
Basic Michelada Recipe
Prep Time 5 minutes

Cook Time 10 minutes

Total Time 15 minutes
Ingredients
4 cups tomato juice
4 limes, juiced
2 tsp Worcestershire sauce
1 tsp Maggi sauce
2 tsp Tapatio sauce
3 Lagers (Dos Equis, Tecate, Corona, Pacifico, Modelo, etc.)
1 tbsp Tajin seasoning
Instructions
In a pitcher, combine tomato juice, lime juice, Worcestershire sauce, Maggi sauce, and Tapatio. Give it all a good mix.
Add the beer; be careful to pour slowly to avoid foam.
Pour the Tajin in a plate, run the edge of a lime over the rim of your glasses, and then place onto the Tajin seasoning so it sticks to the glass.
Pour your Michelada into your seasoned glasses and then ENJOY 🙂


Until next time,
Ashley