Fresh whipped cream and fruit tops this no-bake Berry Tiramisu Cake and is a delicious twist to the traditional coffee flavored tiramisu Italian dessert.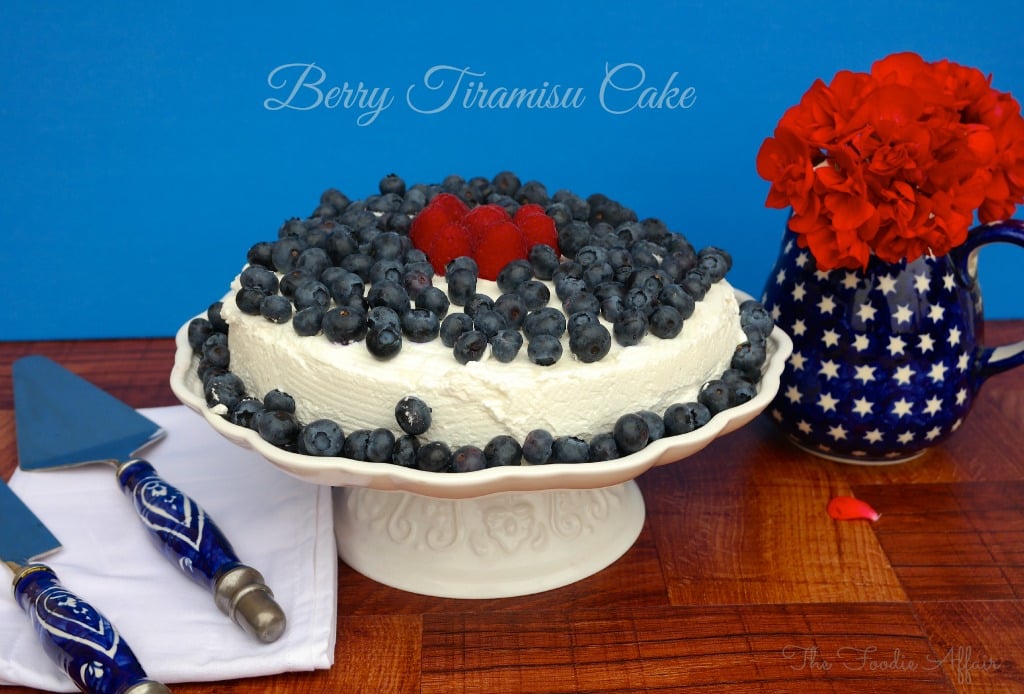 This is one of those recipes that I created in my head while flipping through a cookbook looking for some dessert inspiration. I thought that it would be clever and tasty to change up a tiramisu dessert by using fruit and making it into a cake!
Instead of soaking lady fingers in strong coffee I envisioned a flavorful raspberry sauce that would saturate through the cake layers. I did some research on how this might come together, and then realized a lot of other foodies had the same idea – imagine that!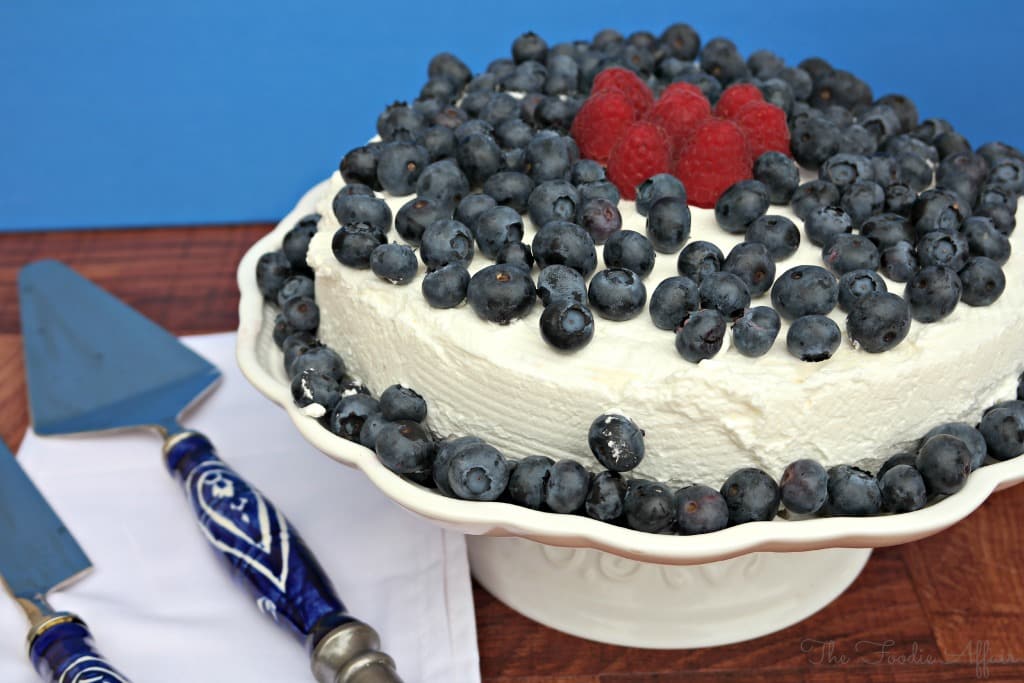 Well, as simple as the cake sounds, I ran into some obstacles when I went to the store to gather the ingredients. There were no ladyfinger biscuits/cookies to be found, fresh raspberries were outrageous, and mascarpone cheese was also not available!
I improvised by using frozen raspberries, pre-made angel food cake in place of the ladyfingers, and I found a substitution for mascarpone cheese online. The results were fabulous!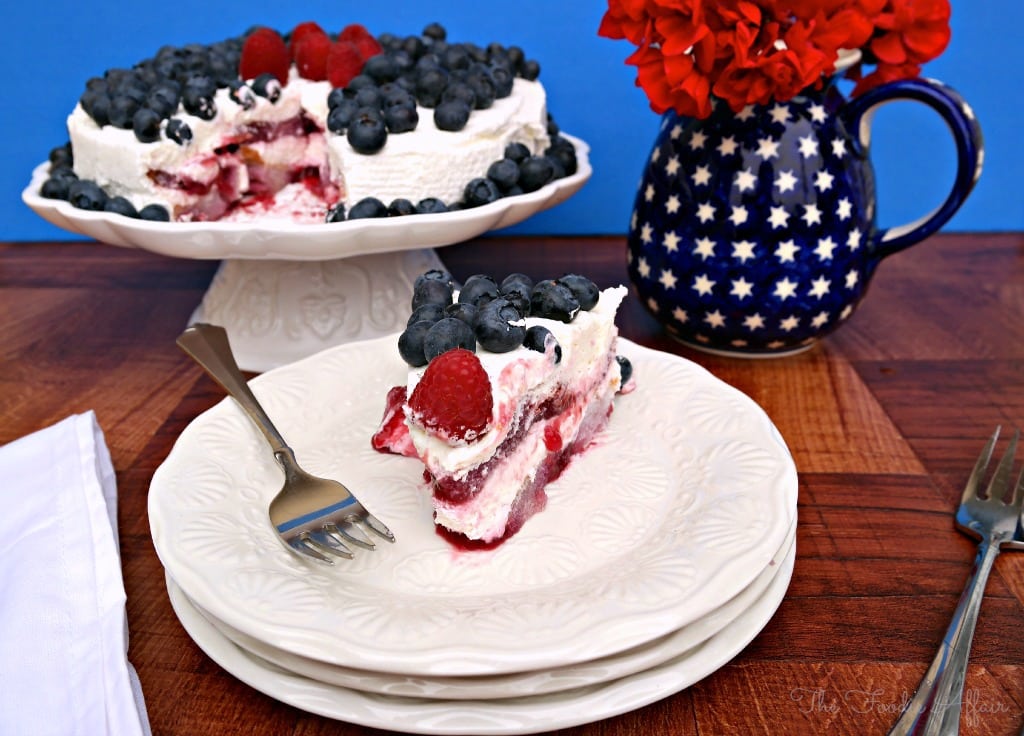 Oh, if you are tempted to buy Cool Whip for another short cut, DON"T DO IT. Fresh whipped cream is out of this world, and the assembly time is already shortened if you use a pre-made angel food cake! Trust me!
The raspberry sauce is the only step that took some patience because you need to let it cool before assembling the cake.  If you can, make the sauce several hours in advance. You don't want to melt your freshly whipped cream when putting the layers on top of each other.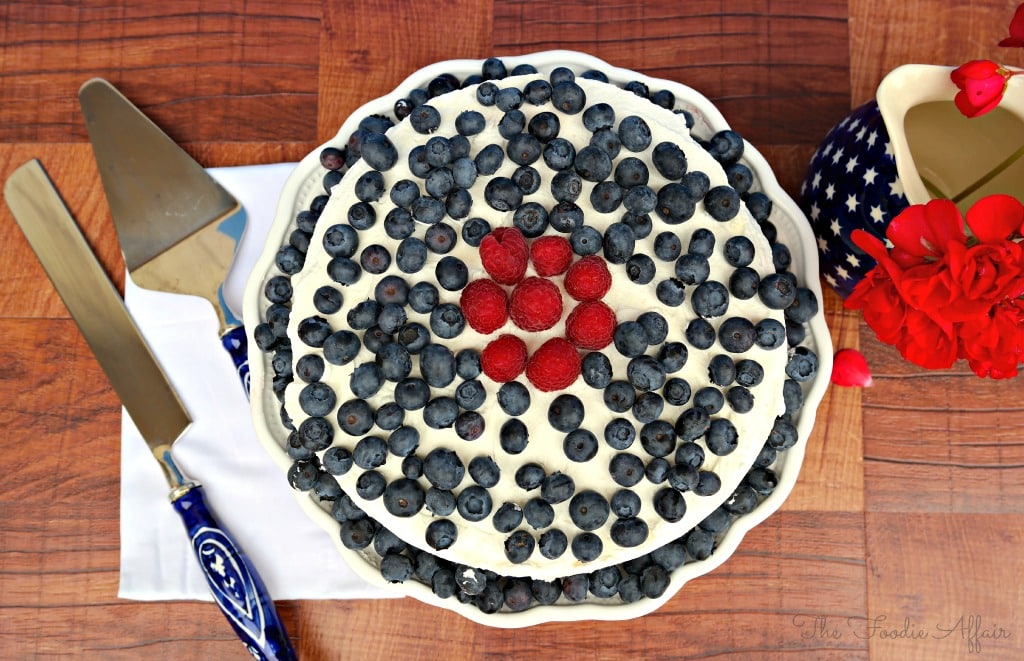 The whipped cream is light and flavorful, and especially scrumptious with the copy-cat mascarpone cheese mixed in. The raspberry sauce is to die for and just how I wanted it to taste! I'll probably write a separate post for the sauce because it really can be used to top a variety of dishes; waffles, pancakes, yogurt, and ice cream!
If you aren't fond of the coffee flavor that's in a traditional tiramisu or looking for a kid and adult friendly cake, this is the dessert that will please everyone!
Yield: 8
Berry Tiramisu Cake
Prep Time 30 minutes

Cook Time 2 hours

Total Time 2 hours 30 minutes
Ingredients
1 prepared Angel Food Cake, Pound Cake or package of Ladyfinger cookies
Raspberry Sauce
5 cups raspberries, I used frozen
2 cups water
1/2 cup sugar
3 Tablespoons cornstarch or arrowroot
1 1/3 cups Mascarpone cheese OR for a substitution
1 8 ounce block of cream cheese (I used light)
1/2 cup sour cream
1/4 cup heavy whipping cream
Whipped Cream
1 1/2 cups heavy whipping cream
1/2 cup powdered sugar
1 teaspoon vanilla extract
pinch of salt
For Decorating Cake
2-3 cups fresh blueberries
1/2 cup fresh raspberries
Instructions
Line the inside of an 8-inch springform pan with parchment paper (it should be taller than the side of the pan). Set aside.
In a medium saucepan, combine the raspberries, water and sugar. Bring to a boil. Reduce heat and simmer uncovered for 30 minutes
Break up raspberries if needed and strain through a fine sieve into a heat proof bowl. Throw out seeds and return raspberries to the saucepan. In a small mixing bowl whisk together cornstarch with a 1/4 cup of the raspberry sauce until smooth. Add back into the saucepan and bring to a boil over medium heat. Stir constantly until it begins to thicken. Remove from heat and cool completely. Put through sieve once again if you notice more seeds.
If you are substituting the mascarpone cheese, mix the cream cheese, sour cream and heavy whipping cream until smooth.
With a Mixer, whisk cheese, powdered sugar, whipping cream, vanilla and a pinch of salt until soft peaks form (4 minutes).
Assemble
Place half of the cake on the bottom of the pan breaking into pieces to cover the surface. Top with half of the cooled raspberry mixture, then spread half of the whipped cream on top. Repeat: cake, raspberry sauce and whipped cream. Refrigerate for a couple of hours before serving. Remove from springform pan and decorate as desired.


This recipe was inspired by Martha Stewart's Red, White, and Blue Berry Trifle.
Mascarpone cheese substitute is from Seasoned Advice.