Rich, fudgy, and creamy dairy free fudge pops! 
A delicious summer treat!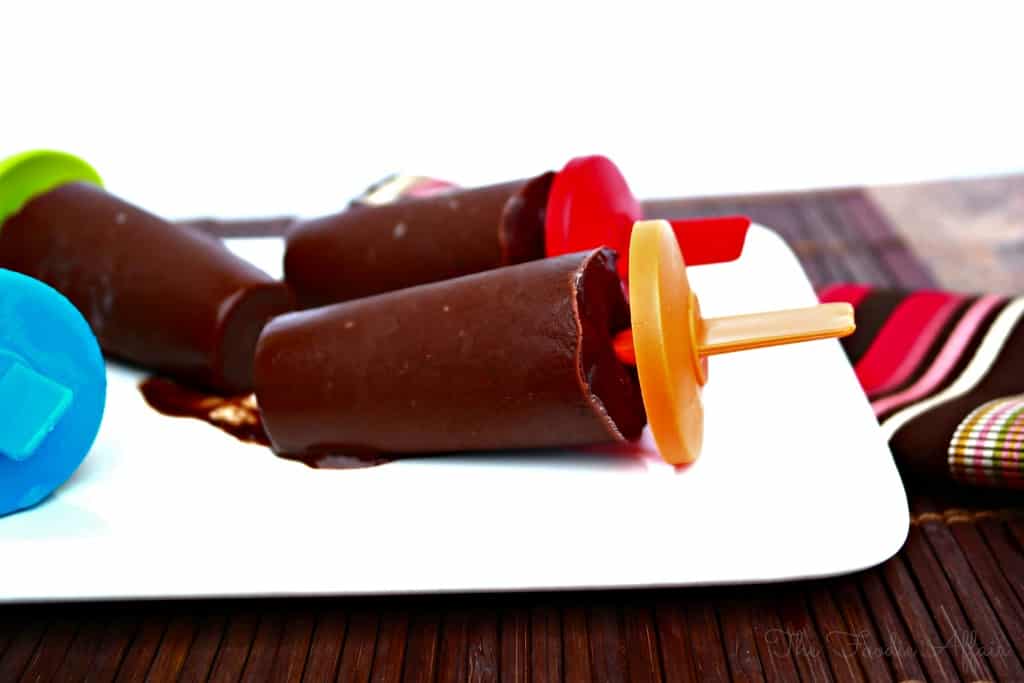 Remember when I was lamenting on purchasing popsicle molds when I made these Cherry Limeade Popsicles? Well not long after posting that recipe I found these adorable mini pop makers for 99 cents! I get so excited when I find an amazing bargain and this one just popped in front of me!
I took it as a sign that I needed to make another batch of popsicles, so I put together the ingredients to make these creamy chocolatey treats of pure goodness, and APPARENTLY I am the only one that knows that these fudge pops are in the freezer!
I'm good with that.  Out of the eight mini pops I've eaten two, so I have several more treats to look forward to… I hope.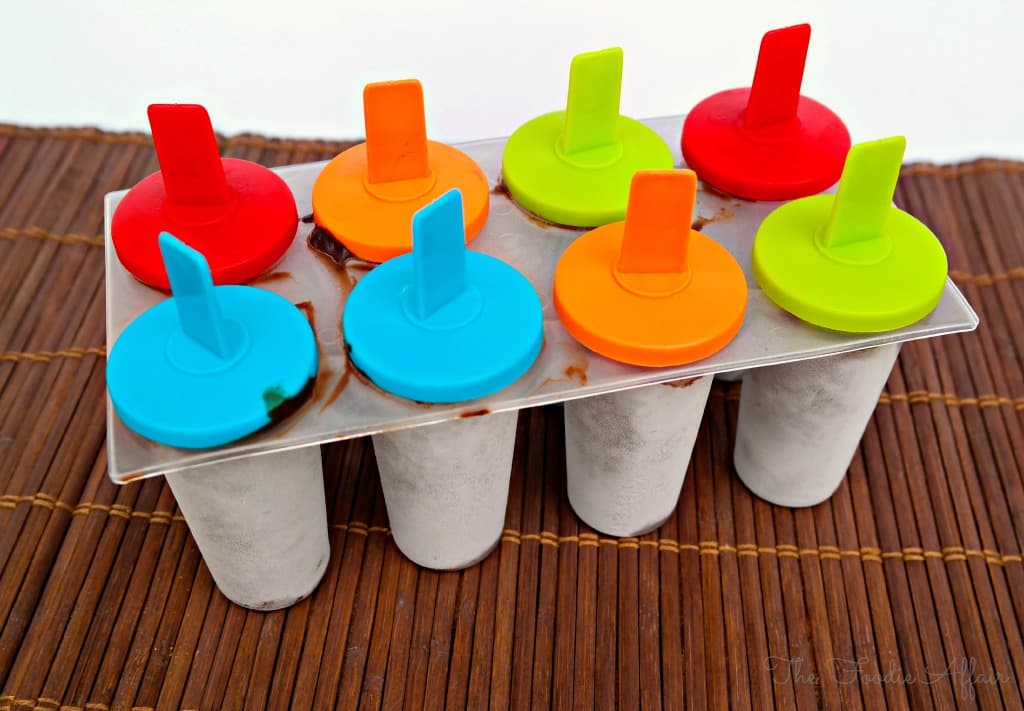 I left these fudge pops in the container on the top basket in the freezer, which is not hidden by any means. If you pulled the drawer out by 6 inches or so you will clearly notice the container positioned upright with the bright little holders sticking out.
But no one has taken note, and I'm not announcing that these frozen snacks exist! I'm certain that I will be accused of HIDING them once they're discovered.
Ummm, I just may have a little reputation for tucking away the good snacks!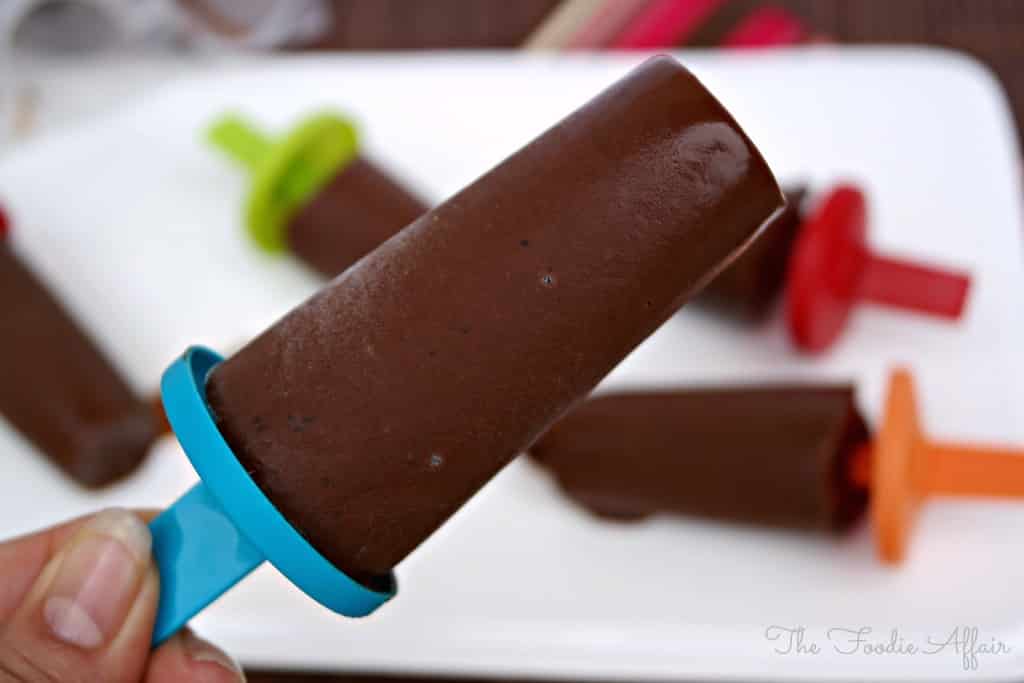 At one time I would stash chocolate candy or various other sweet treats in drawers or cabinets that no one used to go through, until some spy snack hunting person exposed my secret.
The goldmine of goodies would be under serving utensils or in the buffet where there are various serving dishes and candles, and I would bring them out to share at a steady pace.
Who would bother to look in those drawers but me?? Now those places are fair game when chocolate cravings hit! My family will go straight to what used to be my hiding places.
I think I began creating my hideaways when the kids were in high school and our house was swarming with hungry teens that ate everything in sight. Such tough years – haha!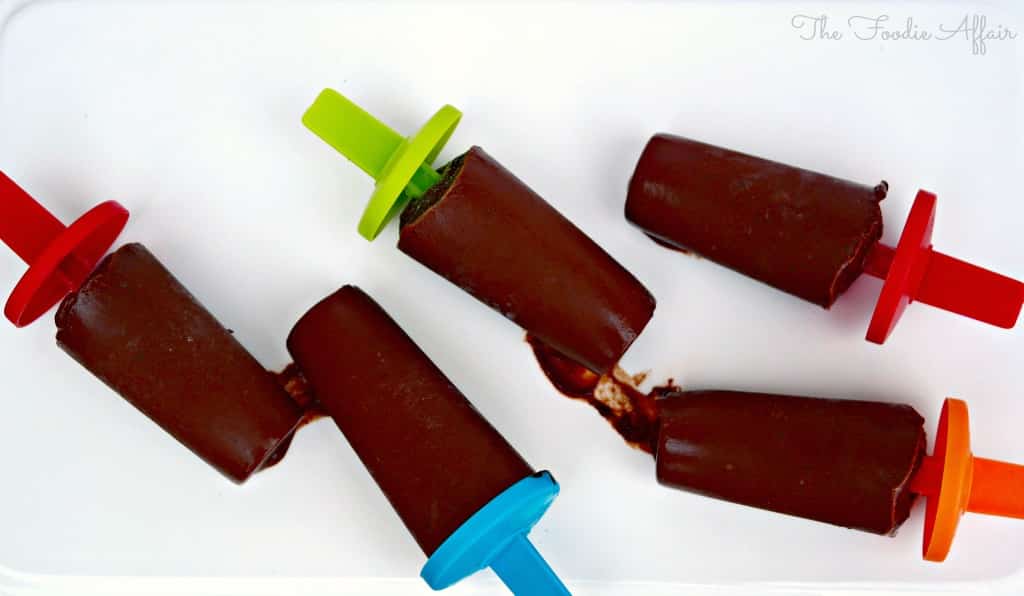 Just for fun I thought I would share the ingredients from my absolute favorite popsicle as a kid, Fudgesicles!
Ingredients: nonfat milk, sugar, corn syrup, whey, high fructose corn syrup, water, palm oil, cocoa processed with alkali, tricalcium phosphate, mono and diglycerides, cellulose gum, guar gum, malt powder, salt, polysorbate 80, polysorbate 65, carrageenan
Now look at the ingredients of a homemade fudge pop!


Yield: 8
Dairy Free Fudge Pops
Prep Time 5 minutes

Cook Time 25 minutes

Total Time 30 minutes
Ingredients
2 cup unsweetened almond milk (reserve two tablespoons for cornstarch slurry)
3 tablespoons unsweetened cocoa powder
1 1/2 ounce dark chocolate (I used Lindt 70% cocoa)
1/2 cup coconut sugar
Pinch of kosher salt
2 tablespoons cornstarch or arrowroot
2 teaspoons vanilla extract
Instructions
In a medium saucepan on medium heat stir together; almond milk, chocolates, sugar and salt until chocolate and sugar is melted (about 4-5 minutes).
Make a slurry. In a small bowl whisk together two tablespoons of reserved almond milk and 2 tablespoons of cornstarch/arrowroot.
Once it's smooth, whisk it to the saucepan with all the ingredients. Whisk until it begins to thicken (about 1 minute).
Remove from heat and stir in vanilla. Let cool for about 20 minutes before pouring into popsicle molds. Freeze for at least 4 hours.
Notes
I used organic coconut palm sugar for the sweetener. You can use granulated sugar if coconut sugar isn't available. You can also use a milk product of your choice if you aren't conceded with these fudge pops being dairy free.


Hope you are having a wonderful summer!!