These Low Sugar Magic Cookie Bars are made with homemade sugar free condensed milk and chocolate chips sweetened with stevia! A classic treat lightened up!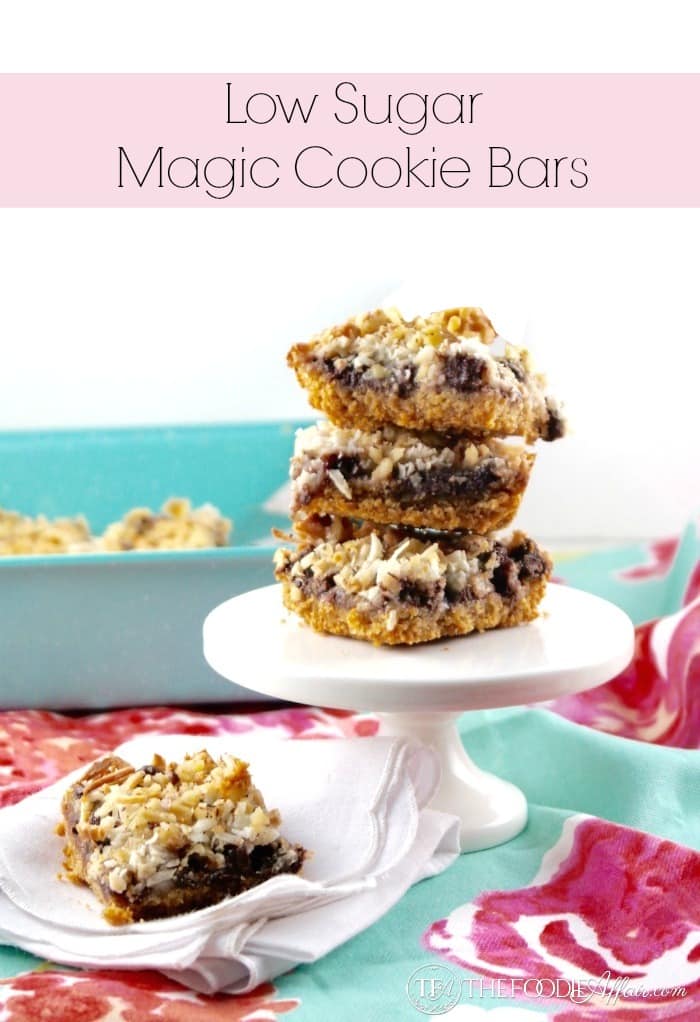 In just about every school, church, and fundraiser cookbook there are magic bars listed as a favorite dessert!  I believe the original recipe was marketed by Eagle Brand condensed milk. The recipe was plastered on their label back in the 60's (the decade I was born in), and has been an American favorite treat ever since.
Of course there are lots of variations that have developed over the years. Some recipe bars add peanut butter chips, M&M candies, pecan nuts, and whatever other delicious treats you can think of layering on top of the basic recipe.
I've always kept true to the original recipe. The old fashioned five layered bar; graham cracker crust, sweetened condensed milk, coconut, nuts, and chocolate chips.
Wait. Just one minute… since these bars were developed in the 60's when I was born we shall not be referring to the original recipe as old-fashioned EVER AGAIN.  These bars are Classic, popular, trendy, and completely in vogue!  Sounds so much hipper, right?!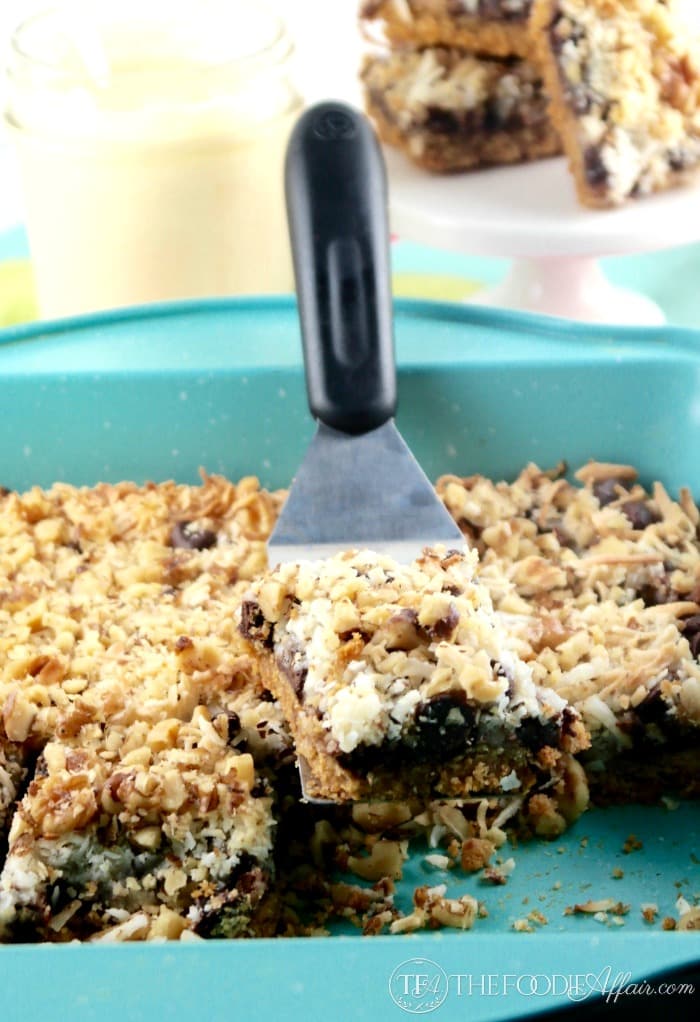 Besides been completely addictive and that fact that every bite makes you want to do the happy food dance, these cookies must be called magical because "classic" bars like these are always the first to disappear. First you have a full platter, and then POOF they disappear!
I usually reserve baking these treats for the holidays adding them to my cookie trays. They're super rich, crazy-crazy sweet, and so worth a holiday cookie splurge, and also worthy of a little sugar-free update.
When I made this condensed milk, this recipe is one of the desserts I thought it would really work well as a substitution for canned sweetened condensed milk.  I'm so pleased with the results. With some ingredient tweaks and a little recipe magic, I've updated these Low Sugar Magic Cookie Bars to be just as rich and delicious as the original version.
The difference between this recipe and the "classic" is that I cut out ALL granulated sugar. I used my homemade sugar free condensed milk, unsweetened coconut flakes, and chocolate baking chips sweetened with stevia. These are deliciously decadent without all the sugar. Still has calories, so don't go wild, but enjoy these Low Sugar Magic Cookie Bars all year long!

Low Sugar Magic Cookie Bars
Author:
Sandra @ The Foodie Affair
Ingredients
1¼ graham cracker crumbs
⅓ cup butter, melted
5 ounces sugar free condensed milk
1 cup sugar free chocolate baking chips (like Lily's)
1 cup unsweetened coconut flakes
½ cup chopped walnuts
Instructions
Preheat oven to 350 degrees. Lightly spray the bottom of an 8 x 8 inch baking pan with non-stick cooking spray.
Combine melted butter and graham cracker crumbs in a medium bowl. Stir until well blended and pack into the bottom of the prepared baking pan. Bake for 8 minutes.
Pour sugar free sweetened condensed milk over the crumbs evenly. Add the chocolate chips, coconut and walnuts. Press gently with your fingers on top of all the ingredients. Bake for 20-25 minutes or until light golden brown. Cool and place in refrigerator before cutting.