15 Weeknight One Pot Meals For Busy Moms
15 hearty and delicious one pot meals to feed your family with the least amount of effort! Are you looking for dinner that cooks itself? All you have to do is gather a few ingredients into one pan and that's it? I have you covered. Below, I have 15 recipes that take less than 10 minutes to put together. Then, sit back and relax while the dinner cooks in the background.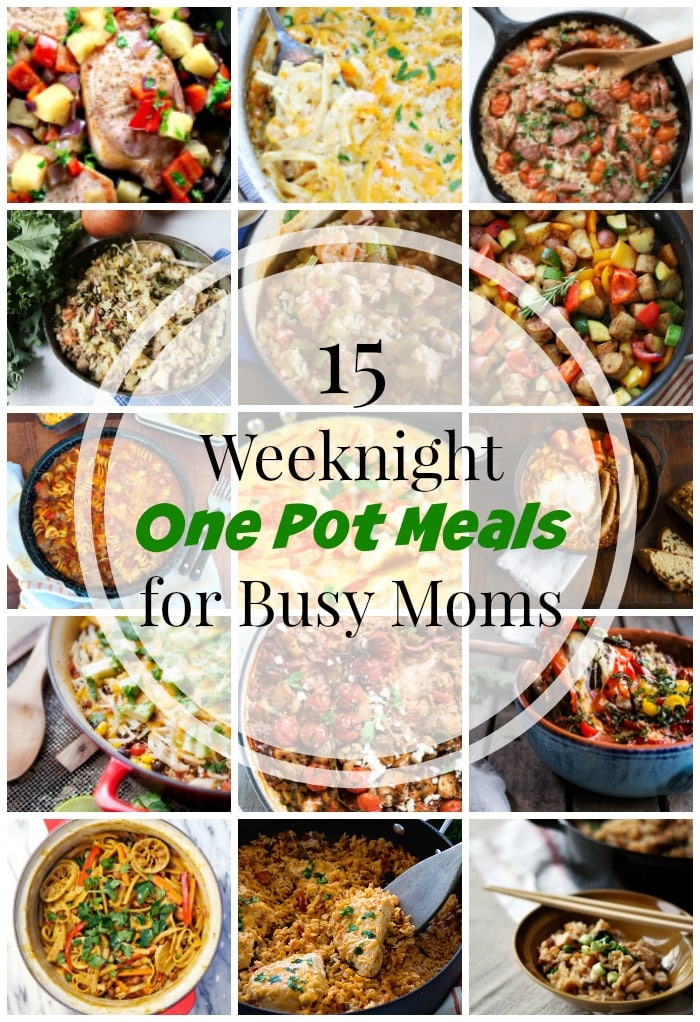 So, what will you do while dinner is cooking by itself? Take a nice, long bath? Do the laundry? Spend some quality time with your family? The sky's the limit!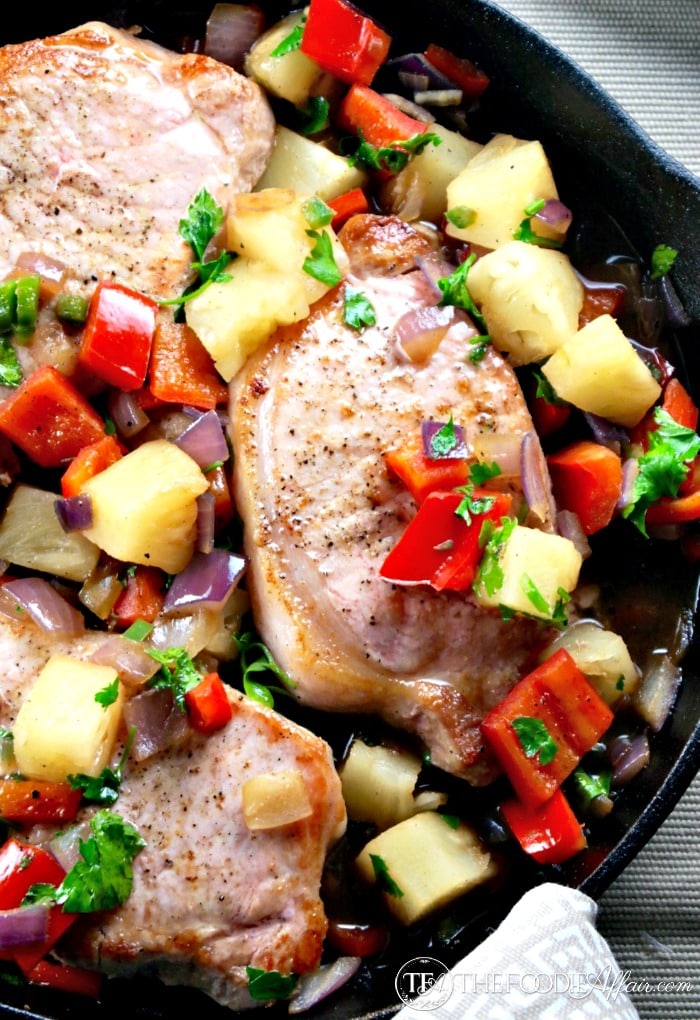 1) Sweet and Spicy Pineapple By The Foodie Affair
Add thick boneless center-cut pork chops to a skillet, chop some peppers and drop in some pineapple chunks. That's it! You only spend 10 minutes gathering, chopping and adding the ingredients to the skillet. The meal will cook itself while you soak in a lavender and eucalyptus bubble bath.
2) One-Pot Enchilada Bake – By Pretty Plain Janes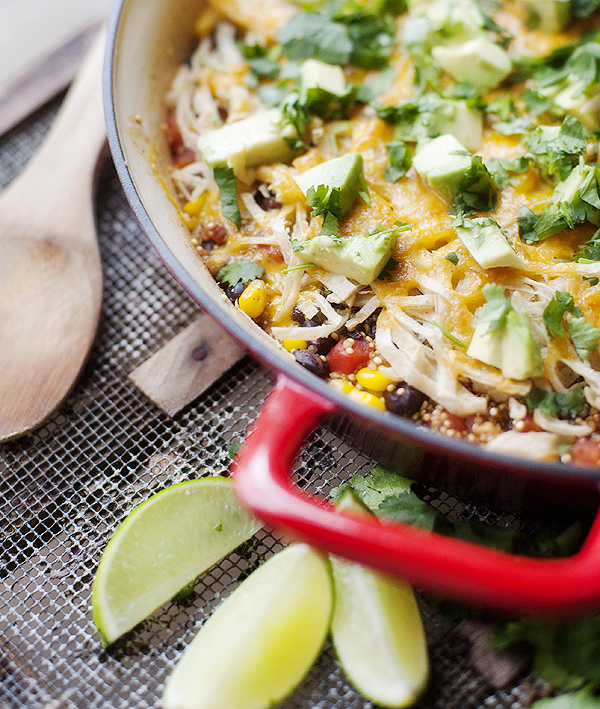 Photo credit: prettyplainjanes.com
The first thing you notice about Pretty Plain Janes' recipe is that it has very easy and everyday ingredients. There is some delicious quinoa, tortillas, black beans, tomatoes, enchilada sauce and cheeeeese! All the ingredients to make a wonderful one-pot meal. In 10 minutes, you can have all the ingredients thrown into a skillet. 25 minutes later, you will have a scrumptious meal. Use this 25 minutes to catch up on one of those reality shows that you recorded 6 months ago. Did I mention that this recipe has lots of oooey-gooey melted cheese?
3) One Pot Creamy Butternut Squash Pasta Recipe – by A Treats Affair
Photo Credit: atreatsaffair.com
Pasta and butternut squash are the 2 main ingredients in this recipe. Add the spices and cheese to get your hearty dinner idea. Roxana of A Treats Affair is a huge fan of one-pot meals. You cannot go wrong with this recipe because it is so easy. Once again, your ingredients are assembled in 10 minutes and the skillet cooks in 25 minutes. I recommend you do the laundry in these 25 minutes because it is your turn to do it.
4) Chinese No-Clay-Pot Chicken with Soy & Ginger – By The Kitchn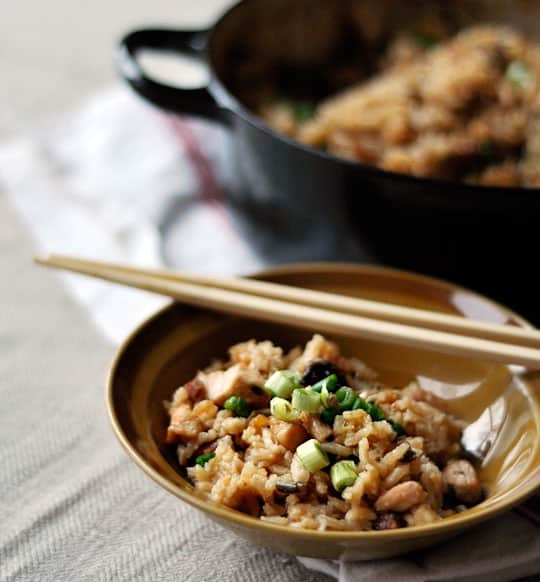 Photo Credit: Thekitchn.com
Chinese food in one pan? Yes, it is possible with the help of The Kitchn and just a few ingredients. You won't need to search for the tip in between your couch cushions for the delivery guy. Instead, you can make your own Chinese food at home with easy ingredients like mushrooms, chicken and long grain rice. Are you drooling yet? Oh, and it also has sausages. That should make you run into the kitchen to start prepping. The question is, what are you going to do with those 45 minutes that it's cooking by itself? This is a good time to catch up on some gossip with your best friend
5) Summer Vegetables With Sausage and Potatoes – By The Skinny Taste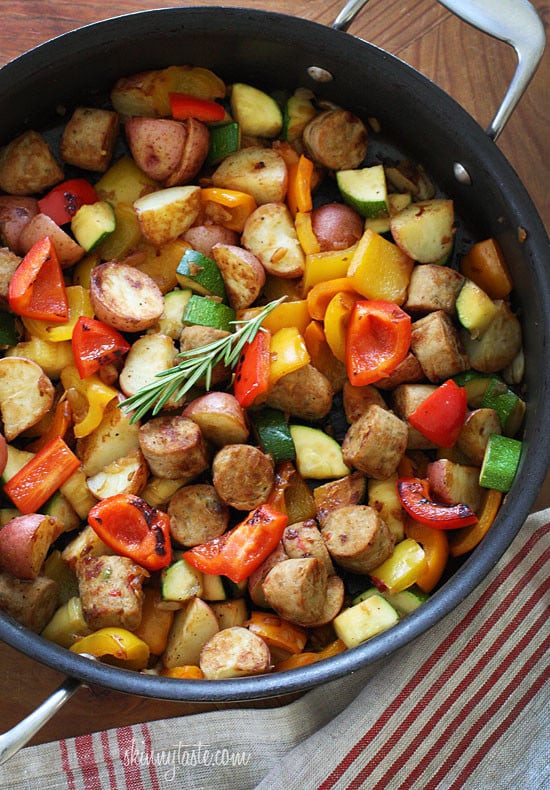 Photo Credit: SkinnyTaste.com
Does your family like sausage and potatoes? Then, they will thank you for making this recipe by Skinny Taste. They may even erect a shrine in your honor. They don't need to know that you didn't slave all day in the kitchen just to make this dinner recipe. You only spent 10 minutes getting it ready and seasoning it. For the 25 minutes it takes this meal to cook itself, you can scout around the house for the best place to put this shrine. At the entrance foyer is the best location for it, don't you think?
6) Shrimp In Coconut Sauce – By The Foodie Affair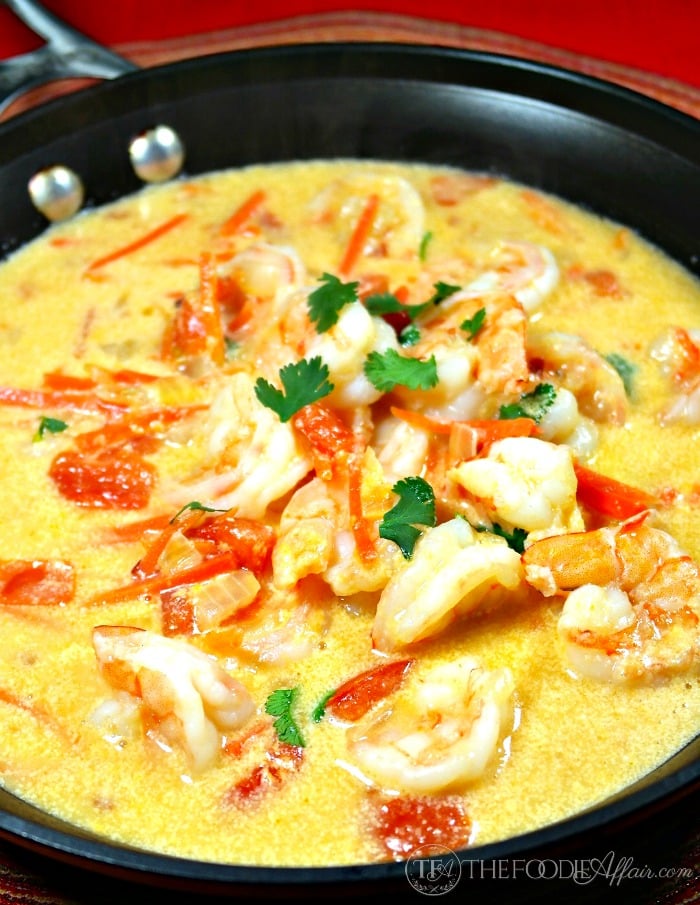 Shrimp with an Asian flare is a perennial favorite. There is something about shrimp that makes everyone hungry. Shrimp is so easy to cook and you can buy it de-veined in many stores. All the hard work is done for you. Guess how long it takes to assemble all the ingredients into a pan? Yes, you guessed correctly. In 10 minutes you will be ready for you to give yourself a facial while the dinner cooks itself.
7) One Pan Spring Tuscan Quinoa Bake – By Half Baked Harvest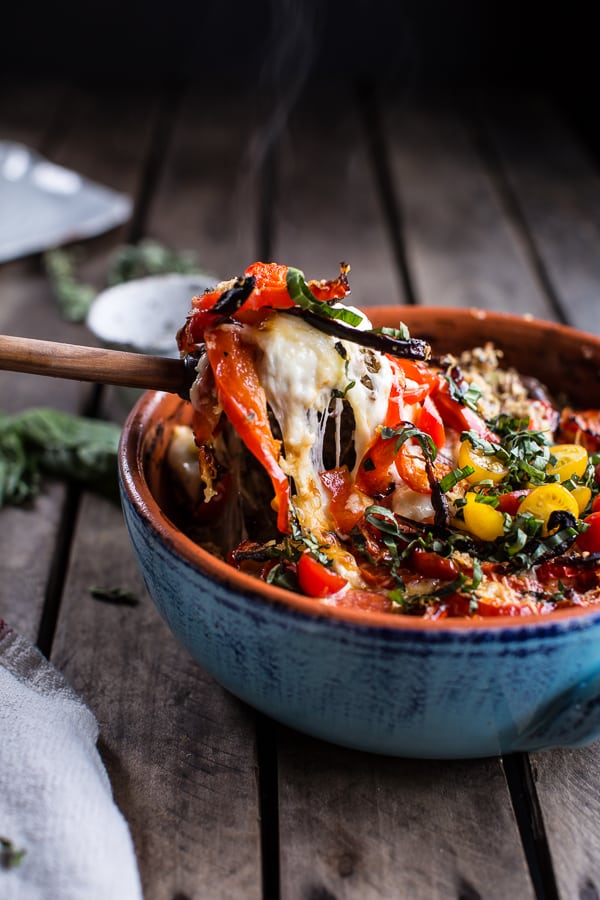 Photo credit: Halfbakedharvest.com
If there is a recipe that transports you to the breezy Tuscan hills, this is it! Imagine yourself sipping wine while sitting on top of the hill in Val d'Orcia. This recipe by Half Baked Harvest has all the spices you would see in an Italian kitchen. 10 minutes of assembling the ingredients and you will be rewarded with 40 minutes of me time while your kitchen slowly smells like Tuscany.
8) Thai Style Peanut Noodles – By Dinner At The Zoo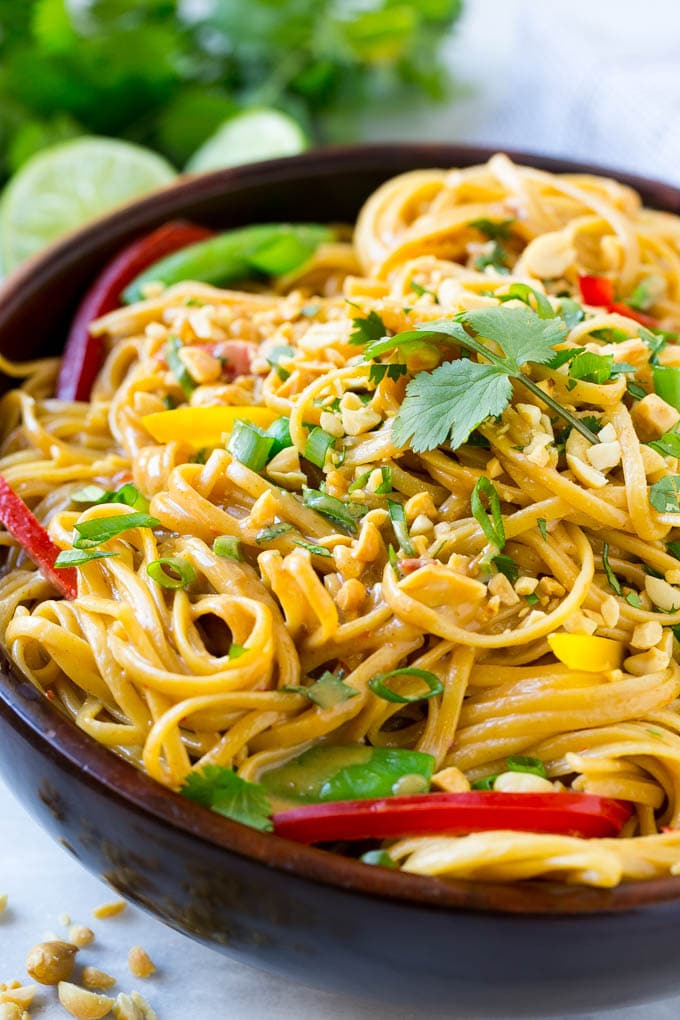 Photo credit: Dinneratthezoo.com
How much do you love Thai food? No one can resist it because it is one of those cuisines that gets into your soul and rejuvenates it. It is that combination of peanuts and spices that makes everyone do the dance of joy. Apron Strings Blog has made this delicious Thai Flavored One-pot meal that is filled with all the right ingredients. So, while this meal is cooking take the time to dance to your favorite song.
9) One Pot Fiesta Chicken And Rice Recipe – By Julie's Eats and Treats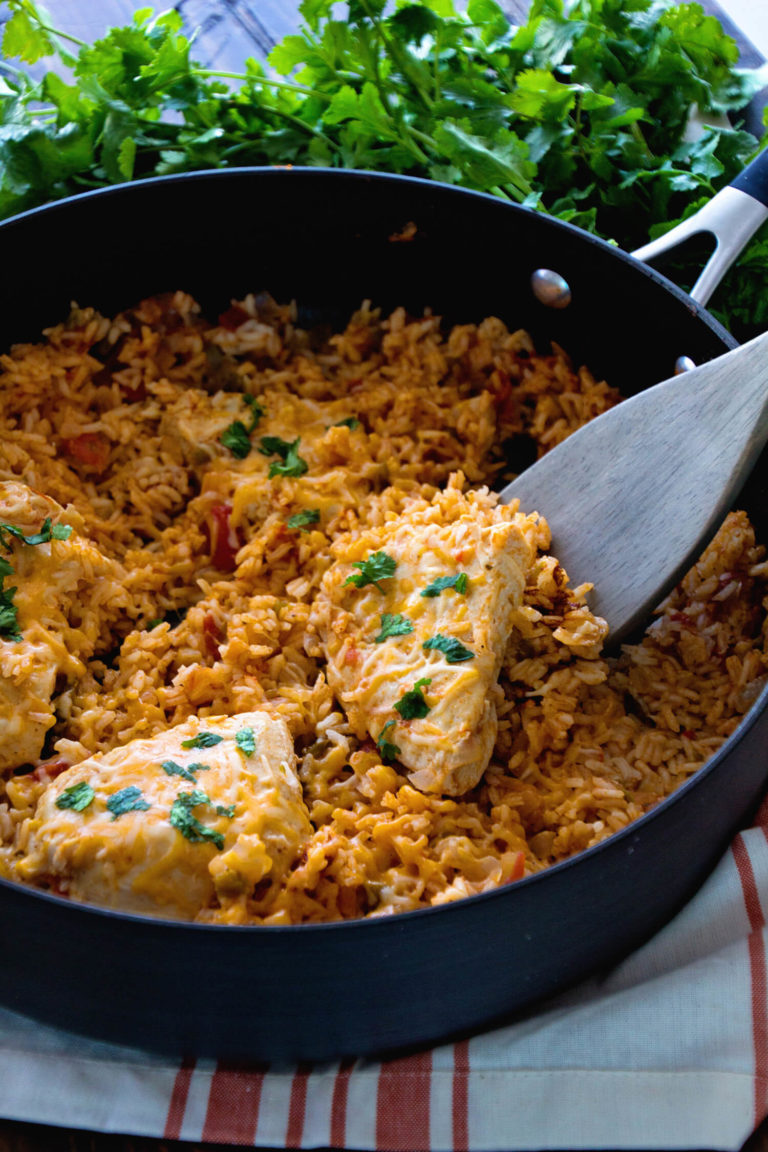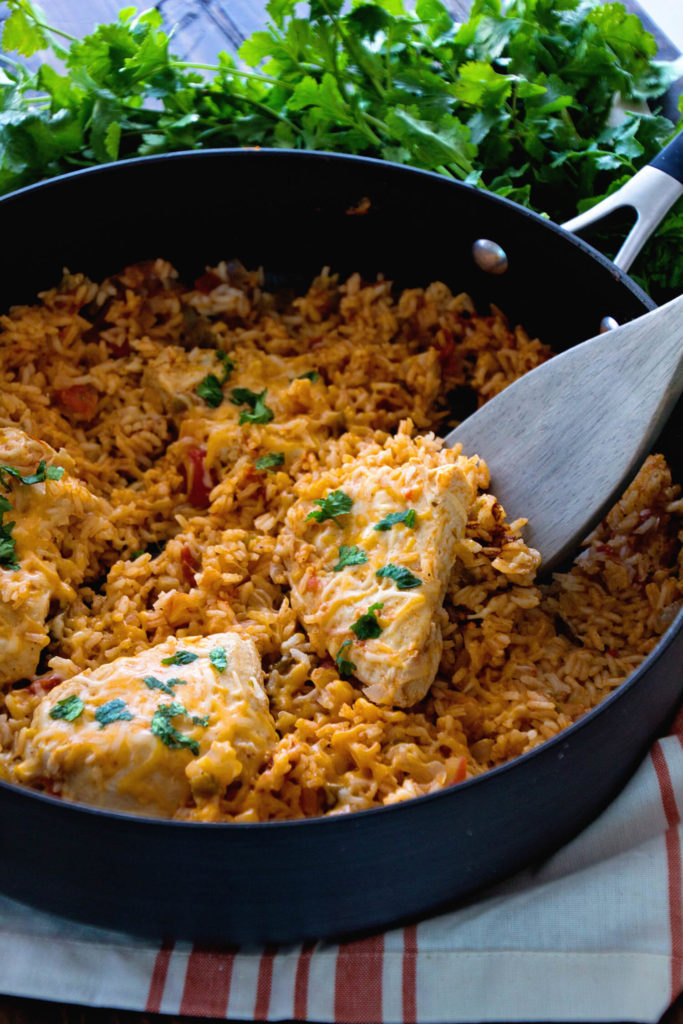 Photo credit: JuliesEatsAndTreats.com
When chicken, rice and cheese come together, you have the perfect dinner Fiesta! Ole! Julies Eats and Treats shows you some creative shortcuts in preparing this recipe. For example. flavor it with salsa and let it cook by itself. Catch up on your favorite telenovela while your dinner is simmering happily on the stove
10) One Pot Irish Paleo Dinner – By Once A Month Meals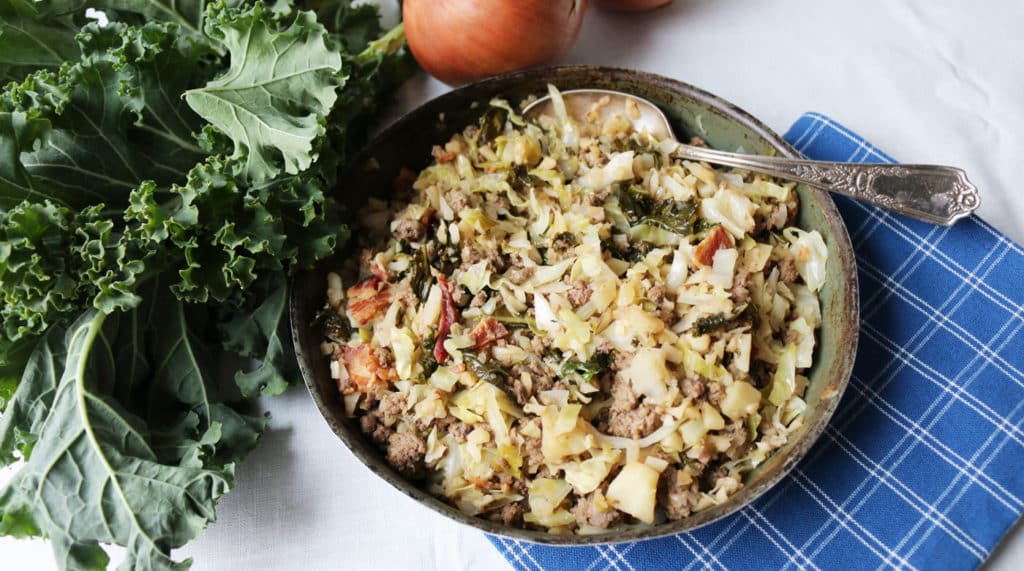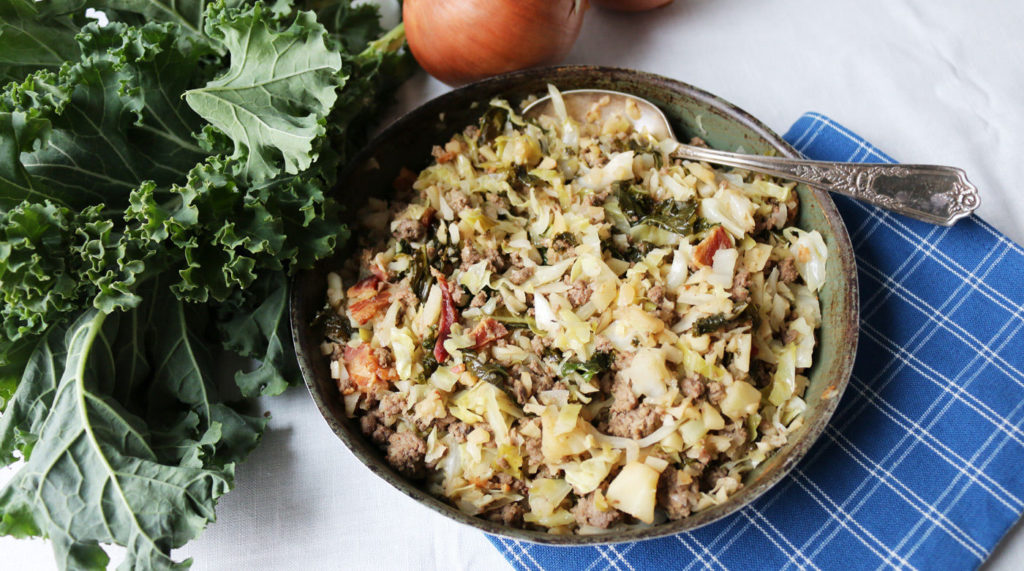 Photo credit: Onceamonthmeals.com
Paleo meals are ripe for a one-pot recipe. Cabbage and beef are the key ingredients in this recipe by Once A Month Meals. The best part of this meal is that you can freeze it and re-use it on a different weeknight. That gives you one night where you don't have to make dinner. Perfect time to take a pottery class.
11) One-Pot Irish Breakfast – By Quiet Girl, Noisy City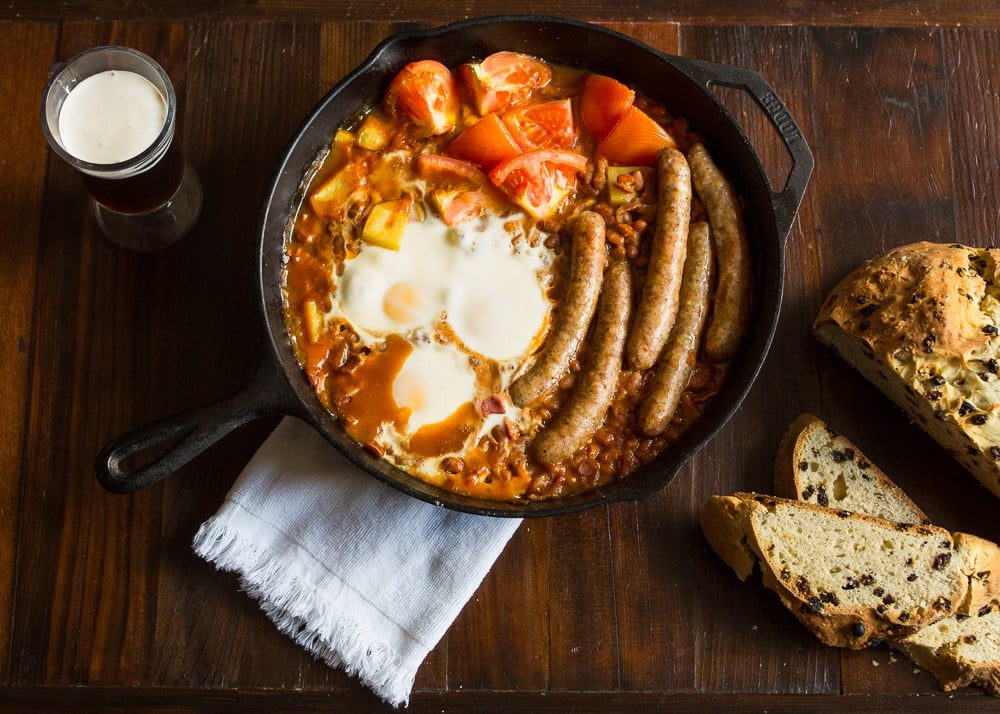 Photo credit: QuietGirlNoisyCity.com
It is said that there is a little bit Irish spirit in everyone. That free spirit and appreciation of poetry in every can be found in every human being. You and your family is going to appreciate this meal by Quiet Girl, Noisy City because it is pure comfort food. It is too good to be just a breakfast meal. You can make it for dinner any day. How about brushing up on the tap dancing classes you took when you were young?
12) One Pot Baked Greek Chicken Orzo Risoni – By RecipeTin Eats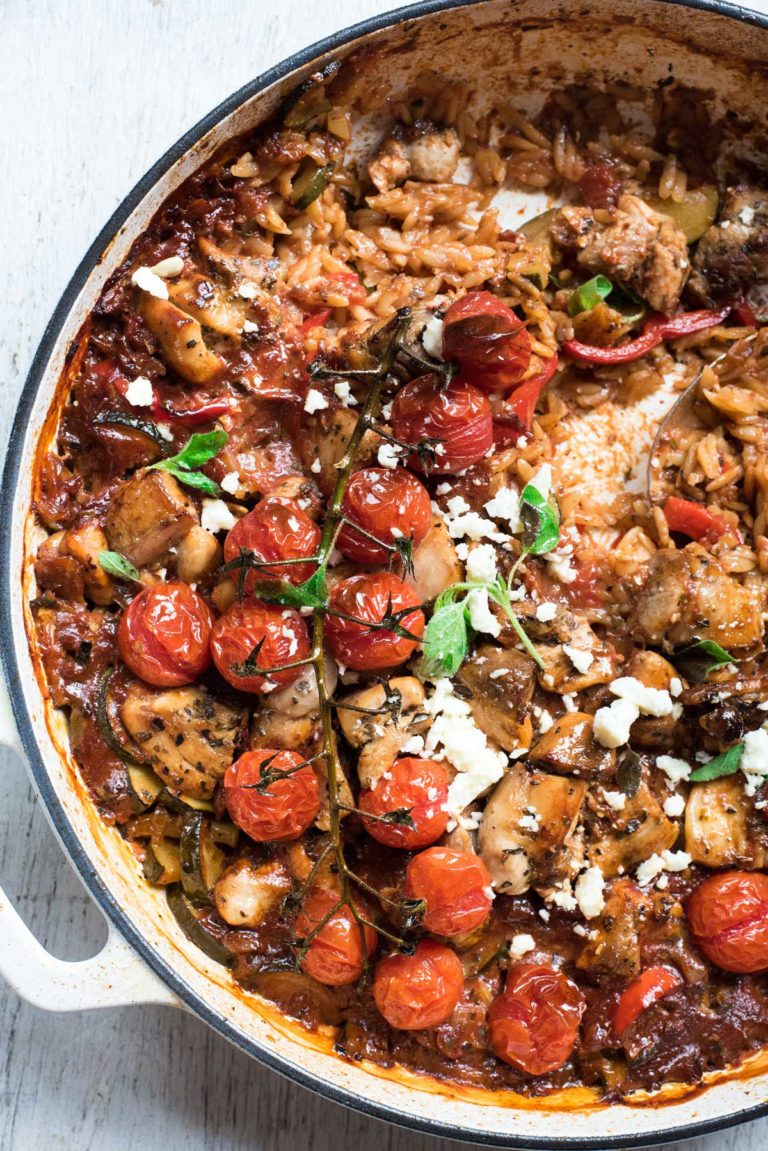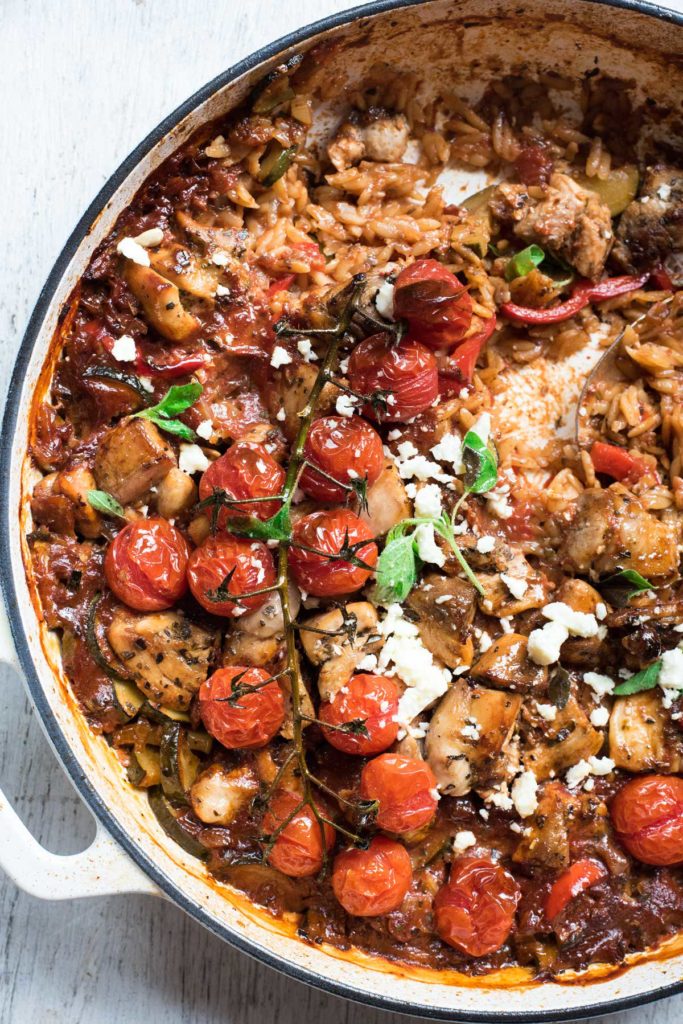 Photo credit: RecipeTinEats.com
No collection of one pot meals is ever complete without some Greek food. This recipe by RecipeTin Eats qualifies as one of the best one-pot Greek Recipes. Orzo is one of the main ingredients in this recipe and it is paired with chicken. Don't be surprised if your family licks the dish clean before they smash it and say Opa! Take a nap while this meal is cooking because you will need your energy to clean up the broken dishes.
13) Easy One Pot Sausage And Rice – By Hapa Nom Nom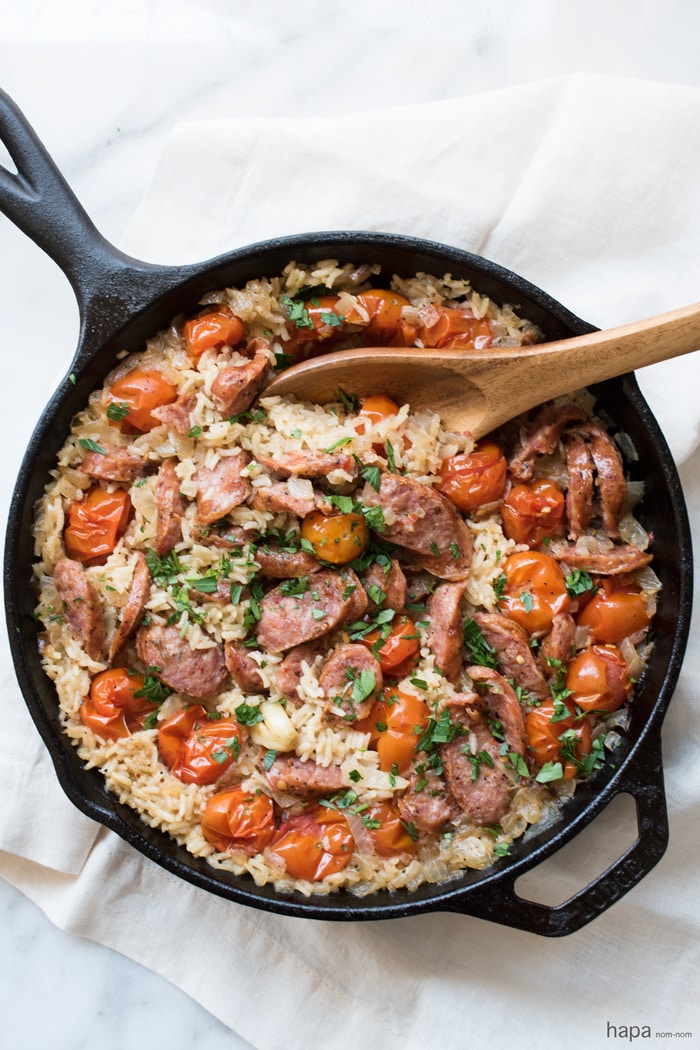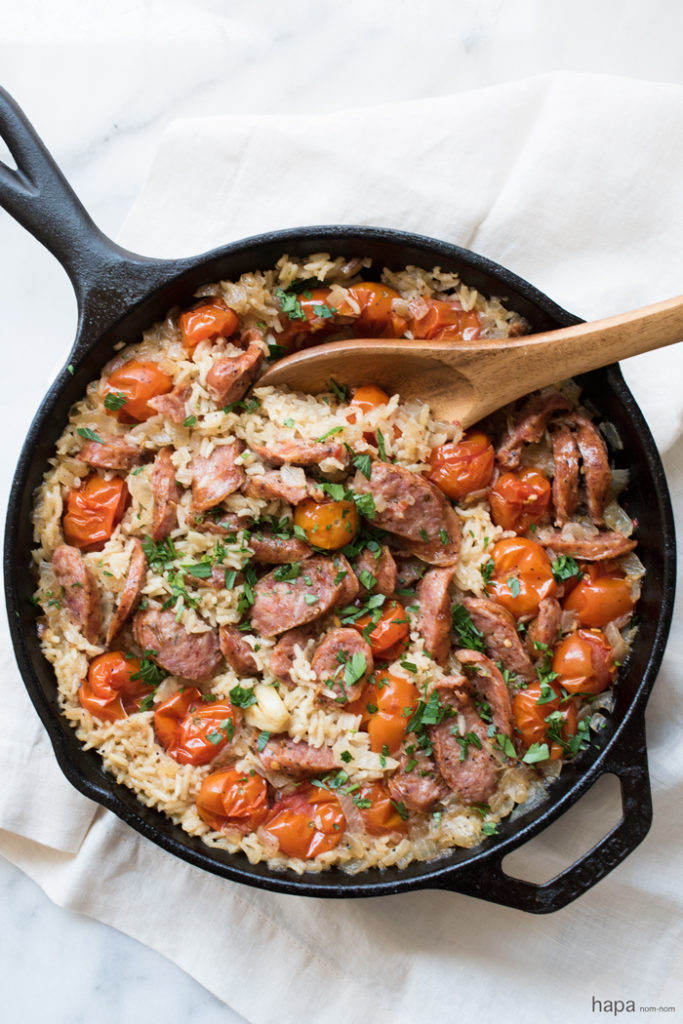 Photo credit: Hapanomnom.com
Hapa Nom Nom has paired sausage with rice in this recipe. I don't know where she gets her recipe ideas because she has one very creative recipe. To make things even better, it only takes 5 minutes to prepare this recipe!! Just thrown those ingredients together in a skillet and let it cook on its own for 25 minutes. Read your favorite magazines while your dinner is working on its own.
14) One Pot Jambalaya – By The Roasted Root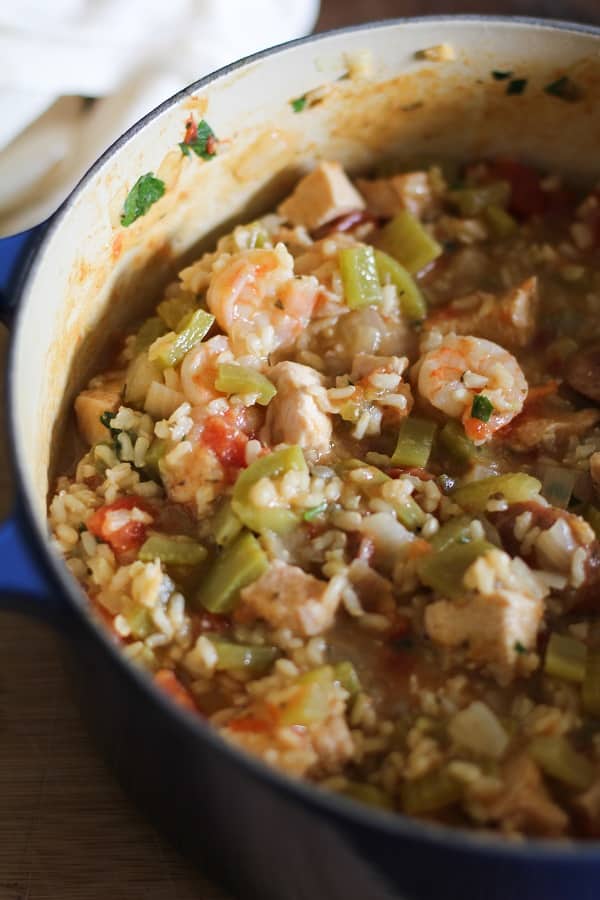 Photo credit: TheRoastedRoot.com
When you think New Orleans Cuisine, your mind immediately conjures up images of Jambalayas and beignets. Since Jambalayas are one-pot recipes and beignets are not, here is a quick recipe from The Roasted Root. The Jambalaya has shrimp and chicken along with veggies and southern seasonings. What are you going to do with those 40 minutes needed to cook the shrimp and chicken to perfection.
15) Cheeseburger Pasta Skillet – By The Foodie Affair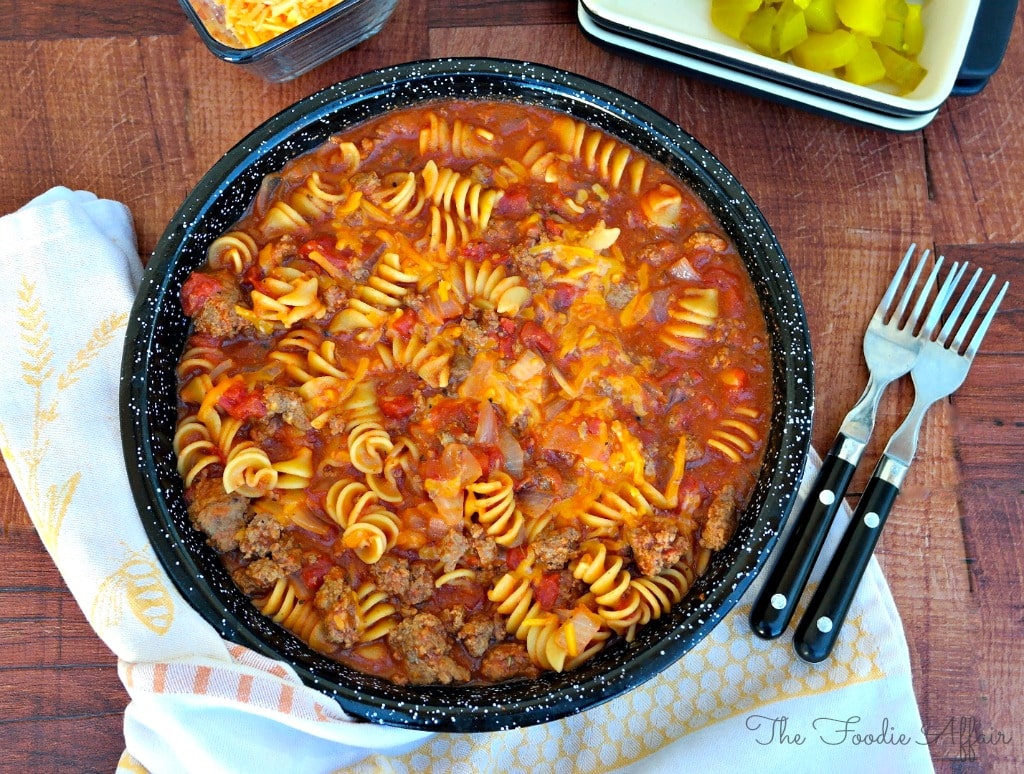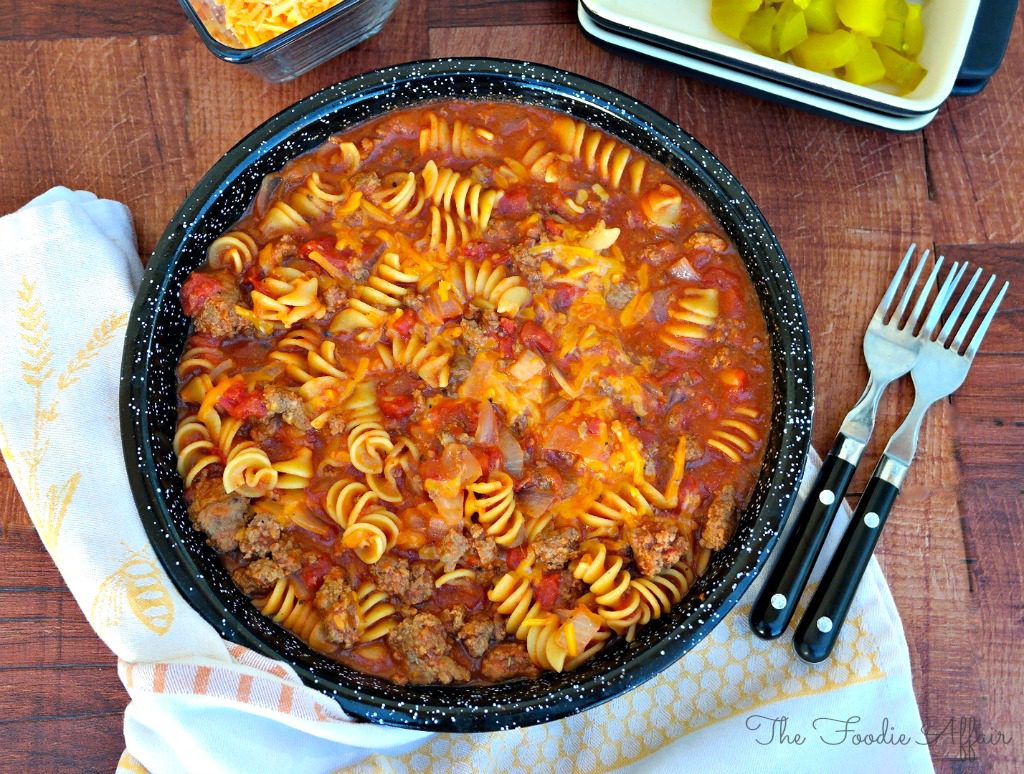 You can't put pasta in a cheeseburger, so, I found a way to have both in one recipe. It has all the ingredients of a cheeseburger and the pasta make it a wholesome meal. You don't have to worry about all that mess when eating a cheeseburger with your hands. You can eat this one with spoon and fork. Even pickles make it into the recipe, so, it is the complete cheeseburger recipe. Think of all the chores you will be able to do in the 30 minutes it takes the skillet to cook by itself.
Which one of these one pot meals will you make this week?