The browned butter adds a toasty nutty rich flavor to this Browned Butter Banana Cake. Eat it plain or add a brown sugar frosting.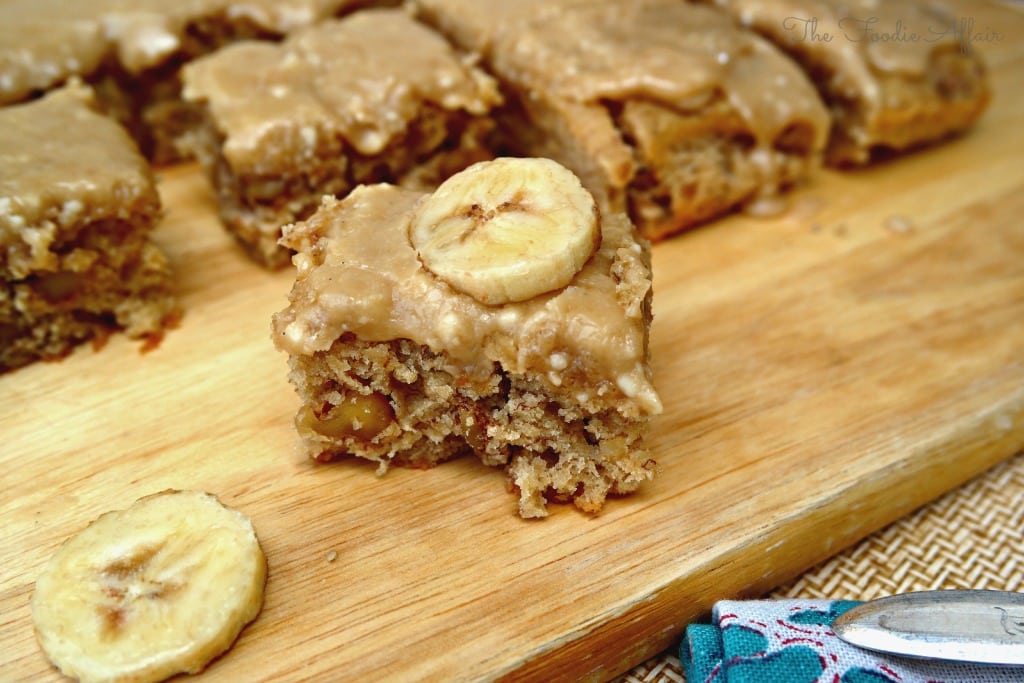 I set out to make blondies with some ripe bananas that needed to be used to bring to a family reunion. Instead, this moist and tasty browned butter banana cake happened, and since I was a week off on my calendar (#oldpeopleproblem) these went to my co-workers!
Sorry familia to tease you, but I'll be making something equally as delicious, assuming I get my event dates straight!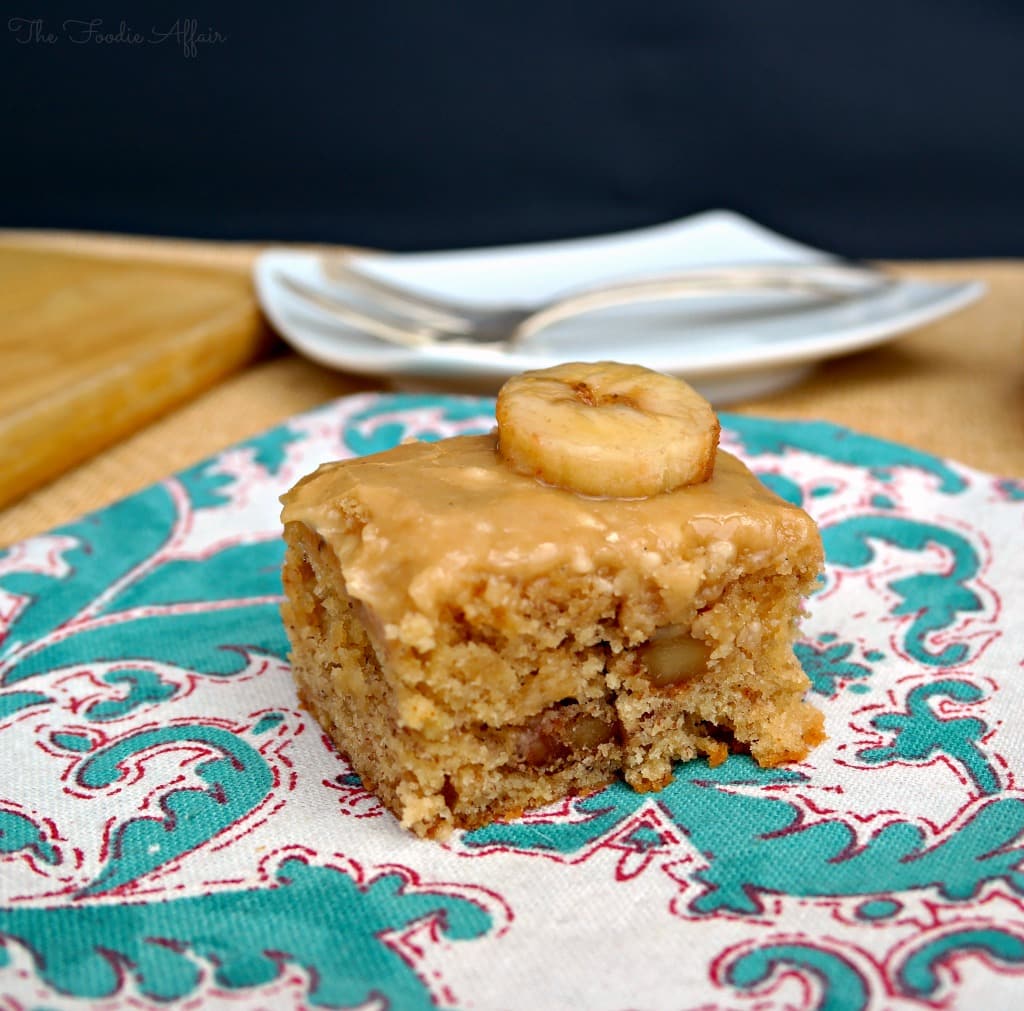 If you haven't ever added browned butter to a recipe, you will be changed forever when you give it a try. You basically cook the butter, toasting it until it turns a light amber color which gives you a nutty decadent burst of flavor.
Your kitchen smell fantastic too! So why stop at cake?! For the frosting I used the same technique; browning the butter before adding the sugar. Doubly browned butter delicious!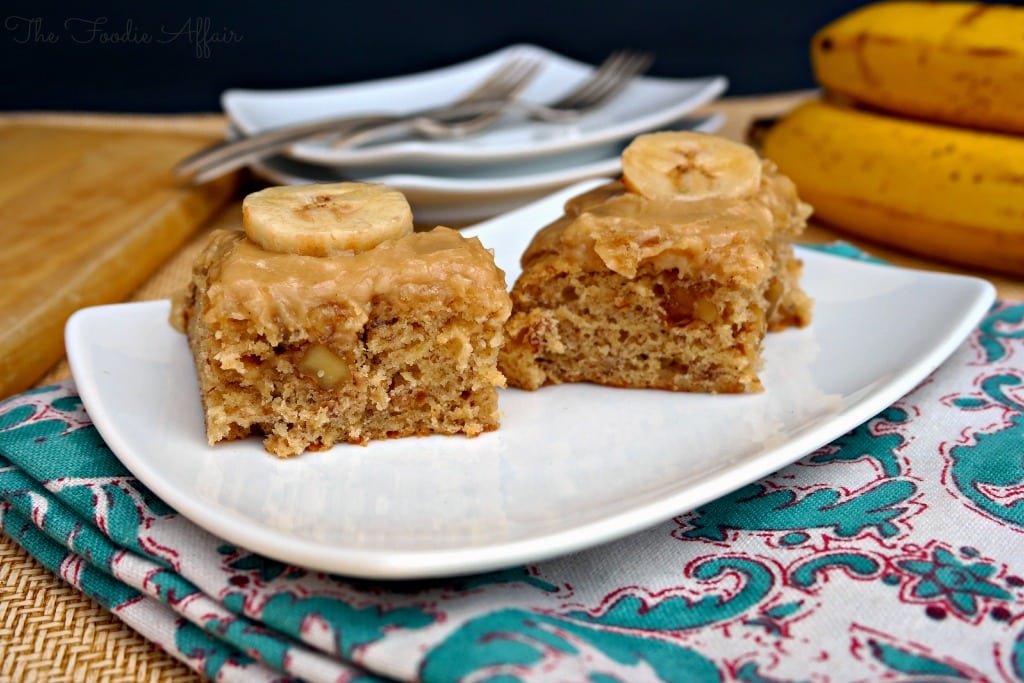 This cake is a great one to take to your potlucks or picnics this summer. Cut them in small taster sizes or serve a big piece with some vanilla ice cream!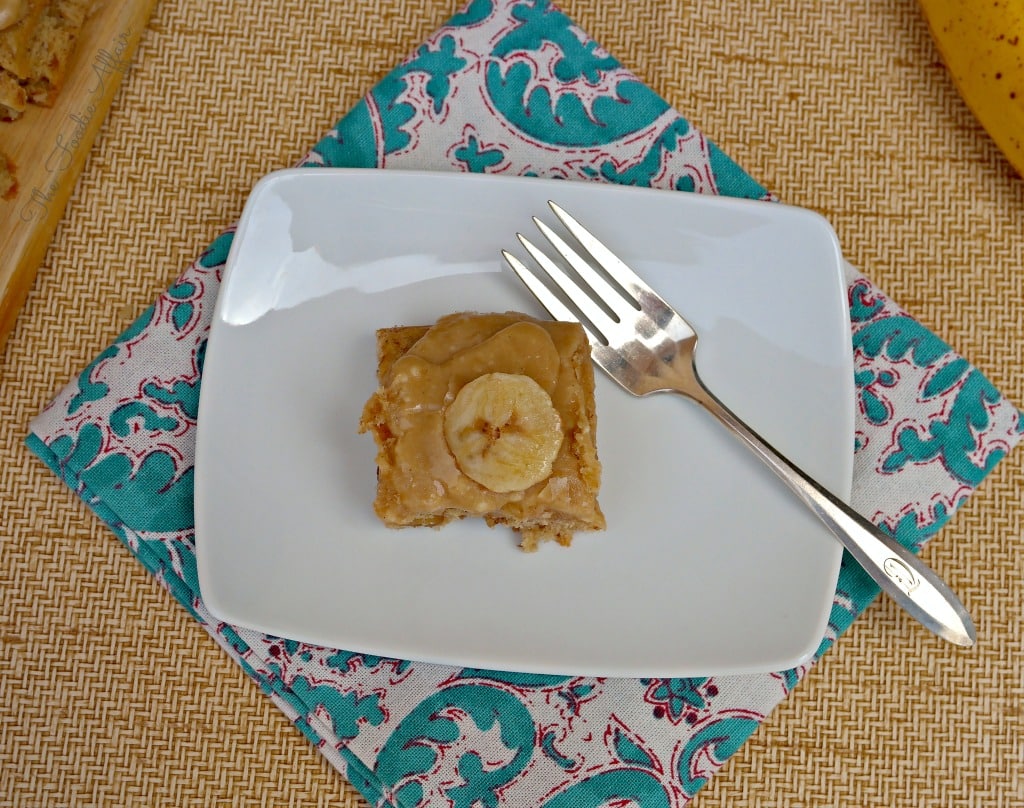 Yield: 24-32
Browned Butter Banana Cake
Prep Time 25 minutes

Cook Time 35 minutes

Total Time 1 hour
Ingredients
1/2 cup butter (1 Stick), cut up
1 1/2 cups (2-3) ripe bananas, mashed
2 cups all-purpose flour
1 teaspoon baking powder
1 teaspoon salt
1/4 teaspoon baking soda
3/4 cup brown sugar, packed
1/4 cup granulated sugar
2 eggs
2 teaspoons vanilla
1 cup nuts (pecans, walnuts) coarsely chopped and toasted (optional)
FROSTING
1/2 cup butter (1 stick), cut up
1 cup brown sugar
4 Tablespoons milk
1 cup powdered sugar, sifted
Instructions
Preheat oven to 325 degrees. Spray a 13 x 9 x 2 inch baking pan with cooking spray and set aside.
In a small saucepan melt the butter over medium heat until it begins to foam. As the foam lessens, constantly stir butter until butter is light golden brown and smells amazing. Immediately remove from heat and if necessary put in a heat proof pan so it doesn't continue to brown (it can easily burn).
In a small bowl whisk together flour, baking powder, salt and baking soda.
In a large mixing bowl combine the browned butter, brown sugar, eggs and vanilla. Beat with a mixer on medium speed until thick and smooth. Stir in mashed bananas. With the mixer on low, add flour mixture a third at a time, mixing just until combined. Stir in toasted nuts (optional). With a rubber spatula, spread the batter evenly into the prepared pan.
Bake for about 30-35 minutes or until a wooden toothpick comes out clean. Cool. Enjoy plain or add frosting.
FROSTING
In a medium saucepan melt the butter over medium heat until it begins to foam. As the foam lessens, constantly stir butter until butter is light golden brown. Add brown sugar and milk stirring until mixture begin to boil. Remove from heat and let cool slightly (2-4 minutes). Whisk in sifted powder sugar and top cake.


Adapted from these Brown-Butter Blondies.
Do you love the smell of browned butter? How about trying another treat, Brown Butter Caramel Snickerdoodles from The Tip Toe Fairy!