Easy Christmas cookie exchange recipe! Limited on time, but still want to participate in a cookie swap?  Wrap a chocolate candy in prepared pie crust forming a wonton and decorate with colorful jimmies!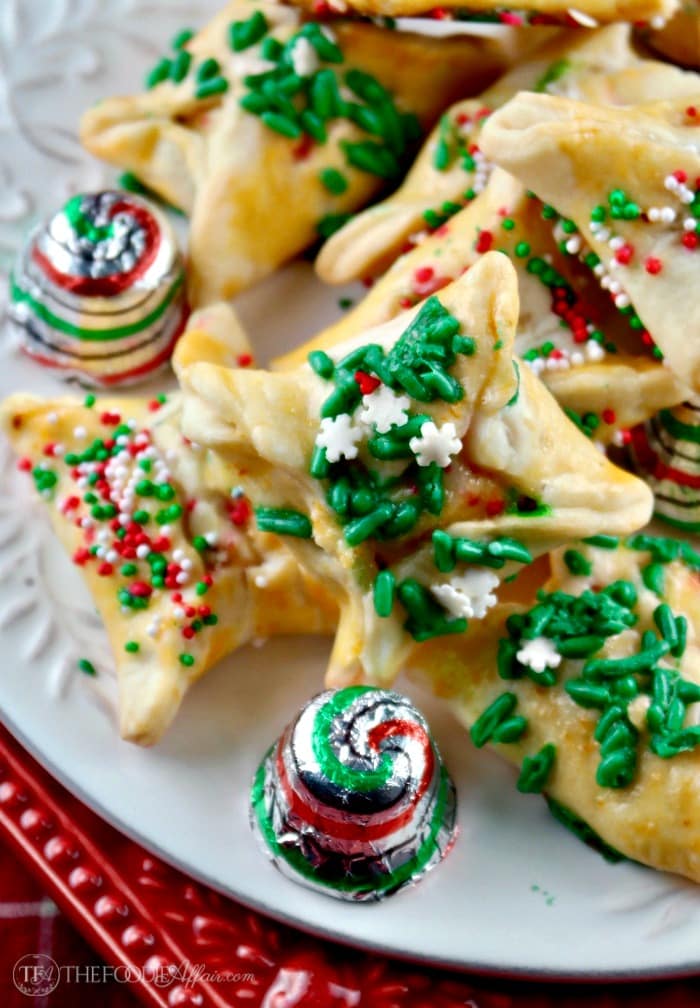 Welcome to this holiday cookie exchange hosted by my Freaky Friday blogging buddies where we will be sharing some fabulous holiday treats!
The premise of Freaky Friday blog hop is based on the Disney movie staring Jamie Lee Curtis, Mark Harmon, and Lindsey Lohan.  The movie is a comedy about a mom and her teenage daughter that have a hard time getting along, so they switch places so they can walk in each other's shoes.  Can you imagine doing that?
The Freaky Friday for bloggers is a fun way for us to take a closer look at each other's recipes and pick one to try for ourselves.  We've each been assigned to a page and have kept our swap a secret until now!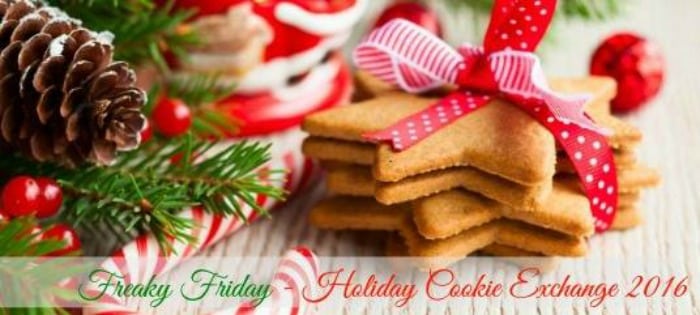 For our last swap I shared this delicious Jalapeno Popper Chicken with Bacon recipe.  This time we were given instructions to find something that you can add to a cookie tray for the holidays.
Which blog did the inspiration for these Easy Christmas Cookie Exchange recipe come from?
Well, I hope you already follow Platter Talk, but just in case you don't let me introduce Dan and Scott the gents behind the camera and creators of these Holiday Wonton Kisses!
Dan and Scott are raising a large family of boys (6!), so you can only imagine the variety of recipes that they have in their collection.  I kept gravitating towards savory recipes like oven-fried buttermilk chicken and stuffed cabbage all while thinking, "focus and pick a treat!"
I was tempted to try these simple apple bars, but the Holiday Wonton Kisses won out because I thought they are genius treat for busy families, and after tasting them these will be on my cookie tray forever!
Use pre-made ingredients for this festive cookie!
The only difference between the treats that I made and the original recipe is that I used chocolate bells instead of kisses in the center.
Alan was with me when I picked up the ingredients and convinced me that the chocolate and peppermint of the bell combination would be fabulous between the pie crust dough!  He's right!
My treats didn't keep the cute upright wonton shape, but that may be based on the brand of pie crust that is used.  I still think the little square shape is adorable!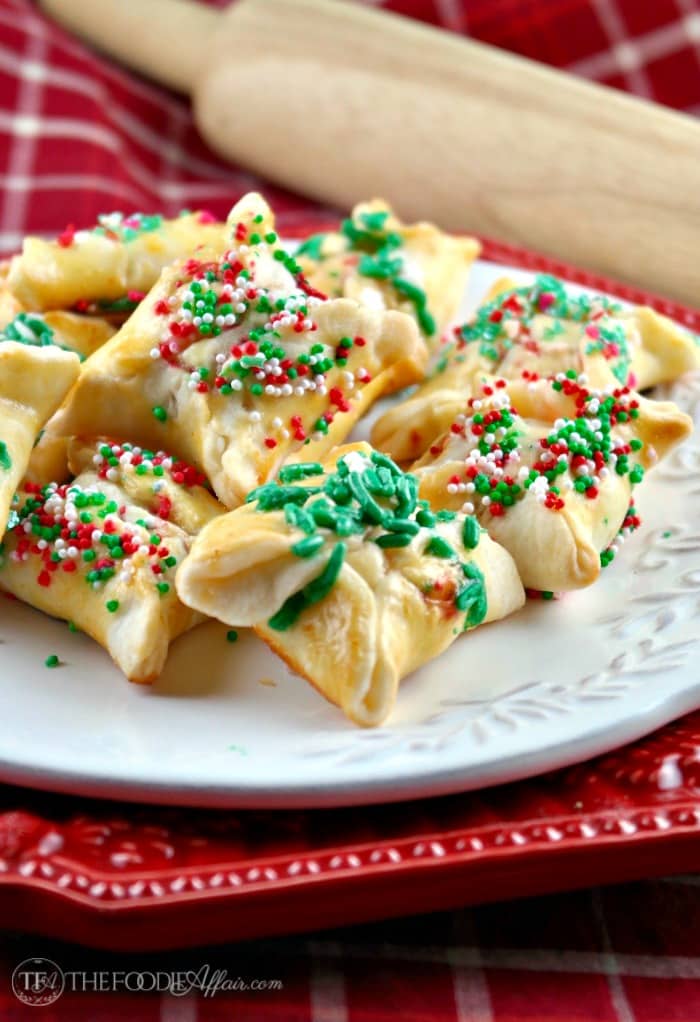 After checking out Platter Talk are you thinking, "hey they look familiar"  It may be possible that you've seen them on television because they've had several appearances on the news channel Good Day Wisconsin!!  How cool is that?!
Hope you add these tasty treats to your cookie tray and be sure to check out all the fabulous recipes from my friends!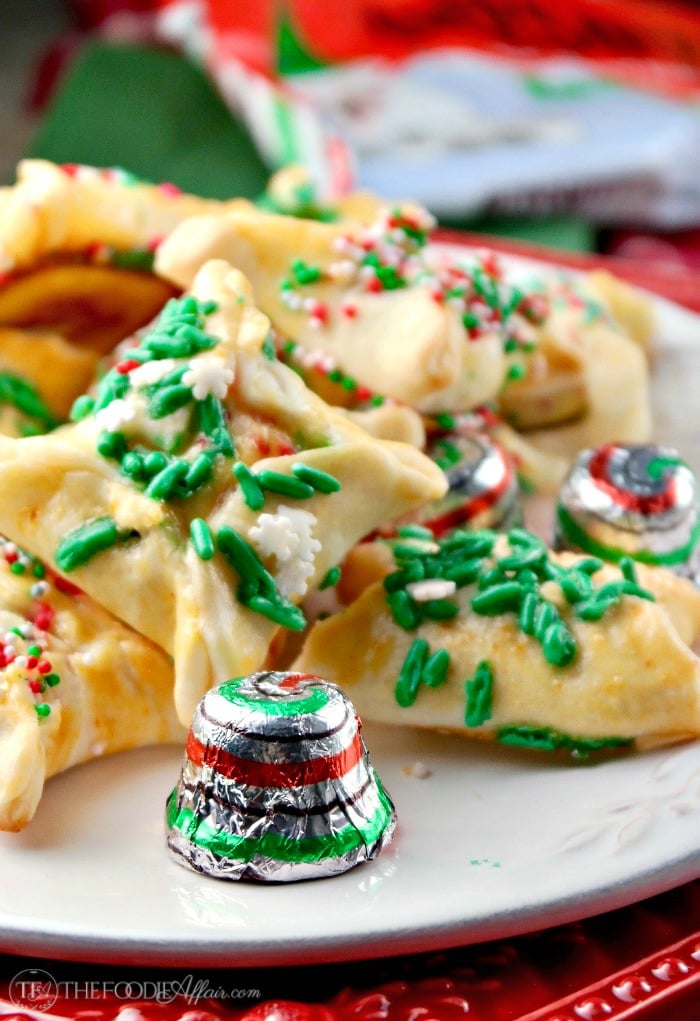 Yield: 22
Easy Christmas Cookie Exchange Recipe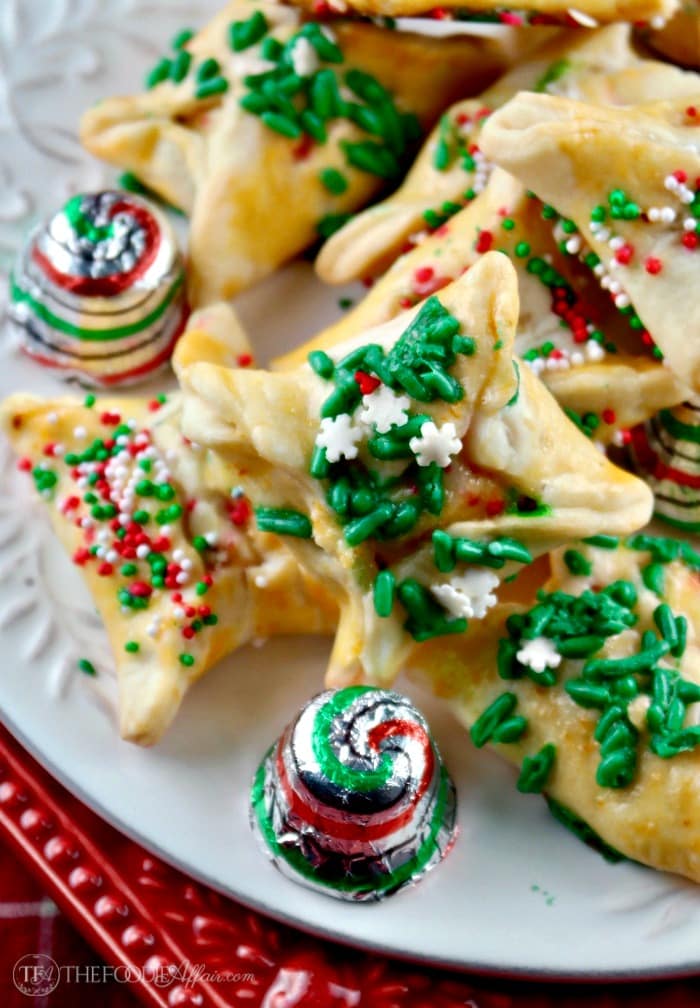 Ingredients
1 package prepared pie crust
24 chocolate candies
1 large egg, lightly beaten
jimmies for decorating
Instructions
Preheat oven according to manufactures recommendation (325 - 350 degrees). Line a baking sheet with parchment paper and set aside.
On a lightly dusted floured surface roll out pie crust to 1/4' thickness. Using a 3 1/2 - 4 inch round cookie cutter gently press down on the crust cutting into the dough.
Place a piece of chocolate in the center of each dough and fold the dough to the center and pinch the sides together. Gently brush each cookie with egg and add colorful jimmies. Bake for 25 minutes or until lightly browned.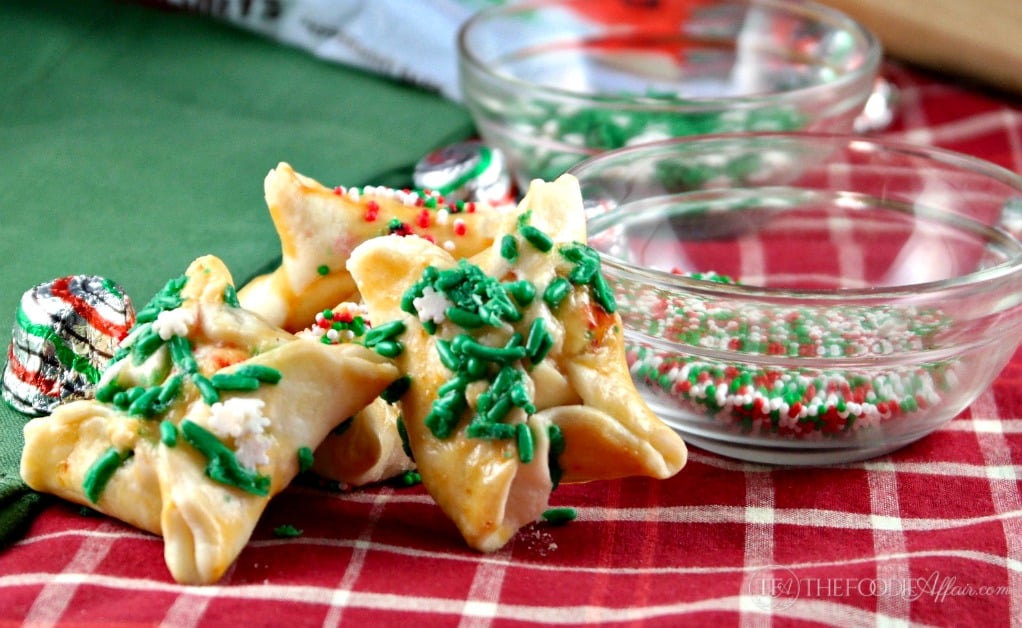 ');