Easy Peanut Butter Dog Treats that you bake like a cookie. Your fur babies will LOVE these simple treats!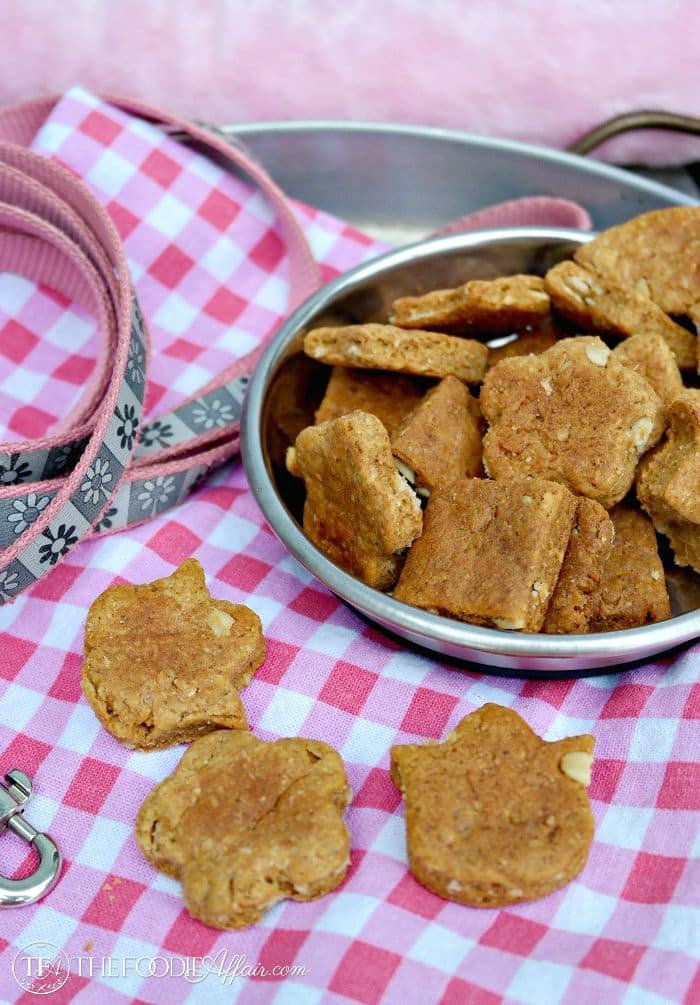 Meet my baby girl Abby!! If you follow me on Instagram you may have seen pictures of her here when she first came to live with us six months ago, and here with her best bud (and my grand pup!) Ricky or here with the the other feline girls that rule my house.
Abby is the sweetest dog and has me and Alan wrapped tightly around her little paws! So much so that I'm baking treats just for her! NEVER in a million years did I think I would be one of THOSE pet owners. Well, here I am sharing a biscuit recipe for pups!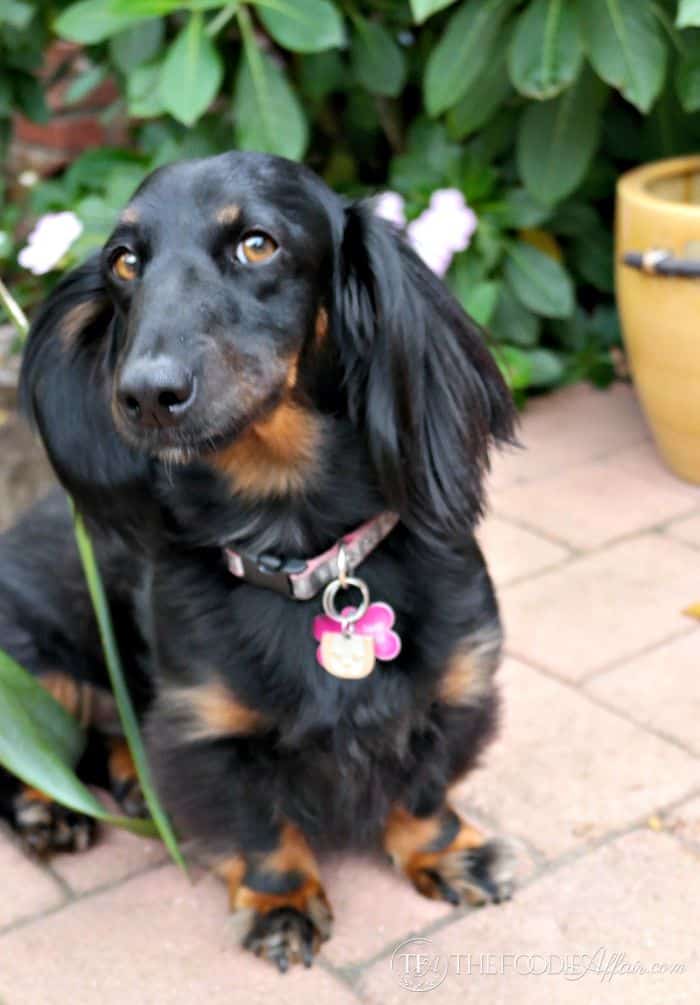 After we lost our dog buddy it has taken us a long time to warm up to having another pet in the house. We were content with the two cats, but we still visited our local Animal Friends Rescue Project quite often hoping for the perfect pup match.
We didn't want to adopt another older dog this time around. We had buddy for five years and he was such a good dog.
Old age sucks, even for animals! We also didn't think we had the energy it takes to train a pup, so when we learned that Abby needed to be rescued (she was once adopted and then returned after six months) we practically ran to meet her before anyone else tried to swoop her up. She was shy, reserved, and we both fell in love with her at first sight.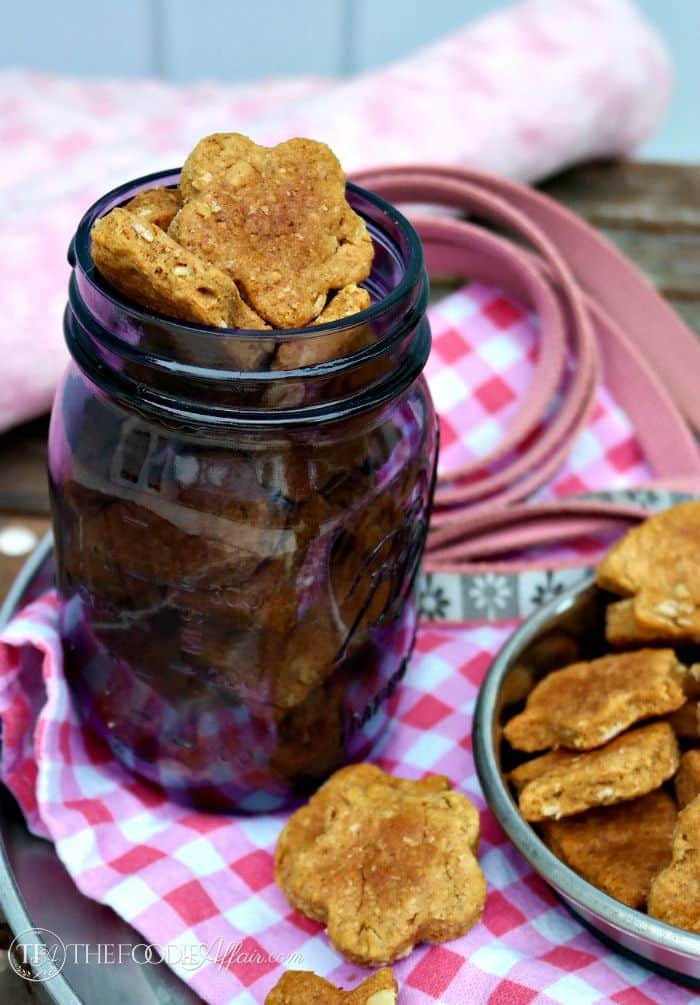 This baby girl was found running in the Salinas Valley fields and boy can she run! We've had to chase after her more than once! Now she loves the beach and has relaxed a bit more.
She's not a cuddle bug, but she does want us near her and will get anxious when we leave her at the house alone (which is every day!), but before I leave she'll roll over and I'll rub her chest, then I carry her to her blanket, give her Peanut Butter Dog Treats, and remind her that we're coming back and we love her! Yep. One. Of. THOSE. XO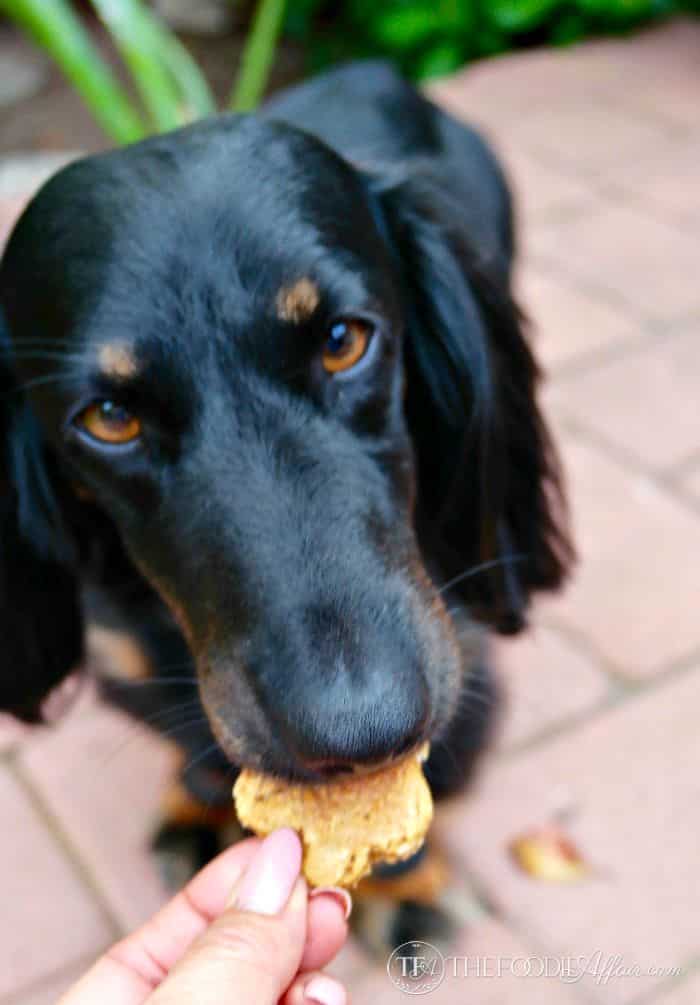 Even if you don't have a pup of your own be sure to keep this recipe handy for gifts for your dog loving friends! They'll appreciate the homemade Peanut Butter Dog treats as much as their dog does!
I found mini flower cookie cutters that I used to cut out these treats, and for the last bit of the dough I rolled it and cut little square shapes. For a bigger dog you can make larger treats. Abby is a trim 24 pounds 🙂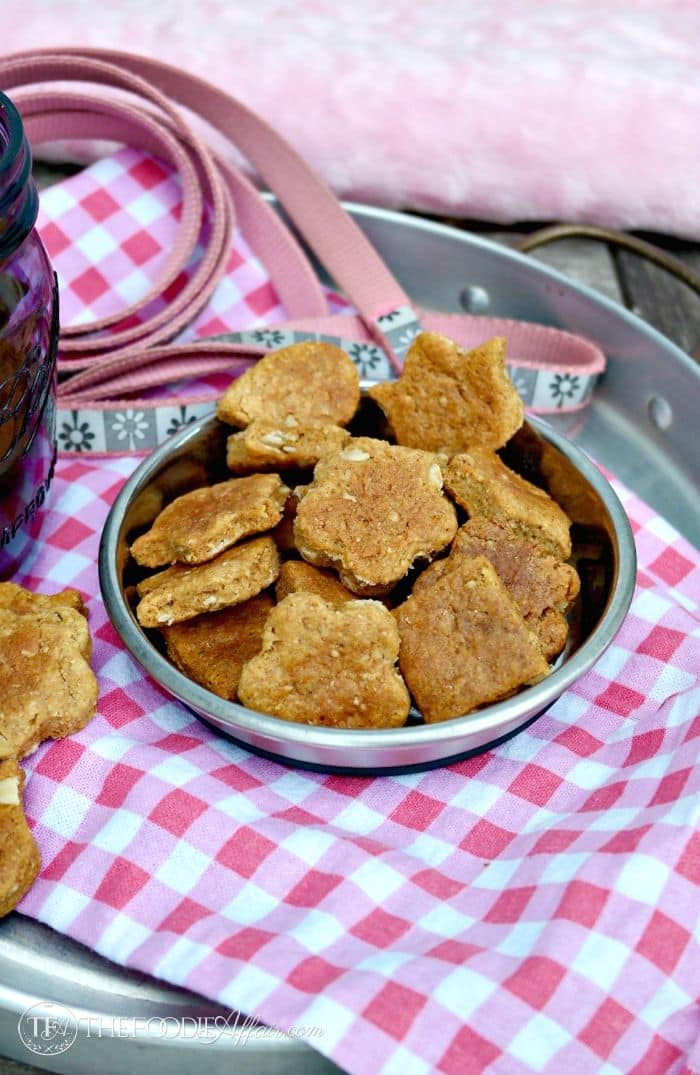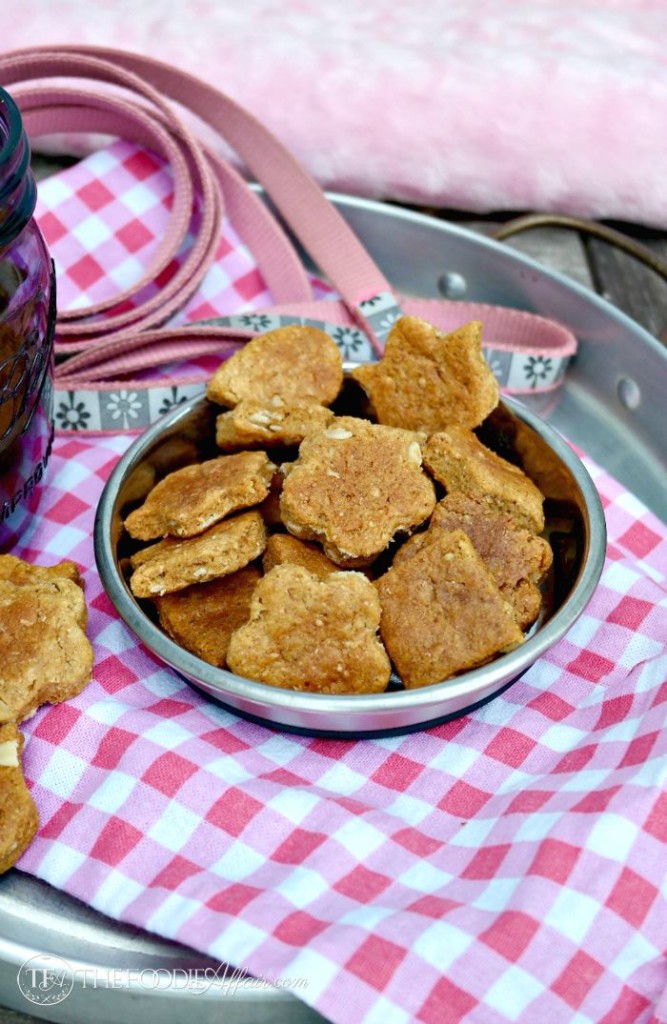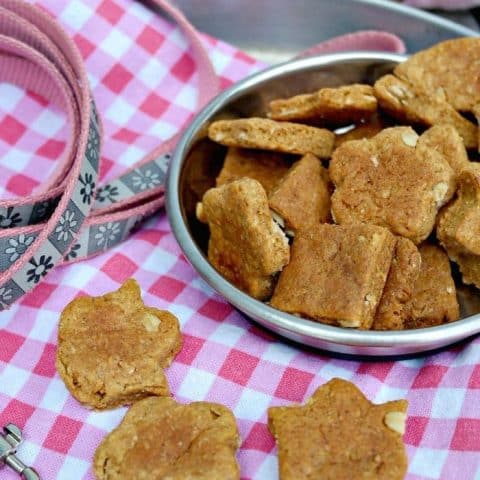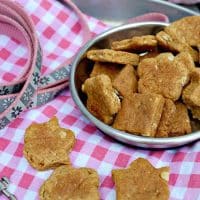 Ingredients
1 1/2

cups

white whole wheat flour

1/4

cup

rolled oats

1

teaspoon

baking powder

1

large egg

3/4

cup

milk

1% or fat free

1

cup

peanut butter

natural - no sugar or salt added
Instructions
Preheat oven to 325 degrees.

In a large bowl whisk together flour, oats, and baking powder.

In a medium bowl whisk the egg, milk and peanut butter until all ingredients until combined. Add to flour and mix by hand until the dough holds together.

Place on parchment paper and flattened dough slightly. Place another piece of parchment paper over the dough and roll to 1/2-inch thickness. Cut into squares or use a cookie cutter to make the shape of your choice. Place on a baking sheet and bake for 15 minutes. Flip and bake another 5-10 minutes more. Let cool completely on a wire rack.
Notes
Gluten Free Option - replace whole wheat flour for gluten-free oat flour and oats.
Store in the refrigerator.
Disclaimer
Please note that the nutritional information provided are guidelines and may vary based on the brand of products used. For your specific nutritional goals use My Fitness Pal or Verywell Fit recipe calculators. All content within this site is not intended as medical diagnosis or treatment and should not be considered a substitute for professional medical expertise.