Persimmon Cookies are on the baking list for the season!
Have you seen those beautiful orange acorn shaped fruits in the stores, but not quite sure what to use them for?  Well, you've come to the right place for delicious homemade cookies made with persimmon pulp!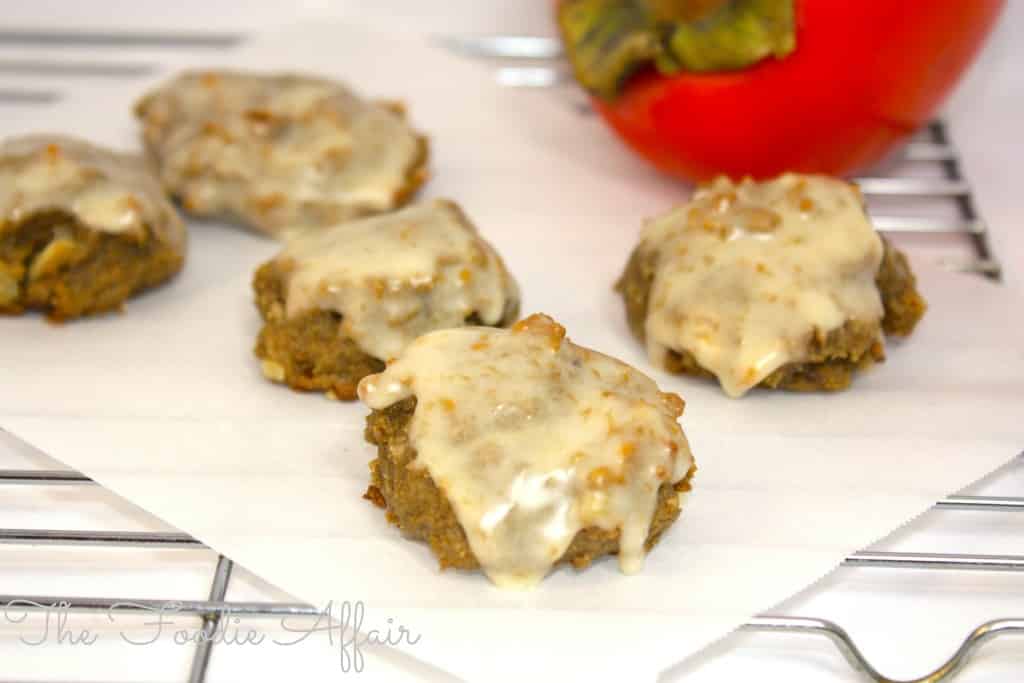 Persimmon Cookies
If you have never baked with persimmons, then you must give this cookie recipe a try!
Persimmon fruit is delicious in their natural state, but they also add wonderful moisture and flavor to cookies and breads.
When I see persimmons I think of my late grandmother. I can picture her tiny kitchen overflowing with ingredients for her next meal; dishes in the sink, and always a pot of beans or pozole Mexican soup simmering on the stove.
Among all the kitchen chaos, there would also be a paper bag filled with persimmons during the fall months, and peaches in the summer time.
She must have had bearing fruit trees nearby because we would often come home with our own bags of fruits.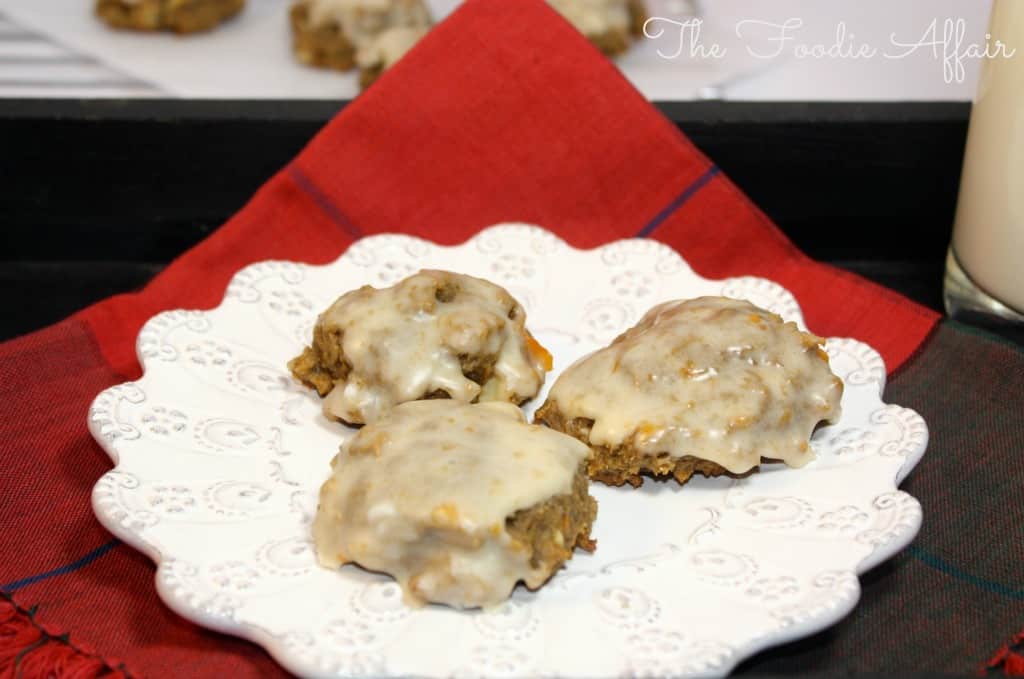 What's the difference between Fuyu and Hachiya persimmons?
If you aren't familiar with persimmons, there are several varieties. I mostly see Fuyu and Hachiya persimmons in the stores.
Fuyus are shaped like little pumpkins and can be eaten like an apple.
The Hachiya persimmons are shaped like an acorn or heart, and this type is what is usually added to baked items.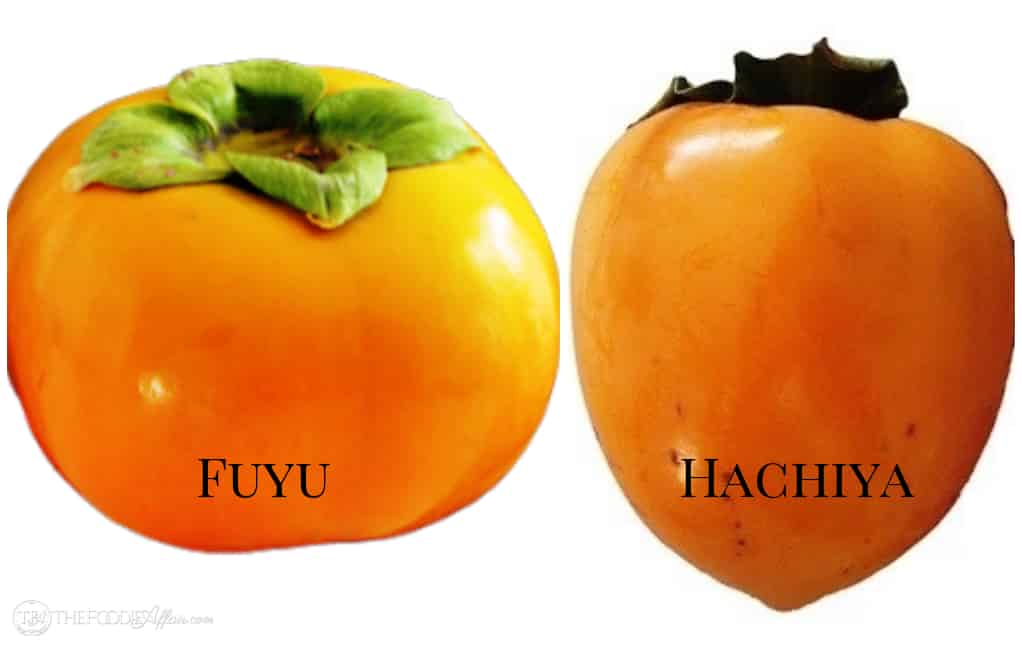 Photo credit: Produce Clerk
For this recipe I used the pulp from super ripe hachiya persimmons.
When this fruit is super soft the skin practically falls off persimmons, which is perfect for baking these cookies. The fruit will feel gushy, almost liquefied.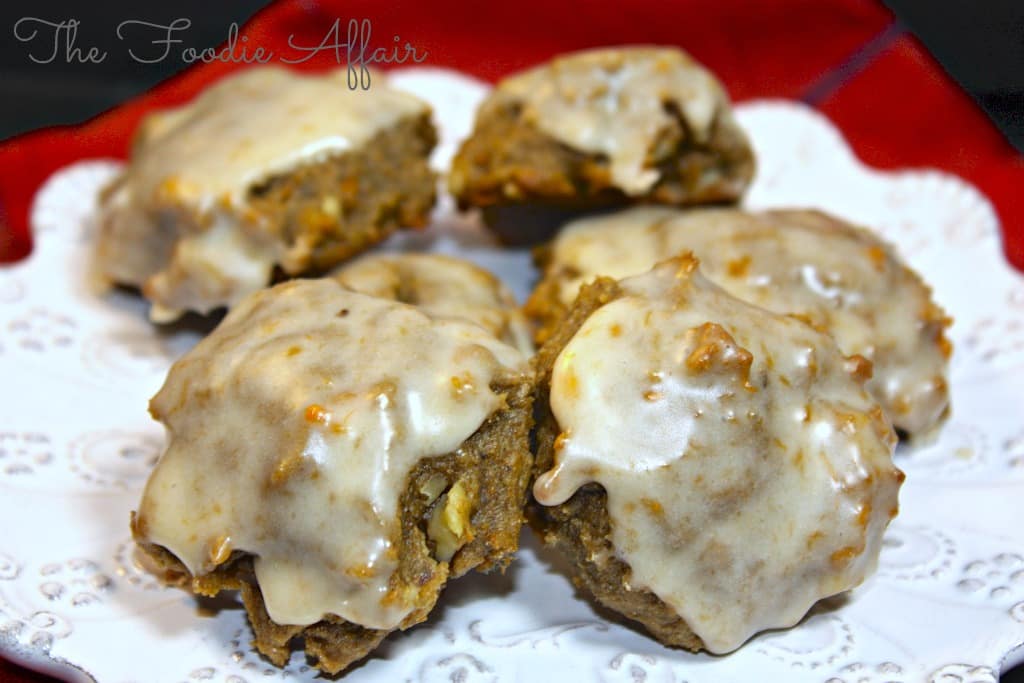 How to make persimmon cookies
First prepare the pulp by gently removing the skin from about 3 persimmons.
Place in it a small bowl and set aside (the pulp should be so soft and ripe that you will just need to break up the pulp with a fork).
Whisk the  dry ingredients together.
Cream the butter and sugar together until it's nice and fluffy.
Add the remaining wet ingredients, and then mix in the persimmon pulp.
Combine the wet and dry ingredients, then fold in the nuts!
Bake each batch for about 12 minutes
Cool completely before adding the glaze.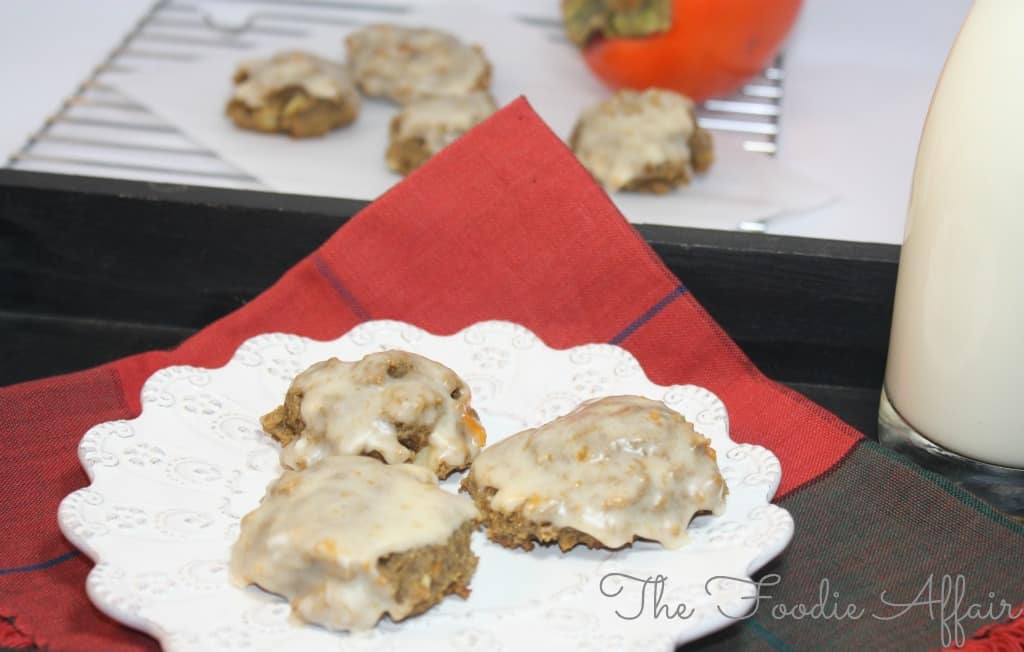 Can persimmon cookies be frozen?
These persimmon cookies are soft with fall spices like cinnamon, cloves, and nutmeg. The trio fills your house with the aroma of the holidays!
For this reason, I recommend freezing the dough in airtight freezer bags or freezer proof containers for fresh baked cookies anytime!
Baked cookies can also be frozen, but I don't recommend freezing them with the glaze.  Add the glaze after you have thawed the cookies and they'll taste freshly baked!
Do you have a recipe that reminds you of family?
I began to look forward to those cookies though, and thought it was a special cookie just known to our family, since I never saw anything like them in the stores!
Yield: 36
Persimmon Cookies
Ingredients
1 cup all-purpose flour
1 cup white whole wheat flour
1 teaspoon baking soda
1/2 teaspoon salt
1 teaspoon cinnamon
1/2 teaspoon ground cloves
1/2 teaspoon ground nutmeg
1/2 cup butter, unsalted at room temperture
1 cup granulated sugar
1 cup persimmon pulp (2-3 large persimmons)
1 large egg
1 teaspoon vanilla extract
1 cup chopped walnuts
GLAZE
2 cups powdered sugar
4-6 Tablespoons fresh orange juice
1 Tablespoon persimmon pulp
Instructions
Preheat oven to 350 degrees. Line two baking sheets with parchment paper.
In a medium bowl, whisk the flours, baking soda, salt, and spices together. Set aside.
In a large mixing bowl, cream the butter and sugar together until light and fluffy. Add persimmon pulp, egg, and vanilla and mix until incorporated. On low speed, add the flour mixture, and blend until a dough forms. Fold in walnuts.
Drop by rounded spoonfuls onto prepared baking sheets 2 inches apart. Bake for 12-14 minutes or until cookies are set. Move cookies to a wire rack to cool.
For glaze, in a medium bowl, combine the powdered sugar, orange juice and whisk until smooth. Stir in 1 Tablespoon of persimmon pulp. Dip the cookie tops into the glaze and set cookies on parchment paper or wire rack until the glaze hardens.



Add persimmons to some savory dishes as well!  Try this Fall Harvest Salad or how about Roasted Acorn Squash with Black Grapes and Cardamom Persimmons!