This Corned Beef Cabbage Slow Cooked meal is a delicious traditional Irish dish for Saint Patrick's Day made easy! Put everything in a crock pot and go enjoy a Irish coffee!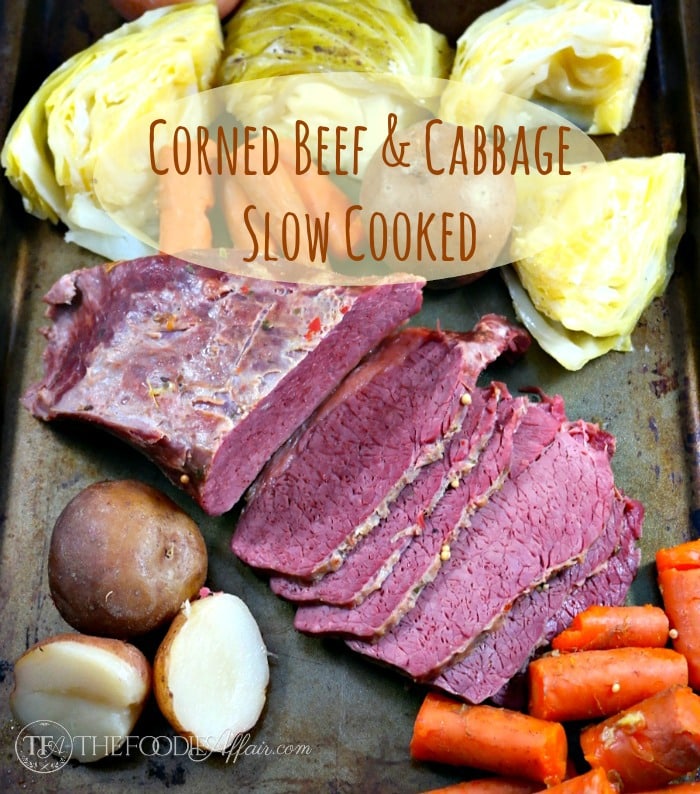 When it comes right down to it, Alan is a meat and potatoes kind of guy. Give him a nice chunk of beef a spud or two and he's a happy man. So as soon as I saw corned beef in my grocery store I bought it and this corned beef and cabbage slow cooked while I nursed a cold.
Yeah, not sure where the sniffles came from. Probably from this erratic weather were having in California. Flip-flops one day and boots the next, but I know some of you are buried in snow, so I'm going to hush and keep my whining to a faint whimper.
Corned beef cabbage slow cooked takes one tough piece of meat and tenderizes it perfectly!
Nice and tender and cooked right with the carrots and potatoes soaking up the flavors of the liquid this all cooks in.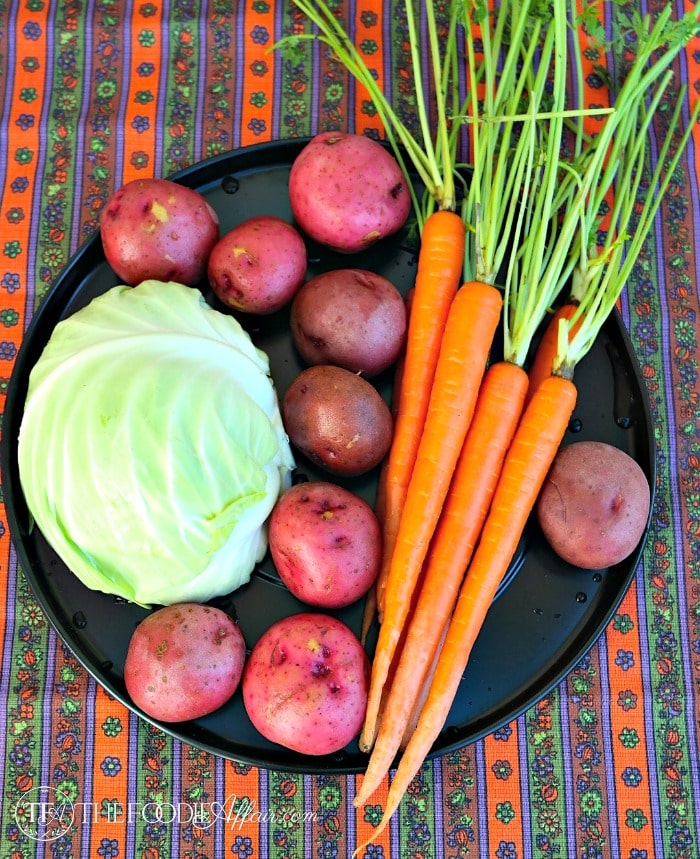 I used the spices that came with the brisket, which makes this so simple to put together, and during the last hour of cooking Alan popped in the cabbage, which softened up fully. We ate this for several meals, which was nice since I was limiting my time in the kitchen because leaving the couch would require me to unbundle from my blanket cocoon!
Even by eating this for several meals, we still have leftovers of this corned beef slow cooked!
You might too, so be sure to save them. I created this Corned Beef and Cabbage Chowder, a dish that I think will make you crave corned beef and cabbage more than once a year! How about dipping a warm slice of Guinness Beer Bread in the chowder?
Do you have a favorite Irish dish that you enjoy year after year?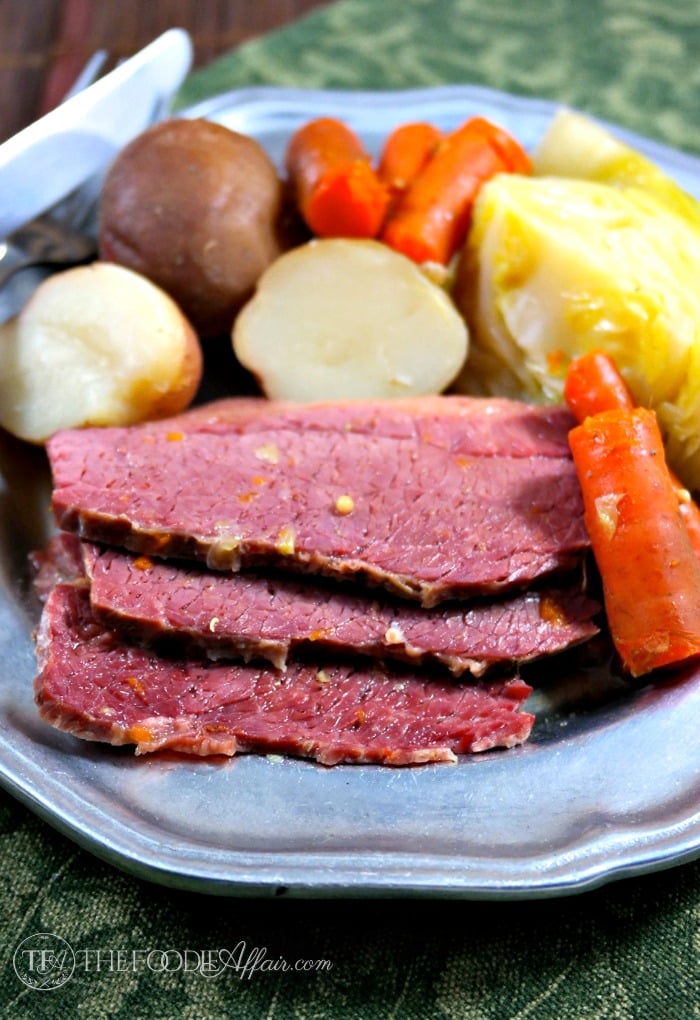 Corned Beef and Cabbage Slow Cooker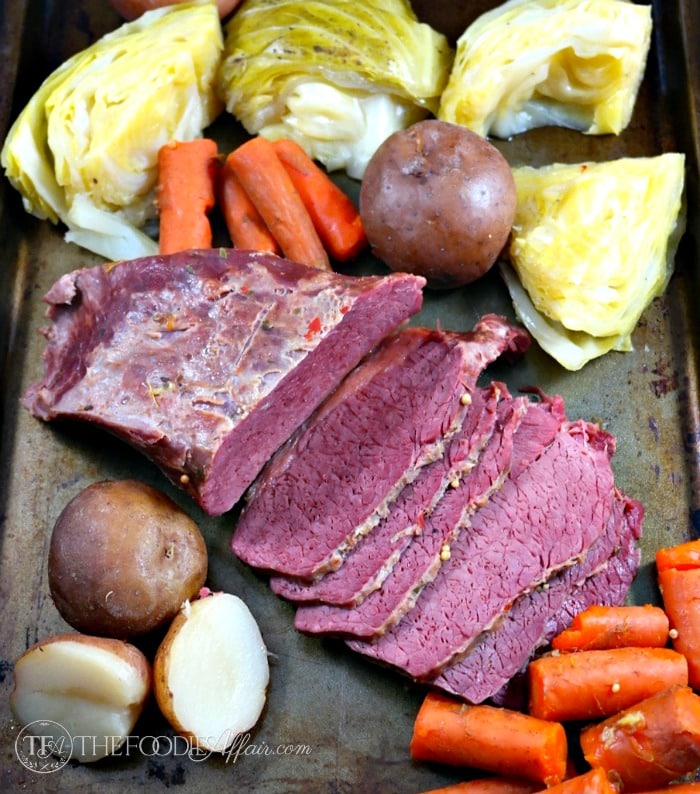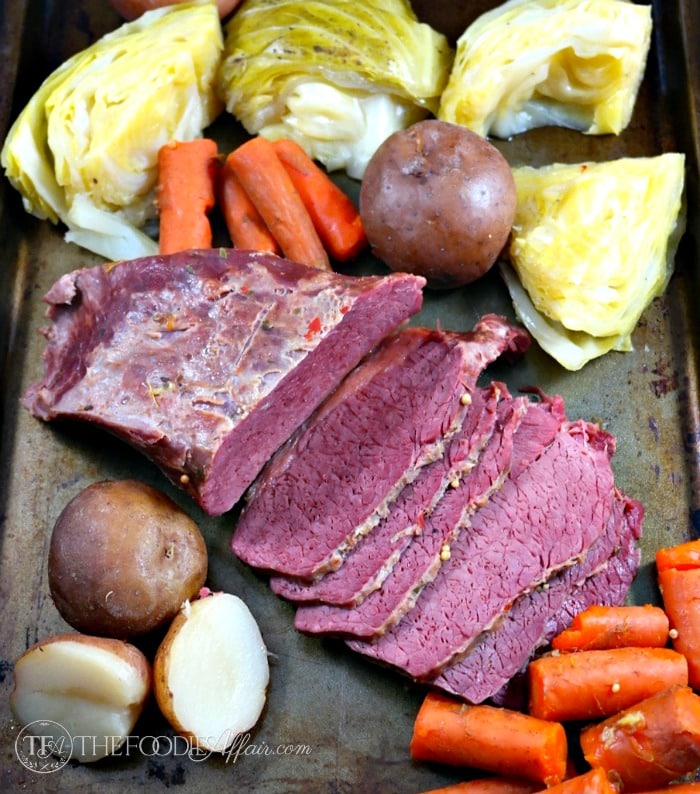 Ingredients
3 pounds corned beef brisket
2 cups water
2 cups beef broth (I used Better Than Bouillon, Reduced Sodium)
Peppercorns and seasoning that comes with the corned beef
1 teaspoon thyme
1 1/2 pounds red potatoes, small
1 1/2 pounds carrots, peeled and cut into 3-inch lengths (cut in half if the carrots are thick)
1 head green cabbage cut into wedges
Directions
Put corned beef in the slow cooker and cover with broth, water, thyme and peppercorn seasonings.
Place potatoes on top of brisket and then add the carrots. Cover and cook on high for 6-7 hours.
The last hour add cabbage wedges.
To serve slice meat against the grain into ¼ inch slices. Add additional liquid before service if desired.